Love carrot cake? You are going to enjoy this easy Carrot Cake Bars recipe. These sweet hand-held bars have the same flavor and texture with less work.
The sweet blend of spices and veggies makes them moist and delicious, and the layer of cream cheese frosting and sprinkles takes them over the top. It's official. You just found the perfect Easter dessert!
*I am partnering with Dixie Crystals to bring you these carrot cake bars with cream cheese frosting. Click HERE to see the full recipe.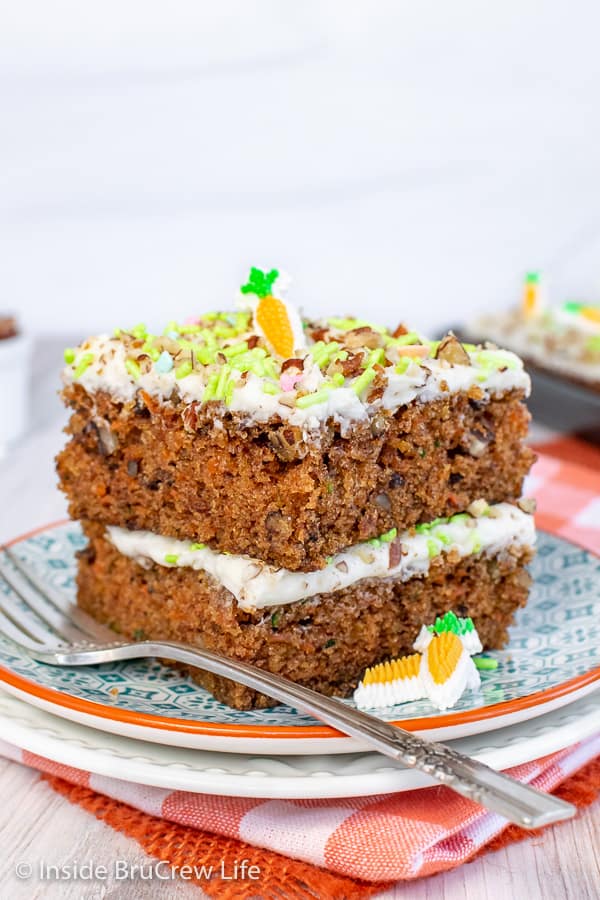 My all time favorite cake is carrot cake. Although, I rarely make it at home. It is usually a dessert that I treat myself to when we find it at restaurants.
Part of the reason I never make it is that layer cakes take quite a bit of time to bake and frost. I'm more about easy desserts that require way less work and time.
Currently, I have plenty of time being at home all the time, so who knows. Maybe I'll get around to making a carrot cake soon.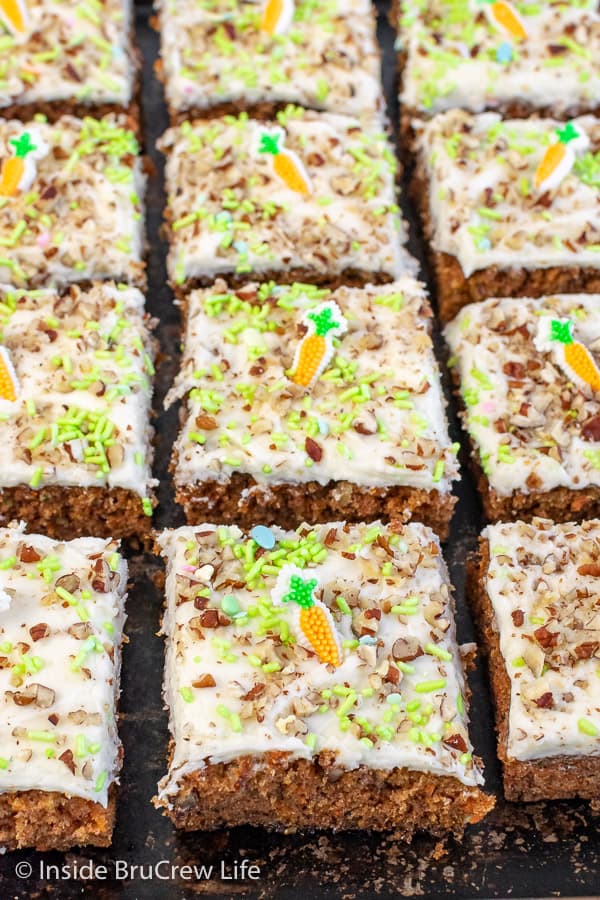 A few years ago I made this Loaded Carrot Cake. The pineapple, coconut, raisins, and frosting make it absolutely incredible.
I realize I probably just alienate some of you by including the dried fruit. It's ok. We can agree to disagree on using raisins in baked goods. I'm personally a big fan of carrot cake with raisins and raisins in this Apple Bread Pudding.
When I was deciding on recipes to make for Easter this year, I put easy carrot cake bars with cream cheese frosting on my list. At the current moment, we do not have any raisins in the house, so I opted to make the bars with pecans instead.
Trust me. I will be making these carrot cake bars with raisins, as soon as I get to the grocery store again.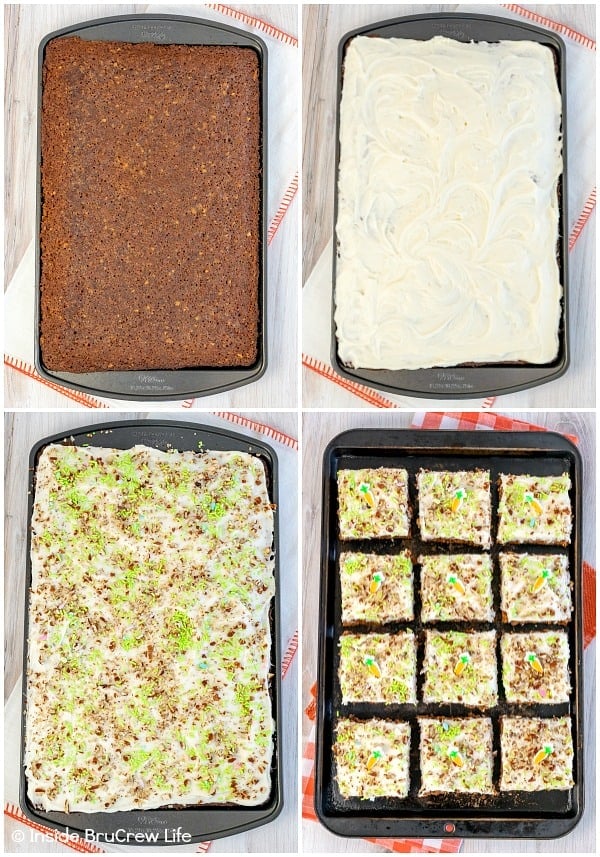 The carrot cake batter is easy to mix up; then you bake and frost it in a sheet pan. I also included some shredded zucchini in the batter.
Gotta love when you can eat your veggies in a cake. Am I right???
How to make Carrot Cake Bars:
Spray a sheet pan with nonstick spray. You want to be able to remove the cake bars easily after they bake.
Beat the eggs, oil, and sugars together. Stir in shredded carrots and zucchini.
Stir together the dry ingredients and spices. Slowly beat them into the wet ingredients.
Add chopped nuts gently, then spread the batter in the prepared pan and bake.
Cool the cake completely on a wire rack, then spread frosting on top.
Add extra nuts, sprinkles, and candies to the top and cut into squares.
FYI:I am sharing this recipe over at Dixie Crystals today. Click on Carrot Cake Bars to see the full recipe.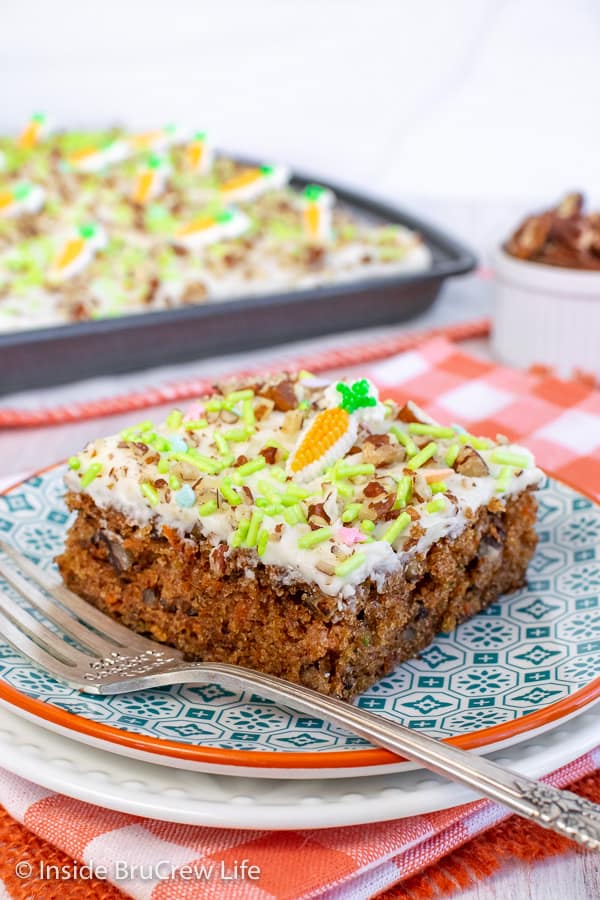 What kind of frosting is good on carrot cake bars?
Honestly, any frosting would be delicious. But I have to say that cream cheese frosting would be my first choice. The tangy homemade frosting just adds something extra to these easy cake bars.
Can you bake this recipe in a 9x13 pan?
Yes you can. Although, it will probably need to bake a little bit longer because it is thicker. Start testing it at the 30 minute mark and add time if needed.
Do you need to refrigerate these carrot bars?
If you add the cream cheese frosting on top of the carrot cake bars, you need to refrigerate them. I actually prefer the carrot cake bars cold from the fridge.
If you use leave them unfrosted or use a buttercream frosting, you can leave the pan of bars on the counter. Just be sure to cover them tightly, so they do not dry out.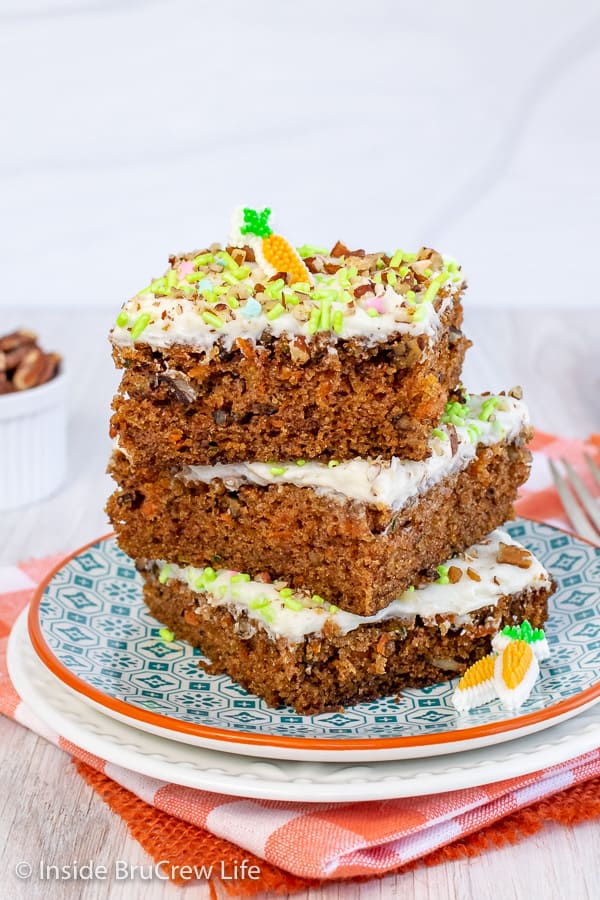 Other easy carrot recipes:
More Easter desserts: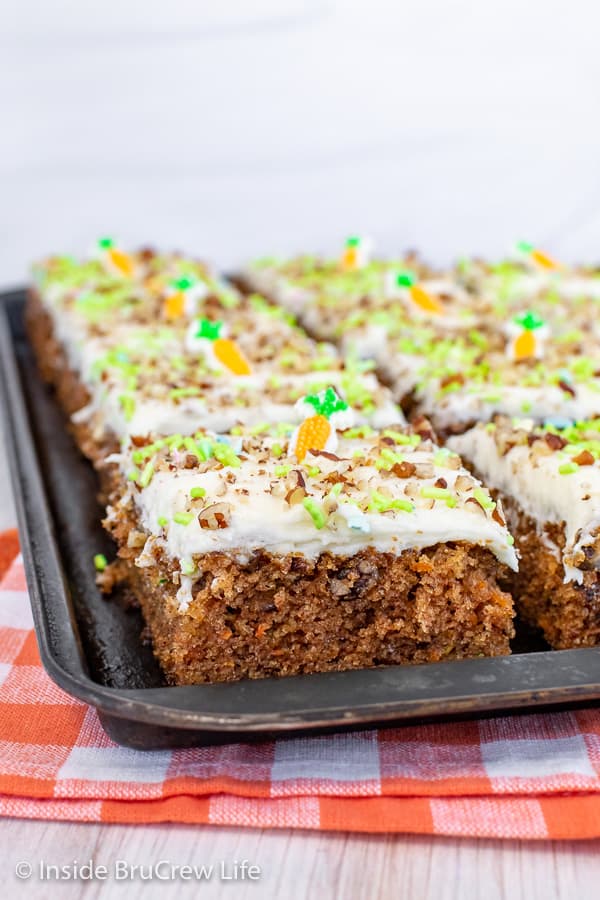 CLICK HERE TO PIN THIS RECIPE FOR LATER!