Blueberries, almonds, and a crumble topping made this sweet bread disappear in a hurry in our house. This Blueberry Almond Crumble Bread makes the perfect breakfast or afternoon snack with coffee.
*Love these recipes? Be sure to sign up for the BruCrew email to have them delivered to your inbox.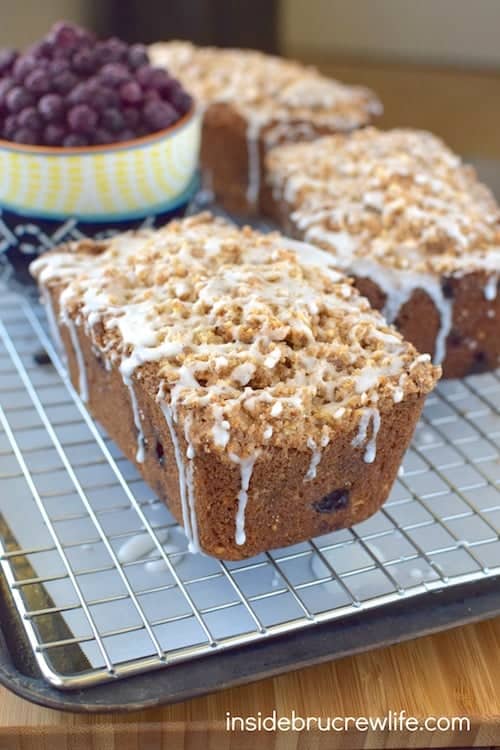 The first time I made this sweet bread, it lasted less than a day.
That's 3 loaves of bread demolished by 5 family members. Ok, that's not so bad I guess because they are mini. Everyone just couldn't get enough of this bread. It's sweet, it's crunchy, it's full of juicy blueberries...good gravy! I'm drooling over here thinking about it again. I think it's time to make more!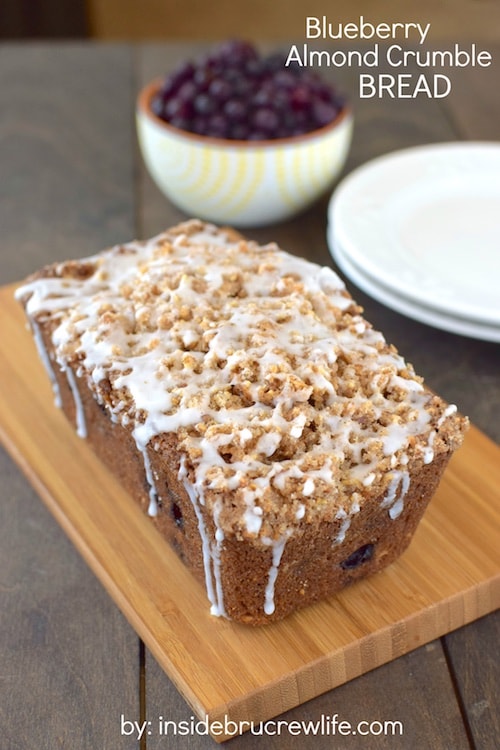 So, the first time I made this bread I was so excited to taste it because the house smelled amazing as it was baking.
Can I just tell you that I am super in love with almond extract? Where has it been all my life? Apparently I was stuck on using just vanilla for everything and never tried other ones! I am so glad that I tried the almond extract in this bread because it is now my go to for everything! Open a bottle of almond extract and take a whiff! I could totally go for a perfume that smells like that!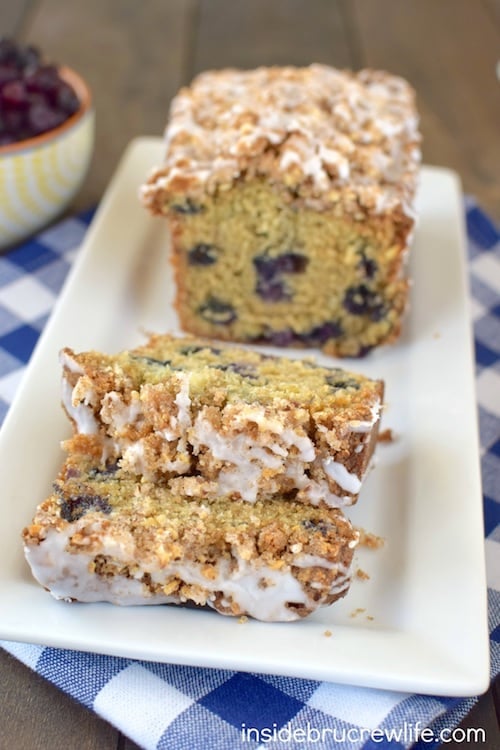 Back to the bread baking...I pulled the bread out of the oven and let it cool for 10-15 minutes.
Then I tried flipping the Mini Loaf Pans
over onto a tray. Nothing happened! A panic attack started happening because the bread was not coming out of the pan at all! Noooooooo not the bread! I tried loosening the sides with a knife...nothing. Eventually I got the bread out, but believe me it was not picture worthy at all. Luckily it made up for it in taste! Like I said we devoured this bread in record time!
I couldn't figure out why the bread stuck so bad though. That is until I made the next batch of bread. Apparently I was so distracted and enamored with the almond extract that I grabbed the wrong bottle of baking spray. Just for the record, a crumb coat spray does not keep food from sticking to pans!
For the second round of bread I made sure I used my favorite Baker's Joy
on my pans, and the bread popped right out! Hallelujah!!!! I'm pretty sure I heard angels singing in the background!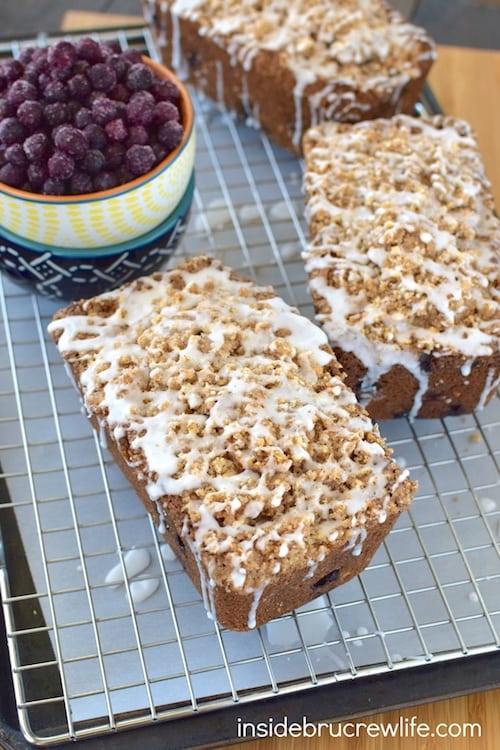 Drizzling some glaze over the top makes it so pretty! No, it isn't necessary, but this isn't diet bread, so why not?
Round two of this Blueberry Almond Crumble Bread didn't last long either. I have been holding off on making round three because I know I won't be able to stay out it, and we are training for a mud run. Ain't nobody got time for sweet bread buns dragging you down in mud and water when you are trying to keep up with everyone!
But believe you me...I have a date with another loaf of this crazy awesome bread after finishing those 10 miles!!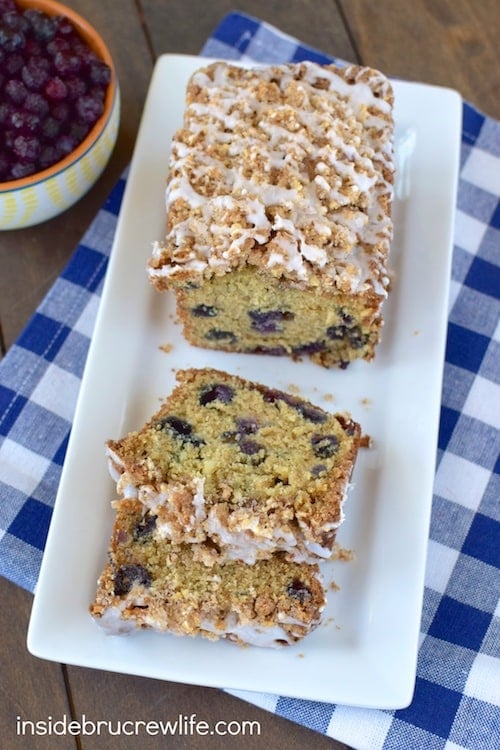 Stay up to date on all the BruCrew baking here:
FACEBOOK | PINTEREST | TWITTER | INSTAGRAM | BLOGLOVIN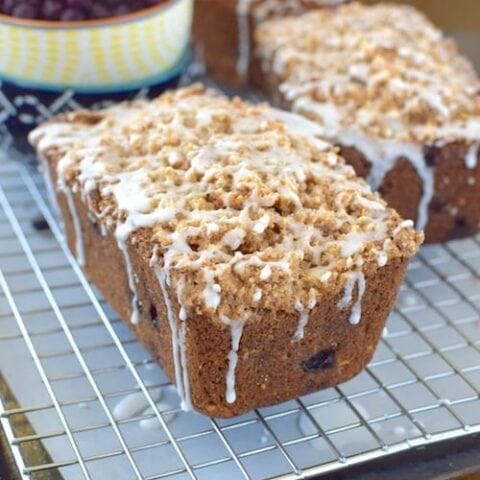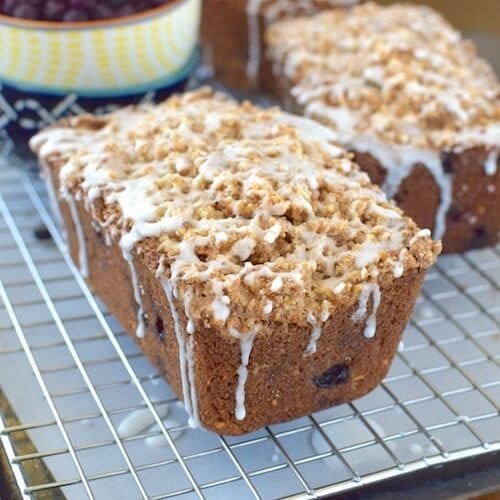 Blueberry Almond Crumble Bread
Blueberries, almonds, and a crumble topping make this sweet bread disappear in a hurry. This is perfect for breakfast or an after noon snack with coffee.
Ingredients
For the Bread
⅔ cup oil
1 ½ cup brown sugar
1 egg
1 teaspoon almond extract
1 cup buttermilk
2 ½ cups flour
1 teaspoon salt
1 teaspoon baking soda
½ cup finely chopped almonds
1 ½ cups frozen wild blueberries
2 teaspoons flour
For the Crumble Topping
½ cup sugar
1 teaspoon cinnamon
¼ cup finely chopped almonds
1 Tablespoon melted butter
For the Glaze
1 cup powdered sugar
1 Tablespoon water
Instructions
Beat together the oil, sugar, egg, and extract until it looks like wet sand.
Stir together the flour, salt, baking soda, and almonds. Slowly add the dry ingredients alternately with the buttermilk to the sugar mixture until everything is combined.
Toss the blueberries with the remaining 2 teaspoons of flour. Stir into the batter gently.
Spoon the batter into 3 greased 5 ¾ by 3 loaf pans.
Stir together the topping ingredients, and sprinkle it evenly over the top of the batter in the pans. Bake at 350 degrees for 40-45 minutes, or until a toothpick comes out mostly clean. Cool in the pans for 10 minutes before flipping out onto a wire rack. Make sure to turn the bread back over, so the crumble topping doesn't get crushed. Cool completely.
Whisk together the powdered sugar and water. Drizzle over the tops of the bread. Let set before storing in a sealed container.
Notes
* This batter can also be baked as 16 regular sized muffins. Bake at 350 degrees for 20-22 minutes.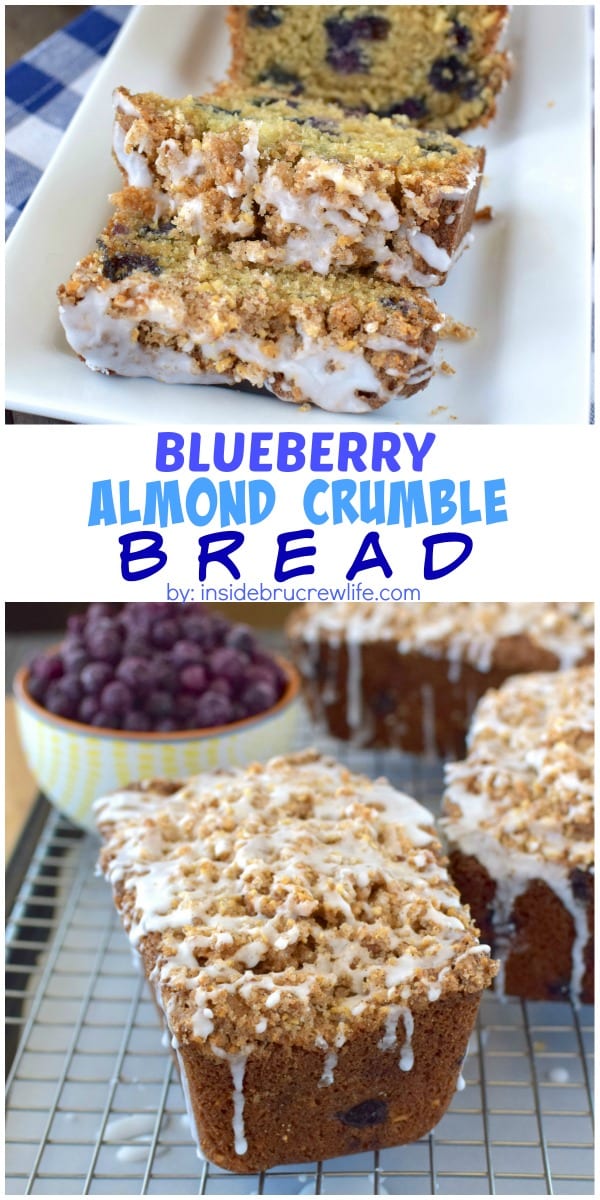 Looking for more sweet bread recipes? Here are a few recipes that our family loves.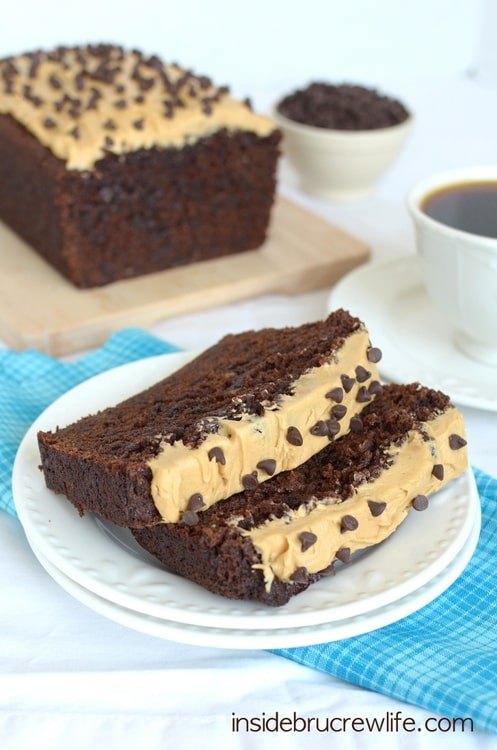 Chocolate Mocha Chip Banana Bread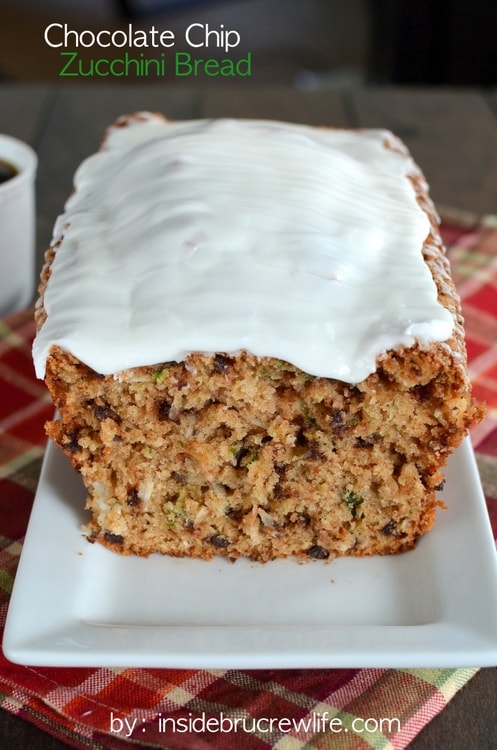 Want more sweet bread? Here are a few more recipes from friends.
*This post contains affiliate links. By clicking on them or purchasing items, I receive a small compensation. I will only recommend products that I know and love. Thank you for supporting BruCrew Life.