Chocolate Chip Zucchini Bread:  Adding coconut and mini chocolate chips to zucchini bread is a fun way to jazz up the green veggie.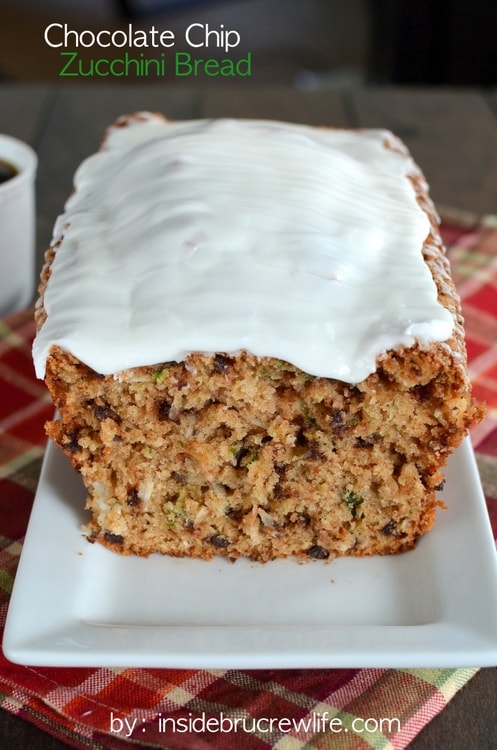 Did you plant a zucchini plant in your garden this year?  If so, you are probably wondering what you will ever do with all those zucchinis that keep coming.  Or are you like me and have a bag of zucchini from a sweet friend sitting on your counter just waiting to be used?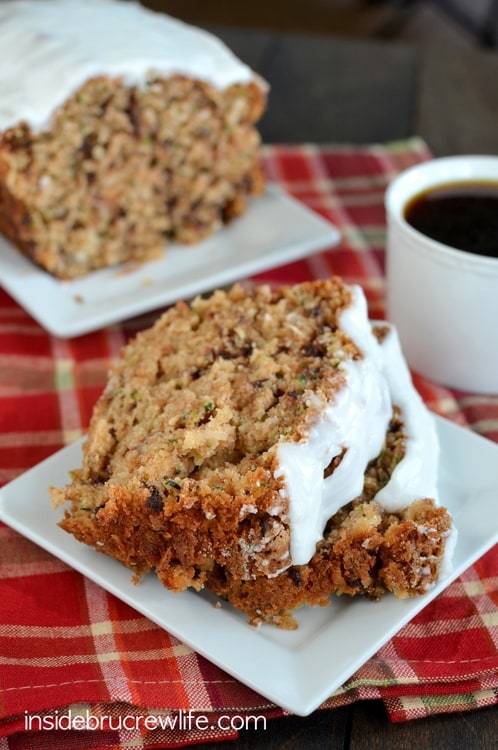 I don't care how you get that green veggie…just make sure you find a few because I have some great recipes that will help you use them all.
Earlier this week I shared these Frosted Butterscotch Zucchini Bars with you. They didn't last long in my kitchen!  I almost made them again, but then I got the urge to make a zucchini bread instead.  My daughter's only request is that it had to have chocolate chips in it.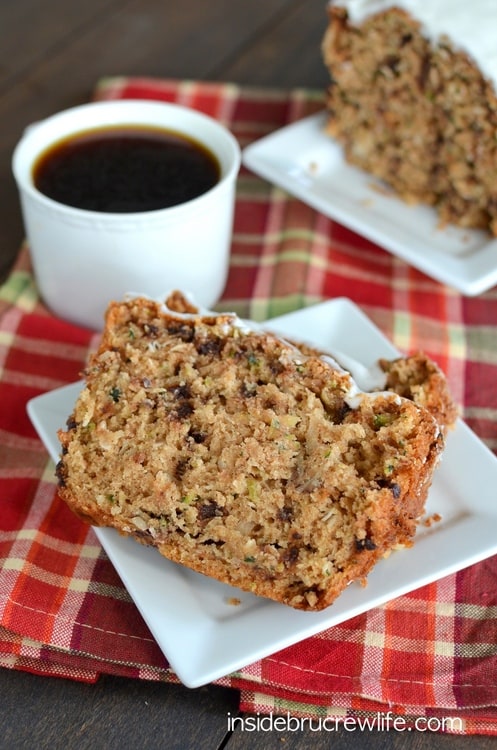 I mixed up the sweet bread batter and added the zucchini and chocolate chips.  On a whim I also added some shredded coconut.  The coconut is optional, but I think it really adds a little something extra to the bread.
One tip to remember for this bread is to squeeze some of the water out of the zucchini before you stir it into the batter.  Too much moisture and your bread will take a long time to bake.   One more little tip is to sugar your pan after you spray it with non stick spray.  I love the extra little crunch this sugar gives the bread around the edges.
This bread does take a while to cook.  Start checking your bread at 65 minutes.  You want the knife or toothpick to come out with just a few crumbs stuck to it.  My bread actually baked the full 75 minutes before it was finished, but every oven is different so make sure you check your bread.
After the bread cools, give it a delicious glaze.  The glaze hides the cracks on top.  It is completely optional, but I totally suggest doing it.  I seriously couldn't get enough of the very top of the bread.  It was slightly crunchy, but sweet and delicious from the glaze.
Make a pot of coffee and watch the bread disappear as you eat slice after slice.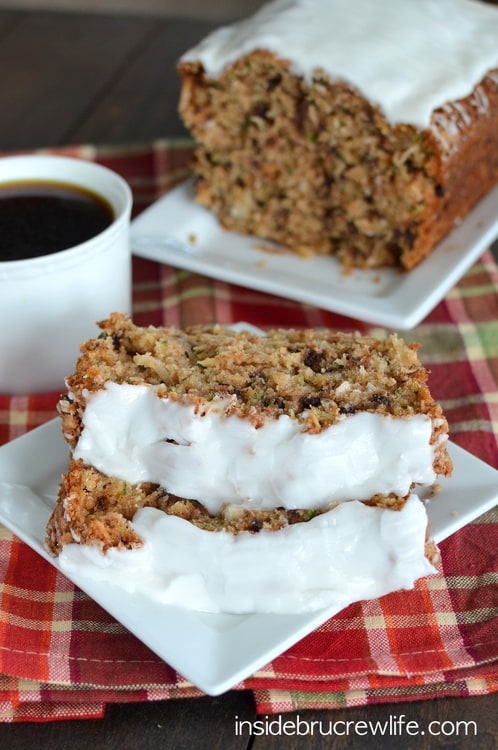 Stay up to date on all the BruCrew baking here:
FACEBOOK | PINTEREST | GOOGLE+ | TWITTER | INSTAGRAM | BLOGLOVIN
 Sign up to receive an email in your inbox for each new recipe:
EMAIL SUBSCRIPTION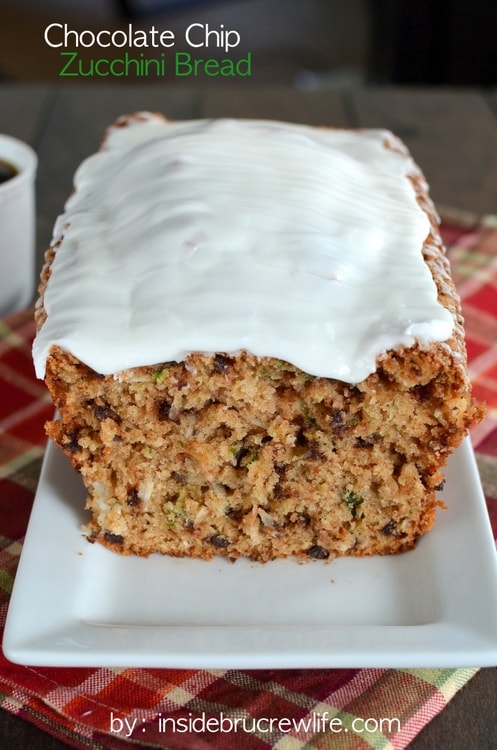 Zucchini, coconut, and mini chocolate chips make this sweet bread disappear before your very eyes.
Ingredients
2 cups flour
1/2 cup sugar
1/2 cup brown sugar
2 teaspoons baking powder
1/2 teaspoon baking soda
1/2 teaspoon salt
2 teaspoons cinnamon
1/2 cup buttermilk
1/4 cup oil
1 egg
1 teaspoon vanilla
1 1/2 cups shredded zucchini
1 cup coconut (optional)
1/2 cup mini chocolate chips
2 teaspoons sugar
1 cup powdered sugar
1-2 Tablespoons water
Instructions
Combine the flour, sugars, baking powder, baking soda, salt, and cinnamon. Whisk together.
Add the buttermilk, oil, egg, and vanilla and stir until combined.
Squeeze some of the water out of the zucchini. Stir the zucchini, coconut, and mini chocolate chips by hand into the batter
Spray a 9x5 bread pan with non stick spray. Sprinkle the pan with 2 teaspoons of sugar. Pour the batter in the pan. Bake at 350 degrees for 65-75 minutes. (mine baked the full 75) A toothpick should come out mostly clean when pushed in the middle. Let cool.
Stir together the powdered sugar and water. Spread on the top of the bread. Let set. Cut into 10 slices. Keep covered.
https://insidebrucrewlife.com/chocolate-chip-zucchini-bread/
Copyright Inside BruCrew Life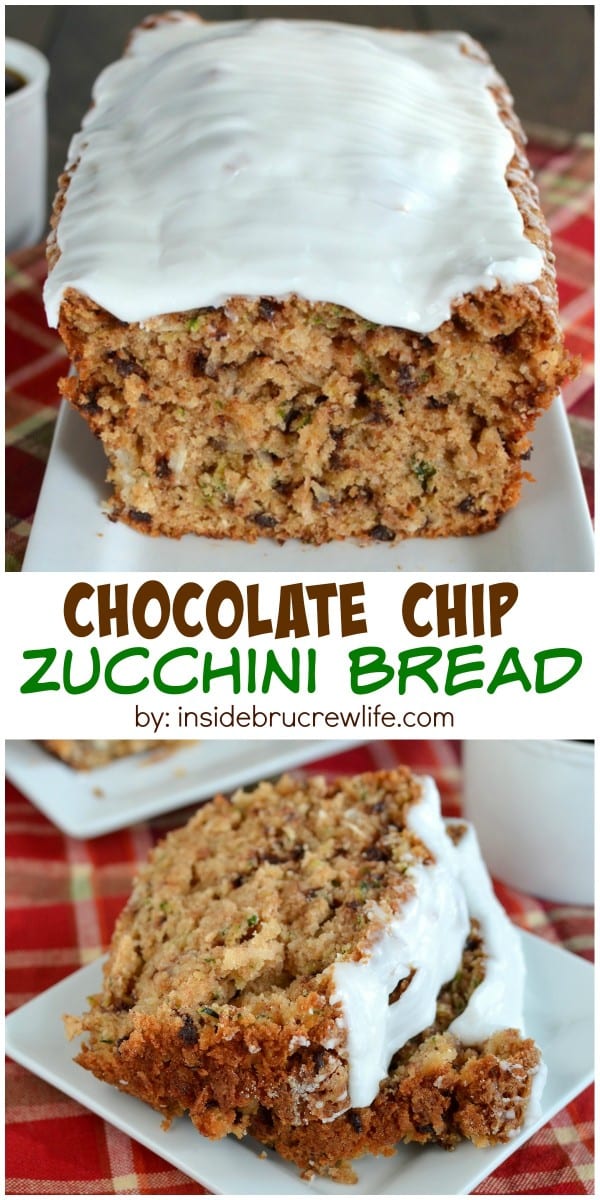 Other sweet breads that go great with cups of hot coffee in the morning: