These Blueberry Key Lime Cheesecake Bars are a delicious and cool way to enjoy dessert this summer. Each sweet bite combines blueberry pie filling with creamy citrus cheesecake!
A batch of White Chocolate Blueberry Mousse Cheesecakes are another fun and easy dessert to make when it is hot outside.
*I am partnering with Lucky Leaf this year as a blog ambassador bringing you delicious recipes using pie filling.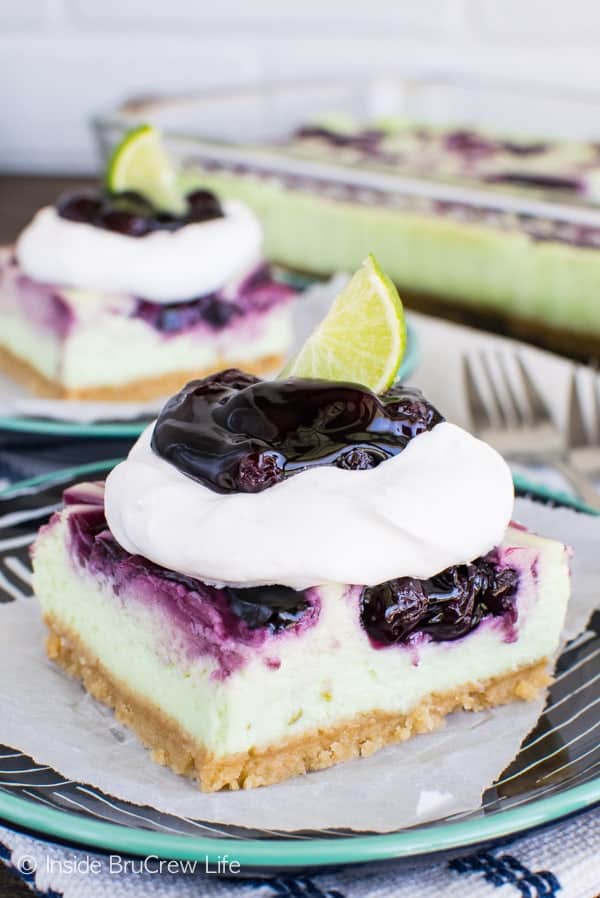 My husband has an old black Saab convertible that he loves driving around when the weather is warm and sunny. I don't mind riding in it with him, but when the temperature gets over about 85 degrees it isn't quite as comfortable. The black seats get hot very quickly, so getting in with shorts on is interesting.
And of course, the minute you stop moving, anyone sitting on those black seats starts to cook. These little things don't stop my husband from enjoying his car.
Although, this week the temperature is supposed to be over 100 degrees here. Something tells me he will be getting his other car fixed pretty quickly.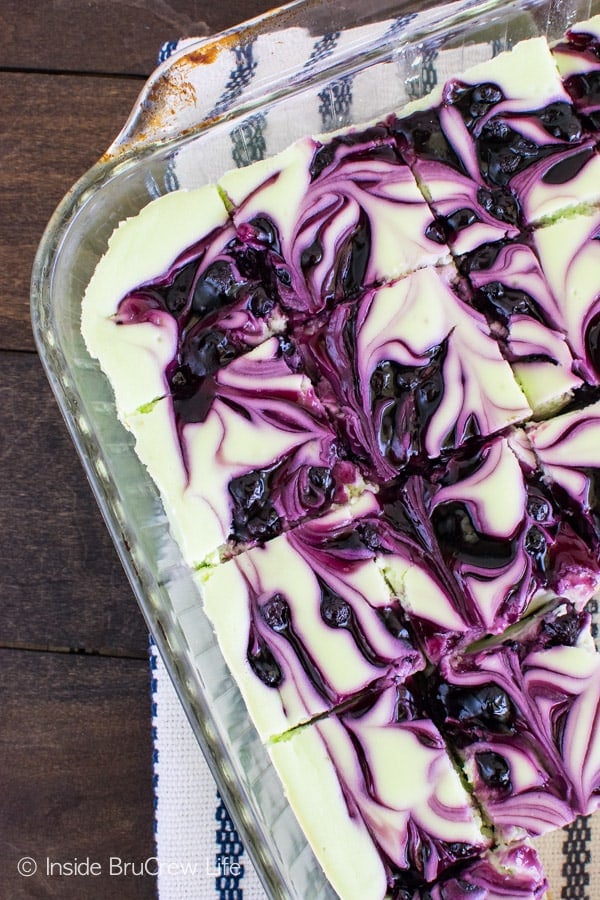 I think I can count on one hand the times I have driven his convertible. It is a stick shift, and although I do know how to work that, I choose to drive our other car.
Another reason I don't drive it is because the car is old...and falling apart...and getting into first gear is hard. The other day I had to drive my daughter to summer school in that car. When you only drive a stick shift once a year, it takes a minute (or two) of remembering how it's done.
I probably should have had an extra Salted Caramel Mocha Latte that morning, so I was more alert and awake and functioning. My daughter was ready to call dad and see why I couldn't get the car started. Like I said, it just takes a minute to remember the differences. I finally got it, and we made it there and back.
I think I should probably stick to driving the automatic car though and doing all the dessert baking. I do much better remembering how to make desserts like Vanilla Cherry Pie Cupcakes or Strawberry Lemon Snack Cake.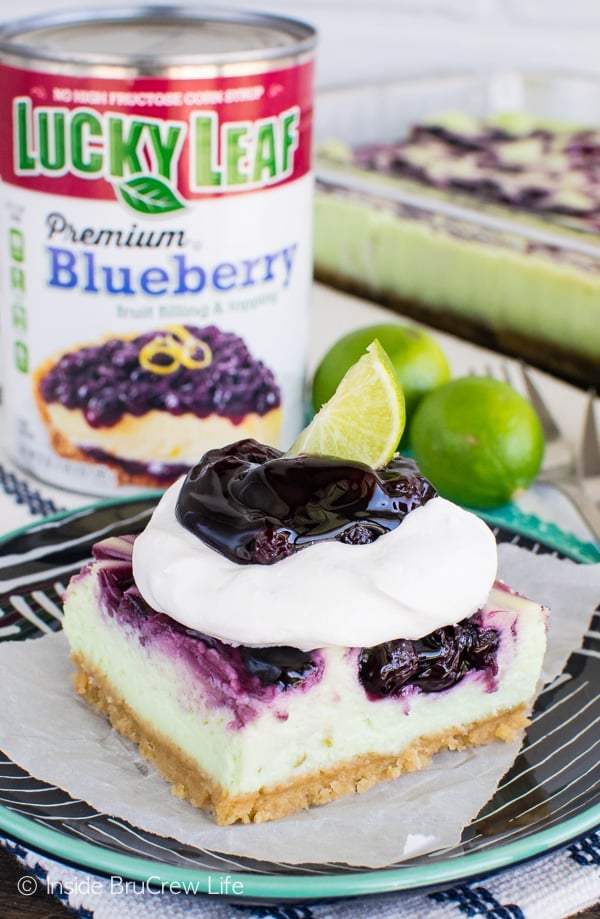 This year I have been partnering with Lucky Leaf® as a brand ambassador. I enjoy creating new and exciting recipes each month using their product.
And of course, eating spoonfuls of the awesome pie filling each time I open a can is a pretty fun perk too!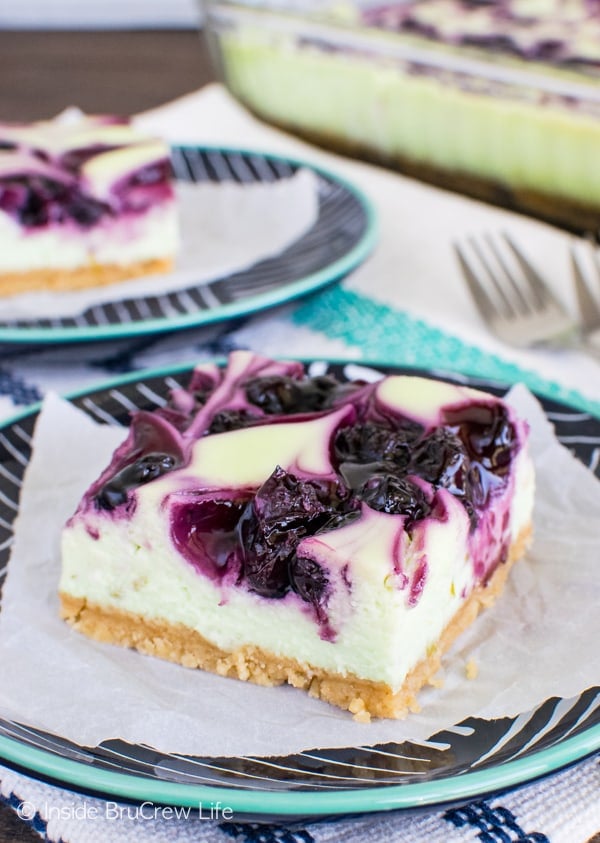 Lately I have been feeling the urge to add key lime to everything. Blueberry key lime donuts or this Key Lime Pound Cake are a few treats that have the perfect summer flavor. It makes me think Florida sunshine every time I taste it.
I decided to make a pan of easy cheesecake bars using key lime juice and blueberry pie filling swirled on top. Don't you just love those fun fruit swirls??? Cheesecake bars in a 9x13 pan are the perfect dessert for crowds or dinner parties.
How to make Key Lime Cheesecake Bars
Make sure you beat your cream cheese and sugar until it is soft and creamy before you start adding anything else.
Do not over mix your batter once you add your eggs.
Use a butter knife to swirl the blueberry pie filling into the cheesecake batter gently. Do not over swirl because too much swirling will make it start to become messy looking.
To keep your cheesecake from cracking place a pan of water on the bottom rack of your oven. This steam bath will create a creamy texture in your cheesecake bars.
Remove the pan of cheesecake immediately from the oven once the timer goes off. There is no need to cool it in the oven slowly. Let it cool on a wire rack for an hour.
Chill the cheesecake bars in the refrigerator for at least 4-6 hours. This will give it enough time for the cheesecake to set up properly.
Serve each slice of these Blueberry Key Lime Cheesecake Bars with a big swirl of Cool Whip and the extra pie filling.
Love a recipe you tried from Inside BruCrew Life?
Please leave a 5 star ⭐️ rating and/or a review in the comments section further below.

*This recipe was sponsored by Lucky Leaf. All opinions expressed are 100% my own. Thank you for letting me share products and brands we use and love. See my disclosure policy for more information.*