Use those apples in your refrigerator to create a fun fall dessert. This Butterfinger Apple Tart is full of cinnamon apples and Butterfinger candy bars. It won't last long, so go ahead and make two while you are at it.
**This post is sponsored by Crunch Pak Apples. I partnered with them to create delicious recipes for you to enjoy.**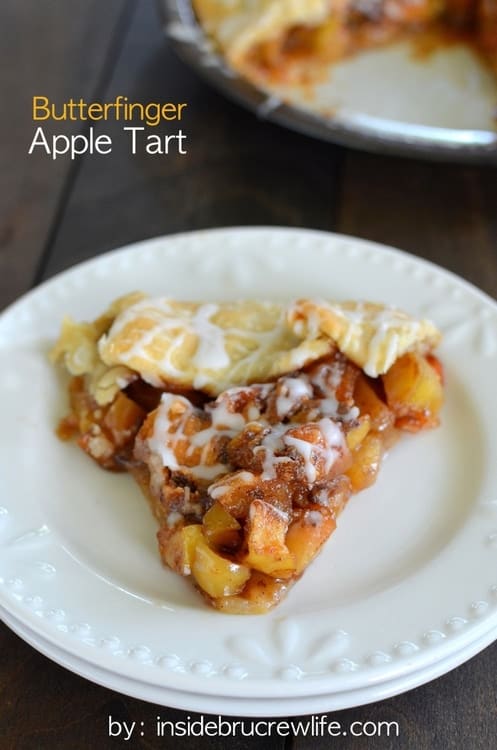 Lately our kids have been munching on all things sugar.
Can you blame them? They do live with me after all. It is perfectly normal for them to come home from school and see cookies and muffins on the counter and a pie in the refrigerator.
Oh, and let's not forget about the umpteen million bags of chocolate chips and candy that are overflowing from our cupboards. My husband was looking in there for something, and he mentioned that he thought the bags were multiplying.
"No, honey. I didn't just buy another 4 bags of candy I didn't need." Wink, wink!
Thank goodness for bags of apples in our refrigerator for the kids to munch on when that sweet tooth decides it needs a treat.
Of course there are those times that I add one of those bags of candy to the apples. Remember these Apple Butterfinger Bars? I might need some sort of intervention or something...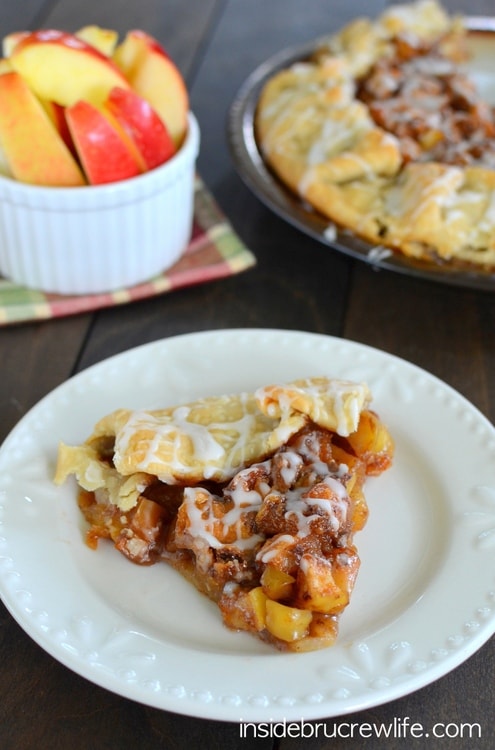 The individual bags of sliced apples are perfect for grabbing on the go which is great for school lunches or for snacking on when the kids are headed to a sports activity.
I also love the boxes for my baking. The boxes and bags are just the right size to make one of these apple tarts.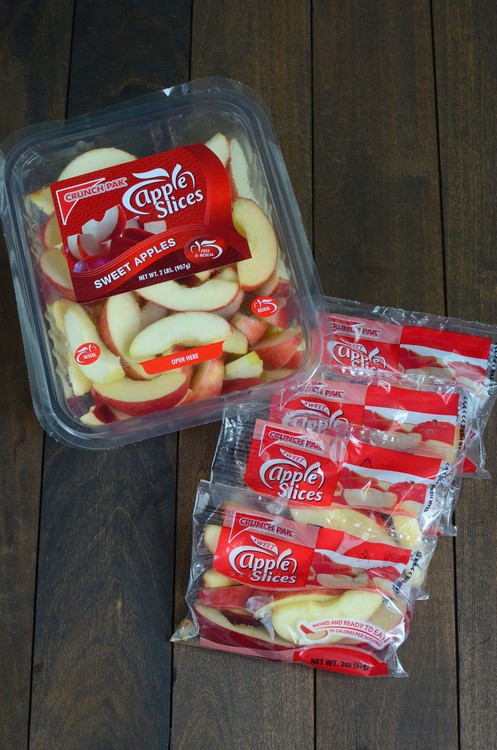 I used a paring knife to dice the apples into large chunks. You don't even need to take the peels off. I went ahead and left them on for this easy tart. A quick 5 minute bath in melted butter, sugar, and cinnamon and the apples are ready to go. Your house is going to smell amazing while these are cooking.
Now you could totally wait for it to cool off slightly and eat them warm. Anyone else love those Cinnamon Apples from Chili's? These taste just like that.
But today we are going with a pie crust and some candy bars. If you want to make your own, go right ahead. I really do like the convenience of a refrigerated pie crust. It just gets me to eating the pie that much faster. And believe me, apple tart with Butterfinger candy bars? You want to be eating that quickly too!
The edges of this pie are very rustic. No fancy crimping going on here. Remember what I said about faster to the pie? Lay the pie crust in a greased pie plate. Spoon the apples in and sprinkle with the crushed candy bars. Then just fold the edges of the pie crust over, pleating it every so often so it lays better. Pop it in the oven for 30 minutes. You should probably let it cool slightly before digging in. No one wants scorched taste buds.
Although, a scoop of vanilla ice cream would cool this Butterfinger Apple Tart down, so you could eat it sooner. Just an idea...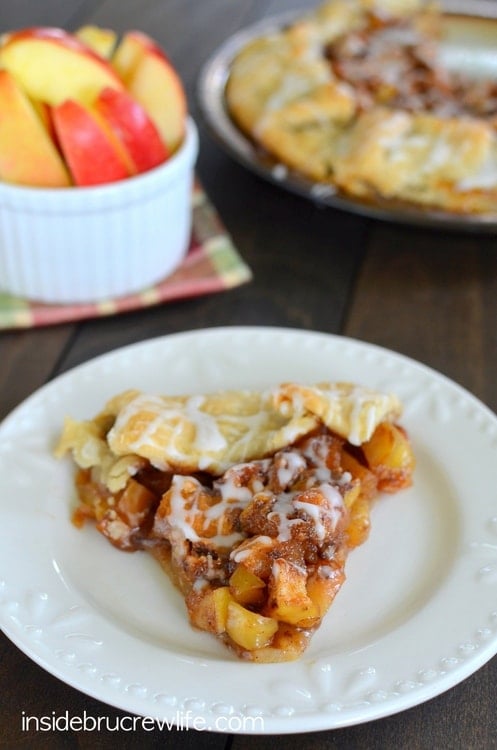 More delicious ways to enjoy Crunch Pak apples: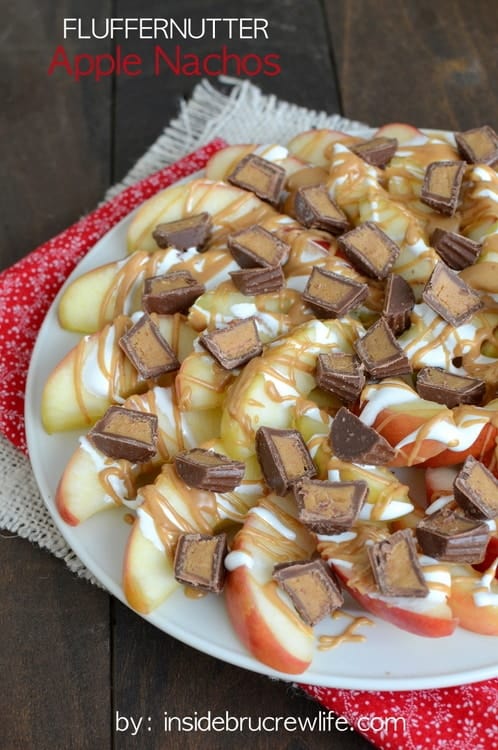 Fluffernutter Apple Nachos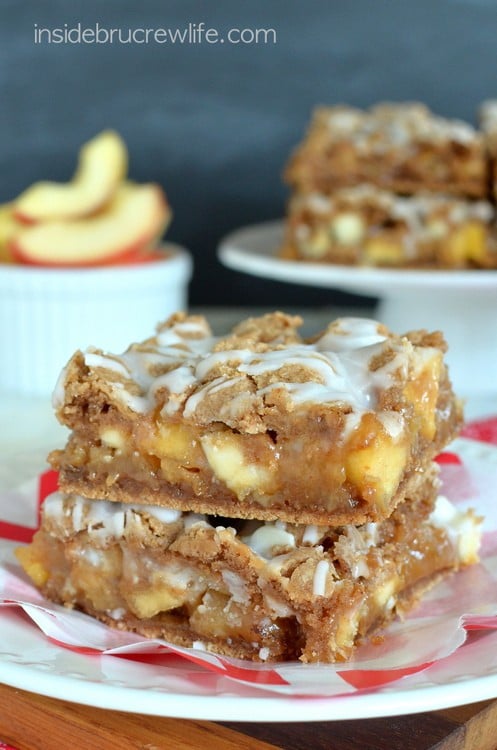 Caramel Apple Bars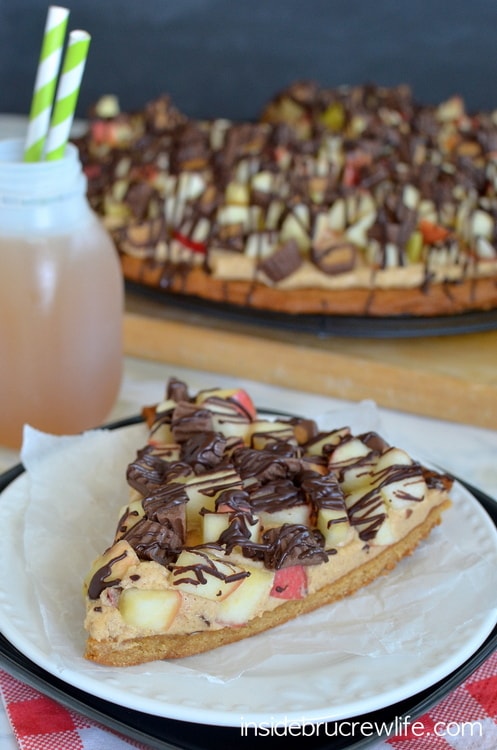 Peanut Butter Apple Pizza
*I was compensated for my time as a brand ambassador for Crunch Pak apples. All opinions expressed in this post are 100% my own.