Apples and candy bars are a delicious way to jazz up a plain blonde brownie. One bite of these Apple Butterfinger Bars and you will be grabbing another one.
**This post is sponsored by Crunch Pak Apples.  I  am excited to partner with them this year as a brand ambassador bringing you delicious recipes.**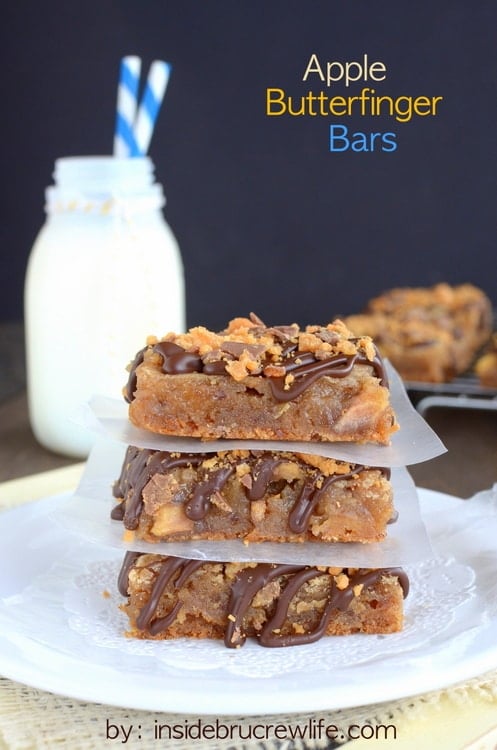 We go through quite a few apples in our house.  Lunches, after school snacks, and baking are a few ways we get that apple a day.
Our kids have never gone through that really picky stage where they wouldn't eat fruits and vegetables.   There are a few things that they don't like, but they know that they will still have to eat some.  Apples are one thing they have liked from the beginning, so we always keep them in our refrigerator.  Apple nachos are always a fun treat after school.
With all the sweets and treats that come out of our kitchen, we make sure our kids know that fruits and veggies are an acceptable snack any time.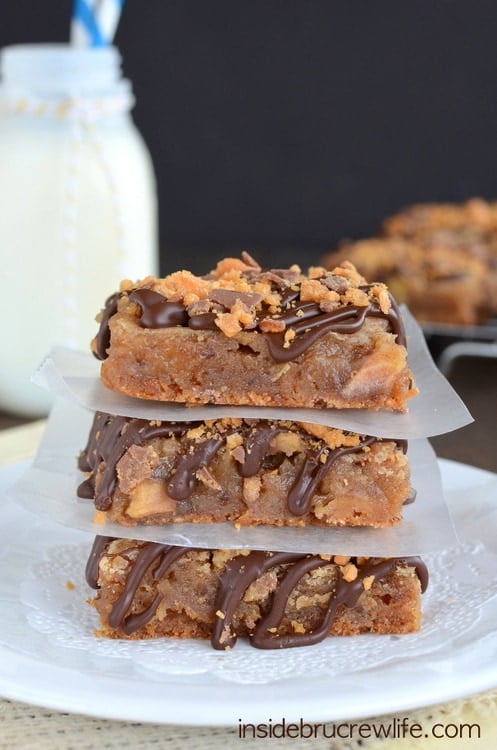 I am excited to be partnering with Crunch Pak this year to make delicious apple recipes.   Crunch Pak apples come pre sliced and packaged for your eating on the go convenience.
Or for munching on while sitting at your desk at work.  Our family loves the small easy to grab bags for trips and school lunches.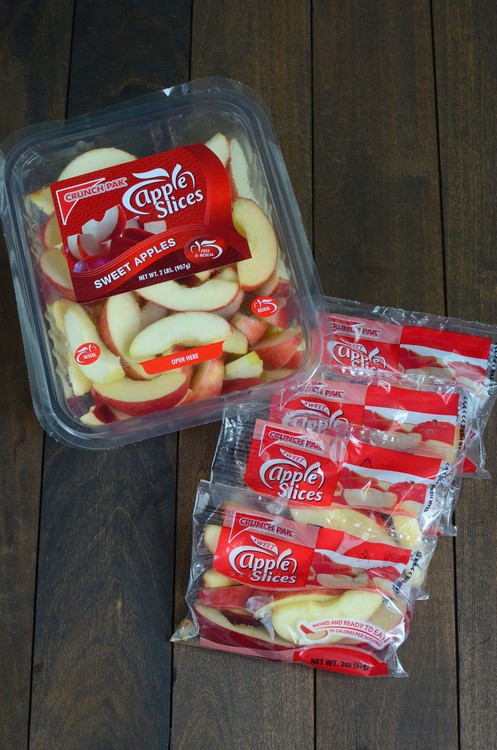 I love to keep the big bags or boxes on hand for baking.  Dice a few slices and they are ready to drop into your recipe.  I don't even peel them, but you can if you want to.
Blonde brownies are the one recipe that I have been making for years and years.  It had been a while since my last one, so I decided to add apple chunks and candy bars into the recipe.  Oh, my goodness!  Best decision ever!
Creating a blonde brownie with an apple twist was so much fun!  These blonde brownies turned out decadent and delicious from the juicy apple pieces!  I couldn't stop cutting off little squares to munch on.
Have you ever rolled chocolate covered apples in crushed Butterfinger bars?  Or dipped apple slices in Cool Whip and Butterfingers?  No?  Try it next time…you will love it!  Adding candy bar chunks into the apple bars added another layer of crunch and goodness.  Don't like Butterfingers?  Go ahead and substitute your favorite candy bar!  That works too!
Because of the juice from the apples baking, these bars do bake a little longer then a normal blonde brownie.  But be careful not to over bake them because nobody likes a crunchy bar.  Well, at least I don't.  I prefer mine gooey and slightly under baked. These apple Butterfinger bars did not disappoint!!!
And of course adding a chocolate drizzle and more candy bars on top is always a total must!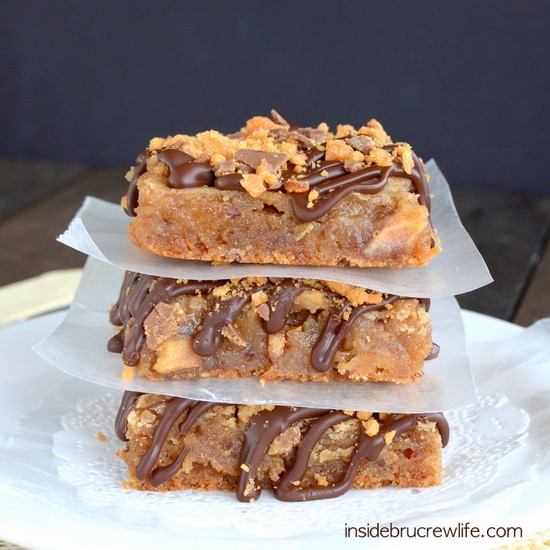 Connect more with Crunch Pak:
Facebook | Twitter | Pinterest | Blog
Apples and candy bars are a delicious way to jazz up a plain blonde brownie. One bite of these Apple Butterfinger Bars and you will be grabbing another one.
Ingredients
2 cups brown sugar
1/2 cup butter, softened
2 eggs
1 teaspoon vanilla extract
2 1/4 cups flour
1 teaspoon cinnamon
1 teaspoon salt
1 teaspoon baking powder
1 cup diced apples
2 cups crushed Butterfinger candy bars, divided (16 snack size)
1/2 cup chocolate chips
1 teaspoon shortening
Instructions
Beat the sugar and butter until creamy. Add the eggs and vanilla and beat again.
Sift together the flour, cinnamon, salt, and baking powder. Slowly add it to the creamed mixture. Stir in the apple chunks and 1 1/2 cups of the crushed candy bars by hand. Spread the mixture in a greased 9x13 pan. Bake at 350 degrees for 30-32 minutes. Do not over bake. Remove from the oven and let cool completely.
Cut the bars into 24 bars. Place the chocolate chips and shortening in a microwave safe bowl. Heat slowly until melted. Spoon into a plastic baggie and cut one tip off. Drizzle over the top of the bars. Top with the remaining crushed candy bars before the chocolate sets. Let the bars set. Store in a loosely sealed container. Makes 24 bars.
https://insidebrucrewlife.com/apple-butterfinger-bars/
Copyright Inside BruCrew Life
 More delicious ways to enjoy that apple a day: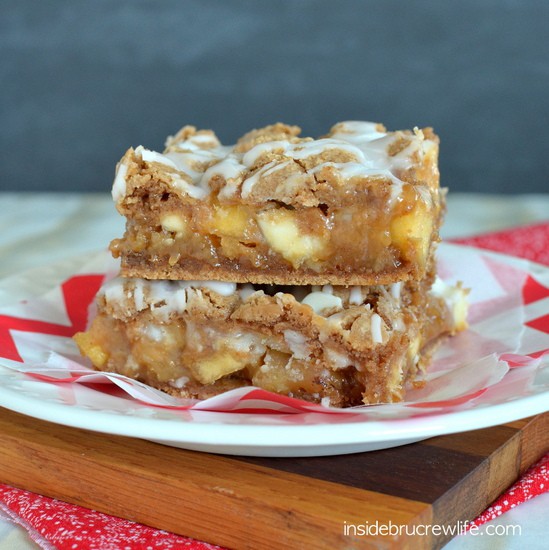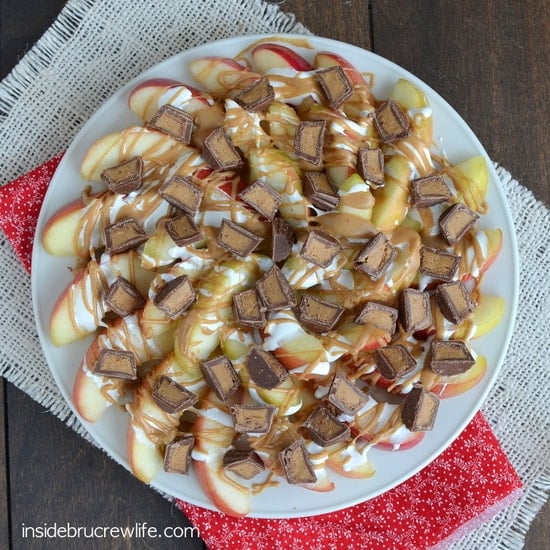 *I was compensated for my time as a brand ambassador for Crunch Pak apples.  All opinions expressed in this post are 100% my own.