These gooey Caramel Apple Bars are loaded with fruit, nuts, and caramel. Try a warm square topped with vanilla ice cream for an easy fall dessert!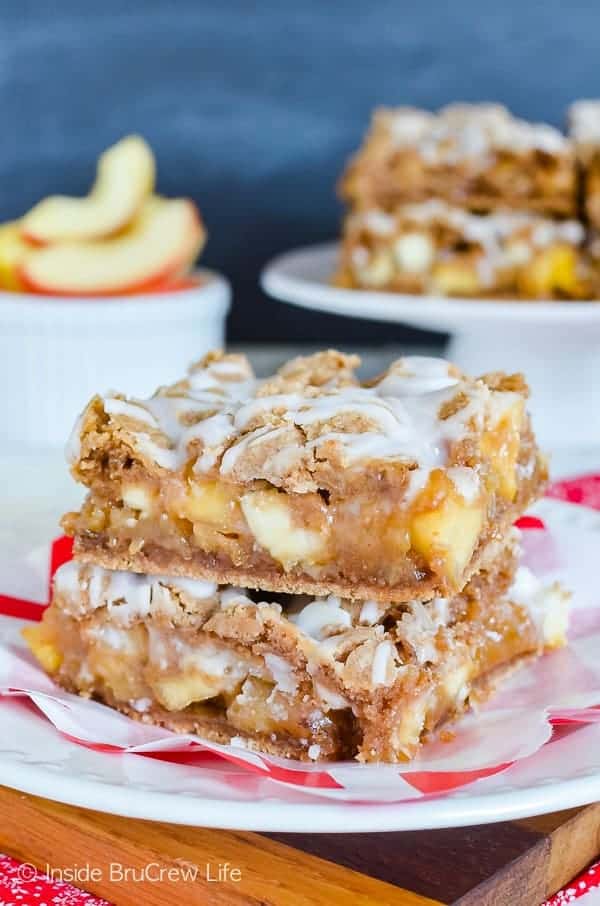 So, the other day I stopped at the grocery store for something. I walked in the door and up and down a few aisles before realizing that I had absolutely no idea what I was there for.
The funny thing is that I still don't remember what I needed. It must not have been that important.
I decided to just head down the baking aisle because why not. Not because I needed anything. Our pantry shelves are fully stocked in chocolate chips and candy. But you never know what you might need, or what you might find that just has to come home with you.

Caramel Apple Bars
I am so glad that a spice cake and a container of caramel dip jumped into my cart while I was wandering the store. I really didn't have any ideas of what I was going to make. But then my mind started to go a mile a minute thinking about all the fall dessert ideas I could make with the apples that were in my refrigerator.
This Caramel Apple Bundt Cake and these Cinnamon Sugar Apple Donut Holes are usually my go to apple desserts, but I wanted to do something different this time.
These apple pie bars are like a 7 layer bar except you use caramel dip instead of the traditional sweetened condensed milk. I am so glad that my husband had a meeting at the church on the same day I made these.
It would have been very dangerous for me to keep these Caramel Apple Bars in my kitchen for very long. They were so delicious and gooey!
Trust me and try one of these easy apple bars with a big scoop of vanilla ice cream on it!!! You are welcome!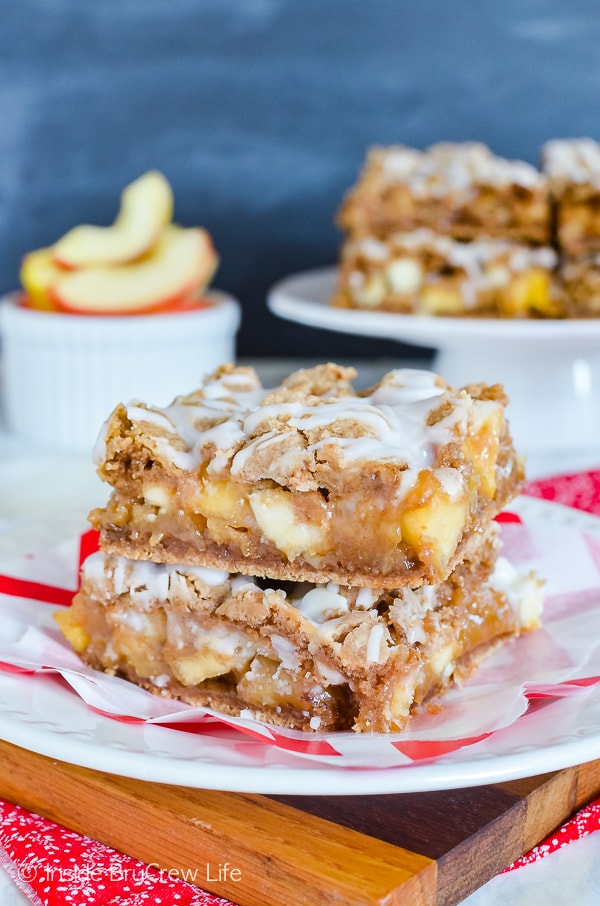 Tips for making Caramel Apple Bars:
Combine the dry cake mix, butter, and apple cider until a soft dough forms.
Spray your hands with nonstick spray and press half the dough into the bottom of a greased 9x13 pan.
Spread the caramel apple dip over the dough in the pan.
Sprinkle the top of the dip with apple chunks and chopped walnuts.
Drop the rest of the dough in small pieces evenly over the top.
Bake and cool. Drizzle the top of the apple bars with the glaze. (full recipe below)
Try to resist the urge to devour the entire pan of Caramel Apple Bars in one sitting!

More easy apple dessert ideas you may like:

*The post and recipe for these Caramel Apple Bars was originally posted on September 25, 2013. The photos and post has been updated and republished on September 17, 2018.