These hidden candy center in these Cinnamon Caramel Cookies will make everyone smile when they find it. Fill your cookie jar with a batch today!
*Make sure you sign up for the free BruCrew email, so you see these recipes in your inbox each morning.**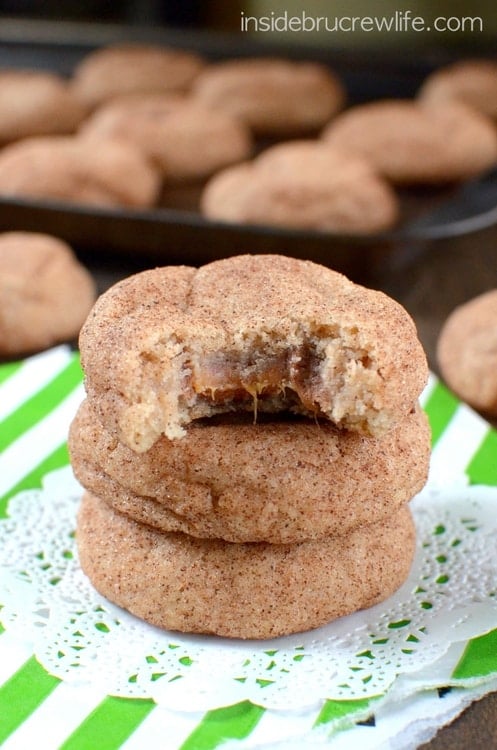 So, surprises…do you like them, or could you do without them?
I have to say I'm not a big fan of surprises.  I like to know what's going to happen and when it's going to happen.  Of course, with teenage boys that isn't always an option I get.  They like to jump out at us from random corners.
My hubby spilled a cup of coffee all over himself one night when our oldest son popped out from behind the laundry room door.  Now that was funny stuff. Well, until I am the next surprise victim.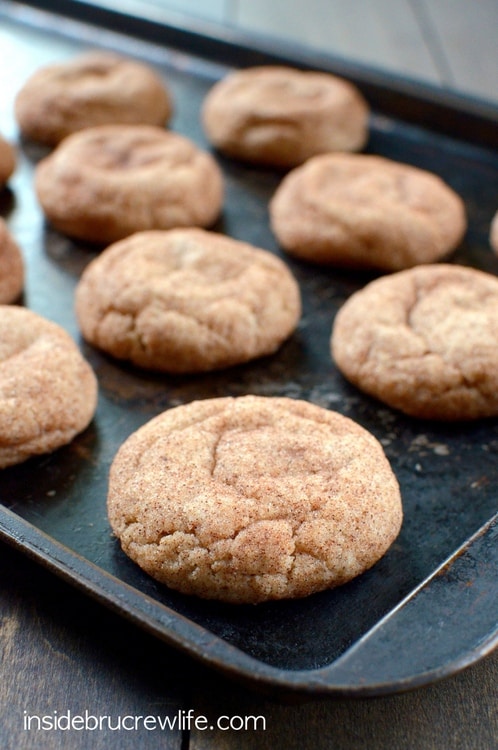 Want to know what totally surprised me the other day? I was doing a little grocery shopping before picking up the kids from school.  Who am I kidding? I was getting cookies, eggs, candy, and a few cake mixes.  You know, just a normal shopping trip for me.
Anyway, I walked down the cookie aisle to grab a package of peanut butter cream cookies (stay tuned for a recipe using those or make a batch of these Peanut Butter Nutter Butter Brownie Bars if you cannot wait) when a much older gentleman started a conversation with me about the few items in my cart versus the many in his cart.
Now this was NOT your normal conversation.  You know the feeling when someone starts flirting with you, right?  This was totally the vibe I got! I answered him politely and then got out of that aisle quickly. Of course, I passed him again in the store, and he gave me this big smile.  I smiled back but thought, "Yup, definitely time to get out of the store!"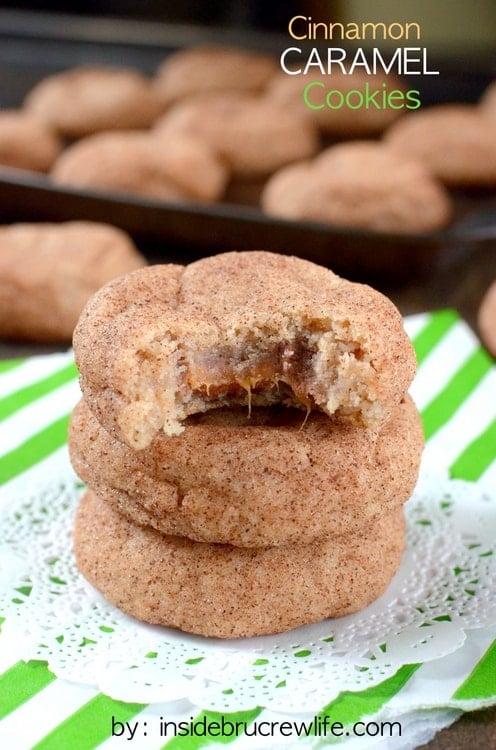 To top it all off…he had gray hair!  GRAY HAIR!!!  Surprised was definitely how I felt at this new development.  Seriously I can't be that old that older gentlemen are flirting with me.  My hubby just laughed his head off when I was telling him about it!  I'm glad he found it super amusing!
Now one surprise I DO like over and over is candy hidden inside cookies!  I mean look at these triple chocolate cookies! Who can resist that? Surprise candy inside cookies = good!  Surprise flirt attack from an older man = not good!!!
These puffy cinnamon cookies look all innocent, right?  That is until you bite into the cookie and find a soft caramel center!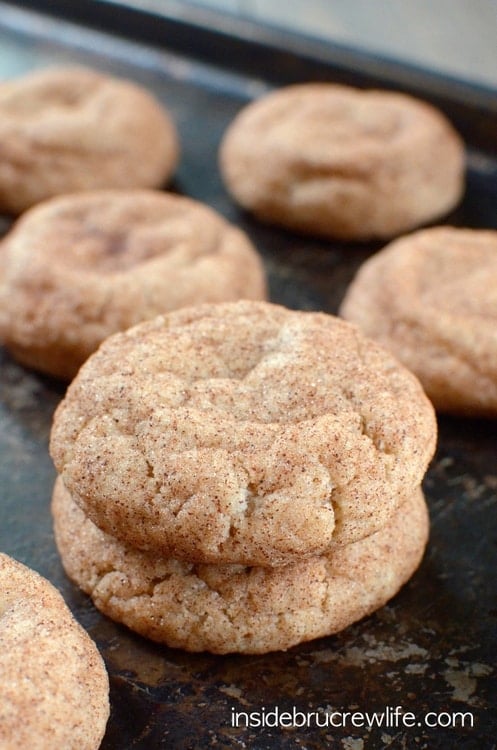 Last week I asked for some cookie inspiration from my Facebook fans.  I wanted to know what your favorite kinds of cookies were.  Overwhelming the answer was Snickerdoodle.  There were a few mentions for caramel, chocolate, chip, honey, peanut butter. I can't wait to try a few of your ideas.  I appreciate the inspiration!!!
One reader mentioned these Brown Butter Salted Caramel Snickerdoodles from Maria, and that flavor combo just wouldn't leave me alone until I made something similar. You know by now that I am in love with cake mix cookies!  They are one of my favorite "box item turned homemade with flair" things to make.
The cream cheese added to the dough of these cinnamon caramel cookies makes them so soft and puffy!
The dough needs a little bit of refrigeration time to firm back up before you scoop out the balls.  Then flatten each ball and hide a mini caramel candy bar inside each one before rolling them in cinnamon sugar.
Then sit back and watch for that surprised reaction that will come when someone bites into the soft caramel center.  It's priceless!
Stay up to date on all the BruCrew baking here:
FACEBOOK | PINTEREST | GOOGLE+ | TWITTER | INSTAGRAM | BLOGLOVIN
Sign up to receive an email in your inbox for each new recipe:
EMAIL SUBSCRIPTION
Yield: 24 cookies
Cinnamon Caramel Cookies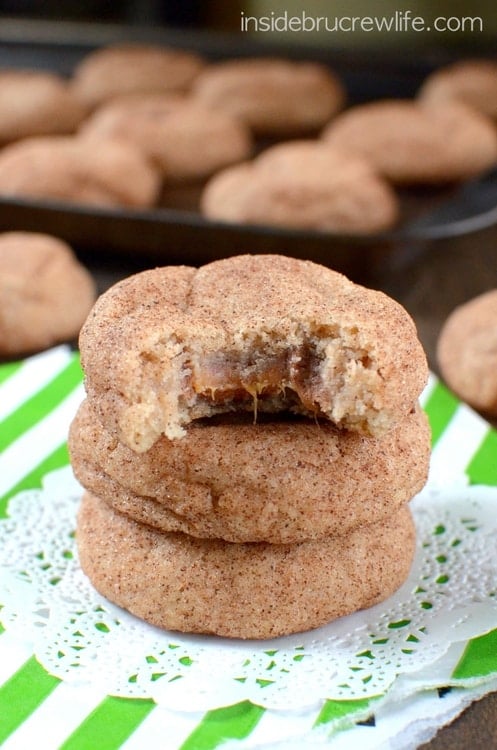 These hidden candy center in these Cinnamon Caramel Cookies will make everyone smile when they find it. Fill your cookie jar with a batch today!
Ingredients
1 white cake mix
1 egg
8 Tablespoons butter, softened
4 ounces cream cheese, softened
24 Rolo candies, wrappers removed
3-4 Tablespoons cinnamon sugar
Instructions
Preheat the oven to 350 degrees. Set out a cookie sheet.
Beat together the cake mix, egg, butter, and cream cheese until a soft dough forms. Refrigerate for at least 30 minutes.
Scoop out and roll the dough into 24 even dough balls. Press each ball flat and place a Rolo in the center.
Form the cookie dough around the candy bar and roll into a ball again. Roll the cookie dough ball in the cinnamon sugar and place on a baking sheet.
Bake for 10 minutes. Remove from the oven and let cool on the cookie sheet for 2 minutes before moving to a piece of parchment paper.
Use the back of a flat spatula to gently tap the cookie tops, if desired. Let cool completely. Store in a sealed container on the counter.
Notes
If you cannot find the cinnamon sugar or do not want to buy another product, you can also use 3 Tablespoons of sugar and 1 teaspoon cinnamon.
Nutrition Information:
Yield:
24
Serving Size:
1
Amount Per Serving:
Calories:

100
Total Fat:

7g
Saturated Fat:

4g
Trans Fat:

0g
Unsaturated Fat:

2g
Cholesterol:

23mg
Sodium:

70mg
Carbohydrates:

8g
Fiber:

0g
Sugar:

7g
Protein:

1g
More cookies I can't wait to make and enjoy: