These Red Velvet Peppermint Pattie Cookies are easy to make, taste delicious, and are the perfect Valentine's Day treat. A candy bar hidden inside a cake mix cookie recipe will get smiles from everyone.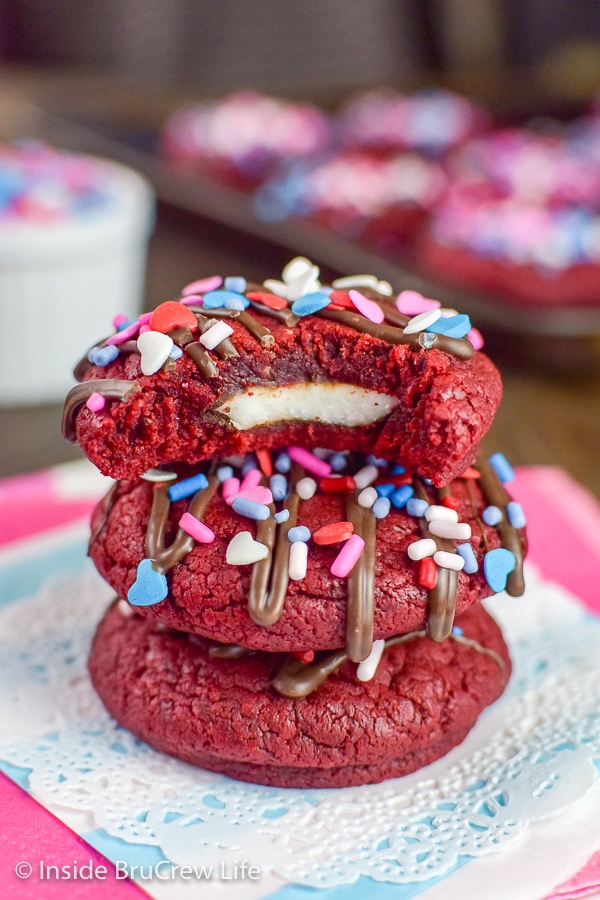 If you have been following or reading our blog for very long, you already know how crazy I am for cake mix cookies. It's ok. I am well aware of my infatuation with these easy cookies.
My newest craze is to hide some sort of candy inside them. Ever since I made these Cinnamon Caramel Cookies with Rolos inside them, I have been plotting another fun candy cookie.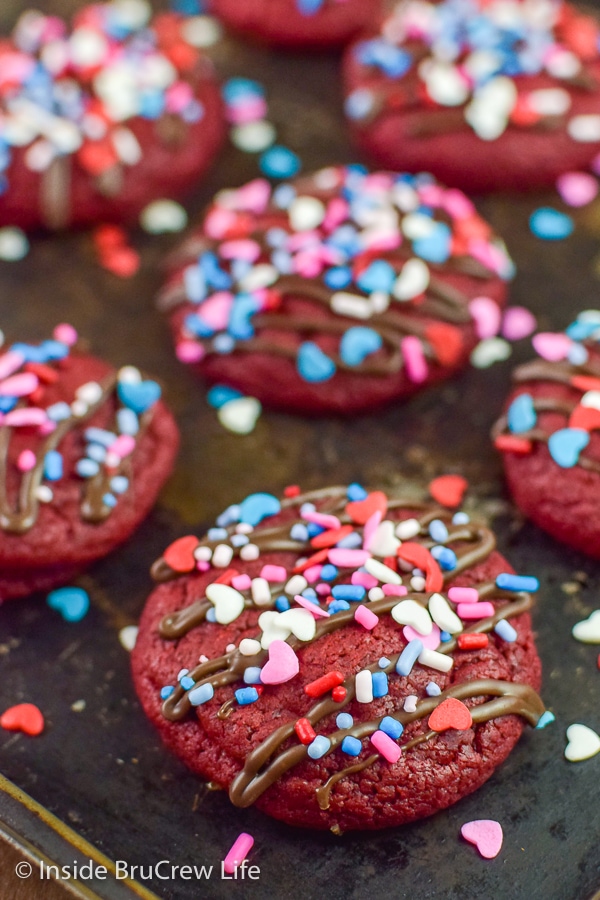 Have you seen these bags of mini Peppermint Patties? The mini candy bars are the perfect size to hide inside a red velvet cookie.
And of course, extra chocolate and sprinkles were the perfect addition to these easy cookies. Although, the boys in my house do not agree with me. They literally brush the sprinkles off every time I put them on anything.
As you can see, this hasn't stopped me. In fact this time, I added even more sprinkle love by combined two different ones from the pantry. I love how the hearts looked with pretty pink and blue jimmies.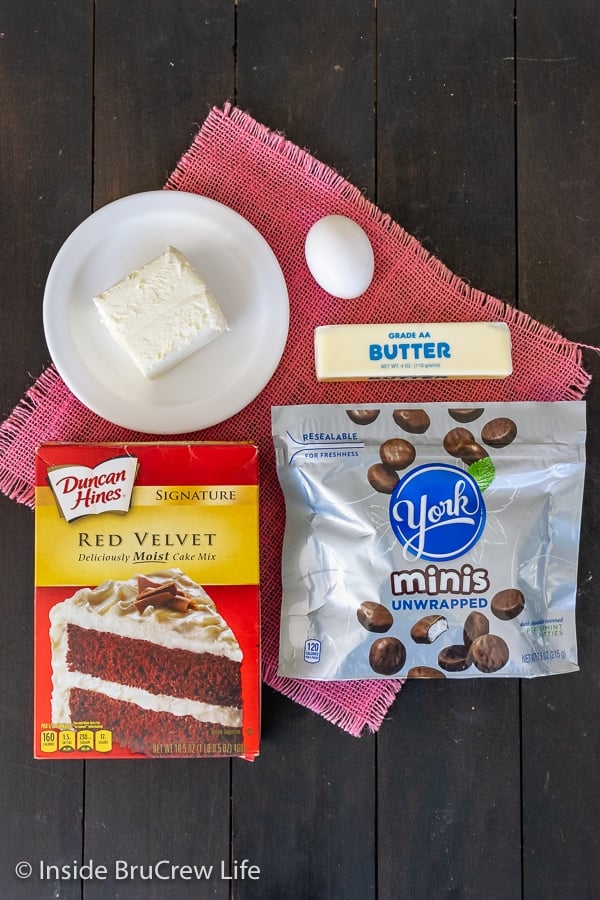 Cake Mix Cookies
One of the easiest ways to make cookies is with a box cake mix. To make cake mix cookies beat the dry mix with 1 stick of butter, 1 egg, and a little bit of cream cheese. The end result is a puffy, chewy cookie that is amazing!
To really take the cookies up another notch, try add your favorite candy or cookies to the dough. There are so many different combos that you can come up with. Some of our favorites are these Chocolate Chip Cookies and Cream Cookies and these Chocolate Cherry Cookies.
Ingredients:
Red Velvet Cake Mix - You will just be using the dry cake mix for this recipe. Do NOT add any ingredients to the mix other than the ones in the recipe.
Butter - Allow the stick of butter to come to room temperature before mixing it into the dry mix.
Egg - One large egg helps add moisture and binds all the ingredients together as it bakes.
Cream Cheese - A little bit of cream cheese will add softness and texture to the cake mix cookies.
York Peppermint Pattie Minis - Make sure you buy the minis, so they are small enough to fit inside the cookies.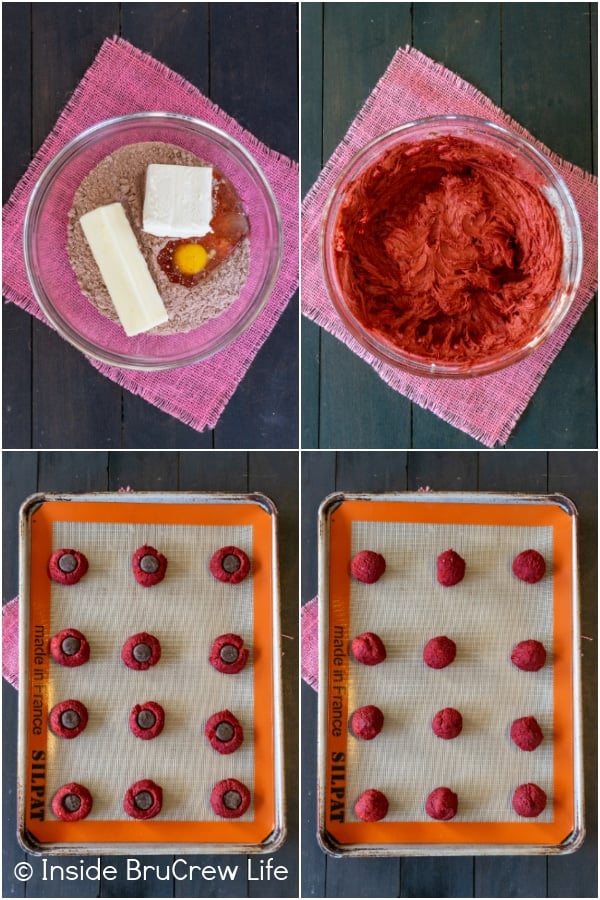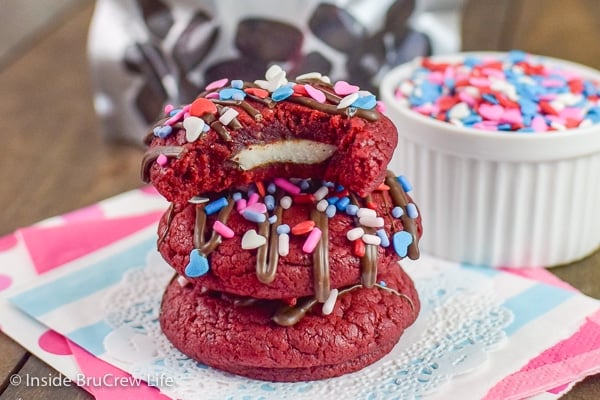 How to make Red Velvet Peppermint Pattie Cookies:
Beat the dry cake mix with softened butter, an egg, and soft cream cheese until a soft dough forms.
Refrigerate the cookie dough for at least 60 minutes.
Scoop into 24 even balls. Press a mini peppermint pattie into the dough ball.
Roll the dough around it and place on a baking sheet. If the dough is still too sticky, you can refrigerate the scoops a little longer before rolling.
Bake for 10-11 minutes, then remove and let cool on the hot pan for a few minutes.
Place on parchment paper and let cool completely.
If you want to add a little more fun and flair to these red velvet cookies, drizzle them with melted chocolate and top with sprinkles that match the occasion or party.

Recipe Tips:
Make sure you add the cream cheese. It makes the cookies bake puffy and stay super soft for days.
You have to refrigerate the cookie dough. Yes, I know. That means the cookie prep takes even longer. The dough needs time to firm up, so you are able to roll it into balls and hide candy in the center.
Do not over bake the cookies! I realize that when you pull them out, you are going to question my sanity. I know that you are going to think they should bake 5 more minutes, but DON'T DO IT!!!!
The cookies will continue to cook on the hot pan for a few minutes, then they set up as they cool.
The chocolate and sprinkles are optional...but really? Why would anyone opt for plain cookies when you can have sprinkles? Only aliens and zombies like boring plain cookies.
Have I completely convinced you that you need these Red Velvet Peppermint Pattie Cookies in your life today? Good! I knew you wouldn't be able to resist these fun cake mix cookies!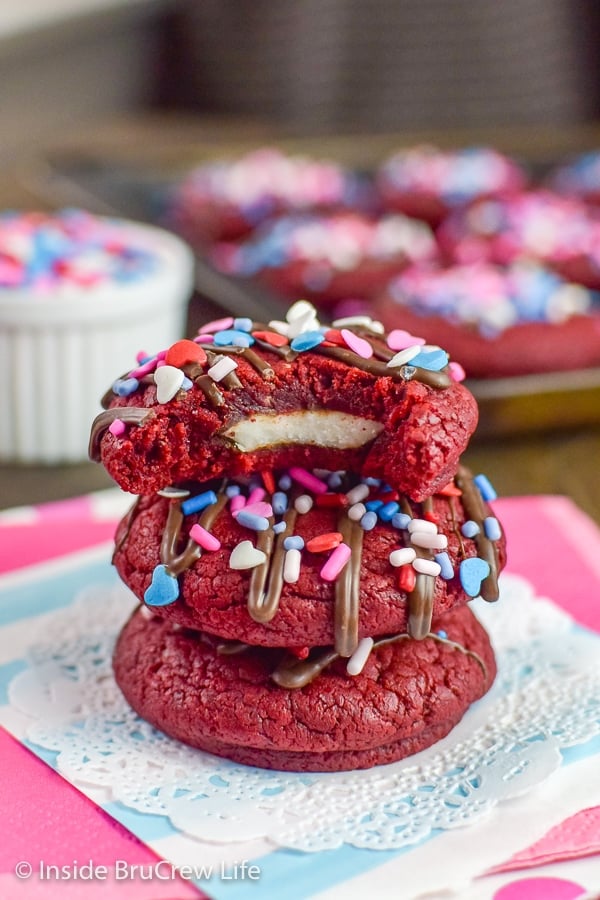 Other cake mix cookie recipes: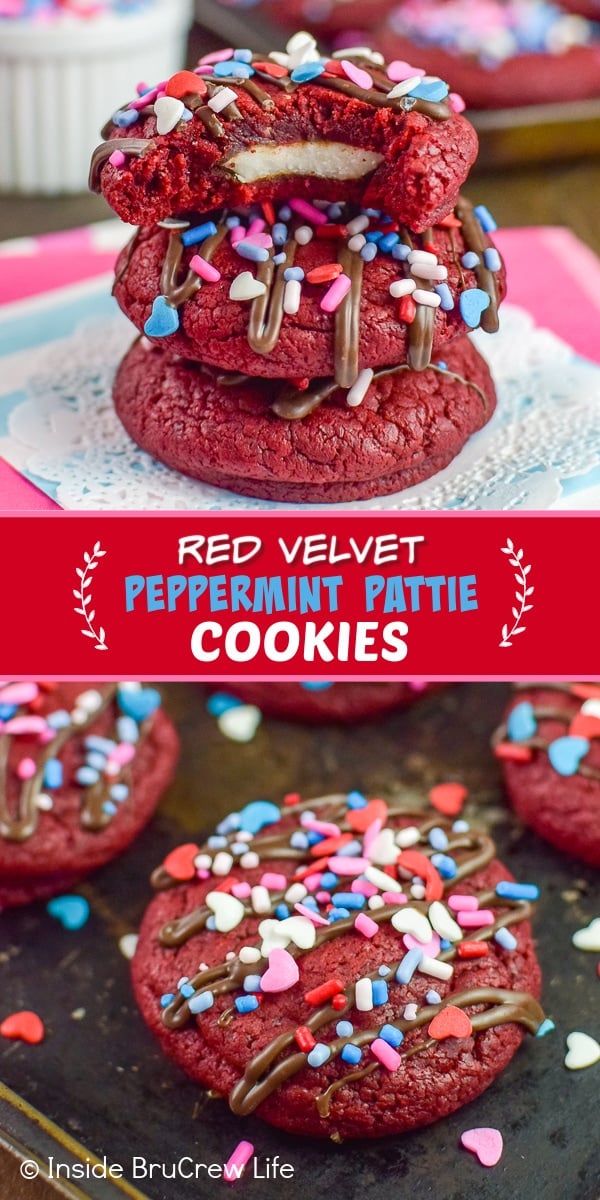 *The post for Red Velvet Peppermint Pattie Cookies was first published February 11, 2015. The pictures and post were updated and republished January 28, 2021.