Hiding candy inside cookies is always a good idea.  These Red Velvet Peppermint Pattie Cookies are easy to make, taste delicious, and are the perfect Valentine's Day treat.
*Love these recipes?  Be sure to sign up for the BruCrew email to have these recipes delivered to your inbox each day.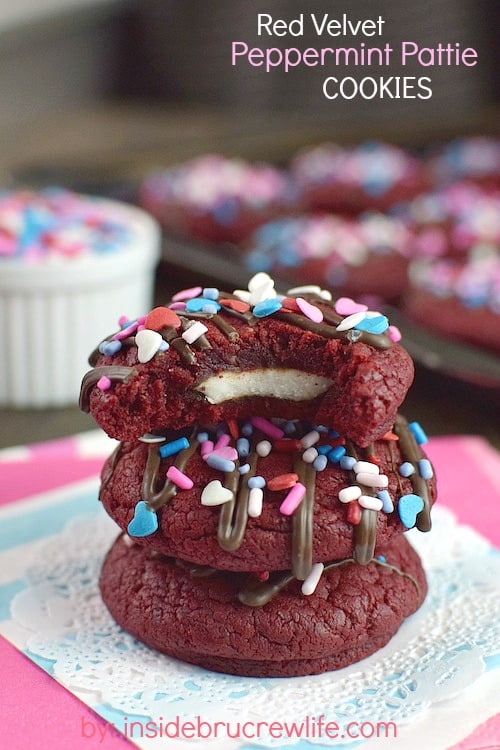 Things look completely different when my husband and I pack for vacation.
He has all his shorts and shirts picked out in record time, while I'm still standing there trying to even decide on the first day's outfit.  And he doesn't even try his outfits on.  He says the shorts and the shirts fit, so why do I need to try them on?
Then there is me.  Sure my shorts and shirts may fit, but who knows if I'm going to actually like them together.  So I have to try them on.  I have to be sure that I like it together because I won't have my closet as a back up when we are away.  And then there is the dilemma of which necklace to wear with each outfit.  Yes, I know.  #firstworldproblems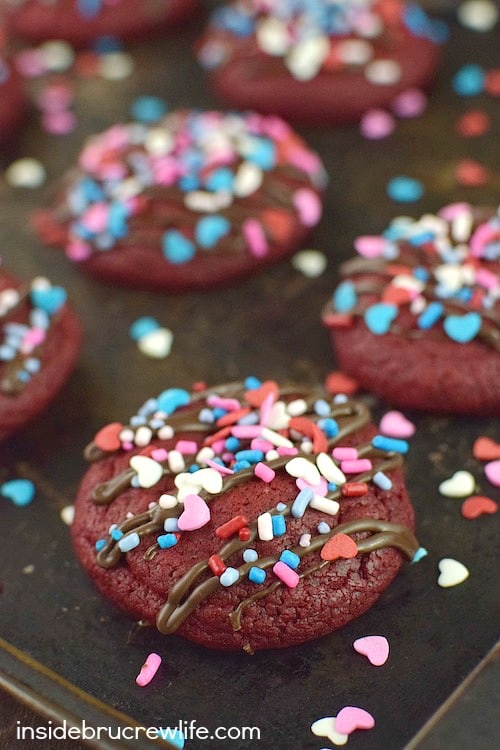 Let's forget about my packing issues.  Well, unless you want to see what I packed inside these yummy cookies.
I know, I know.  You are probably thinking I'm a little bit crazy for cake mix cookies.  It's ok.  I am well aware of my infatuation with these easy cookies.
My newest craze is to hide some sort of candy inside them.  Ever since I made these Cinnamon Caramel Cookies with Milky Ways hiding in them, I have been plotting another fun candy cookie.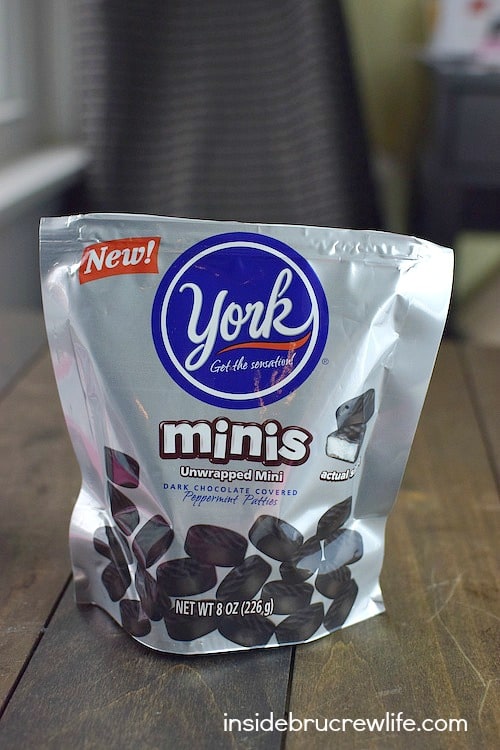 Have you seen these bags of mini Peppermint Patties?  The minis are the perfect size to hide inside a cookie.
These bags of candy also make eating an entire bag of candy way too easy.  No wonder I have to try all my outfits on…too much candy means things fit funny.  I'm thinking it was because I bought 2 bags.  What?  I consider the first bag research 😉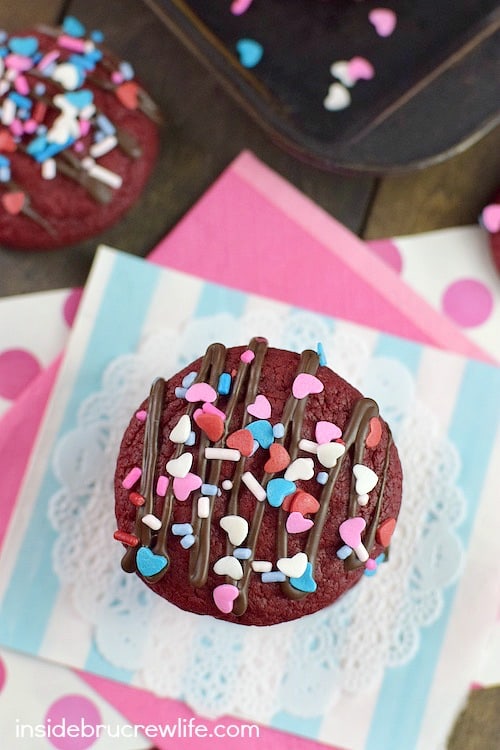 Fun sprinkles just make a cookie that much more fun.  Of course don't ask the boys in my house.  They literally brush and pick every sprinkle off every time I put them on anything.
It hasn't affected my sprinkle loving fad.  In fact this time, I ramped up the sprinkle loving and combined two different kinds…hearts and jimmies.  If your chocolate sets up before you can get the sprinkles added, just take a look at this picture.  Yup, that's how I roll in my kitchen!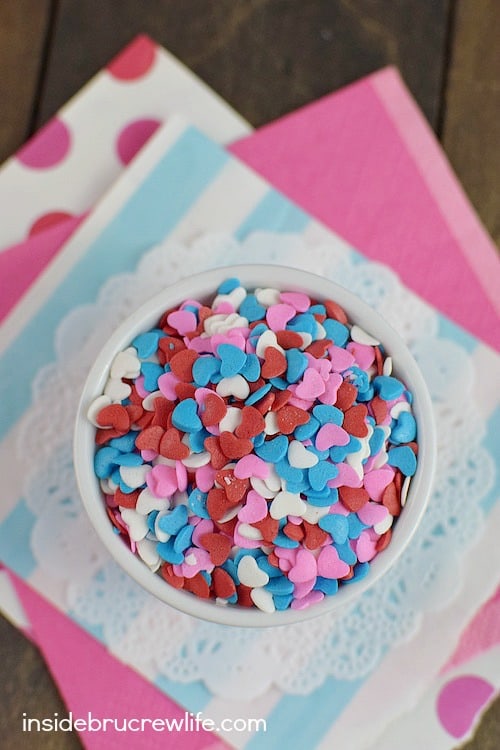 Let's talk about these candy packed cookies for a second.
1.  Make sure you don't forget the cream cheese.  It adds that little something, something to the cookie.  It makes them bake puffy and stay super soft for days.
2.  You have to refrigerate the dough.  Yes, I know.  That means the cookie prep takes even longer.  But if you don't let the dough firm up, you won't be able to roll them in balls.  And then you won't be able to hide the candy in them.  So, sorry, but you have to refrigerate it.  #notsorry
3.  Do not over bake the cookies!  I realize that when you pull them out, you are going to question my sanity.  I know that you are going to think they should bake 5 more minutes…DON'T DO IT!!!!  The cookies will continue to cook on the hot pan for a few minutes, then they set up as they cool on your counter.  If you decide you know better, do not email me with complaints on why your cookies were not soft.  I warned you!
4.  The chocolate and sprinkles are optional…but really?  Why would anyone opt for plain cookies when you can have sprinkles?  Only aliens and zombies like boring plain cookies.
Have I completely convinced you that you need these Red Velvet Peppermint Pattie Cookies in you life like today?  Good!  I knew you wouldn't be able to resist these 🙂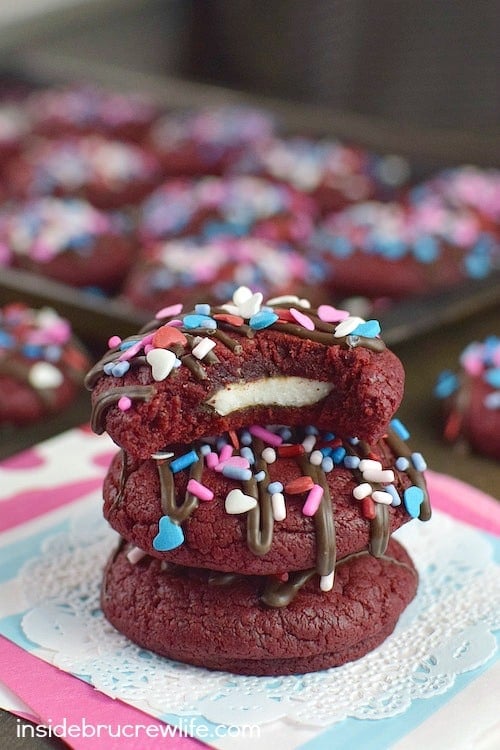 Stay up to date on all the BruCrew baking here:
FACEBOOK | PINTEREST | GOOGLE+ | TWITTER | INSTAGRAM | BLOGLOVIN
 Sign up to receive an email in your inbox for each new recipe:
EMAIL SUBSCRIPTION
Yield: 24 cookies
Red Velvet Peppermint Pattie Cookies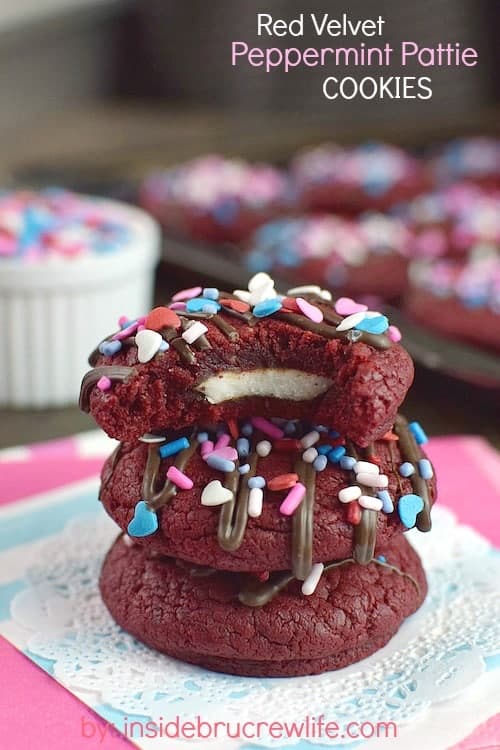 These Red Velvet cookies have a hidden Peppermint Pattie surprise inside. Adding a chocolate drizzle and fun sprinkles makes them even more fun to share.
Ingredients
1 red velvet cake mix
8 Tablespoons butter, softened
1 egg
4 ounces cream cheese, softened
24 mini Peppermint Patties
2 Tablespoons chocolate melts
sprinkles
Instructions
Preheat oven to 350 degrees.
Combine the cake mix, butter, and egg and mix until a soft dough forms.
Add the cream cheese and beat again. Refrigerate dough for 30-60 minutes.
Roll the dough into 24 even dough balls. Flatten each ball slightly and form around a mini Peppermint Pattie.
Bake for 10 minutes. Do not over bake! They may look underdone, but they will set up. Cool on the pan for 2 minutes, then remove to parchment paper to cool completely.
Melt the chocolate melts, according to package directions. Drizzle over each cookie and top with sprinkles. Let set. Store in a sealed container.
Nutrition Information:
Yield:
24
Serving Size:
1
Amount Per Serving:
Calories:

127
Total Fat:

8g
Saturated Fat:

5g
Trans Fat:

0g
Unsaturated Fat:

2g
Cholesterol:

27mg
Sodium:

66mg
Carbohydrates:

14g
Fiber:

0g
Sugar:

11g
Protein:

1g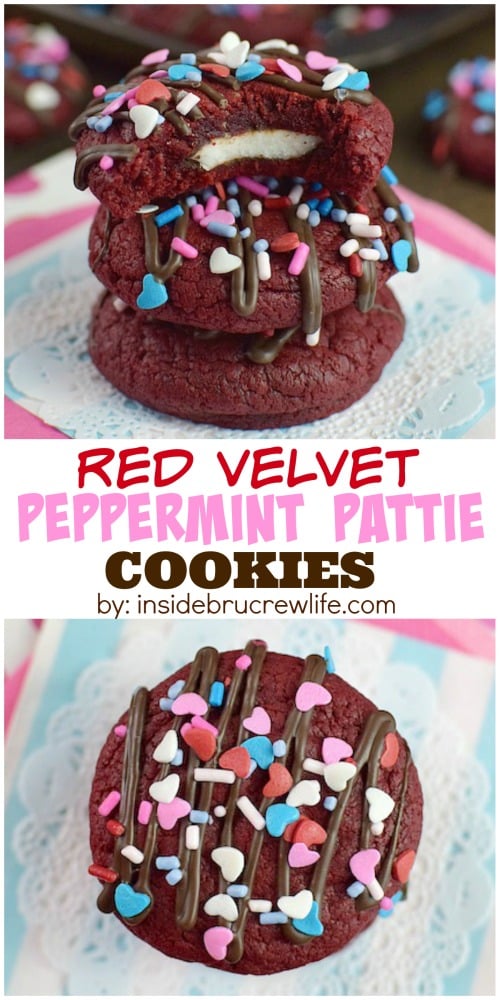 Peppermint Pattie recipes from Friends:
Dark Chocolate Peppermint Pattie Fudge from Beyond Frosting
Peppermint Patty Stuffed Ritz Crackers from The Gunny Sack
York Peppermint Patty Fudge Cookies from Sally's Baking Addiction
*I was sent product from Challenge Butter to create recipes.  No other compensation was given for this post.