These Cherry Chocolate Mousse Parfaits have layers of pie filling, cookies, and a creamy chocolate mousse cheesecake. Grab a spoon and get ready to dig in!
*I am partnering with Lucky Leaf this year as a blog ambassador bringing you delicious recipes using pie filling.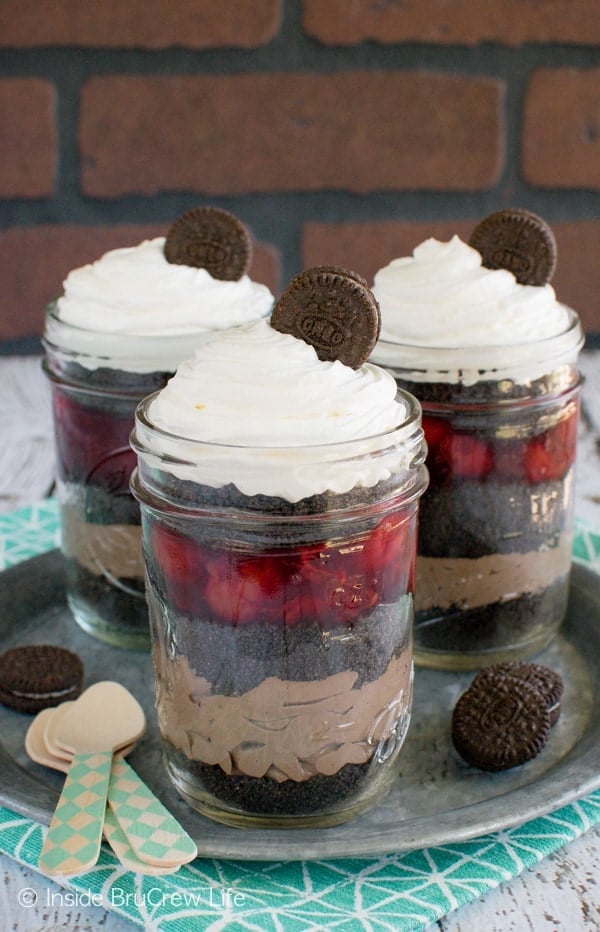 PIN IT NOW TO SAVE THE RECIPE FOR LATER!
My husband goes in spurts with his healthy eating. Most days he can say no to the desserts and treats that I pump out of our kitchen. I wish I had that kind of willpower.
A few months ago he decided that he was going to give up sugar and carbs for a while. Yes, right as I was in the middle of recipe testing for the cookbook, he stopped eating sweets. That limited my reliable taste testers by quite a bit. Thank goodness I have willing friends at church who are always ready to step up to the dessert eating challenge.
One night we stopped at the store to pick up a few ingredients I needed. Apparently the lack of sugar was finally starting to get to my hubby because while I was grabbing some cans of pie filling and cookies, he was looking over the chocolate baking bars.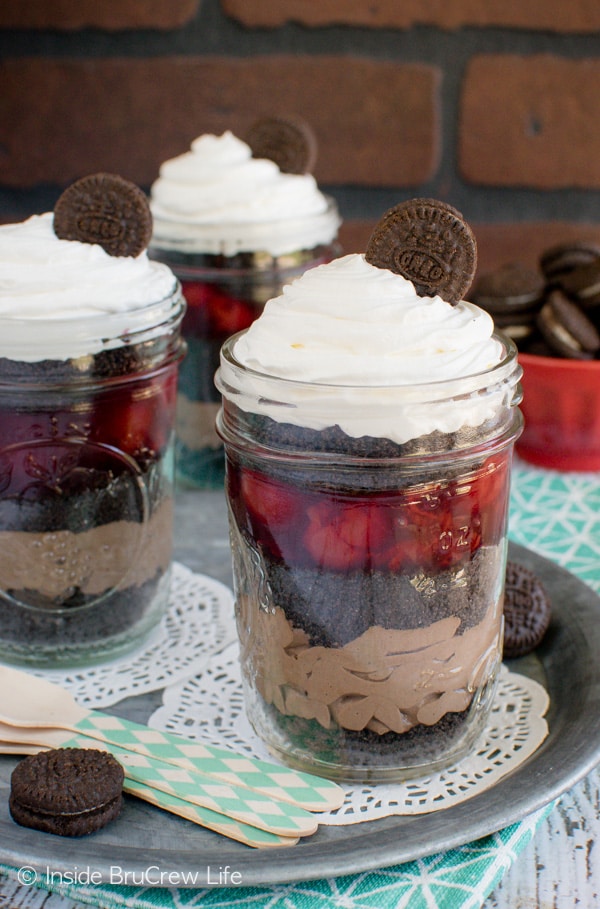 He finally decided that he was going to buy one of the dark chocolate bars and just have a small taste. So, he grabbed the bar with the least amount of sugar. Ok, it was actually one without any sugar in it, so really just cocoa powder in solid form. Yup, the 100% cacao unsweetened baking bar went into the cart.
I tried to warn him! I tried to tell him that this was a bad idea. But does he listen to me? Sometimes yes, but not today.
As soon as we got in the car, he pulled the chocolate bar out of the bag and opened it. Again I tried to warn him this was not going to end well, but he went ahead and popped a chunk in his mouth. Like I said completely unsweetened baking bars do taste just like cocoa powder...my husband totally believes me now.
Before we even left the parking lot, he had to pull over to spit it out. Yes, I was hysterically laughing in the passenger seat. I couldn't help myself. His face was priceless!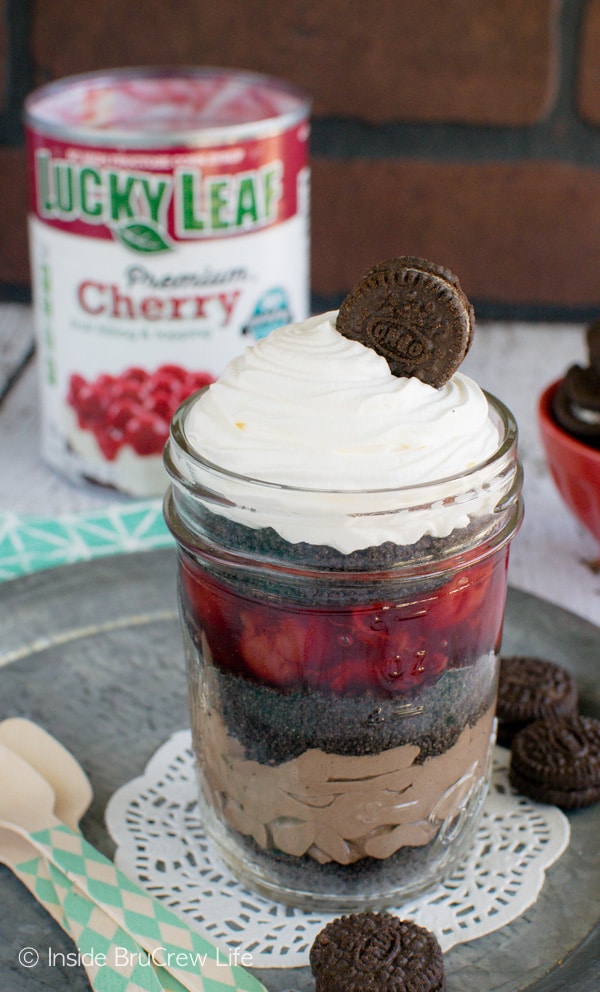 Now something my husband does really enjoy from time to time is a chocolate and cherry treat. He absolutely loved this no bake cherry swiss rolls cake, so as I was thinking through another pie filling dessert, I knew chocolate and cherry had to happen again.
The past few months I have been working with Lucky Leaf® as a brand ambassador creating fun desserts with their pie fillings. Can I tell you a secret? Their pie fillings are my absolute favorites, so I would buy them even if I did not work for them. #truestory
I love that every time I open a can of filling, it is going to be thick and rich and full of 100% fruit. Believe me, I usually eat a few spoonfuls as soon as each lid is off the can.
For these easy no bake cherry chocolate mousse parfaits, I layered a creamy no bake chocolate cheesecake with cookie crumbs and a thick layer of cherry pie filling!
This is the perfect summer dessert for parties and picnics because you can layer everything in mason jars and put a lid on the jars for traveling.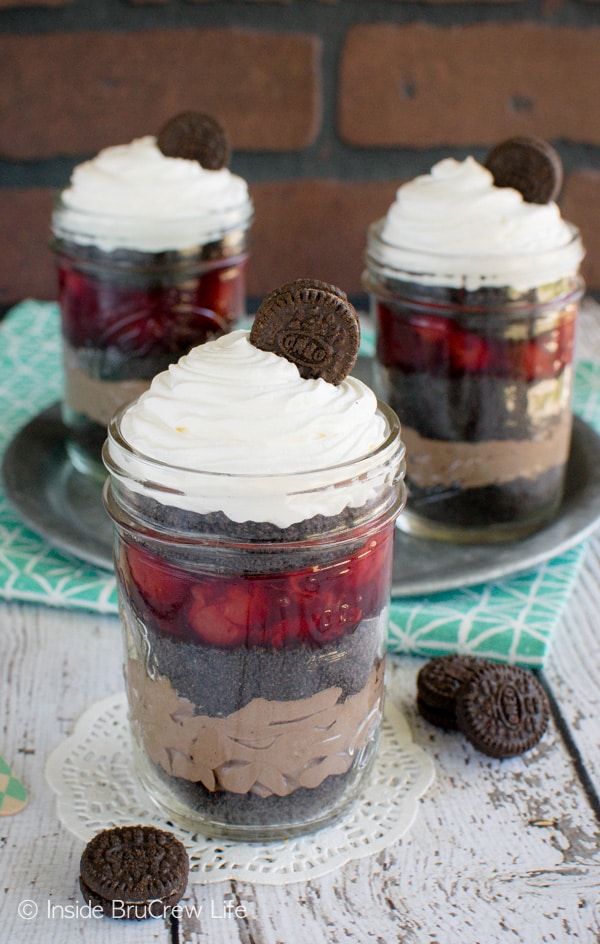 Connect more with Lucky Leaf®:
Twitter | Facebook | Pinterest
More delicious ways to use cherry pie filling in desserts: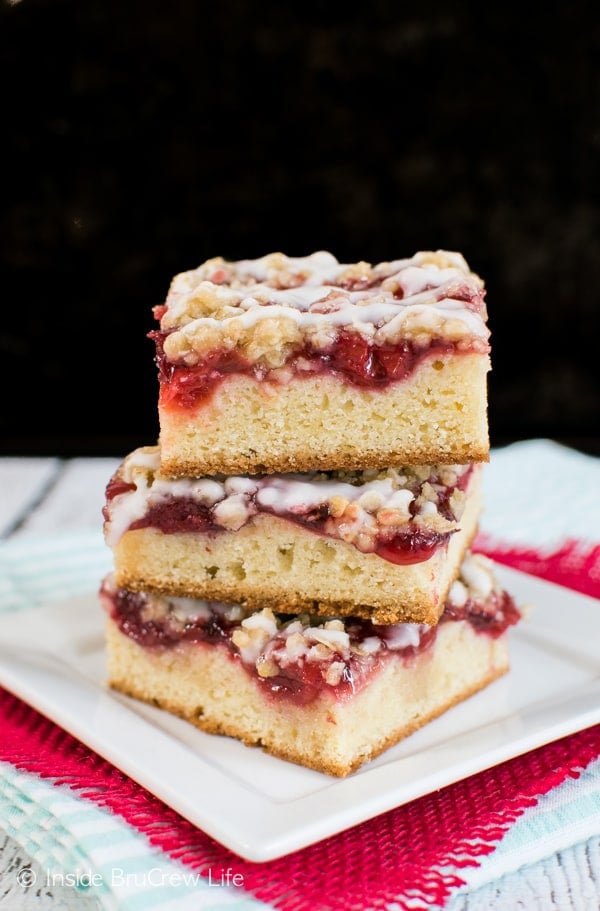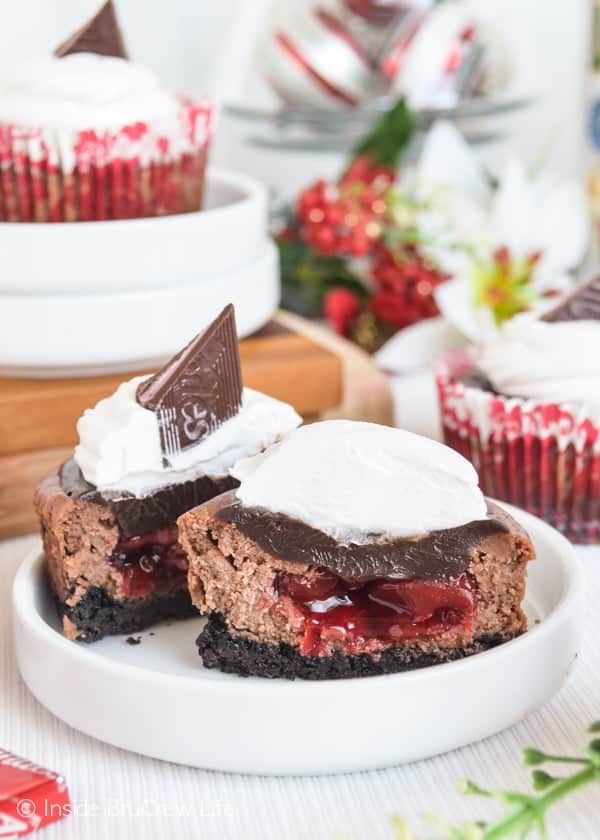 Cherry Jubilee Chocolate Cheesecakes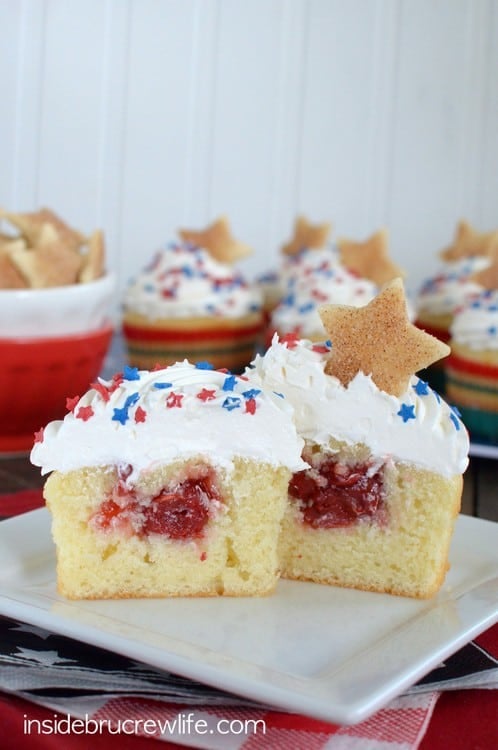 *This recipe was sponsored by Lucky Leaf. All opinions expressed are 100% my own. Thank you for letting me share products and brands we use and love. See my disclosure policy for more information.*