The hidden cherry center in these Cherry Jubilee Chocolate Cheesecakes will make you smile when you bite into these sweet little treats.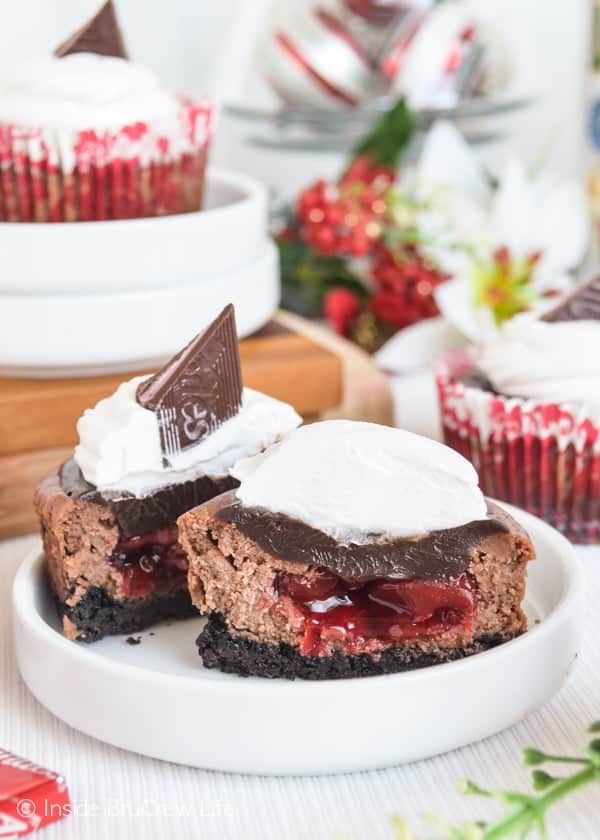 Hey, there cheesecake fans.  Yeah, I'm talking to you.  These Cherry Jubilee Chocolate Cheesecakes are going to blow your cheesecake lovin' minds.
You totally need to try these cherry filled cheesecake minis sometime this holiday season.  I love how plain and chocolatey they look, but then one bite and you realize there is so much more to them!!!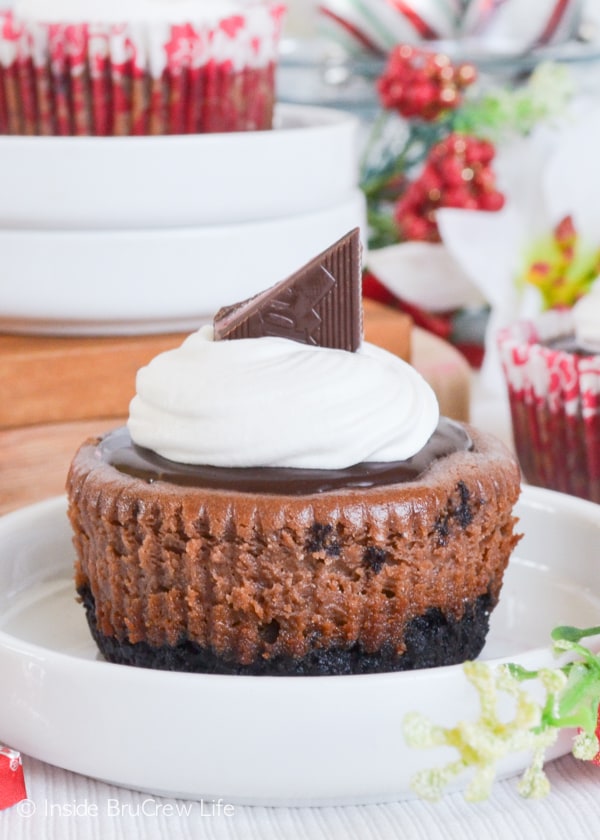 A few weeks ago Lucky Leaf® contacted me about trying some of their pie fillings.  I have to be honest. I had never eaten this brand of pie filling before.
So, what did I do as soon as I opened the can of cherry pie filling?  Why grab a spoon and eat a big spoonful, of course.
I don't really like sour stuff, so I was very excited to taste this and realize how SWEET the filling was.  It was such a pretty shade of red too.
I resisted the urge to just hide in a closet and down the entire can.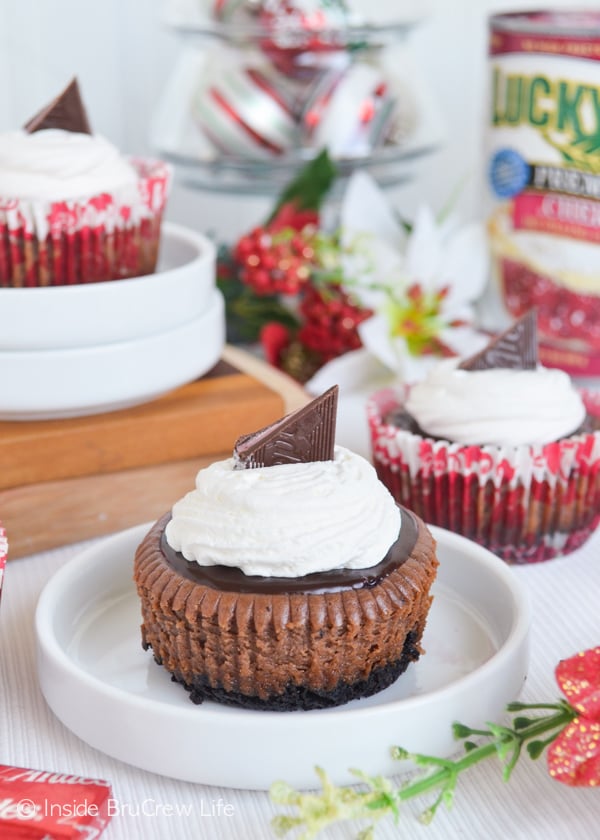 I kept thinking about what kind of pie I wanted to share with you.  Each day I would suggest something different to my husband.
He finally stopped me and told me to just make a cheesecake.  He's right you know.  The only time we use a pie filling is usually when we are making some sort of cheesecake or a breakfast pastry.
Oh, yeah, I do remember this blueberry version I made a while ago.
The day he suggest this, my brain went crazy with all sorts of ideas.  But I finally decided that since Christmas is only like 45 days away, we needed to stick with something that said, "Hello, holidays".
One of the things that I always remember about Christmas is those boxes of chocolate covered cherries that you can only buy at this time of year.  I know some people don't really like them, but I actually love those cheap little candies.
I stopped at Walmart with every good intention of just buying cream cheese and some hair product.  I should know by now that I can't just "run" into any store and get out in a minute or two.
Try an hour later and a cart full of only baking supplies. Why is it that I never seem to buy real food?
Now if I could just remember what I bought all the other supplies for.  In the store I had some good ideas, and I'm thinking I should have written them down.
Maybe if I eat some more Cherry Jubilee Chocolate Cheesecakes it will jog my memory…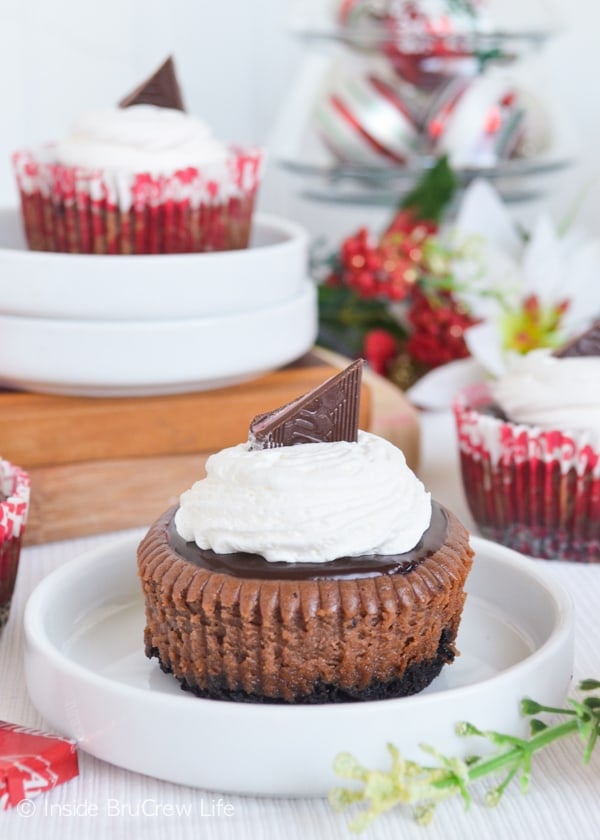 Cherry Jubilee Chocolate Cheesecakes recipe:
Yield: 20 cheesecakes
Cherry Jubilee Chocolate Cheesecakes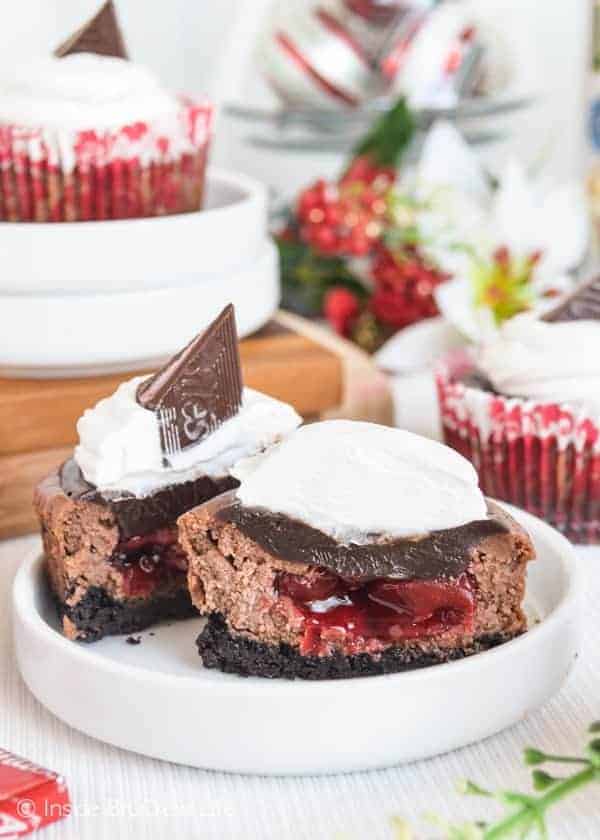 Chocolate cheesecakes with a cherry pie filling center and topped with a chocolate ganache is a delicious and festive holiday treat.

Prep Time 25 minutes

Cook Time 25 minutes

Total Time 50 minutes
Ingredients
2 1/2 cups Oreo cookie crumbs
5 Tablespoons butter, melted
2 - 8 ounce packages cream cheese, softened
1/2 cup sugar
2 eggs
2 Tablespoons plain yogurt
1 teaspoon vanilla
2 Tablespoons flour
1 3/4 cup chocolate chips, divided
1/2 teaspoon shortening
1 - 21 ounce can Lucky Leaf cherry pie filling
1/2 cup whipping cream
Cool Whip
10 Andes Cherry Jubilee Thins, cut in half
Instructions
Preheat oven to 350 degrees.
Mix together the Oreo cookie crumbs and melted butter. Spoon evenly into 20 cupcake liners and press down. Set aside.
Beat together the cream cheese and sugar until light and creamy. Add the eggs, yogurt, flour and vanilla and beat again.
Place 3/4 cup chocolate chips and shortening in a microwave safe bowl and heat for 30 seconds. Stir and repeat until melted. Let cool for 1-2 minutes. Pour into the cheesecake batter and beat until mixed thoroughly.
Spoon the batter evenly into the cupcake liners.
Using a smaller spoon, pull aside some of the batter and drop I teaspoon cherry pie filling into the center of the cheesecakes. Swirl very lightly. Bake for 25 minutes. Let cool completely.
In a sauce pan heat the whipping cream to almost boiling. Remove from the heat and stir in the remaining 1 cup chocolate chips. Stir until melted. Let cool for a few minutes.
Place a spoonful on each cheesecake and spread out. Let set. Top with Cool Whip and cherry candies, if desired.
Here are a few more cheesecakes for your holiday table:
Strawberrylicious Chocolate Cheesecake
Triple Chocolate Mini Cheesecakes
Or check out my  Cheesecake Love Pinterest Board for ideas I find on the web.
*Lucky Leaf provided me with 4 cans of pie filling and a pie warmer to review. No other compensation was given.  All opinions expressed are my own.