This No Bake Cherry Swiss Rolls Cake recipe is so fun and easy to put together using snack cakes and cherry cheesecake. It would be the perfect cake for spring or summer parties.
*I am partnering with Little Debbie® to bring you this fun recipe this spring.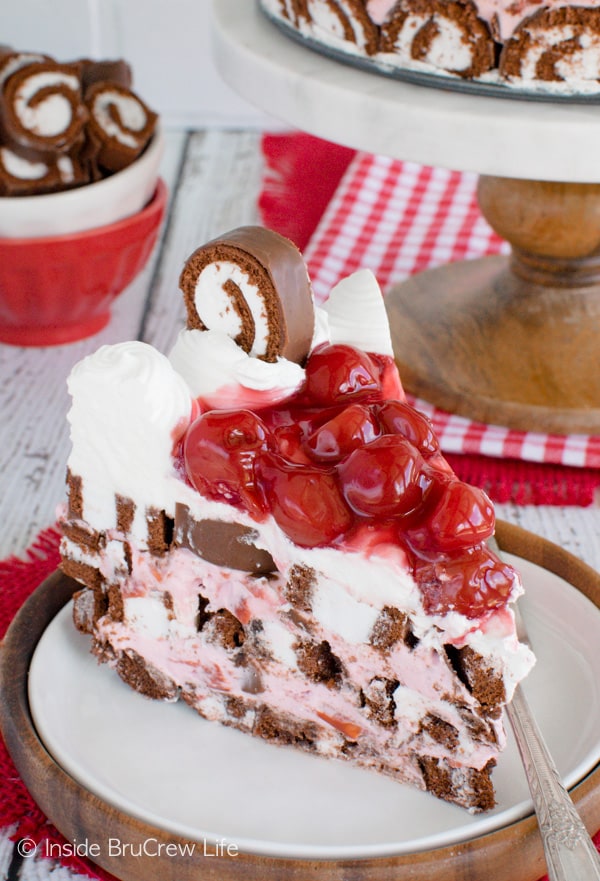 PIN IT NOW TO SAVE THE RECIPE FOR LATER!
So, remember when I said that my family was boycotting the sweets? Well, it turns out they are only against homemade sweets like Frosted Rainbow Chip Brownies right now. Anything in a cellophane wrapper gets two thumbs up!
I grew up eating Little Debbie® treats, so I totally get their fascination with these sweet little cakes. One of my favorite treats to pack in my school lunches many years ago were the Swiss Rolls.
The best way to eat those little chocolate rolls is to peel off the outer layer of chocolate and eat that first, and then unroll the cake before eating it. It turns out my husband used to eat his like that too when he was younger. No wonder we are a perfect match.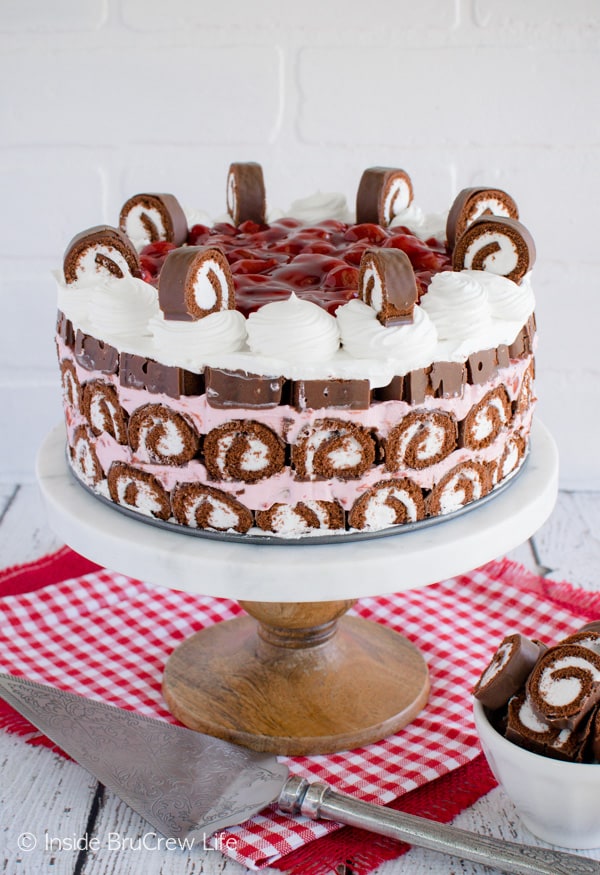 This spring I had the opportunity to create a recipe using a Little Debbie® snack cake, so I went to the grocery store and bought a couple boxes of a few of my favorite treats. I wasn't sure what direction I wanted to go with my recipe, so I had to be prepared for when dessert inspiration hit.
You should have seen our children's eyes when they got home from school that afternoon and they saw the boxes of snack cakes piled in the pantry. Immediately, they started asking questions about why I had so many…and of course, the top question was, "Can we eat some, too?"
I had to make a snap decision right away about which snack cake was going to be forbidden from the hungry mob. I was leaning towards the Swiss Rolls anyway, so I gave them permission to attack the boxes of Zebra Cakes and Oatmeal Creme Pies.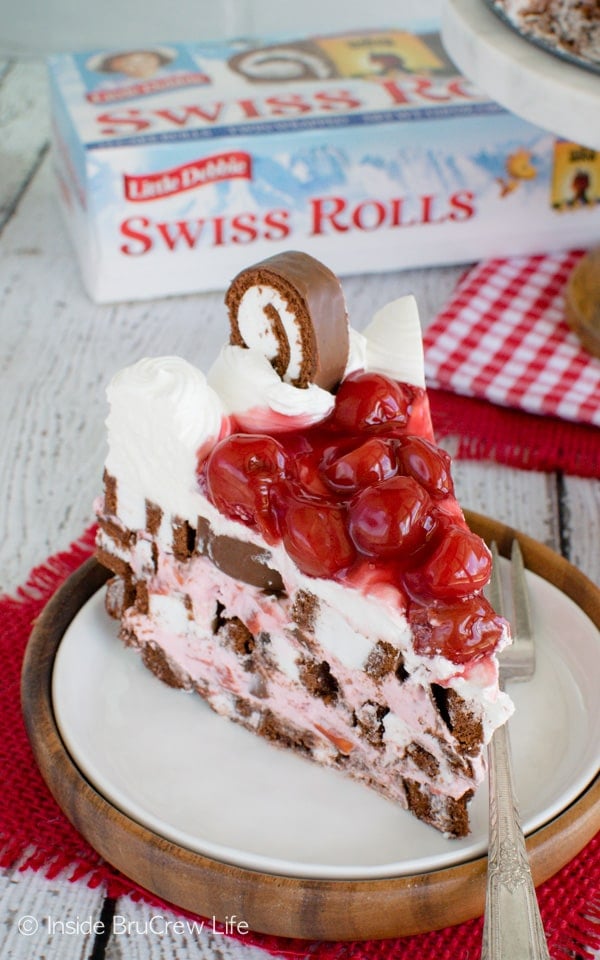 I'm pretty sure those cellophane wrappers hold a little bit of magic in them because I haven't seen my kids this excited for sweets in a while.
Of course, I'm not really surprised at how fast the kids devoured the extra boxes of snack cakes. My mom bought these little cakes for our lunch boxes when I was growing up, and I'm still crazy about them years later. You just never outgrow the taste of Little Debbie.
I learned how to bake by watching my mom and my gram in the kitchen when I was little. It's fun to look back on those sweet memories of making homemade pie crusts with my mom. Now as a mom myself, I love to get in the kitchen and create fun treats with or for our kids.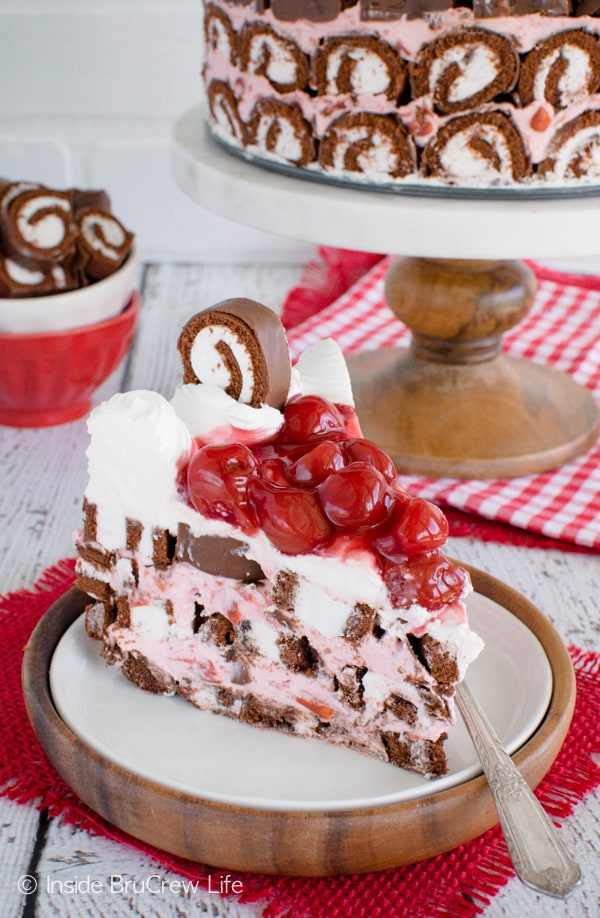 How to make a No Bake Cherry Swiss Rolls Cake:
For this cake, I cut the Swiss Rolls into little circles and lined a springform pan with them. Make sure to line the pan with parchment paper first, so the pan ring comes off without messing up the outside of the cake.
The filling for this no bake cake is just cream cheese, pie filling, and Cool Whip. This fun mousse is perfect for topping cupcakes, filling cakes, or eating with a spoon. Trust me, I had a few spoonfuls before I started layering everything together.
Two layers of mousse, three layers of Swiss Rolls, one layer of Cool Whip, and more pie filling, and this cake was ready for the refrigerator. No bake treats are the best for summer time because who wants to turn on the oven and make it ever hotter in the house!
A few decorations on top gives this no bake cherry swiss rolls cake the perfect finish! Just make sure that no one swipes a few rolls from the top while it is setting up in the refrigerator.
I suggest keeping a few Swiss Rolls hidden, just for emergency decorating purposes. Little hands like to snatch chocolate rolls when no one is looking…at least in my house, they do!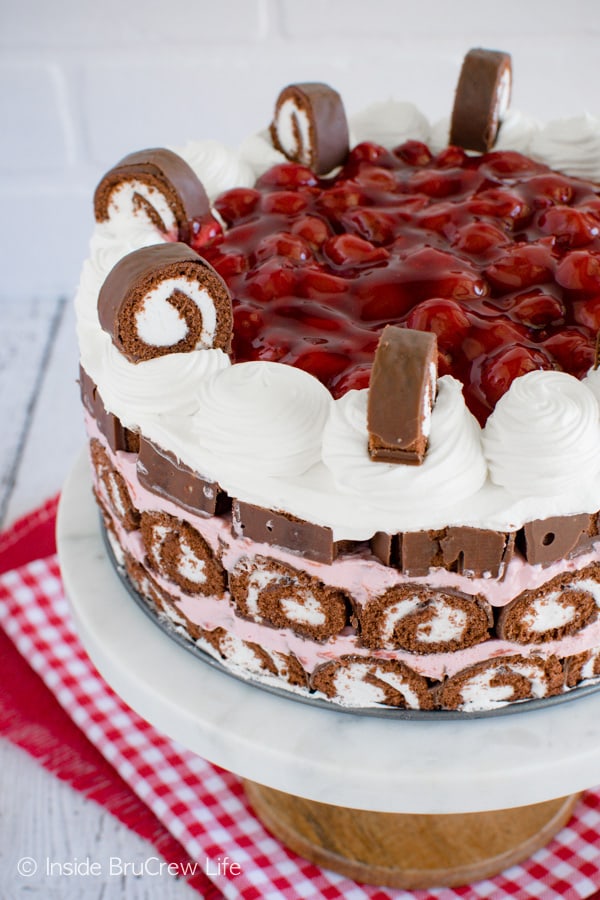 More easy recipes using snack cakes:
Connect with Inside BruCrew Life! Follow us on social media, so you never miss a post.
Email Subscription | Facebook | Pinterest | Twitter | Instagram | Bloglovin
I also have a Facebook group, and I would love for you to join. It's a group where you can share your favorite recipes, ask questions, share photos, and see what's new with the BruCrew. If you would like to check it out, you can request to join HERE.
Yield: 10 slices
No Bake Cherry Swiss Rolls Cake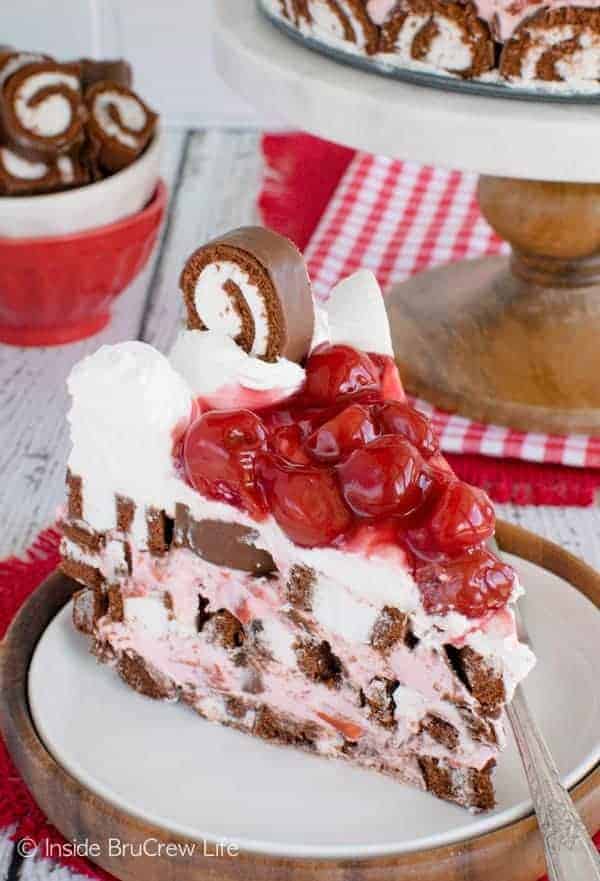 This easy No Bake Cherry Swiss Rolls Cake has layers of snack cakes and a no bake cherry cheesecake. It is a great treat to share for parties or picnics.
Ingredients
12 – 2 packs of Little Debbie® Swiss Rolls
1 – 8 ounce package cream cheese, softened
¼ cup powdered sugar
1 – 21 ounce can cherry pie filling, divided
1 – 16 ounce container Cool Whip, thawed & divided
Instructions
Spread 3 Tablespoons of Cool Whip on the bottom of an 8-inch springform pan.
Spray the ring with non-stick spray and place parchment paper on the sides. Lock the bottom and sides of the pan together.
Cut each individual Swiss Roll into 6 slices. Place some of the Swiss Rolls standing up along the bottom of the pan, so that the frosting center is along the outside rim of the pan.
Fill in the bottom of the pan with more rolls laying flat to create a "crust".
Beat the cream cheese until creamy. Add the powdered sugar, and beat it again until it is smooth.
Add 1 cup cherry pie filling to the mixture and beat it again until it is mixed together and the cherries are broken apart.
Fold in 2 ½ cups of the Cool Whip gently.
Spoon half of the mousse into the prepared pan and spread it out.
Place another ring of Swiss Rolls on the outside of the pan standing up along the rim, and then fill in the center with a layer of rolls laying down.
Spread the remaining mousse on top, and then place a layer of Swiss Rolls laying flat over the entire top.
Spread 1 cup Cool Whip over the top of everything. Refrigerate a few hours or until set up.
Swirl the remaining Cool Whip around the top of the cake. Fill the center with the remaining pie filling.
Top every other swirl with the leftover Swiss Roll circles.
Recommended Products
As an Amazon Associate and member of other affiliate programs, I earn from qualifying purchases.

*This post has been sponsored by Little Debbie®. All thoughts and opinions are 100% my own. Thank you for letting me share brands and products that we love and use.