Create an easy to make no bake dessert with a box of swiss rolls. Your favorite snack can be made into a a delicious swiss roll cake with only a few extra ingredients! See for yourself why this No Bake Cherry Swiss Roll Cake is a crowd favorite!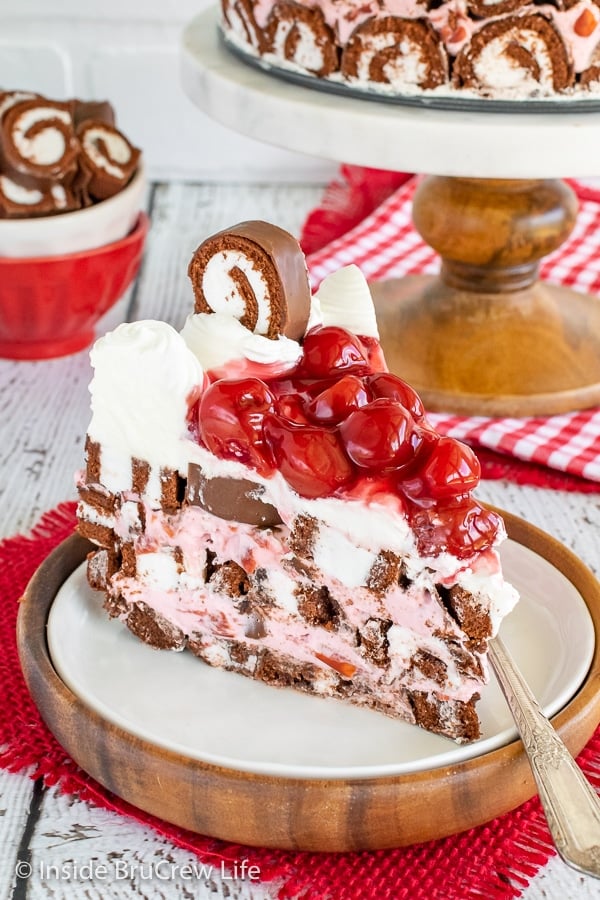 Swiss Cake Rolls
Apparently, my family is boycotting sweets right now, but it turns out they are only against homemade sweets like Rainbow Brownies. Anything in a cellophane wrapper gets two thumbs up!
I grew up eating Little Debbie snack cakes, so I totally get their fascination with these treats. One of my favorite treats to pack in my school lunches many years ago were Swiss Rolls.
The best way to eat those little chocolate rolls is to peel off the outer layer of chocolate and eat that first, and then unroll the cake before eating it. It turns out my husband used to eat his like that too when he was younger. No wonder we are a perfect match.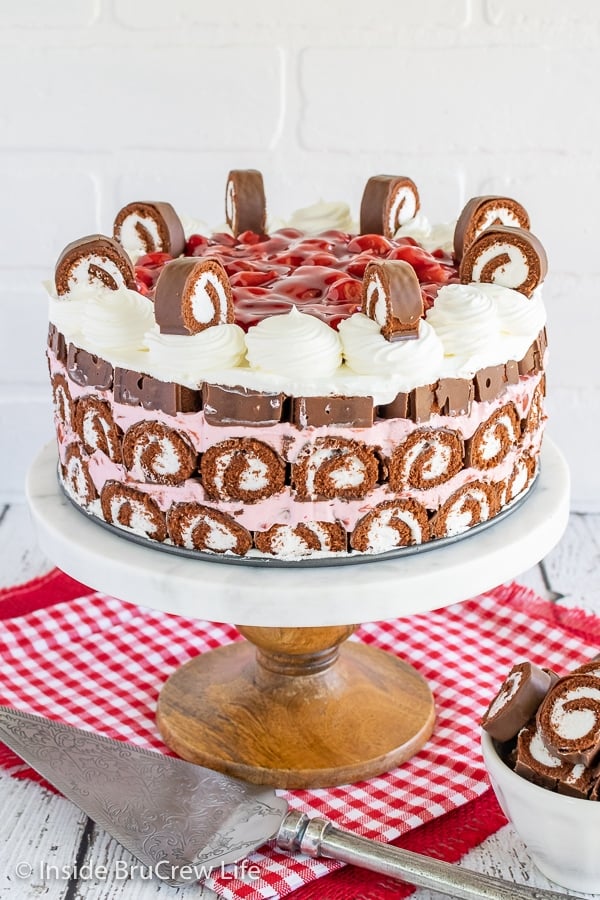 A few weeks ago I was feeling nostalgic at the grocery store, so I bought a couple boxes of my favorite treats. You should have seen our kids's eyes when they got home and saw the boxes of snack cakes in our pantry.
Immediately, they started asking questions about why I had them, and of course, the #1 question was, "Can we eat them?"
I'm pretty sure those cellophane wrappers hold a little bit of magic in them because I haven't seen our kids this excited for sweets in a while.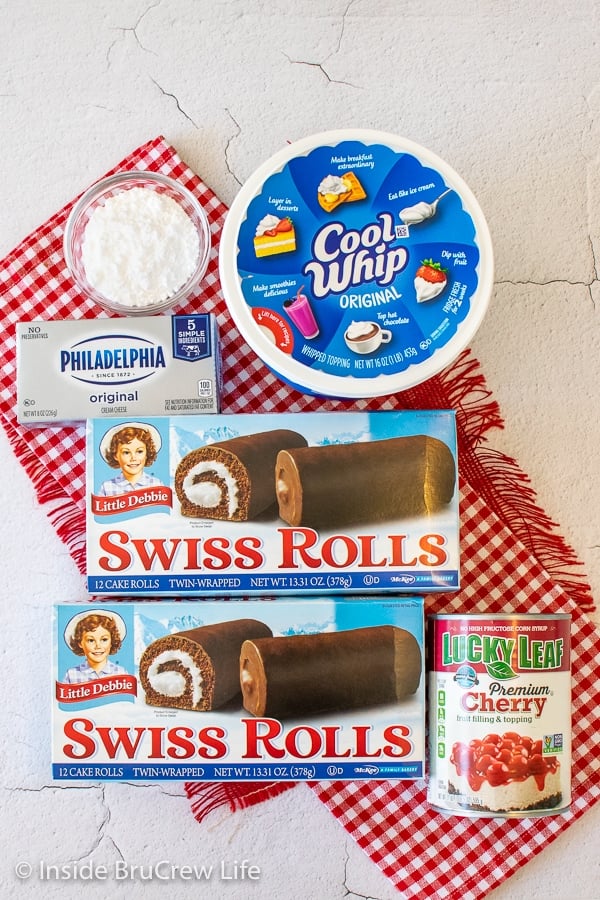 I knew I wanted to make a no bake cake with the Swiss Rolls, so I gave them permission to attack the boxes of Zebra Cakes and Oatmeal Creme Pies.
Ingredients for a Swiss Roll Cake
This easy no bake cake comes together in minutes with just five ingredients.
Cream Cheese - Make sure to set this out ahead of time, so it is soft when you make your filling.
Powdered Sugar - Sweetens the filling.
Cherry Pie Filling - Cherry is always good with chocolate, but you could also use raspberry, strawberry, or triple berry pie filling if you like.
Cool Whip - Use it to add a fluffy texture to the no bake cheesecake and to decorate the top. You can also make a double batch of this Homemade Whipped Cream instead.
Little Debbie Swiss Cake Rolls - You will need three boxes of these sweet snack cakes to make all the layers and to decorate the top.

How to make Cherry Swiss Roll Cake
This easy no bake swiss roll cake comes together in minutes. It's an easy dessert to make ahead of time because it needs time to chill in the refrigerator.
Beat together the room temperature cream cheese and powdered sugar in a large bowl until creamy.
Add some cherry pie filling and mix again to break apart the cherries.
Gently fold some of the Cool Whip into the cream cheese mixture and set aside.
Cut the Swiss Rolls into little circles and line the sides and bottom of a springform pan with them.
Spread half the no bake cherry cheesecake over the cake roll crust. Repeat the layers.
Cover the top of the cake with another layer of Swiss Roll slices, then spread more Cool Whip on top. Chill for a few hours.
Decorate the top of the no bake cake with swirls of Cool Whip, extra chocolate cake rolls, and remaining pie filling right before serving.
The extra pieces of snack cakes give this swiss roll cake the perfect finish! Just make sure that no one swipes a few of the rolls from the top while it is setting up in the refrigerator.
I suggest keeping a few Swiss Rolls hidden, just for emergency decorating purposes. Teenagers like to snatch chocolate rolls when no one is looking. At least in my house, they do!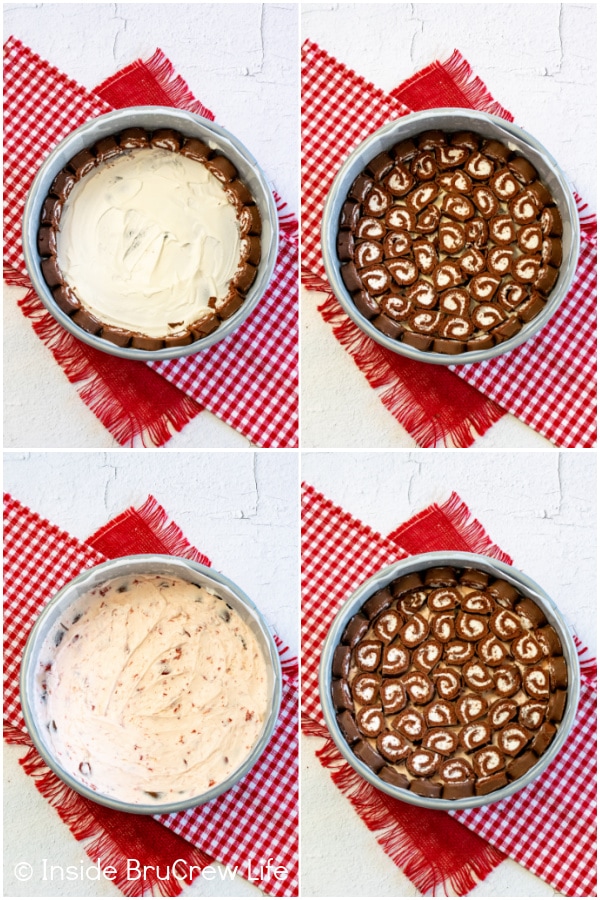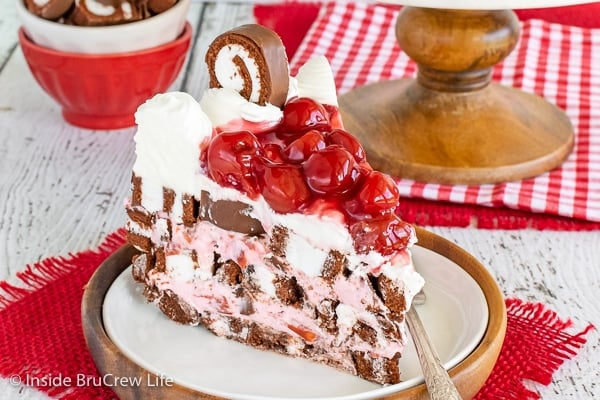 Frequently Asked Questions
How do you keep the cake from sticking to the sides of the pan?
Spray the sides of the springform pan with nonstick spray and press sheets of parchment paper to it. Attach the bottom of the pan to the lined ring.
Spread a little bit of whipped cream on the bottom of the pan to keep the cake from sticking after it chills.
Can you use a different pie filling in this no bake cake?
You sure can. Strawberry, raspberry, or triple berry would all taste great with the chocolate cake rolls.
How do you store a swiss roll cake?
This cherry swiss roll cake needs to be kept in the refrigerator. Keep the cake in a tightly sealed container in the fridge for 3-4 days.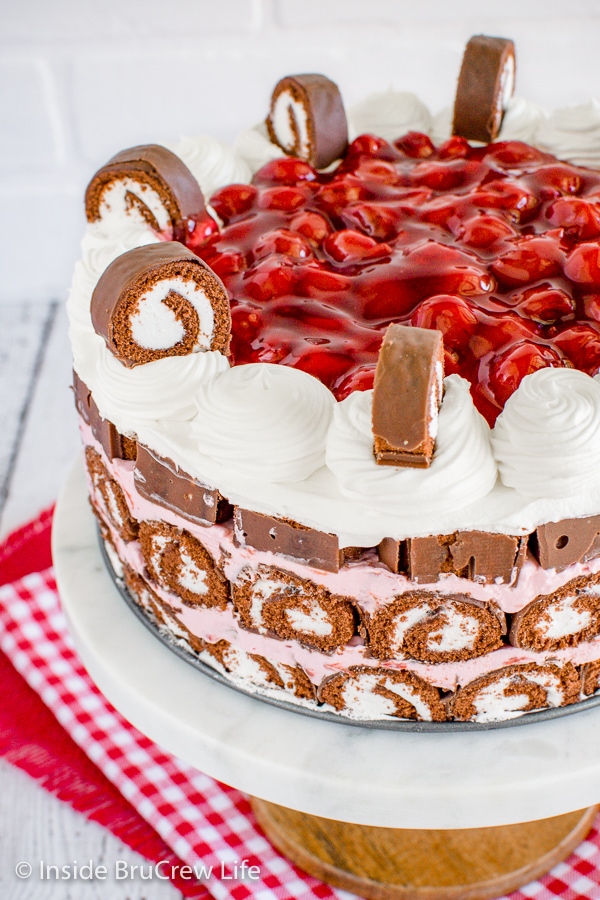 More easy recipes using snack cakes
Other No Bake Desserts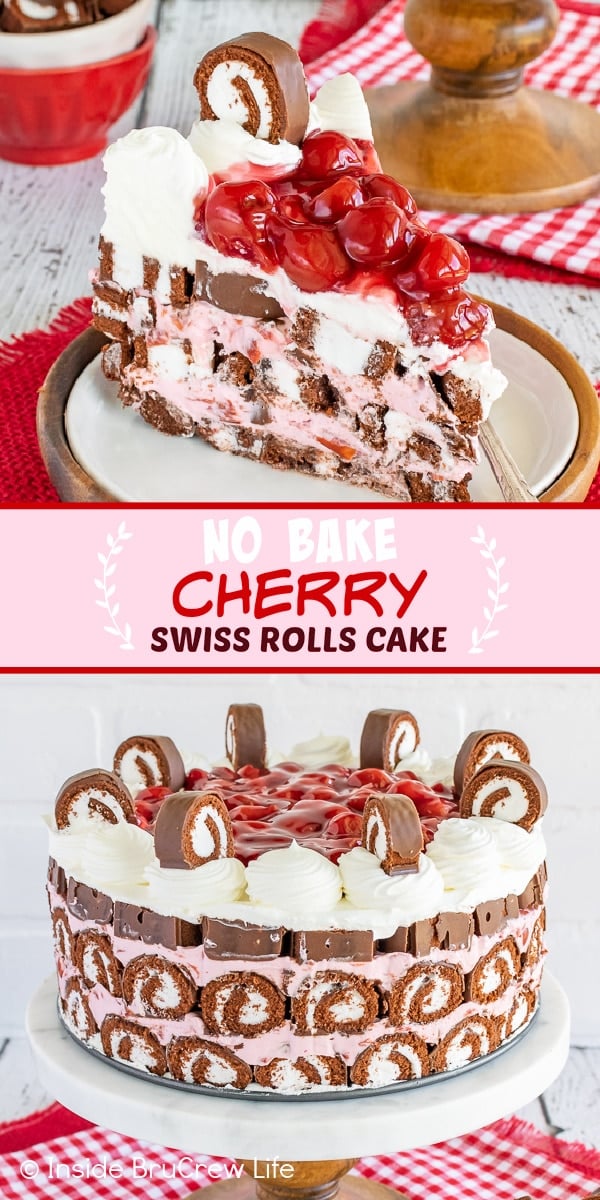 *The post for No Bake Cherry Swiss Rolls Cake was first published May 2, 2016. The photos and post have been updated and were republished February 8, 2021.