Beat the summer heat with our refreshing cherry lemonade! Made from freshly squeezed lemons and juicy cherries, this sweet and tart drink will keep you cool. Whether you're lounging by the pool or enjoying a picnic with friends, this drink is a must-have for all your summer activities.
*I am partnering with Dixie Crystals to bring you this cherry lemonade recipe.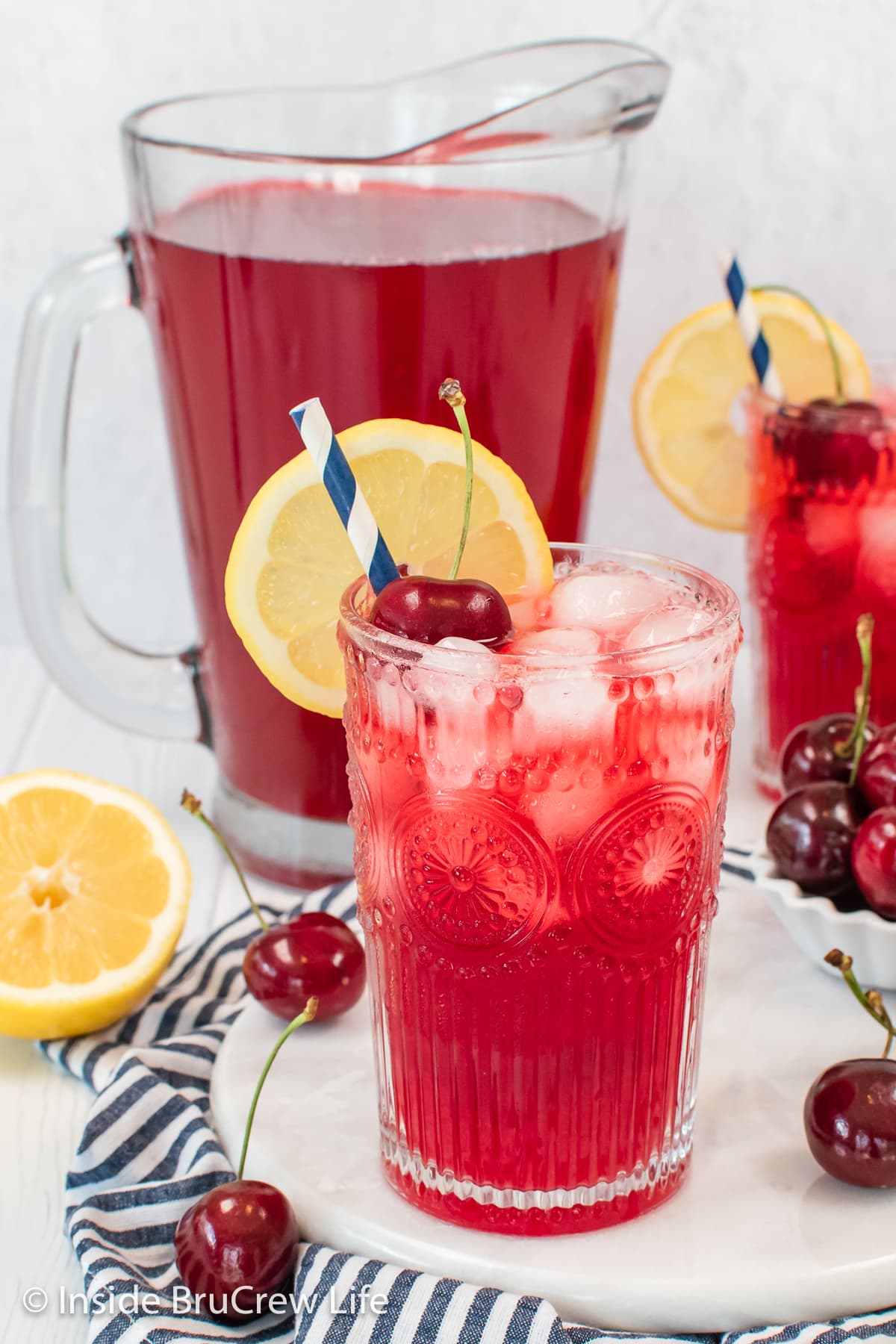 Jump to:
Why Make Homemade Lemonade
During the hot summer months we tend to keep extra drinks in our refrigerator. There is nothing better than a tall glass of orange punch or a limeade slushie to cool you off after being outside.
Adding fruit is a fun and delicious way to add some natural flavor and a pop of color to these drinks. While cherries were still in season, I made a simple cherry syrup and added it to homemade lemonade.
This cherry lemonade is so cool and refreshing. It's the perfect drink to serve when it's hot outside. Not only does it taste amazing, but it's made with natural ingredients.
Simple ingredients. All you need are lemons, cherries, sugar, and water to make a pitcher of fresh homemade lemonade. Unlike store bought drinks there are no preservatives, colors, or flavors in this easy drink.
Refreshing taste. The combination of tart lemons with the natural sweetness of cherries creates a flavor that is refreshing. It is quite delightful and thirst-quenching during hot summer months.
Bright red color. The beautiful, vibrant red color comes from making cherry juice out of fresh cherries.
Perfect for summer. With its unique taste and refreshing flavor, our cherry lemonade is great for sunny days or at family picnics or barbecues.
Key Ingredients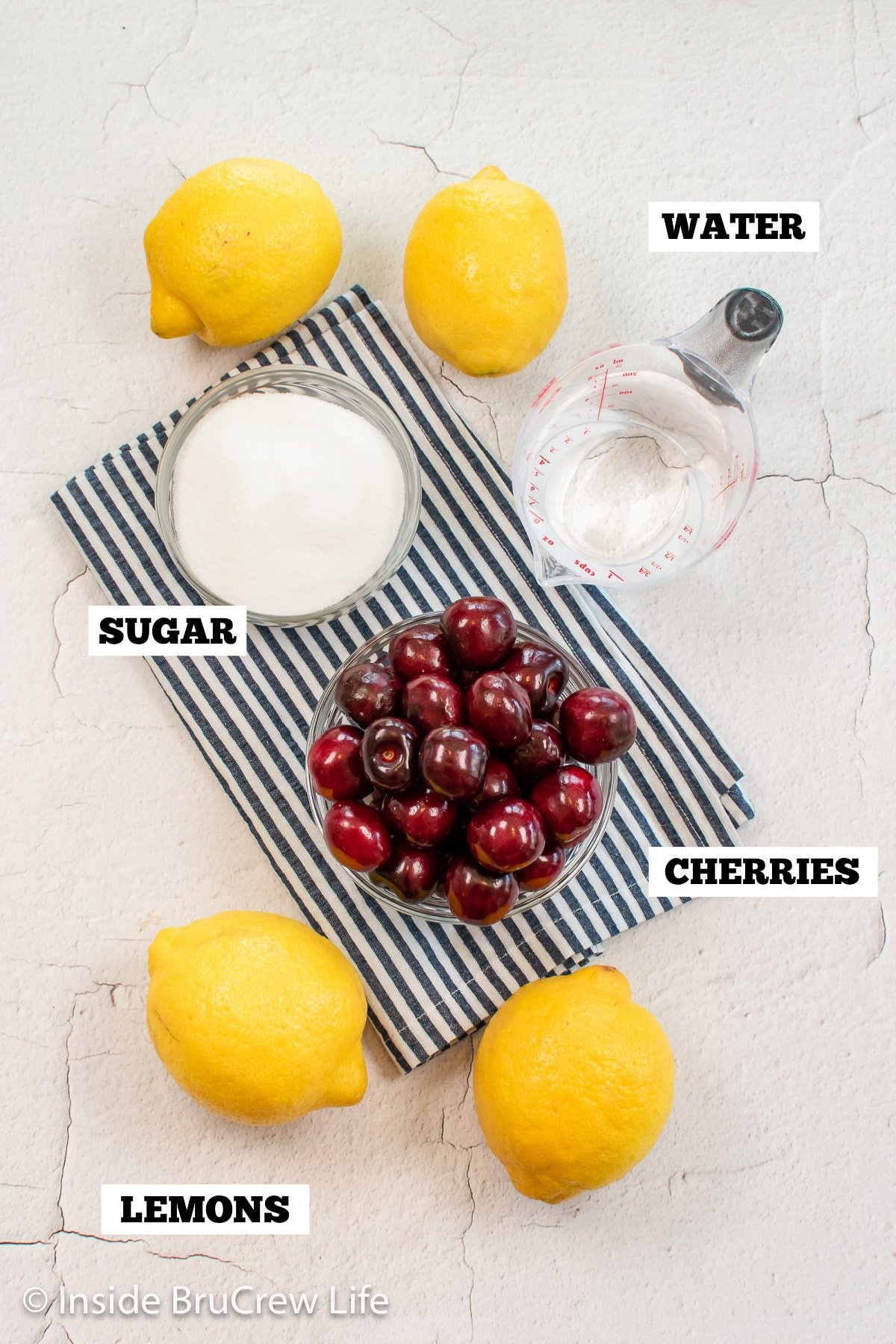 All you need to make this cherry lemonade recipe are four simple ingredients. Plus, lots of ice to serve it over.
Cherries - We used fresh pitted Bing cherries. After you strain the cherry simple syrup off, you can enjoy the cherry puree over a bowl of ice cream. If cherries are out of season, use frozen dark cherries.
Granulated Sugar - Sweetens the homemade cherry juice and balances out the tart lemon juice.
Lemons - Freshly squeezed lemon juice will give you the absolute freshest flavor. If you plan on using bottled lemon juice, try to look for an organic one that contains only juice.
Water
BruCrew Tip: Buy an extra bag of cherries to make homemade cherry pie filling and a cherry limeade pie.
How to Make Cherry Lemonade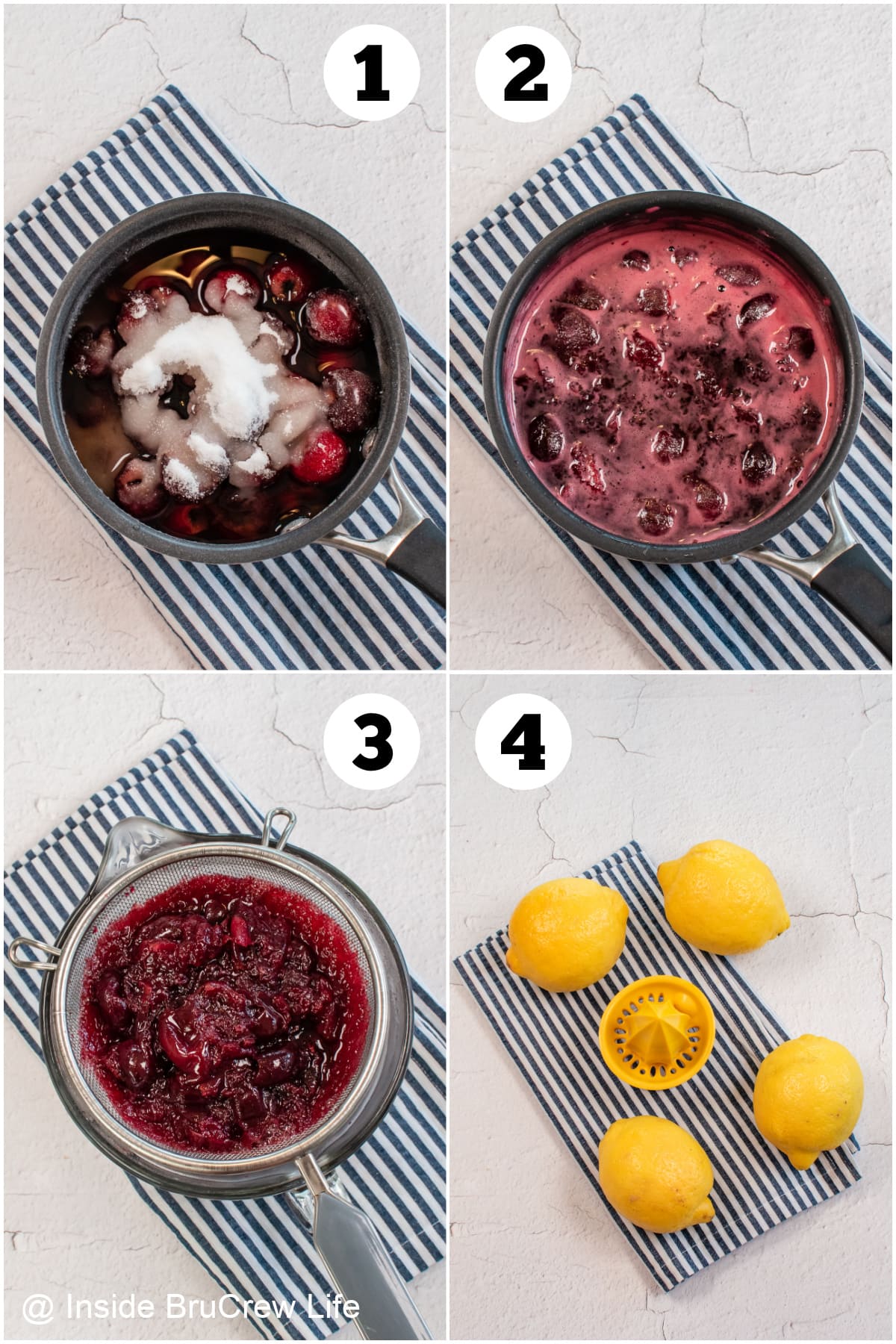 With its eye-catching color and delicious flavor, this summer drink will have everyone asking for more. No one can resist this fruity twist on a classic! Plus it's easy to make in minutes on the stovetop.
Rinse, drain, and pit the cherries. Place them in a pan with sugar and water and stir until dissolved.
Bring mixture to a boil; reduce heat and simmer for 8-10 minutes.
Remove and let cool 30 minutes. Pour through a fine wire mesh sieve to remove skins and pulp.
Squeeze 4 room temperature lemons to get 1 cup juice. Combine sweet cherry juice, lemons, and water in a pitcher; refrigerate until chilled. Serve over lots of ice.
BruCrew Tip: Float lemon slices and cherries in the pitcher of cherry lemonade for a pretty presentation.
Storage Recommendations
This lemonade will keep for up to a week in the refrigerator. It can also be frozen for 2-3 months if you wanted to save some for later.
See Full Recipe
I am sharing the ingredients and full instructions for this cherry lemonade recipe over on Dixie Crystals site.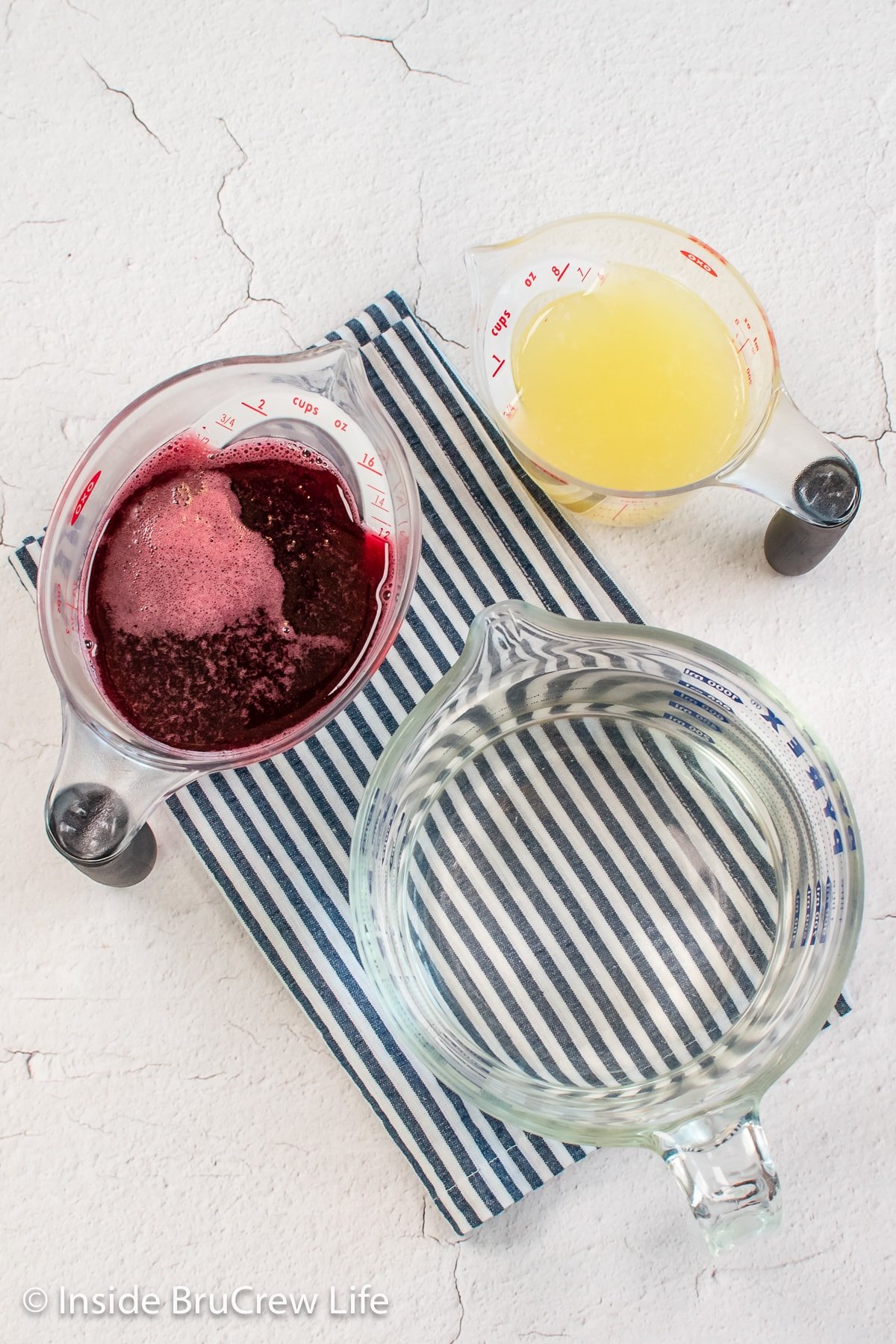 Tips and Tricks
For a rustic texture, pulse the cherry mixture in a blender until smooth. Stir in the water and lemon juice before serving.
For a smoother texture, strain the cherry mixture through fine wire mesh sieve.
Add sparkling water to give the lemonade bubbles.
Change it up and use lime juice for a delicious cherry limeade.
A medium-large lemon has about ¼ cup lemon juice in it. You will need 4 lemons to get 1 cup juice.
Room temperature lemons release more juice than cold lemons. To soften them up, roll them on the counter, applying pressure with your palm.
FAQs
What cherries are best for lemonade?
The cherries you use will depend on your preference and availability. Bing cherries and Rainier cherries are varieties that are commonly used. Feel free to experiment with different varieties to find a taste you prefer.
Should I pit the cherries before using them?
If you are planning on straining the cherry mixture before adding the lemon juice, you do not need to pit the cherries first. If you are going to pulse the cherry mixture in a blender, remove the hard pits first.
Do I have to strain the lemonade?
Straining the lemonade removes the pulp and any seeds that may have gotten in the drink. If you are ok with fruit bits in your drink, straining isn't necessary.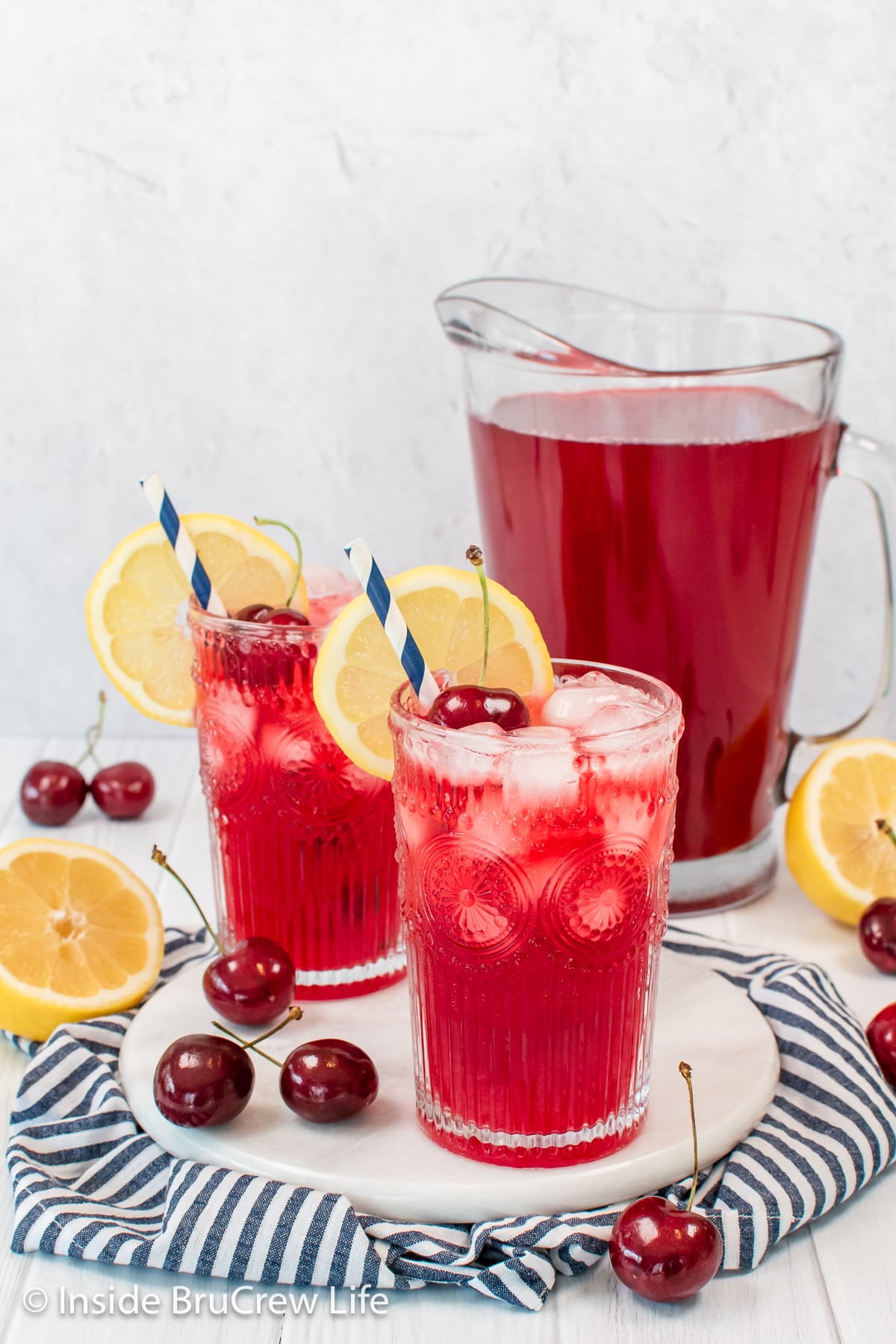 Do you love a recipe you tried from Inside BruCrew Life?
Please leave a 5-star ⭐️ rating and a review in the comments section below.
More Recipes with Cherries
*Dixie Crystals sponsored this recipe and post. All opinions expressed are 100% my own. Thank you for letting me share products and brands we use and love. See my disclosure policy for more information.*