Cool down this summer with a bowl of Cherry Vanilla Ice Cream. Adding chocolate chunks and swirls of cherry filling to this homemade vanilla ice cream makes it a delicious treat. It is sure to become a family favorite.
*I am partnering with Dixie Crystals to bring you this cherry vanilla ice cream recipe.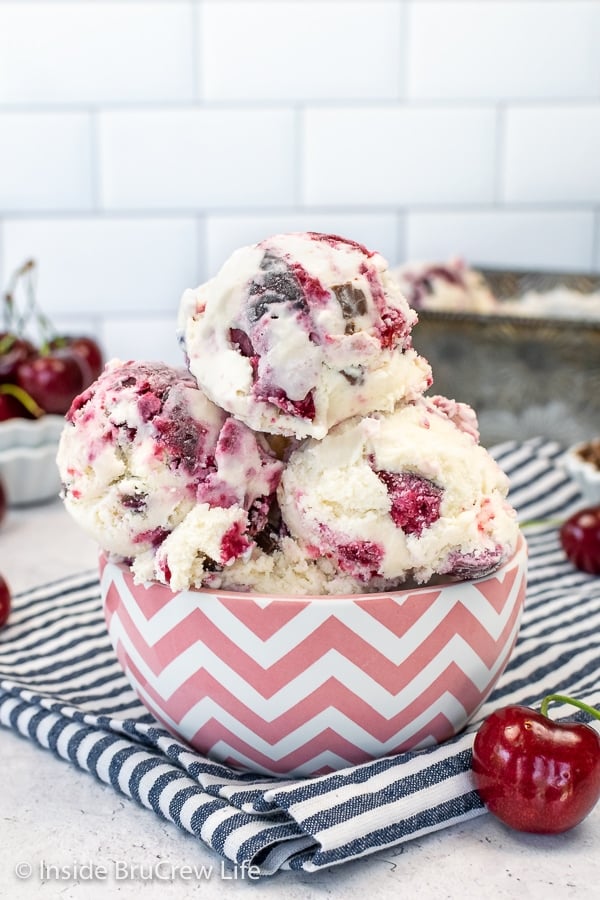 Homemade Ice Cream
Did you know that homemade ice cream is easy to make? Honestly, it's just a few simple ingredients whisked together in a bowl and then churned to creamy perfection.
Now most ice cream recipes will call for an egg custard, heating the milk mixture, and then chilling everything for hours before you can even start churning.
I'm all about simple and easy recipes, so a homemade ice cream without eggs and without cooking is more my style. You can chill the whisked milk mixture for an hour to age and deepen the flavor, but most of the time I'm impatient and pour it into the ice cream maker right away.
We love this easy vanilla ice cream because it comes together in minutes and tastes delicious. It's also perfect for adding in extra things like brownies, chocolate chip cookies, or swirls of pie filling.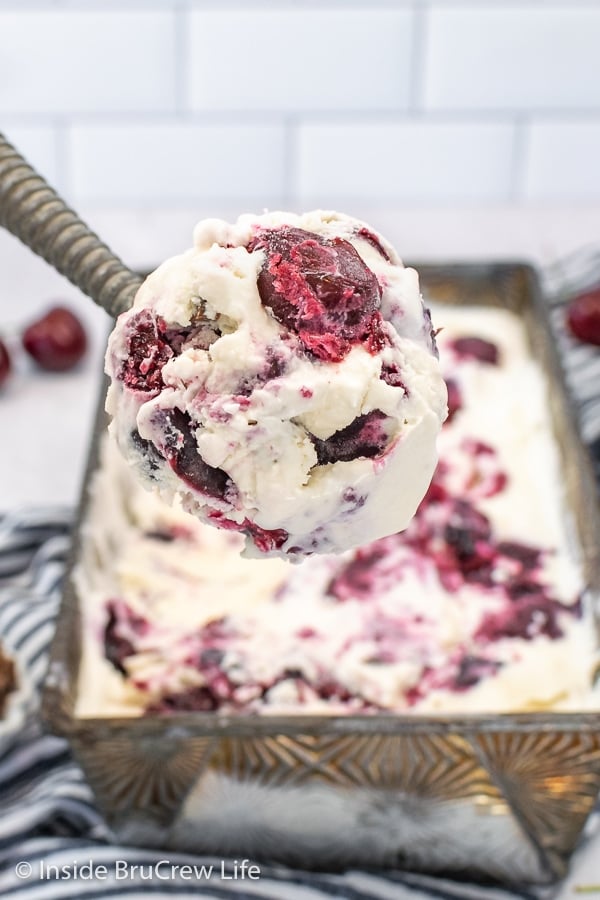 Ingredients Needed for Cherry Vanilla Ice Cream
This vanilla ice cream recipe is easy to make with just a handful of simple ingredients. Fresh cherries can be made into a simple pie filling that adds a fun and delicious swirl to any ice cream.
One of my favorite Ben & Jerry's ice cream is Cherry Garcia, so I also added chocolate chunks with the cherry pie filling.
For the Cherry Filling
Fresh Cherries - Pitted and quartered.
Granulated Sugar - Sweetens the cherries.
Cornstarch - Helps to thicken the filling just a little bit.
For the Vanilla Ice Cream
Heavy Whipping Cream - Helps the ice cream churn into a thick, creamy, and rich consistency.
Whole Milk - The higher the fat content in milk, the smoother and richer the ice cream will be.
Granulated Sugar - Gives the creamy vanilla ice cream a sweet flavor.
Vanilla Extract - Adds flavor.
Sea Salt - a pinch helps to balance the sweetness.
Chocolate Candy Bars - These are optional, but they add a fun crunch.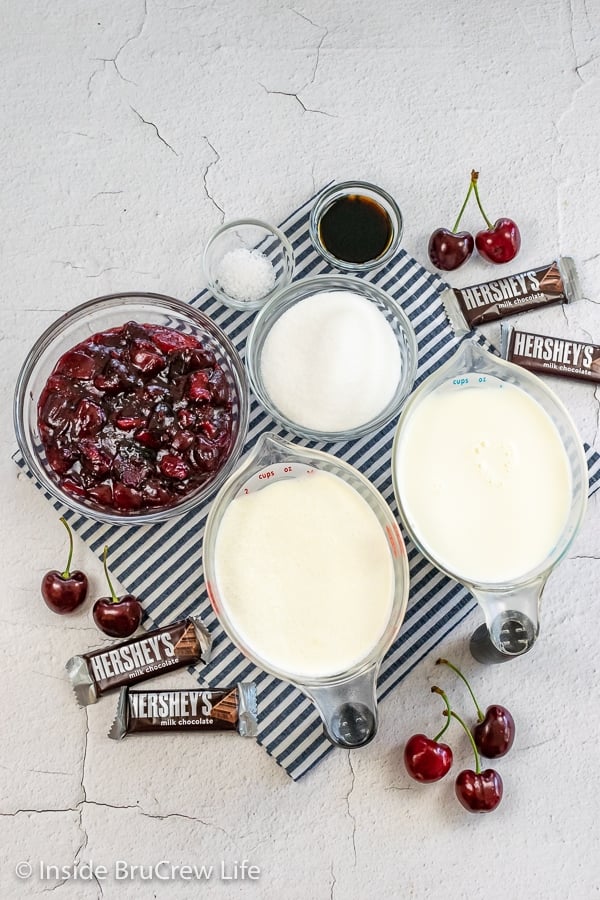 How to Make Cherry Vanilla Ice Cream
There are a few steps to making this homemade cherry vanilla ice cream, but each step is simple and easy to do. The hardest part is waiting for everything to churn and freeze.
Step One: Cherry Filling
Pit the fresh cherries and cut into quarters.
Stir together the sugar, water, and cornstarch in a sauce pan. Add the cherries and stir until coated.
Bring the cherry mixture to a boil, then lower the heat and simmer until thickened.
Remove from the heat and let cool.
Refrigerate until chilled completely.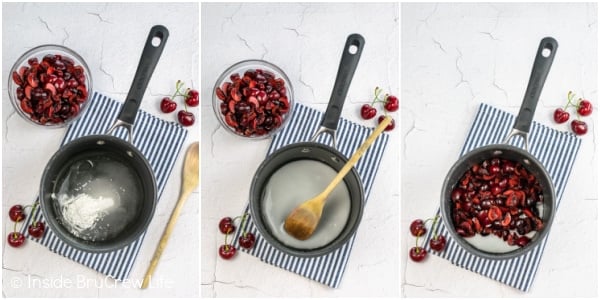 Step Two: Vanilla Ice Cream Base
Whisk together heavy cream, milk, sugar, vanilla, and salt until everything is dissolved.
Pour mixture into ice cream machine according to directions.
Churn. When ice cream starts to thicken, add chocolate chunks slowly while it is still churning.
Step Three: Freeze
Once the ice cream has finished freezing, spoon ⅓ of ice cream and cherry filling in ice cream container. Repeat layers 2 more times.
Press a piece of parchment paper or wax paper directly on top of the ice cream.
Place lid on container or cover container completely with plastic wrap.
Freeze 2-3 hours or until desired consistency.
Get the Full Recipe
I am sharing the ingredients and full instructions for this Cherry Vanilla Ice Cream recipe over on Dixie Crystals site.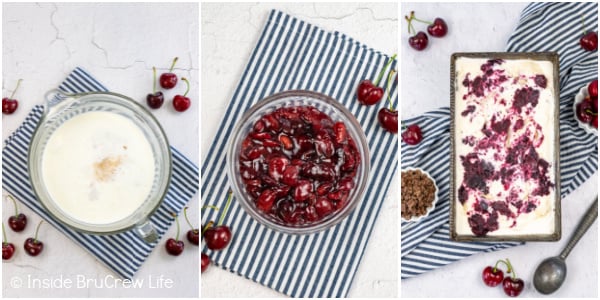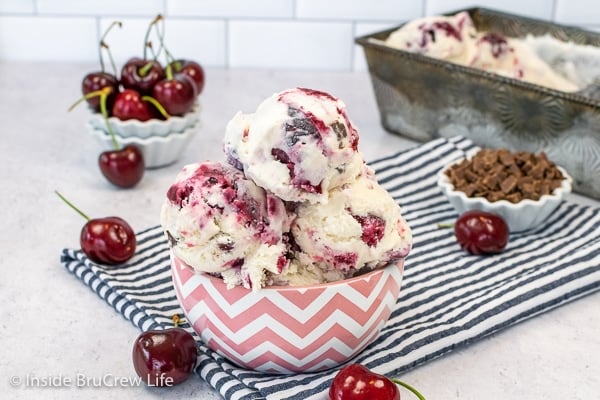 Recipe Tips
Pre-freeze or pre-cool the ice cream bowl before starting. If you are using a freezer bowl machine, it will need to freeze 24 hours prior to making ice cream. If you are using a compressor ice cream maker, chill the bowl at least 15 minutes prior to churning.
If you are using an ice cream machine with a frozen bowl, add the milk while the machine is moving. This helps keep the base from freezing to the walls of the container before it can churn.
Place whatever container you will be freezing the ice cream in into the freezer ahead of time. A cold container helps to keep the ice cream from melting as you move it from the machine to the container.
All the ice cream to sit on the counter for at least 10-15 minutes before scooping.
Cover the surface of the ice cream with parchment paper or wax paper to protect the homemade vanilla ice cream from air. Air exposure causes ice crystals to form on top of the ice cream. You can protect the ice cream even further by placing the container in a freezer safe bag.
Add solid ingredients such as cookies, chocolate, nuts, or fruit AFTER the churning process, but before freezing. Flavorings and extracts can be added before churning.
FAQ
Can I use a different milk?
You can use 2% or skim milk to cut calories, but your ice cream will have more of a crystal-like texture known as milk ice.
What kind of ice cream maker do I need to make this vanilla ice cream?
You can use a hand or electric crank, freezer bowl machine, or an ice cream compressor to make this recipe. The homemade vanilla ice cream will work in each one.
Why is my ice cream not freezing?
Ice cream machines will not freeze the ice cream any harder than soft serve. You will need to transfer the soft ice cream to a freezer safe container and freezer for 2-3 hours for ice cream that can be scooped. If it is not freezing to a soft serve state after 40 minutes, there is probably a problem with the recipe.
How do you keep homemade ice cream from freezing too hard?
Chill the ice cream base in the refrigerator. This deepens and ages the mixture. If the milk mixture is not cold enough, ice crystals can form during churning.
Make sure you have enough fat content in your milk mixture. Fat doesn't freeze as well. If you are trying to make a lighter version, there may not be enough fat in the milk mixture which causes it to freeze hard and icy.
Did you cut out some of the sugar? Sugar keeps ice cream soft and scoop-able because it lowers the freezing point of a liquid. Too little and it will freeze hard, too much and it will not freeze. Check your recipe and ingredients because it may be unbalanced in ratios.
Replace some of the sugar in the recipe with honey or corn syrup. These are effective at lowering the freezing point of the milks.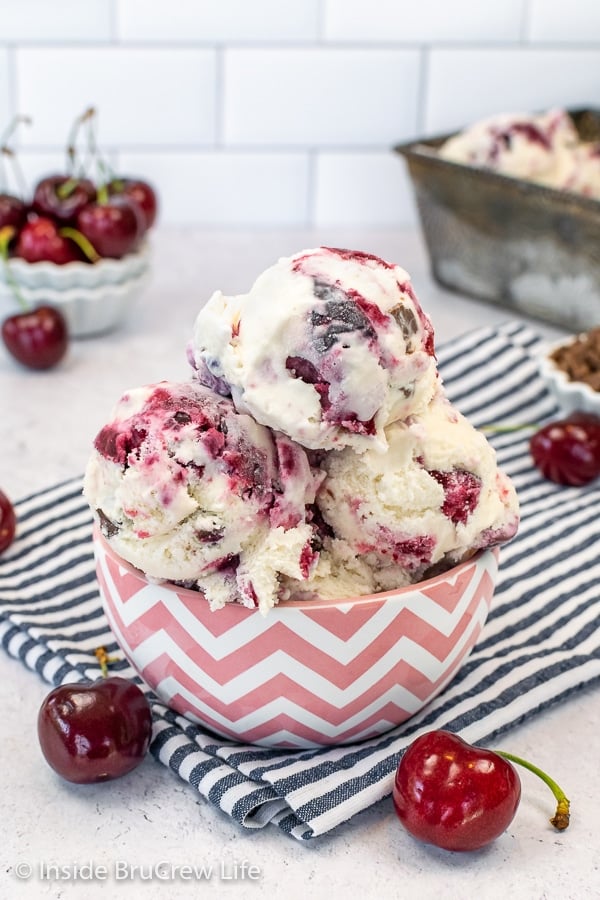 More Homemade Ice Cream