This Pineapple Orange Punch is a delicious and refreshing fruit drink that you can serve for any party or event. Fresh berries, fruit juice, and Sprite makes this a delicious kid-friendly party drink.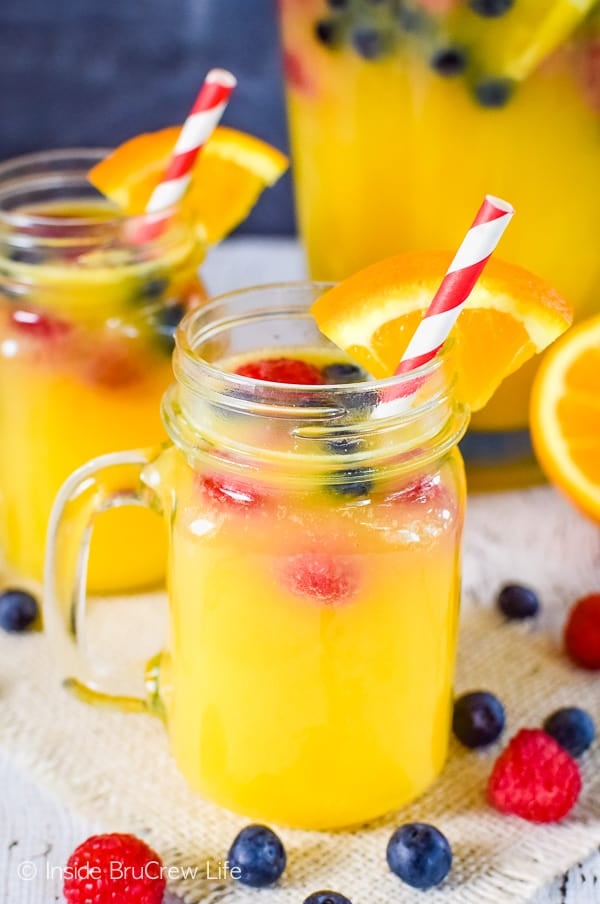 Cool off on a hot summer day with this easy fruit punch. A glass of this pineapple orange juice punch will make you feel like you are relaxing in the tropics.
Fresh drinks are the perfect way to cool off during the hot months. Cherry lemonade has always been one of my favorites but now this fruit punch is at the top of the list. It is also a great punch recipe to make for parties and barbecues.
What I love about this recipe is that it can be made ahead of time. Right before you serve it, pour in the Sprite to make it fizzy.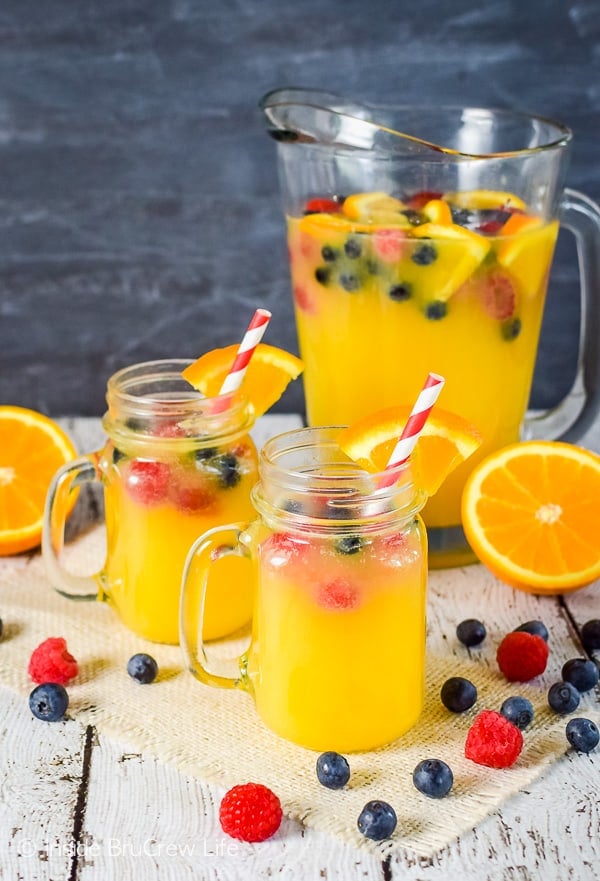 This punch with pineapple juice is so easy to whip up in a hurry. All you need are four ingredients and some fresh berries in a large pitcher.
Stir together the chilled juices and float fruit in the pitcher. Boom! Instant party punch!!
Another thing I love about this pineapple punch is that it is kid-friendly. No need to worry who is drinking it when you have a lot of kids and adults around.
Ingredients for Pineapple Punch recipe:
Pineapple Juice
Orange Juice
Key Lime Juice
Sprite (Ginger Ale and sparkling water work too)
Trust me, you want a pitcher of this Pineapple Orange Punch chilling in your fridge. An easy punch recipe with Sprite is just the thing to relax with when it's crazy hot outside.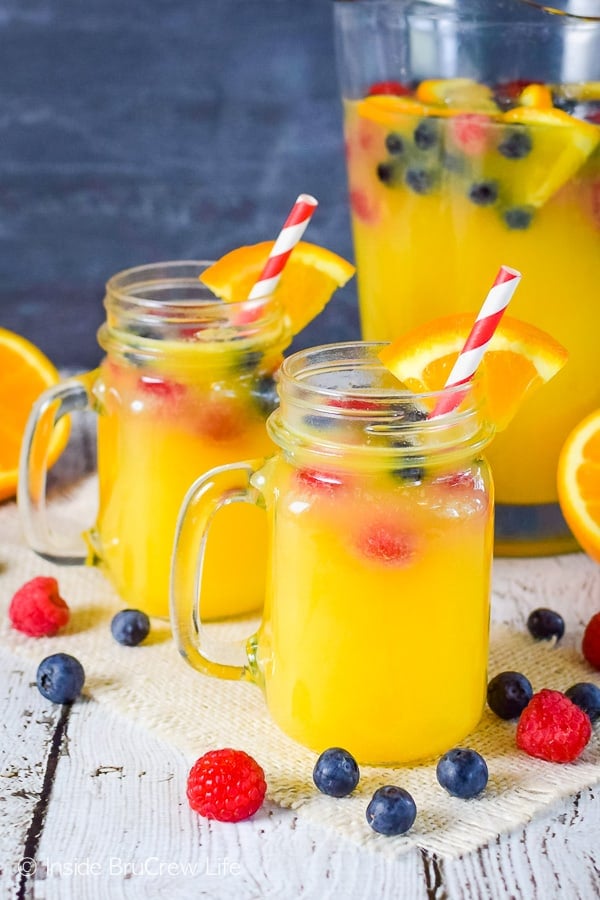 How to make Pineapple Punch:
Stir together the three kinds of fruit juices in a large pitcher or bowl to make the best party punch. Chill the pineapple orange juice mixture in the refrigerator until time to serve it.
Pour the Sprite in right before serving, so it does not lose the fizz.
Float fresh blueberries, raspberries, and orange slices in the pitcher or bowl and serve.
BRUCREW TIP: Serve this orange juice punch with an orange slice and a striped straw. It gives this Pineapple Orange Punch a pretty pop of color and flair.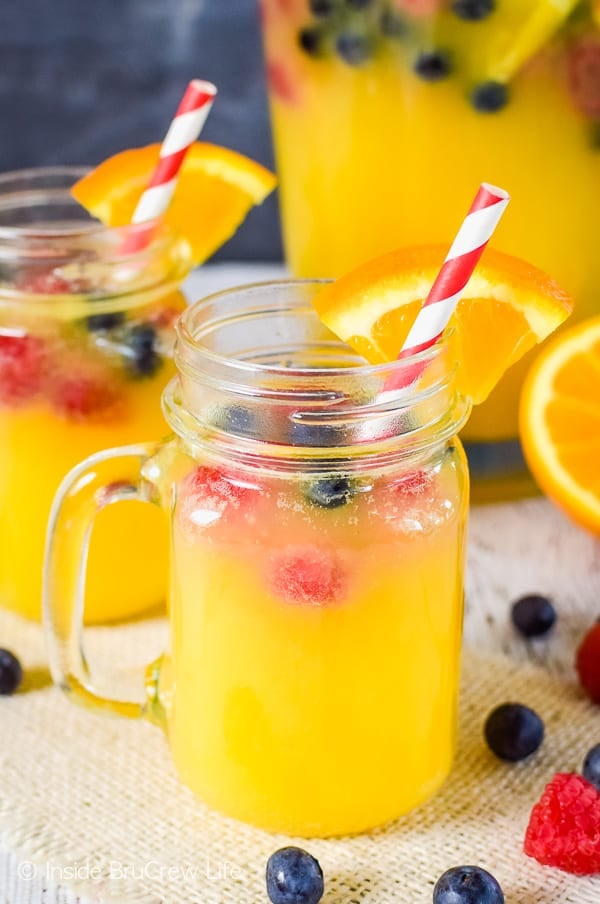 Recipe Tips and Questions:
Use flavored or plain sparkling water instead of Sprite to make this orange pineapple punch healthier and less sweet.

Freeze some of the extra juice and fresh fruit in a mini bundt pan to create an ice ring.

Float the frozen fruit ring in the pineapple orange juice mixture to keep the punch chilled.
Can you make this orange punch for a crowd?
If you are having a larger group of friends and family over, I recommend doubling or tripling the pineapple punch recipe.
How do you make this a pineapple party punch for adults?
Add some vodka or rum to each glass to make this an adult drink.
More drink recipes:
Other pineapple recipes: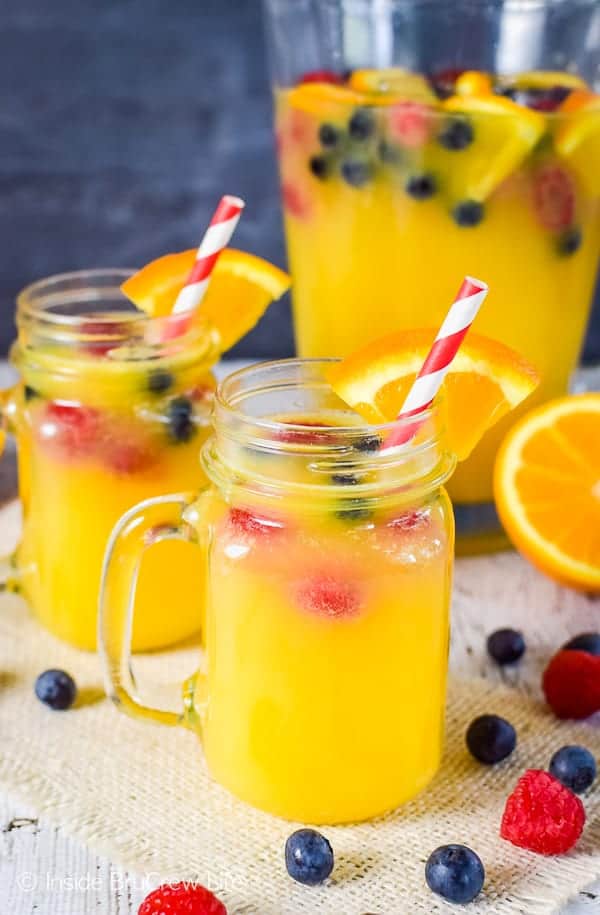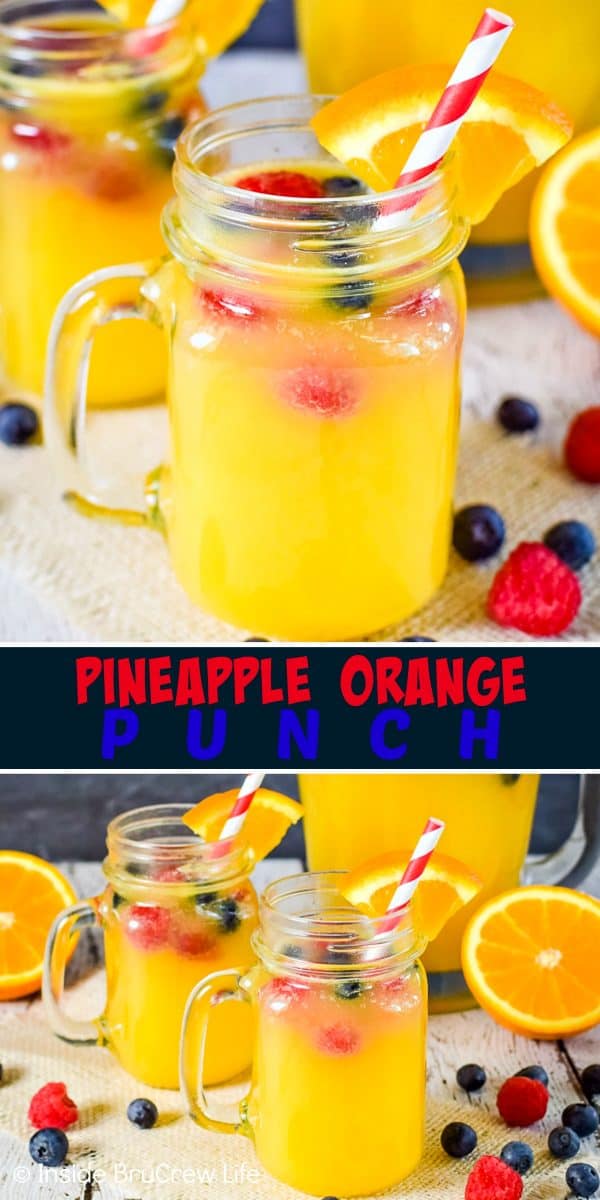 *The post and recipe for this Pineapple Orange Punch was first published on December 30, 2015. The pictures and post has been updated and republished on December 28, 2018.