These easy no yeast Cherry Sweet Rolls are filled with a homemade cherry preserves and drizzled with a sweet almond glaze. Great breakfast treat for summer mornings!
Keep in touch with us. Subscribe to the free BruCrew email to have these recipes sent to your inbox.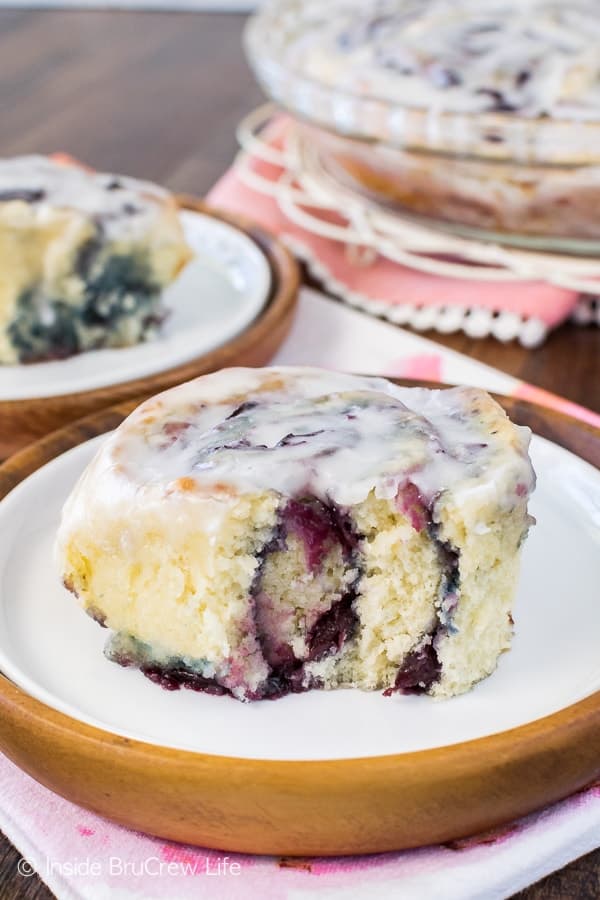 CLICK HERE TO PIN THIS RECIPE FOR LATER!
Can you believe that summer is on the downward spiral? It feels like summer came and went for us this year. I think that is mostly because we had so much going on at the beginning of the summer. Our oldest graduated high school, we had family come visit, and we went to Florida for a week.
Our next big thing is moving…again! Packing our house and settling all the lose ends here will definitely fill the rest of our month with madness. Schools in Florida start earlier than Texas, so my kids are counting down the next month.
They have hit that summer slump of being bored. I may need to put them to work in the kitchen making some Nutella no bake cookies and cleaning up after. Haha! I think they would quickly become un-bored if I suggest that.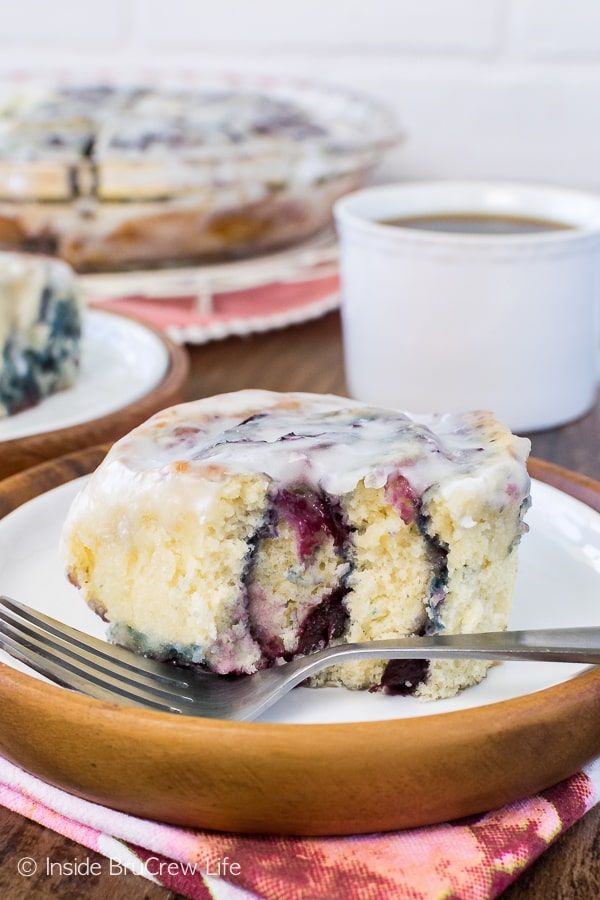 Even in the middle of all the busy and crazy, we are trying to enjoy some down time. This past weekend, we had a bonfire in our backyard since it was cooler after the sun went down. I thought the smoke from the fire and the citronella candle would keep the bugs away, but within ten minutes had welts all over my legs.
They must have been mutant mosquitos from all the rain we have had lately because some of the welts were huge. Apparently I am a bug magnet because any time we are outside after dark, I get attacked.
My hubby usually tries to tell me I am crazy because he doesn't get any bites. But he couldn't argue with the evidence this time. We headed inside pretty quickly!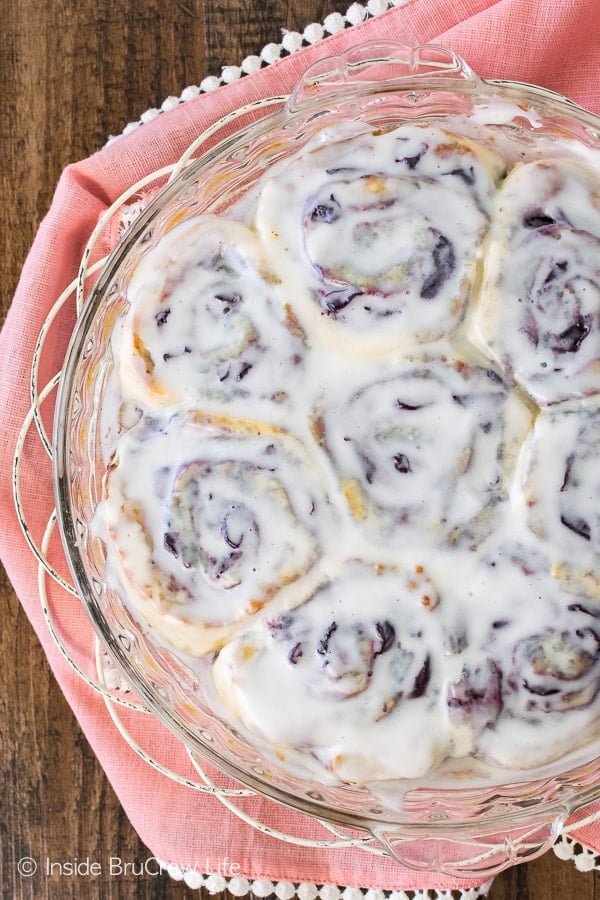 I'm going to stick to doing my relaxing in the morning with a pan of cherry sweet rolls instead. If I stay inside the bugs can't attack me.
For the past few years I have been making these easy no yeast chocolate chip cinnamon rolls for breakfast. Gotta love a gooey roll that can be on your table in under an hour because who wants to wait any longer for gooey warm breakfast treats, right?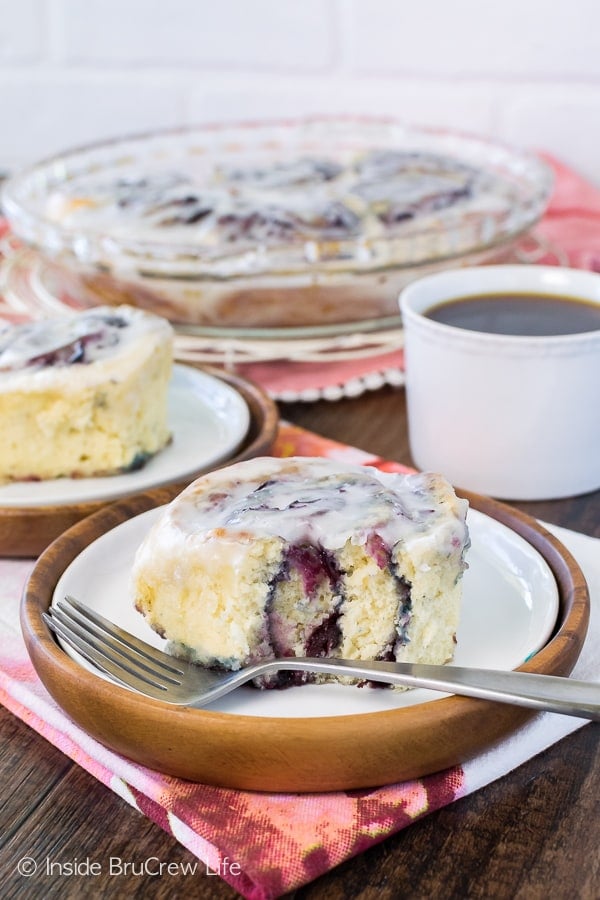 Last week I shared the recipe for this small batch cherry preserves, and I still had one jar left in the fridge. I decided to use the dough from the rolls and fill them with the leftover cherry goodness because that's how I roll.
Then I drizzled a sweet almond glaze on top. Seriously the best idea ever!!! Just looking at the pictures has me drooling and wanting another pan of warm rolls!!! I guess it is time to make more preserves because I can't resist the call!
I am also drooling over a few of these breakfast ideas I have found around the web. Look at this breakfast cheesecake!!! The cinnamon swirls are calling my name for sure! Then I saw this blueberry breakfast cake and couldn't stop staring!!! Love all the fresh berries in it!!! Who wants to join me for some carrot cake breakfast cookies and coffee? Looking at all these I realize that I like sweets for breakfast too. Can you blame me? They all sound so good!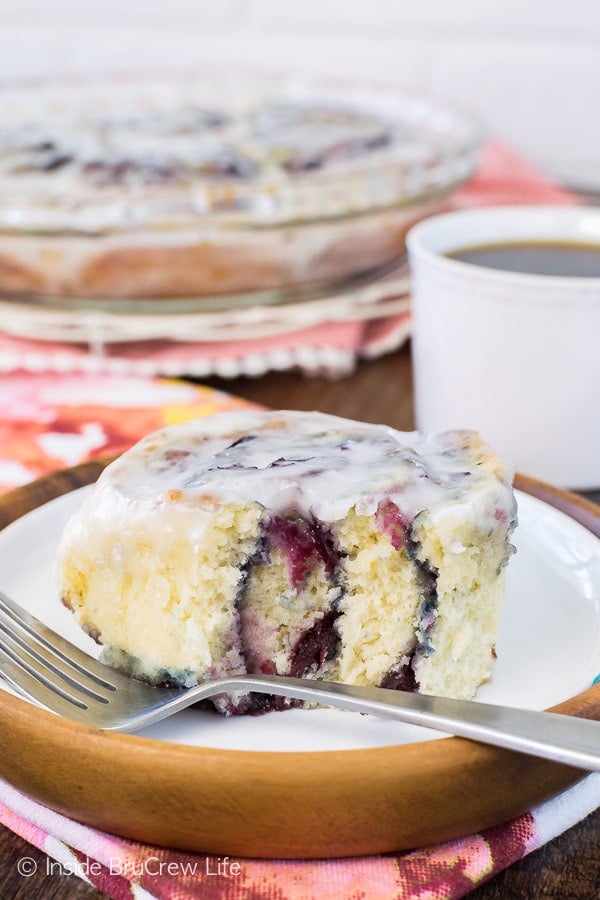 Stay up to date on all the BruCrew baking here:
FACEBOOK | PINTEREST | TWITTER | INSTAGRAM | BLOGLOVIN
Sign up to receive an email in your inbox for each new recipe:
EMAIL SUBSCRIPTION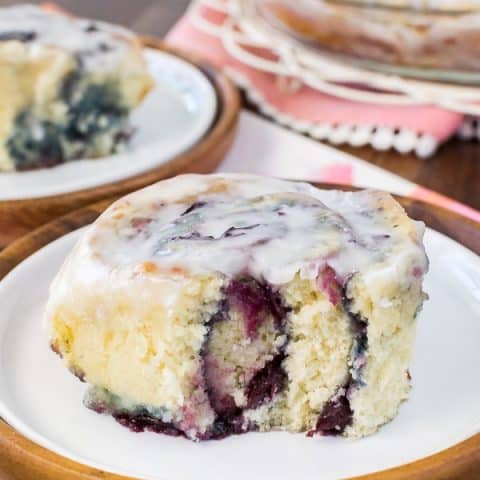 Cherry Sweet Rolls
These easy no yeast Cherry Sweet Rolls are filled with a homemade cherry preserves and drizzled with a sweet almond glaze. Great breakfast treat for summer mornings!
Ingredients
For the Rolls
1 Tablespoon lemon juice
1 cup milk
2 1/2 cups flour
1/4 cup sugar
1 1/2 teaspoons baking powder
1/2 teaspoon baking soda
1/2 teaspoon salt
4 Tablespoons butter, melted & divided
1 cup cherry preserves
For the Glaze
1 cup powdered sugar
2 Tablespoons milk
1/2 teaspoon almond extract
1 Tablespoon melted butter
Instructions
Preheat the oven to 400 degrees. Butter 10 inch pie plate with 1 Tablespoon butter.
Pour the lemon juice in a measuring cup and add the milk. Let sit for 5-10 minutes.
Stir together the flour, sugar, baking powder, baking soda, and salt.
Create a well in the center and pour in the milk mixture and 2 Tablespoons melted butter. Use a fork to stir it until a soft dough forms.
Place the dough on a flour lined table and knead 5-6 times to work a little flour into the sticky dough. Do not over knead or add too much flour or your rolls will be harder.
Gently press the dough into a 10x14 rectangle. Make sure to keep flour under the dough to keep it from sticking.
Spoon the cherry preserves onto the dough and spread out leaving a 1 inch border all around the dough.
Roll up gently. If the dough sticks, use a butter knife to gently loosen it and to push flour under the roll.
Cut the ends off each side of the roll, then cut the log into 8 even rolls. Place in the buttered dish.
Drizzle the remaining 1 Tablespoon melted butter over the rolls. Bake for 20 minutes. Cool for 5 minutes.
Whisk together the glaze ingredients, then pour it on top of the warm rolls. Let sit for another 5 minutes, then serve warm.
Notes
*These rolls are best served warm the day they are made. The glaze will soak into the rolls and the cherry juice will color the dough if they sit overnight. They still taste great but do not look as pretty.
Nutrition Information:
Yield:

8
Serving Size:

1
Amount Per Serving:
Calories:

414
Total Fat:

8g
Saturated Fat:

5g
Trans Fat:

0g
Unsaturated Fat:

3g
Cholesterol:

22mg
Sodium:

392mg
Carbohydrates:

79g
Fiber:

2g
Sugar:

39g
Protein:

5g