These puffy two toned Chocolate Biscoff Swirl Cookies have two different cookie doughs rolled into one awesome cookie. Chocolate cookie dough goes to another level when Biscoff is added to it.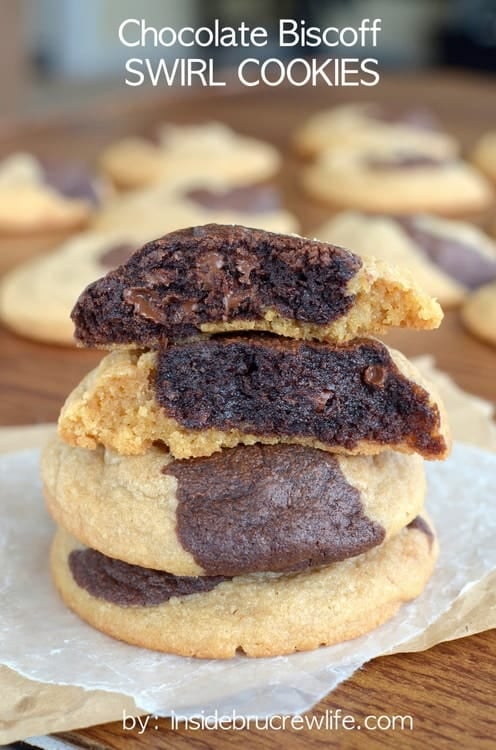 You guys need these cookies in your life. Like yesterday.
This cookie will become your new favorite cookie for sure. We went through 3 batches in less than 5 days. Now part of that was me tweaking the recipe to get it just right to share with all of you.
The taste was exactly what I was looking for, but I needed to adjust flour to make them puffier, change baking temps, and play with cooking time.
The third time was the charm because look at those cookies. Soft and puffy with just the right amount of chocolate.

The idea for these cookies came from a picture I saw on Instagram. Someone shared a picture of a jar with chocolate and cookie butter swirled together. All I could think about was how that would make an awesome cookie.
It wasn't very long before I headed into the kitchen to create a cookie with both flavors in it.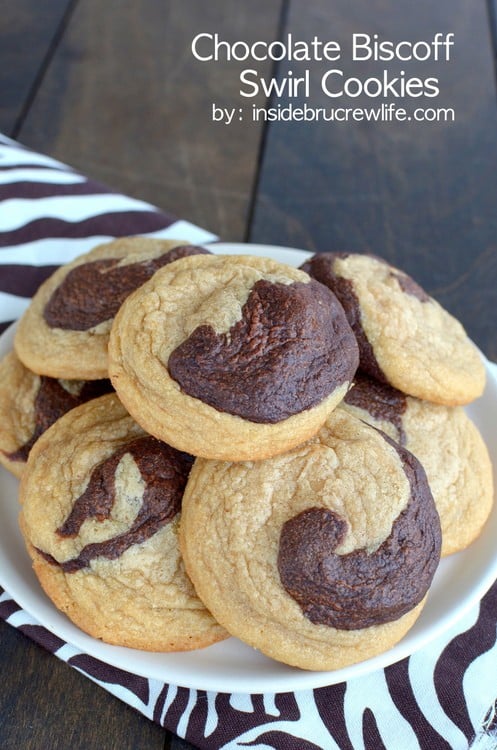 The first batch had the right flavor I was looking for. But when they came out of the oven, the Biscoff part of the cookie was flat. The cookies were very odd looking. It didn't stop my kids from devouring them though.
I knew that just a little bit more flour would give the cookies the lift that I was looking for. So the next day, round two in the kitchen happened. My hubby made pizza right before I put the cookies in, and I totally forgot to check the oven temperature. #bakerfail
That batch of cookies came out still tasting awesome, but the edges were a little bit more brown than what I wanted. So now we have a batch of flat/puffy cookies and a batch of all puffy but brown edges sitting in the kitchen. My kids were in cookie heaven. They discovered the magic of microwaving cookies for 10 seconds. It turns a cold cookie into that fresh from the oven texture. Pure magic!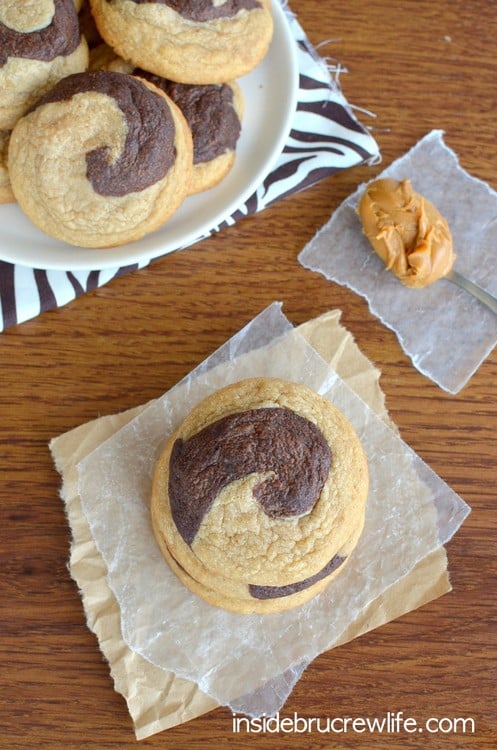 A few days later, I just couldn't get those cookies out of my mind, so back to the kitchen for round 3.
My kids were so excited to hear that I was making another batch of these cookies. All three of them have unanimously voted these the #1 cookie ever!!!
What makes these cookies so special? These cookies have just the right blend of cookie butter with chocolate. Each side compliments the other so well.
The cookie starts as one cookie dough. You will remove 1 cup of the cookie dough and set it aside. This is where a little bit more flour gets added to the cookie dough. If you leave it out, the cookie will be very flat. A little more flour thickens it enough to give it the lift and puffiness that these cookies need. Roll the dough into 20 even balls and refrigerate.
Now take the extra cookie dough that we set aside and add some dark cocoa powder and chocolate chips to it. The extra cocoa powder is enough to thicken this cookie dough, so no extra flour is needed for these. Roll these into 20 even dough balls and refrigerate.
The dough needs to refrigerate for at least 30 minutes if you want thick, puffy cookies. You could bake the dough as soon as you make it, but the cookies will definitely spread more.
Another thing you can use for these cookies is a Silpat. The rubber mat also gives the cookies something to grab onto so they won't spread as much. Again, it isn't needed, but I definitely recommend it.
Now for the baking fun. Roll one dough ball of each flavor together. I found that putting the two balls together and slightly flattening them with my palms before rolling worked great. Each cookie will look completely different. Place the two toned balls on a baking sheet and bake for 8 minutes.
Do not over bake the cookies!!! They will look underdone when you remove the pan, but that is totally normal. Leave them on the baking sheet for at least 2 minutes before moving to a piece of parchment paper on your counter. The cookies will still continue to bake while they sit on the cookies sheets for that extra time.
Now resist the urge to dive smash a cookie into your mouth for at least a few more minutes. Why? Because hot chocolate chips and cookie dough will burn your taste buds right off. Listen to me...I know!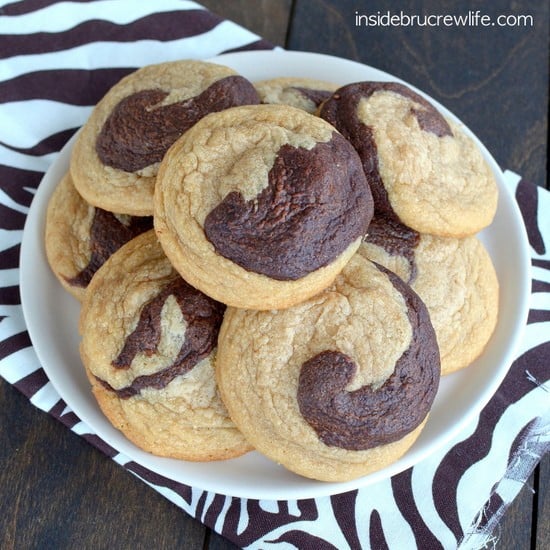 One more thing to remember. These cookies are wonderful warmed up the next day. Pop in the microwave for about 10 seconds and the fresh from the oven texture comes right back. This makes them divine!!!
Stay up to date on all the BruCrew baking here:
FACEBOOK | PINTEREST | TWITTER | INSTAGRAM | BLOGLOVIN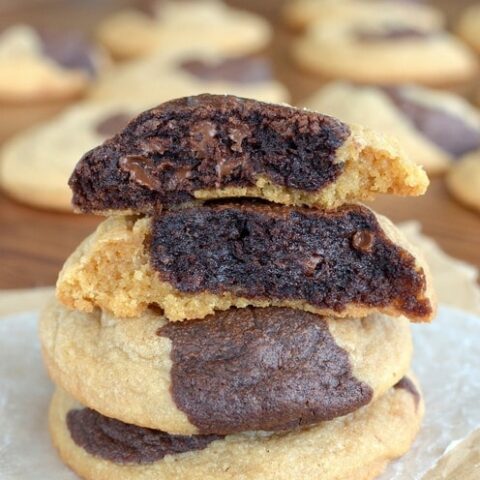 Chocolate Biscoff Swirl Cookies
Chocolate and Biscoff cookie dough come together in one puffy cookie. These two flavors taste amazing when rolled together. Want that fresh from the oven taste every time? Microwave a cooled cookie for 8-10 seconds and enjoy.
Ingredients
½ cup unsalted butter, softened
¼ cup granulated sugar
½ cup packed brown sugar
1 teaspoon vanilla extract
1 large egg
½ cup Biscoff spread
pinch of salt
¼ teaspoon baking soda
1 ¼ cups all purpose flour, divided
½ Tablespoon cornstarch
¼ cup dark cocoa powder
1 teaspoon milk
¼ cup mini chocolate chips
Instructions
Beat together the butter, sugars, and vanilla until creamy. Add the egg and Biscoff and beat again.
Stir together the salt, baking soda, 1 cup flour, and cornstarch. Slowly add to the creamed mixture.
Remove 1 cup of cookie dough and set aside. Add the extra ¼ cup flour to the remaining cookie dough in the bowl. Roll into 20 even dough balls and place in the refrigerator.
Take the reserved cookie dough and stir in the cocoa powder and milk until mixed. Stir in the chocolate chips gently.
Roll into 20 even dough balls and place in the refrigerator. Refrigerate the cookie dough balls at least 30 minutes.
Preheat oven to 375 degrees.
Remove the dough from the refrigerator. Add one Biscoff ball to one chocolate ball. Slightly flatten each one together, then roll into a ball. Repeat with remaining dough balls.
Place cookie dough balls on a baking sheet and bake for 8-9 minutes. Remove from the oven and let sit on the hot baking sheet for 2 minutes before moving them to a piece of parchment paper on the counter.
Let cool completely. Store in a sealed container.
Nutrition Information:
Yield:

20
Serving Size:

1
Amount Per Serving:
Calories:

152
Total Fat:

8g
Saturated Fat:

4g
Trans Fat:

0g
Unsaturated Fat:

4g
Cholesterol:

22mg
Sodium:

44mg
Carbohydrates:

18g
Fiber:

1g
Sugar:

10g
Protein:

2g
Nutrition facts are an estimate and are not guaranteed to be accurate. If you need special diet advice, please see a registered dietician.
A few other Biscoff recipes that will rock your world: