The crispy edges and soft, chewy centers in Our Favorite Chocolate Chip Cookies will have you reaching for another glass of milk and more cookies. Great cookie recipe to make for bake sales or parties.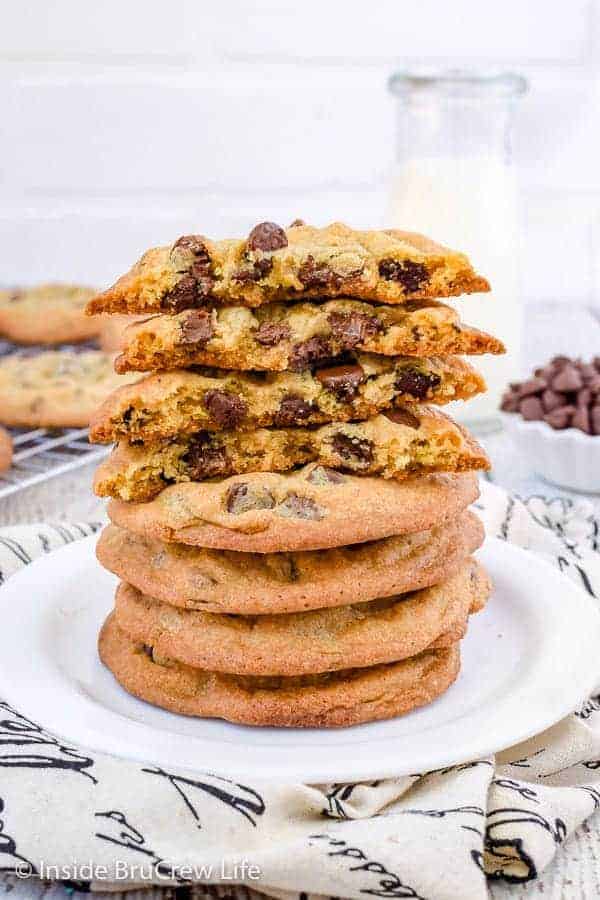 Chocolate Chip Cookies
Every mom and baker needs a classic chocolate chip cookie recipe that they can pull out at a moment's notice. This easy cookie is sure to please everyone that tries it.
This is my go to chocolate chip cookie when I need to make cookies for a school bake sale, for boys soccer parties, or just because I want cookies and milk in my life.
The crispy edges and soft chewy centers make these the best cookies around. But because best is very subjective in the baking world, we call these our favorite chocolate chip cookies because that's what they are in our house.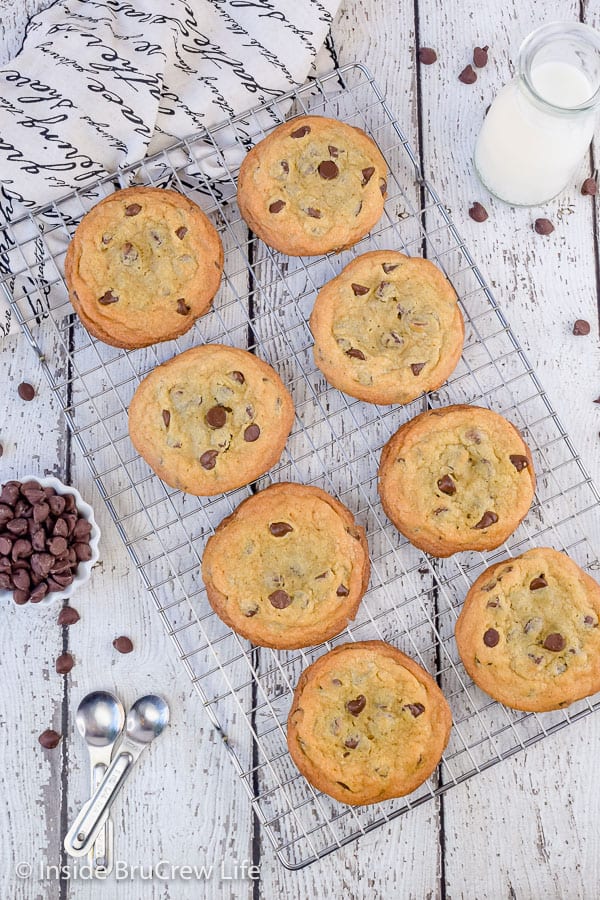 Last year our youngest son wanted me to make chocolate chip cookies for him to share with his soccer team at one of their away games. I thought for sure my chocolate chip cookie recipe was already on the blog because I have been making them for years.
As we started looking through the archives, we found Cherry Chocolate Chip Cookies, Salted Caramel Chocolate Chip Cookies, Pumpkin Chocolate Chip Cookies, Almond Joy Chocolate Chip Cookies, and Caramel Coconut Chocolate Chunk Cookies.
Now all of those are absolutely delicious, but our son loves plain and simple desserts. All he wanted was chewy cookies with chocolate chips. Nothing else.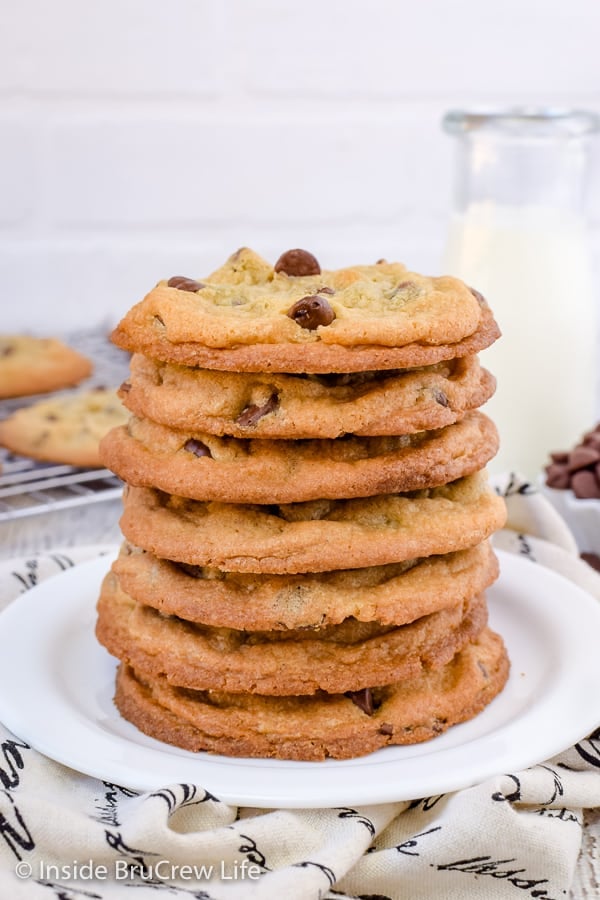 I'm not quite sure where or how I got this particular recipe, but I have tweaked it some over the years, and it's become one of our favorite ones for sure.
How to make the Best Chocolate Chip Cookies
The secret to getting a crispy and chewy cookie is using a mixture of butter and shortening in the dough and a little bit of cornstarch.
Line a sheet pan with a Silpat or parchment paper and set it aside.
Beat together the butter, shortening, and sugars until it is creamy.
Add the vanilla and eggs and mix again.
Stir together the dry ingredients and slowly add them to the butter mixture until a soft dough forms. Do not over mix the dough.
Add the bag of chocolate chips and stir gently. We usually use semi-sweet chocolate chips, but feel free to use white, milk, dark, butterscotch, peanut butter, or a mix of any of the chips.
Use a cookie scoop to measure the dough out into 30 dough balls. Place 12 dough balls on the prepared baking sheet and bake for 10-11 minutes. Enjoy warm or cooled.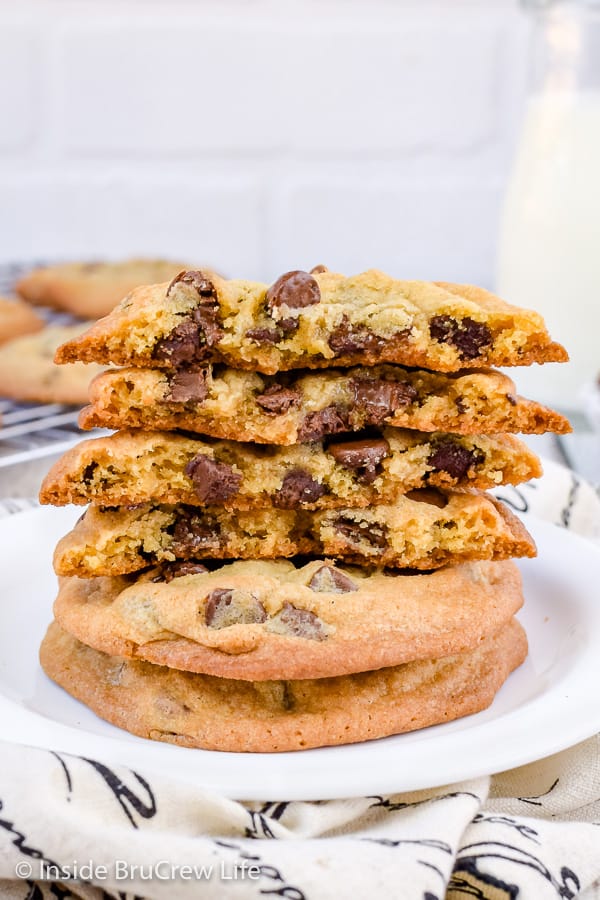 Recipe Tips
I have been making these crispy and chewy chocolate chip cookies for years, and here are a few tips that I have found makes them taste so amazing.
Make sure your butter (do NOT use margarine) is only slightly soft. You do not want the butter to be too soft or melted because your cookies will spread too much.
If you want puffier or fatter cookies, add a little bit more flour to the dough. You can also chill the dough before baking, and they will be thicker.
Use a Silpat or parchment paper on your baking sheet. This keeps the cookies from spreading too far as they bake.
Scoop the dough out evenly. This will ensure that all your cookies are the same size and that they will all have the same consistency.
Do not over bake this chocolate chip cookie recipe! Cookies continue to bake after they come out of the oven. Let the cookies sit on the hot pan for a few minutes before removing them.
Store the cooled cookies in a tightly sealed container in between layers of parchment paper.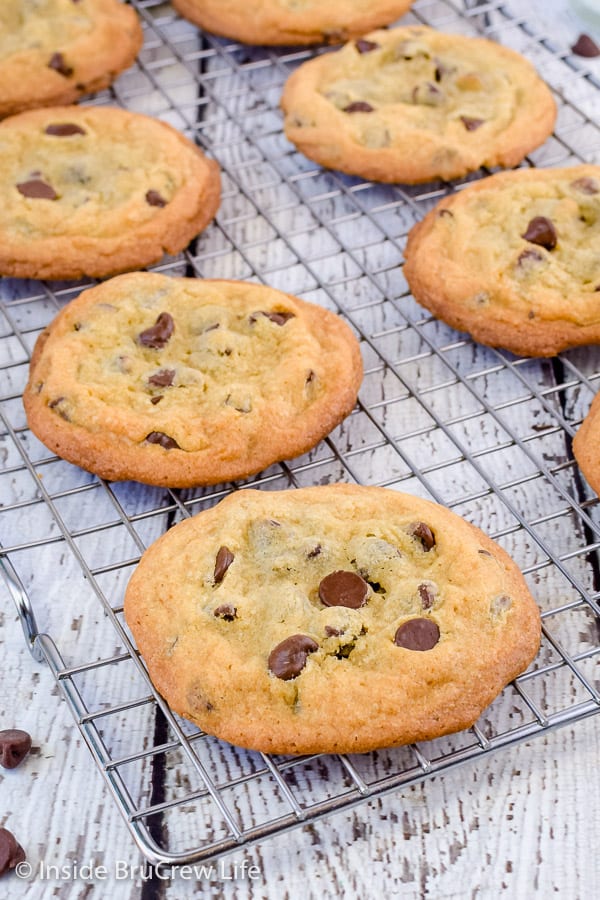 More easy cookie recipes you may like:
Fill your cookie jar these Butterscotch M&M Pudding Cookies. Pudding makes them so soft and chewy, and the M&M candies add chocolate and color.
These Dark Chocolate Butterfinger Cookies are for the serious chocolate lover in you. Be sure to have a glass of milk ready when this cookie craving hits.
Peanut Butter and Jelly Cookies for the win. Cake mix cookies made with peanut butter cups and raspberry chocolate bar are so fun and delicious.
Crispy edges and chewy centers make these Cinnamon Banana Oatmeal Cookies a fun treat to fill the cookie jar with.
A batch of these soft and chewy Reese's Peanut Butter Pudding Cookies in your cookie jar is a very good idea.