This Chocolate Chip Cookie Crust can be made in minutes and only requires two ingredients. Substitute this crunchy cookie crust recipe in your favorite pie or cheesecake and see why it is a fan favorite.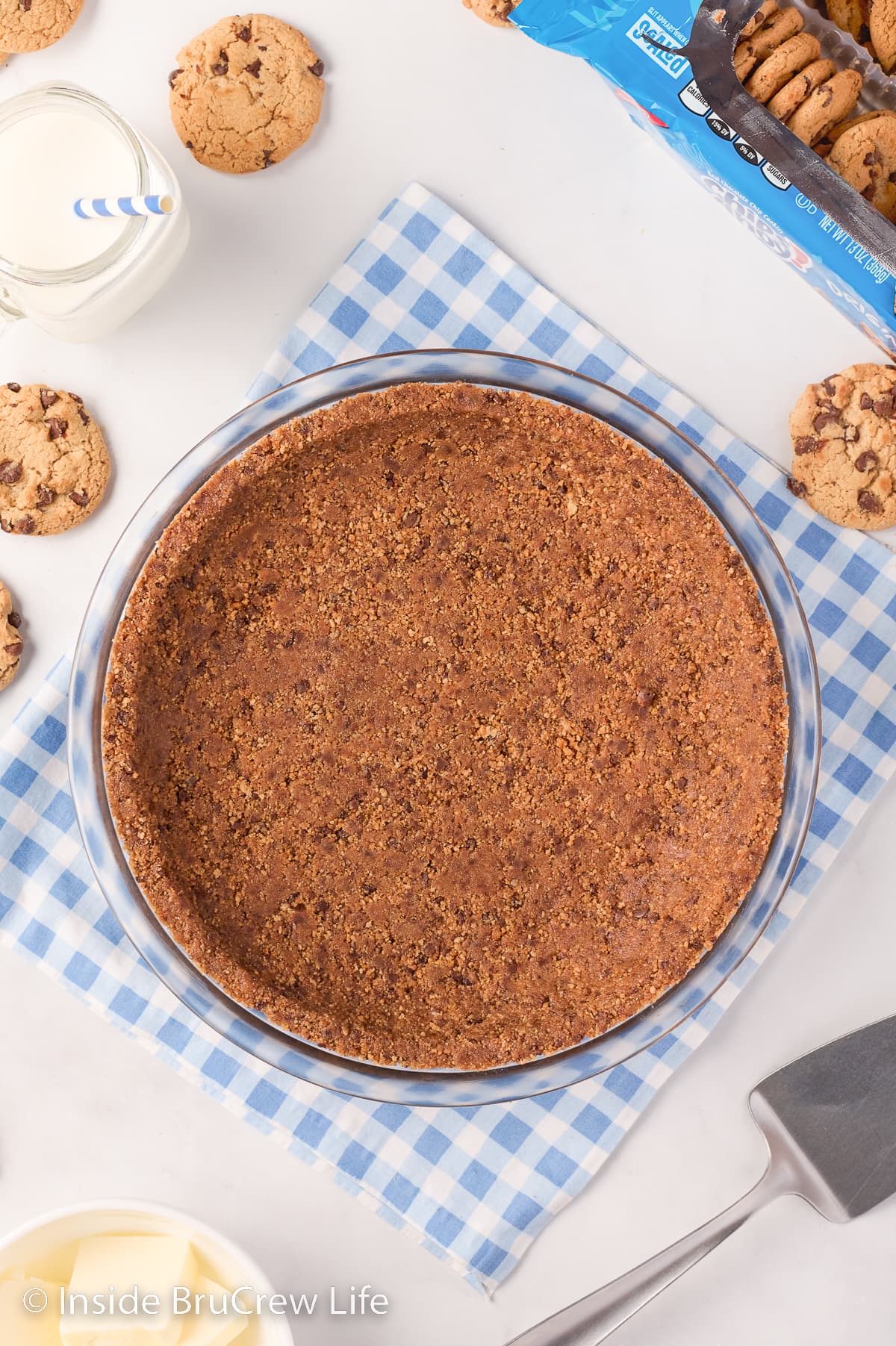 Jump to:
When you think about pie, it's usually the filling that you think about, right? Everyone loves a good cherry pie filling or a banana cream pie.
But one of the most underrated parts of any pie is the crust. But without a great crust, you cannot serve an incredible pie to your friends and family.
There are so many options of crust to choose from. Although, a graham cracker crust, Oreo crust, or traditional pie crust are often the ones people choose the most. We like to mix it up and make a chocolate chip cookie crust for our no bake recipes.
Why Try a Cookie Crust
This chocolate chip cookie crust is so easy to make. Trust me, it just might become your new favorite way to add a crust on everything.
You only need 2 ingredients.
The crust does not need to be baked.
It can be ready for a filling in minutes.
Once you combine this cookie pie crust with your favorite filling, you will have a combo made in heaven.
Key Ingredients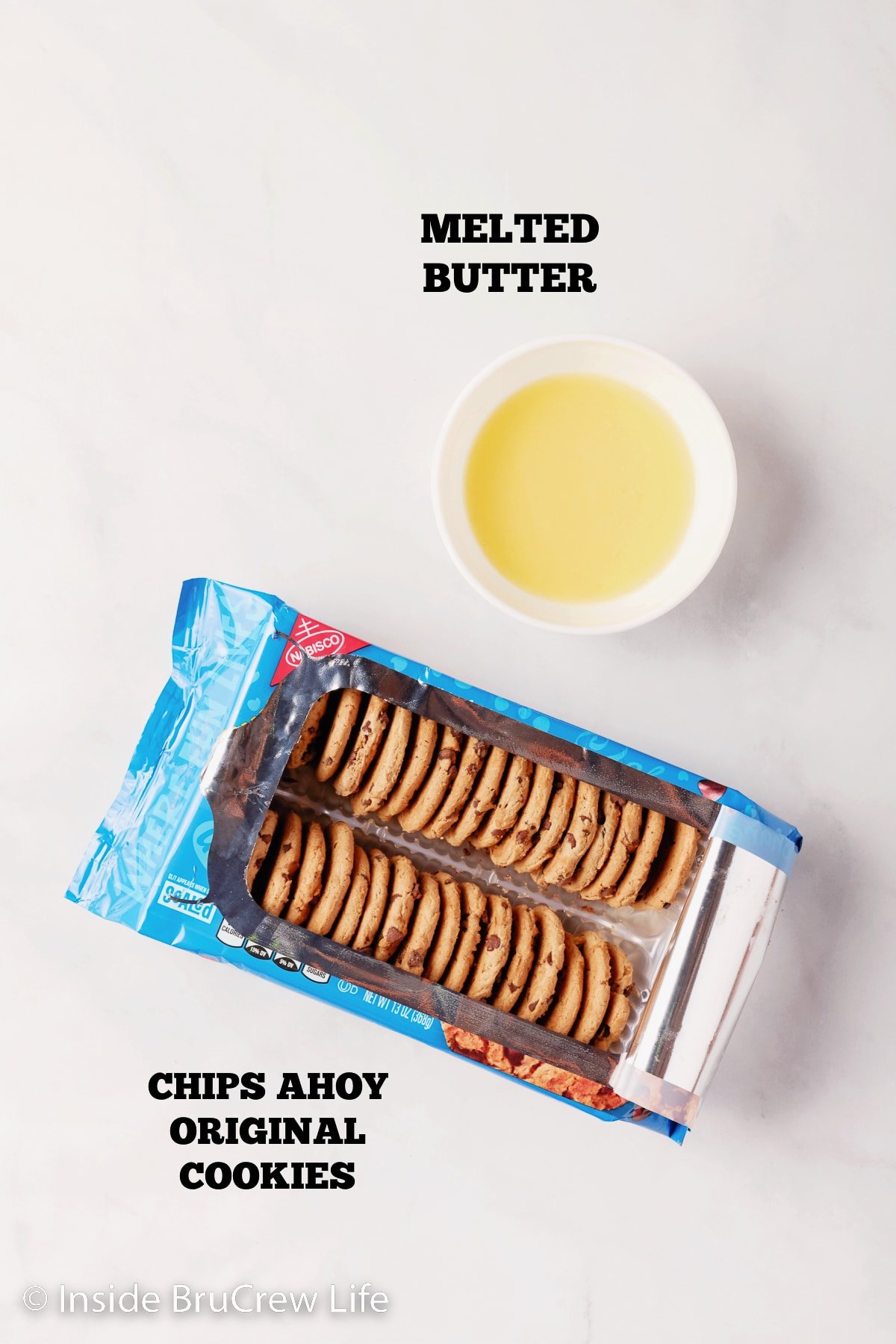 You only need two ingredients to make this easy cookie crust recipe!
Chocolate Chip Cookies - We recommend using store-bought crunchy Chips Ahoy Original chocolate chip cookies. You can honestly use any hard cookie for this crust. Oatmeal cookies and cream filled cookies are great too.
Butter - You can use salted or unsalted butter for this recipe. Melt it completely before stirring it into the cookie crumbs because this is what holds the crust together.
How to Make a Chocolate Chip Cookie Pie Crust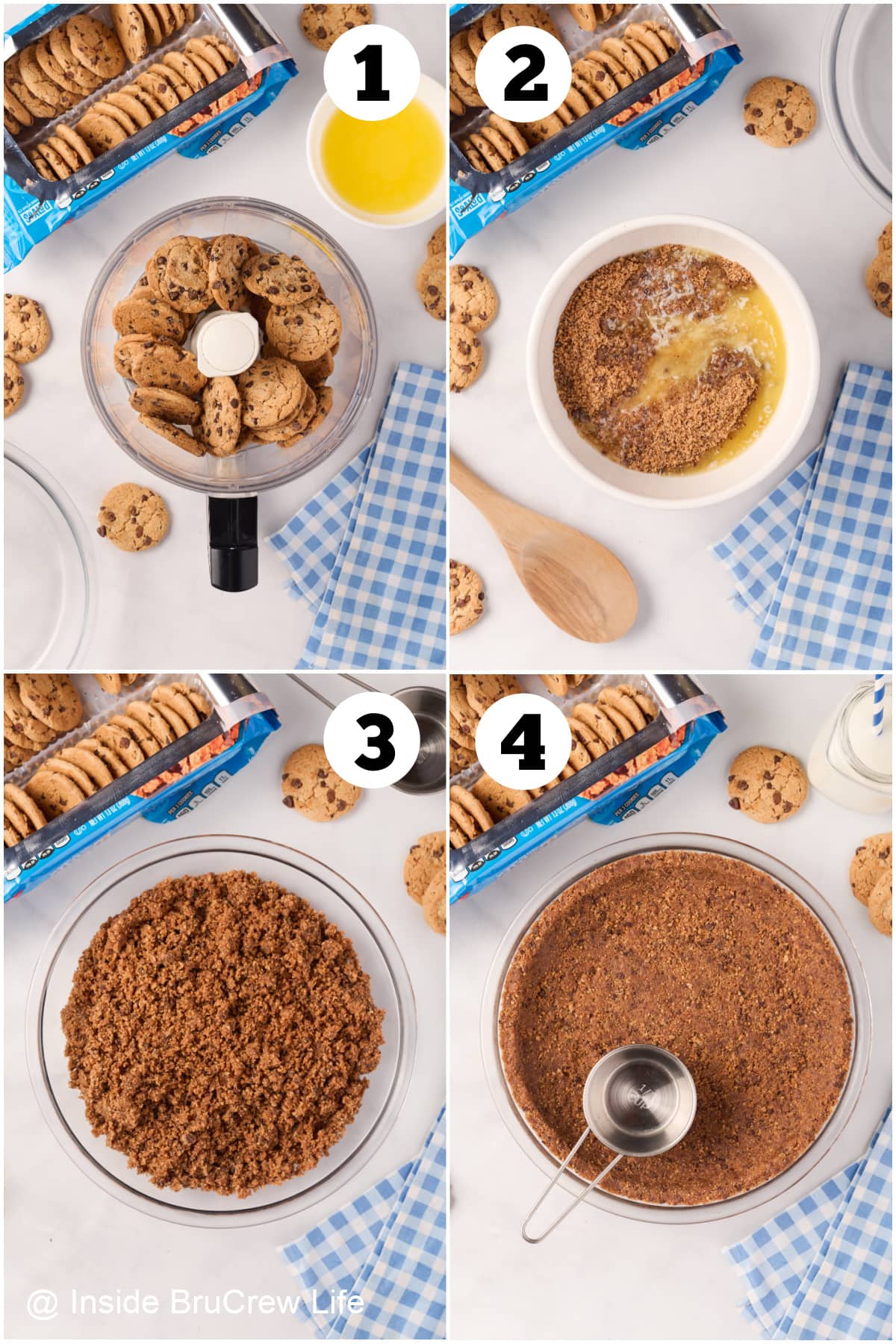 Making a cookie crust out of chocolate chip cookies only takes about 10 minutes. It really does come together quickly with these easy steps.
Crush the cookies. I love using our Ninja food processor to do this, but you can also use a plastic bag and rolling pin. Pulse the cookies into fine crumbs.
Melt the butter and pour into the crushed cookie crumbs. Stir the melted butter thoroughly into the cookie crumbs. It should look like slightly wet sand at this point.
Spoon the crumb mixture into a 9-inch pie plate. Use your hands and fingers to form the sides of the pie crust first.
Press the remaining crumbs into the bottom of the pan using the flat bottom of a glass or measuring cup.
Refrigerate the no bake pie crust 30 minutes before adding your desired filling. Some of our favorites are chocolate pudding or vanilla ice cream.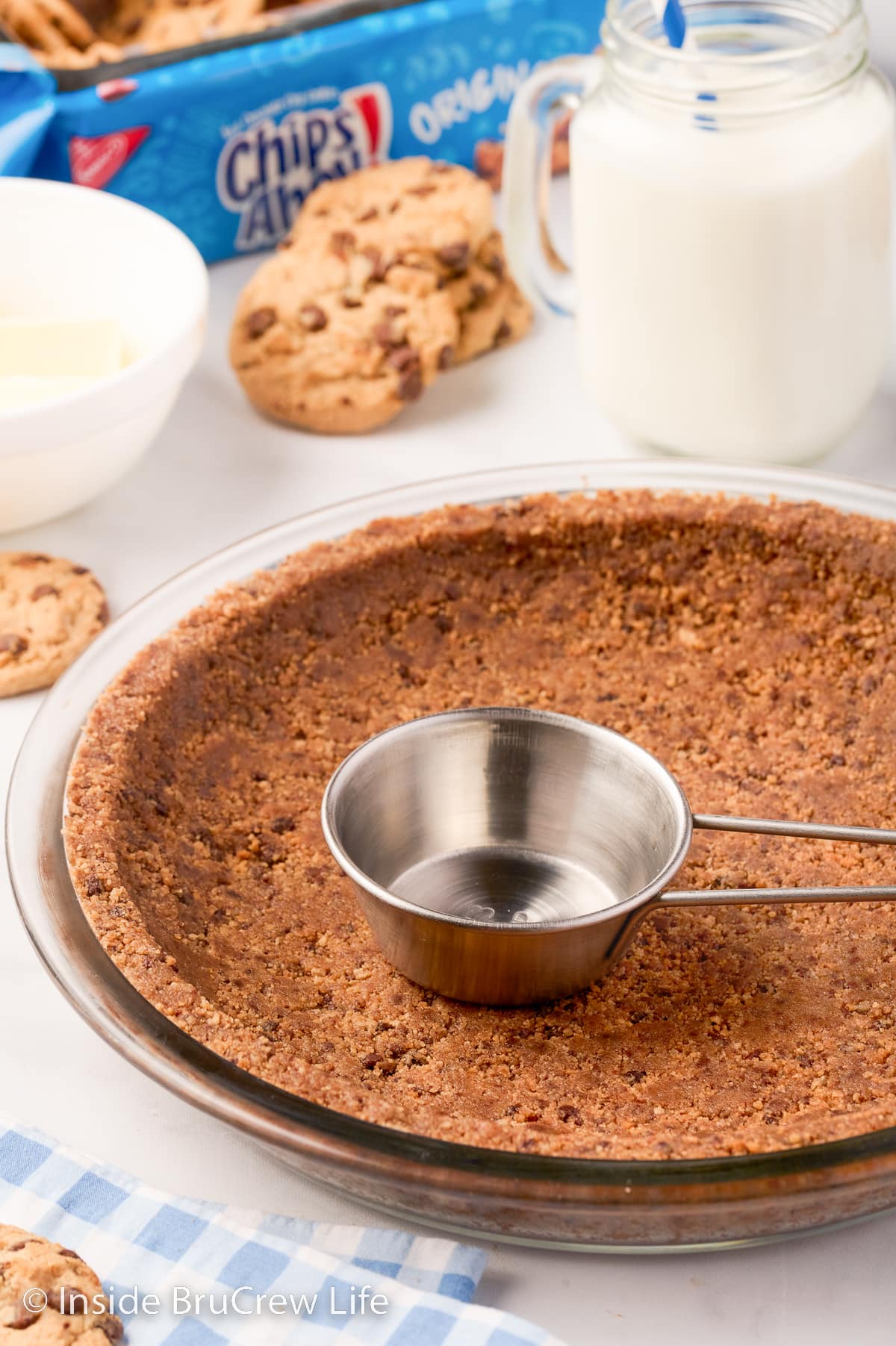 Tips and Tricks
Melt the butter slowly in the microwave. Stir it often, so it doesn't explode and make a mess in your microwave.
Press the crumbs firmly and evenly into your pan, so that it holds its shape.
Use your hands or the bottom of a flat glass or measuring cup to press the crumbs down evenly.
The cookie crust does not need to be baked first if you are using it in a baked cheesecake.
Double the crust if you want to use a crust on the bottom AND sides of a springform pan.
Want to make this cookie crust ahead of time? Make it in the pie plate and then wrap with plastic wrap or place in a freezer bag and freeze until you need it. Thaw it overnight in the fridge before using.
Recipe FAQ'S
What kind of cookies do I use?
Any hard cookie can be used. I like to use Chip's Ahoy or a brand similar to this. Just make sure you do not use a chewy cookie.
How do I crush cookies for a pie crust?
You can use a food processor or blender to do this. Another method is to place the cookies in a ziplock bag and smash them up with a rolling pin until you get the desired texture.
Can I use homemade chocolate chip cookies?
I do not recommend using a homemade or bakery style cookie. Use those fabulous homemade cookies to dunk in a glass of milk.
What pan does this crust work in?
This recipe makes enough crust for the bottom and sides of a 9" and 10" pie plate, the bottom of an 8" or 9" springform pan, or an 8" or 9" square baking dish.
Can I make this ahead of time?
Absolutely. This pie crust can be made ahead of time or even frozen. Simply thaw it out when you are ready to use it.
Do I pre-bake this pie crust?
It is not necessary to bake this particular recipe. But if you want a crunchier texture, bake the crust in the oven at 350° for 8-10 minutes, then cool completely.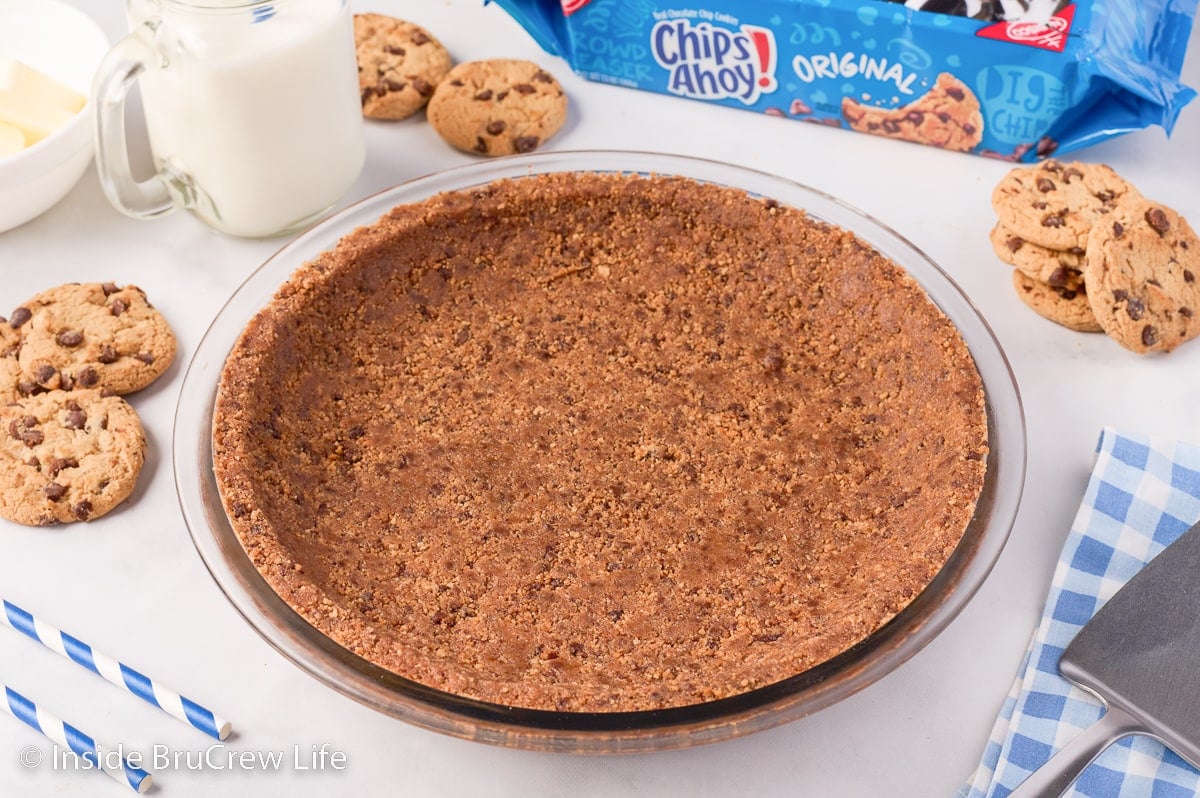 Ways to Use a Cookie Pie Crust
Do you love a recipe you tried from Inside BruCrew Life?
Please leave a 5-star ⭐️ rating and a review in the comments section below.