Different flavors of ice cream can be layered together to make a fun ice cream cake.  This Chocolate Chip Cookie Dough Ice Cream Cake has two ice cream flavors and a crunchy cookie crust.  It is really a cake that can be enjoyed all year long.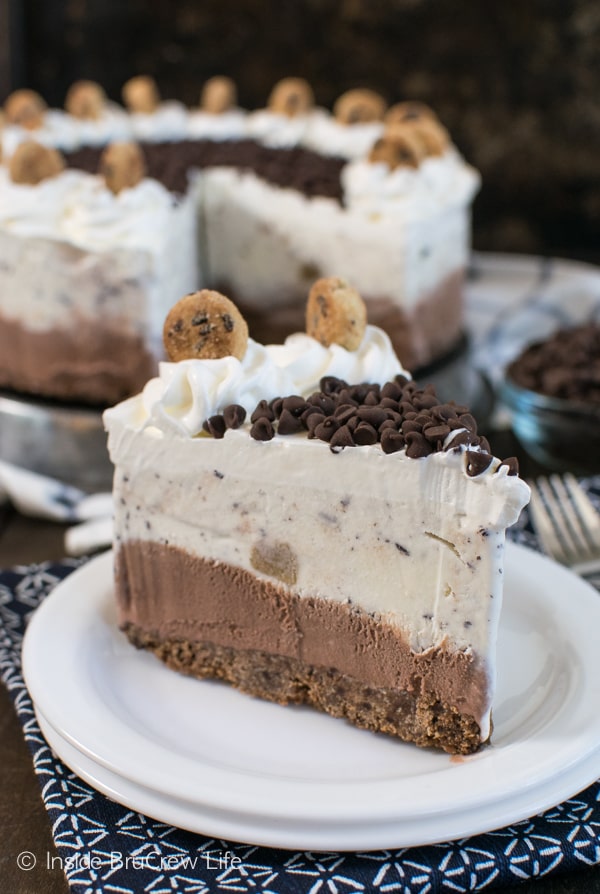 Ok, so I'm kind of sort of obsessed with ice cream cakes lately.
Although I kind of feel guilty calling these "recipes". I mean can you really call it a recipe when you open two cartons of ice cream and layer them in a pan?  The answer to that is yes, yes you can. At least that's my take on the question.
Plus, one slice of this cookie dough ice cream goodness and you will be happy for this non-recipe.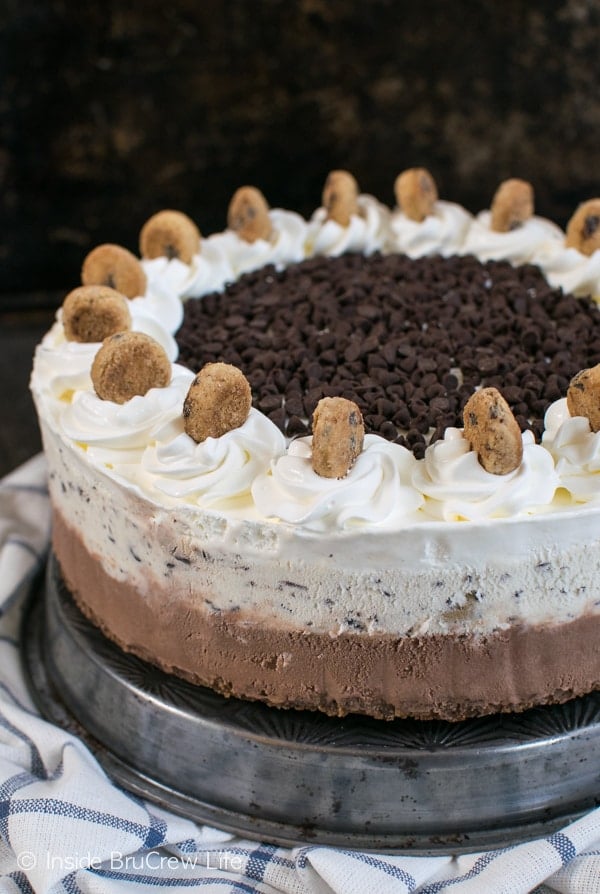 Remember when we had that one summer where it was chilly and rained a whole bunch so it didn't really feel like summer…oh, wait that was this summer. This has definitely been the strangest summer I can remember here in the midwest.
At least the last few weeks have been warmer. I was really starting to think the hot weather was waiting for school to start before showing up.  At least that's what my kids kept saying was going to happen.
We are celebrating the warmer weather with more ice cream in the freezer. More ice cream cake that is.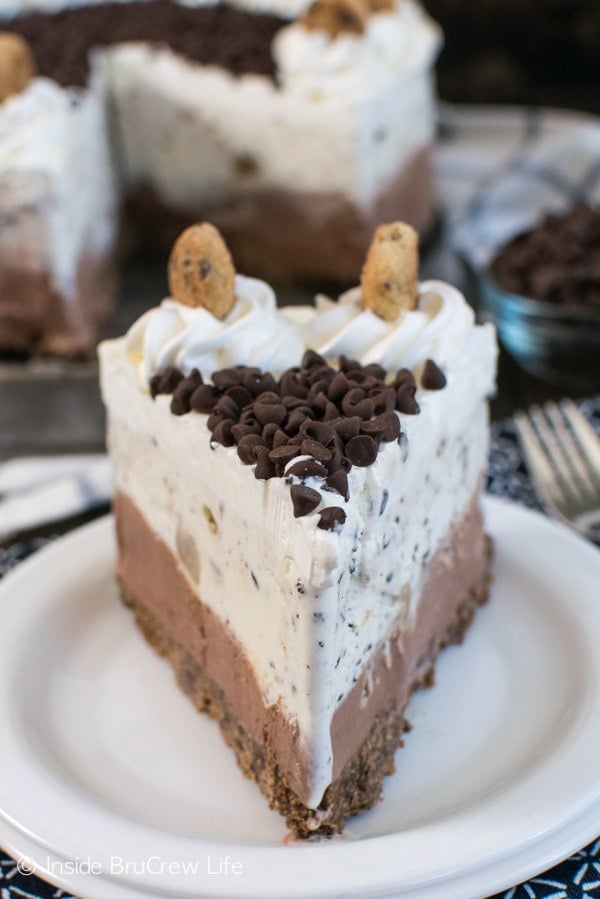 For our daughter's birthday last month she came up with this fun Vanilla Mint Chip Ice Cream Cake, so she and I teamed up again to make another ice cream cake.  Last week was national ice cream day…it's ok to celebrate a week late, right?  I mean ice cream is really one of those things that is great all year long if we are being honest!
We were at the grocery store and our daughter picked out chocolate and cookie dough for our next ice cream cake creation. I picked out the cookie crust and extra cake toppings.
She and I work well together. I'm going to keep asking her for fun dessert combos.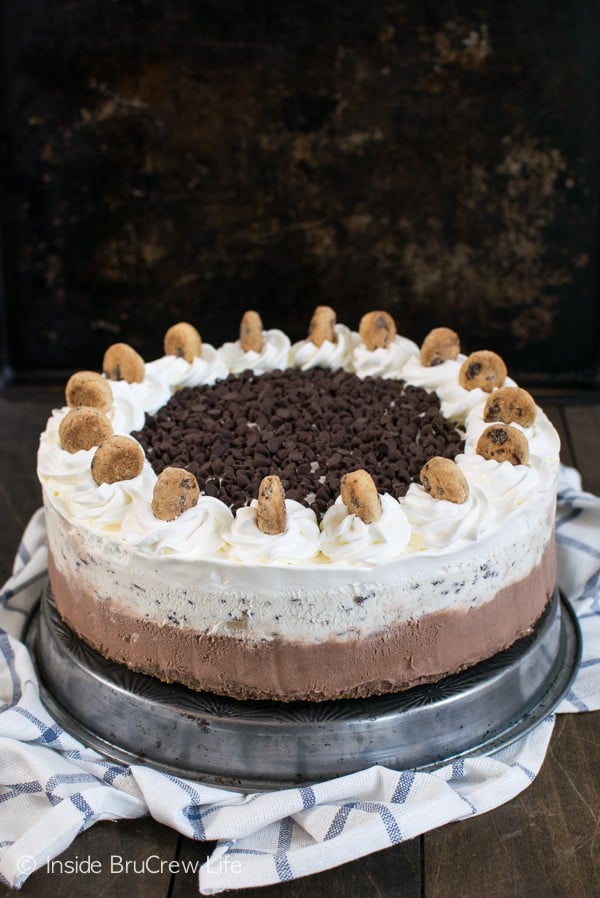 Ice cream cakes are really one of the easiest desserts to put together.
You can use any cookie for the bottom crust.  For this cookie we bought some crunchy chocolate chip cookies, crushed them in the food processor, and then stirred some butter into the crumbs.  Think of all the cookie crust combinations you could do with ice cream combos.
Ice cream cakes are no-bake, but they do require some patience because you need to let the ice cream soften before you can spread it in the pan.  I like to set one carton on the counter with a timer and then do some house work or computer work.  Just make sure you are within hearing range of your timer, or you might end up with ice cream soup.  That means you let it soften waaaaaay too much if you are wondering.
Once the first ice cream is layered in the pan, you can start all over with the second flavor.  A full frozen container of ice cream takes about 25 minutes to soften, depending on how warm/hot your house is.  It has been warm and humid here, so we have our air running.  If your house is warmer, the ice cream may soften quite a bit faster.  I recommend checking it often to see where your ice cream is at.
Once everything has been layered in the pan, the real patience begins.  It takes time for this cake to freeze again, so you can slice nice clean pieces.  Make it the night before and freeze it overnight for best results. But if you really do not care about how neat and clean the pieces are, just give it a few hours before digging in.  All the cookie goodness is definitely worth digging in early!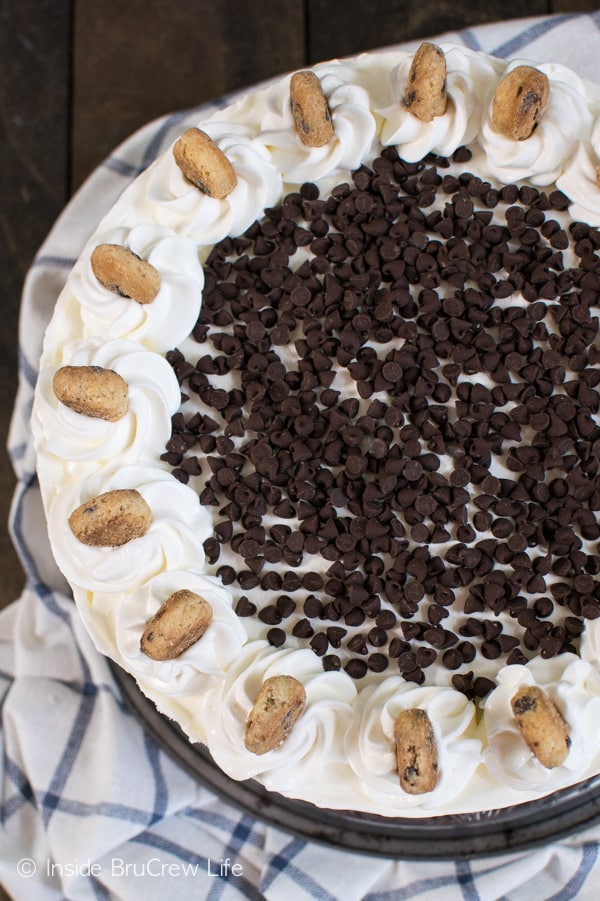 Stay up to date on all the BruCrew baking here:
FACEBOOK | PINTEREST | GOOGLE+ | TWITTER | INSTAGRAM | BLOGLOVIN
 Sign up to receive an email in your inbox for each new recipe:
EMAIL SUBSCRIPTION
Layers of chocolate and chocolate chip cookie dough ice cream with a crunchy cookie crust and more cookies and chocolate chips on top make this a fun and delicious ice cream cake to enjoy any time of year.
Ingredients
2 cups chocolate chip cookie crumbs (about 20 cookies)
6 Tablespoons melted butter
1 - 1.5 quart container chocolate ice cream
1 - 1.5 quart container chocolate chip cookie dough ice cream
1 - 8 ounce container Cool Whip, thawed
3/4 cup mini chocolate chips
mini chocolate chip cookies
Instructions
Stir together the cookie crumbs and butter. Press the mixture into the bottom of 9-inch springform pan that has been lined with parchment paper. Refrigerate.
Set the chocolate ice cream carton on the counter for 20-25 minutes or until softened enough to stir it. Spread it over the cookie crust. Place in the freezer.
Set the cookie dough ice cream carton on the counter for 20-25 minutes. Spread it over the chocolate ice cream layer when ready.
Spread 2 cups of Cool Whip over the top of the ice cream. Freeze for 3-4 hours in a deep freeze or overnight for best results.
Open the springform pan and gently lift the cake out. While the cake is lifted up, pull the parchment off. Place the cake on a freezer safe plate.
Pipe the extra Cool Whip around the outside edge of the cake. Place mini cookies around the edge. Sprinkle the chocolate chips in the center of the cake. Store in the freezer in a covered container until ready to serve.
https://insidebrucrewlife.com/chocolate-chip-cookie-dough-ice-cream-cake/
Copyright Inside BruCrew Life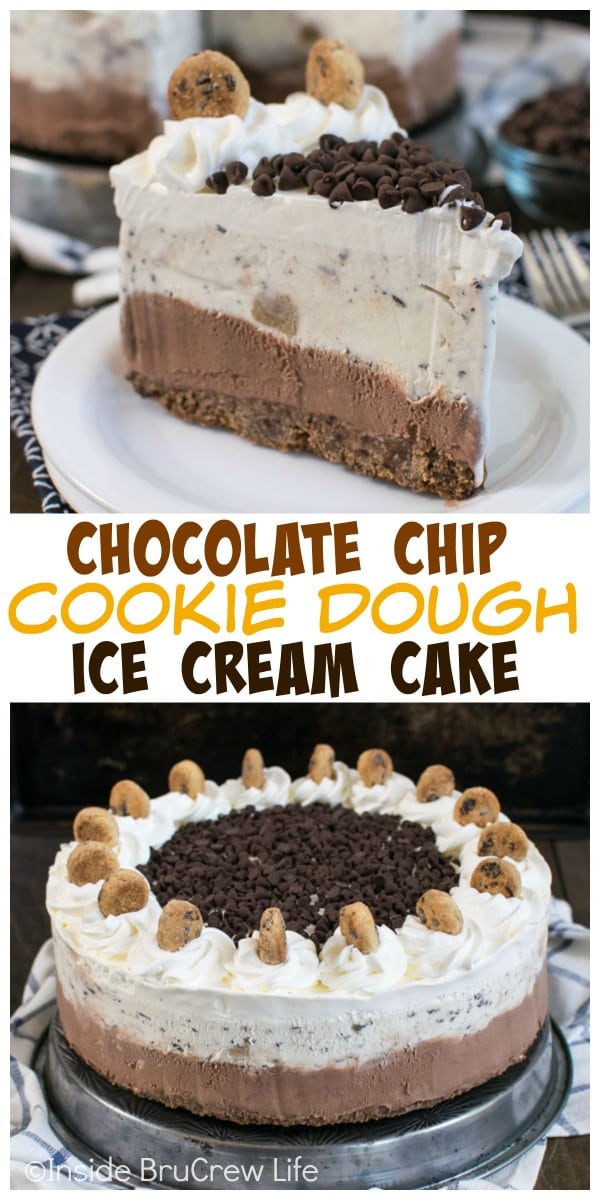 More fun frozen treats to enjoy: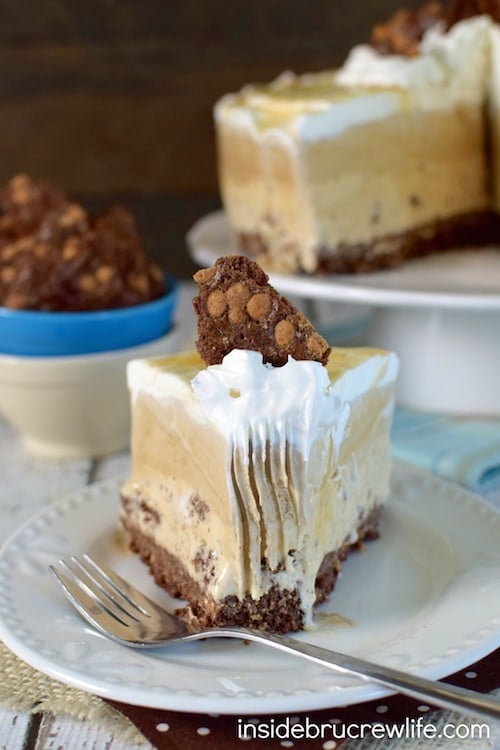 Salted Caramel Brownie Brittle Ice Cream Cake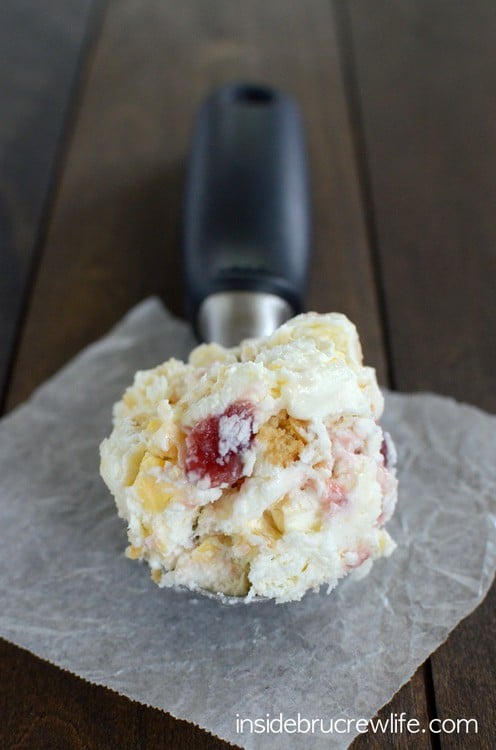 Lemon Oreo Strawberry Swirl Ice Cream