This Chocolate Chip Cookie Dough Ice Cream Cake has two layers of ice cream on top of a crunchy cookie crust. It is an easy frozen dessert that can be enjoyed all year long.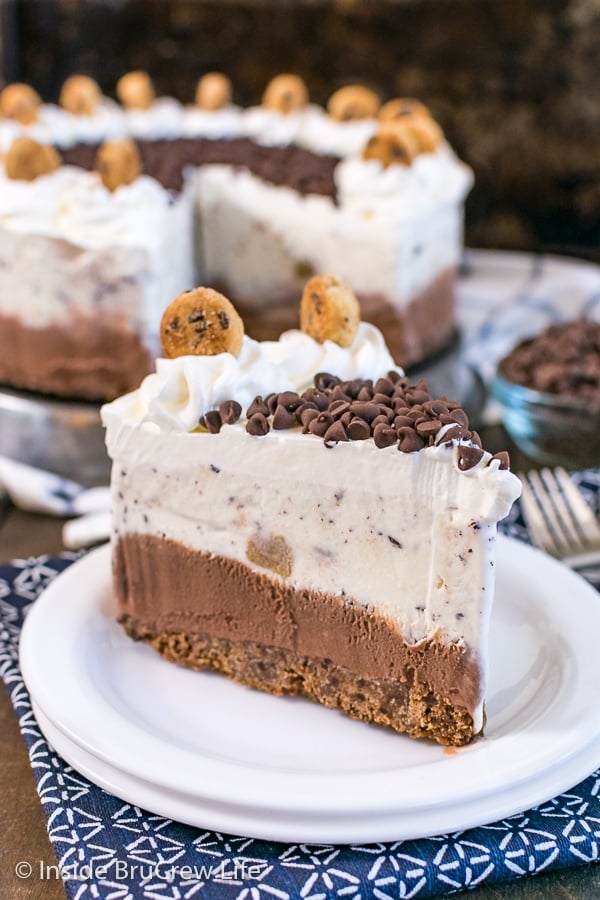 Ok, so I'm kind of sort of obsessed with ice cream cakes lately.
Although, I kind of feel guilty calling these "recipes". I mean can you really call it a recipe when you open two cartons of ice cream and layer them in a pan?
The answer to that is yes, yes you can. At least that's my take on the question.
Plus, after one slice of this cookie dough ice cream goodness, you will be happy for this non-recipe.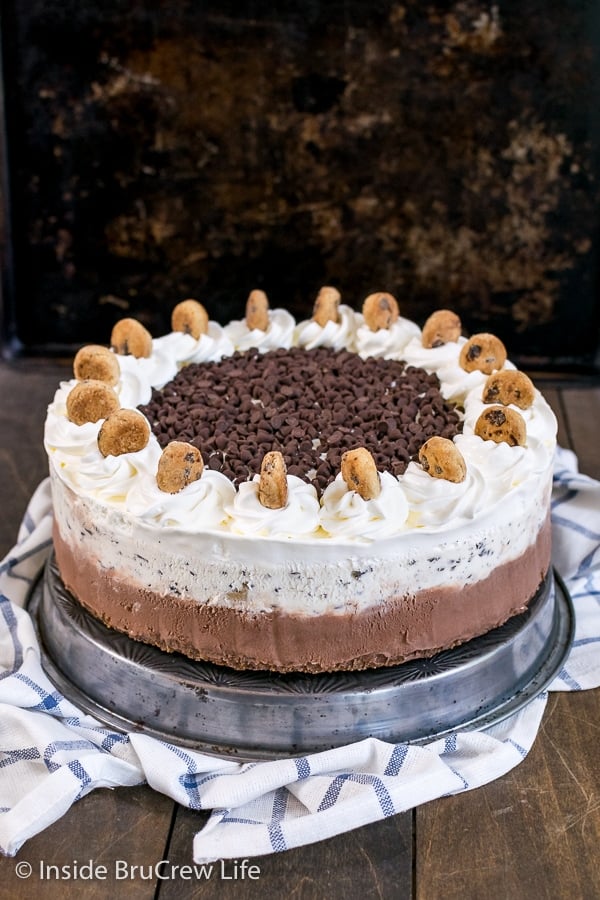 A few years ago our daughter came up with this fun Mint Chip Ice Cream Cake for her birthday, so she and I teamed up to make another homemade ice cream cake.
On our last grocery run, she picked out chocolate and cookie dough for our next ice cream cake creation. I picked out the cookie crust and extra cake toppings.
She and I work well together. I'm going to keep asking her for fun dessert combos.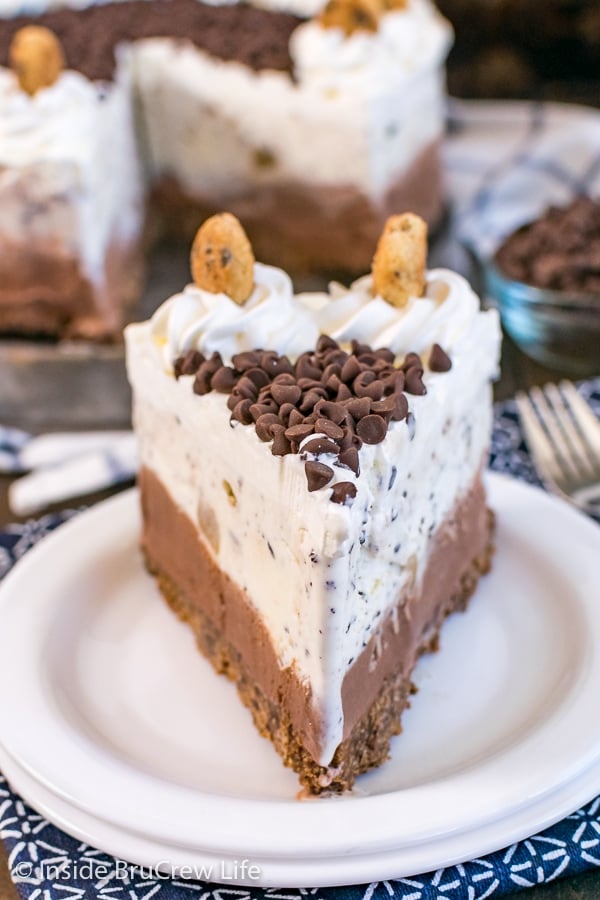 An ice cream cake is really one of the easiest desserts to put together.
Recipe Tips
You can use any cookie for the bottom crust. For this ice cream cake we made a chocolate chip cookie crust. Crush the hard cookies in a food processor, and then mix the crumbs with melted butter. Think of all the cookie crust combinations you could do...
Ice cream cakes are no-bake, but they do require some patience because you need to let the ice cream soften before you can spread it in the pan. A full frozen container of ice cream takes about 25 minutes to soften, depending on how warm/hot your house is. If your house is warmer, the ice cream may soften quite a bit faster. I recommend checking it often to see where your ice cream is at.
Once the first ice cream is layered in the pan, place it in the freezer while you soften the next flavor.
It takes time for an ice cream cake to freeze solid, so you can slice nice clean pieces. Make it the night before and freeze it overnight for best results.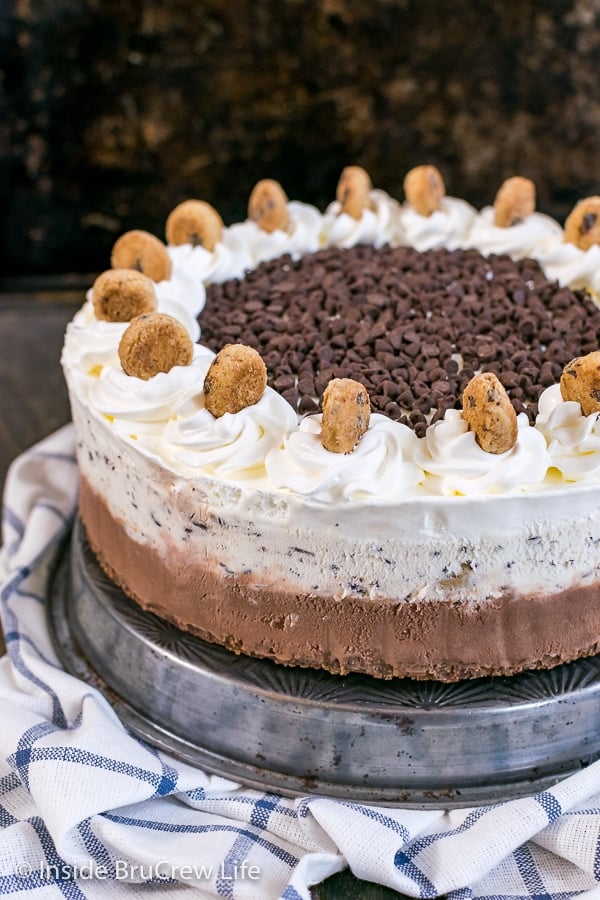 How to make a Chocolate Chip Cookie Dough Ice Cream Cake
Use a food processor to crush a package of store bought chocolate chip cookies. You want to make sure you buy the crunchy cookies because they work best for a cookie crust.
Stir together the cookie crumbs and melted butter and press in bottom of a springform pan.
Place a carton of chocolate ice cream on your counter for 15-25 minutes, or until softened enough to stir.
Spread on top of the cookie crust. Place in freezer.
Place cookie dough ice cream on counter and let soften. Spread on top of the chocolate layers.
Spread Cool Whip on top of the cake and freeze for at least 4 hours or overnight.
Use a knife dipped in hot water and run it around the outside edge of the cake to loosen it from the pan. You will need to rewet the knife a few times as you do this.
Add Cool Whip swirls with mini cookies around the top of the cake. Sprinkle mini chocolate chips in the center.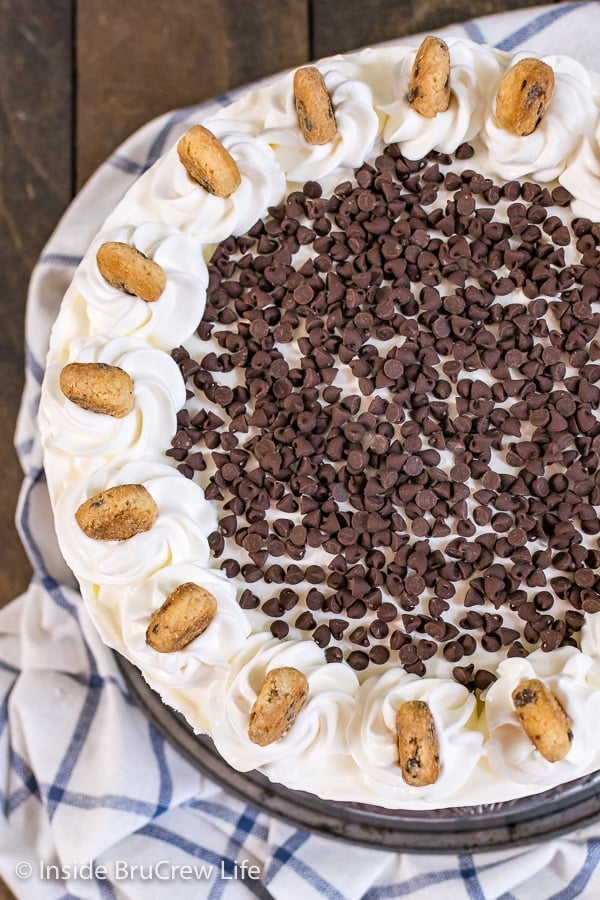 More delicious ice cream desserts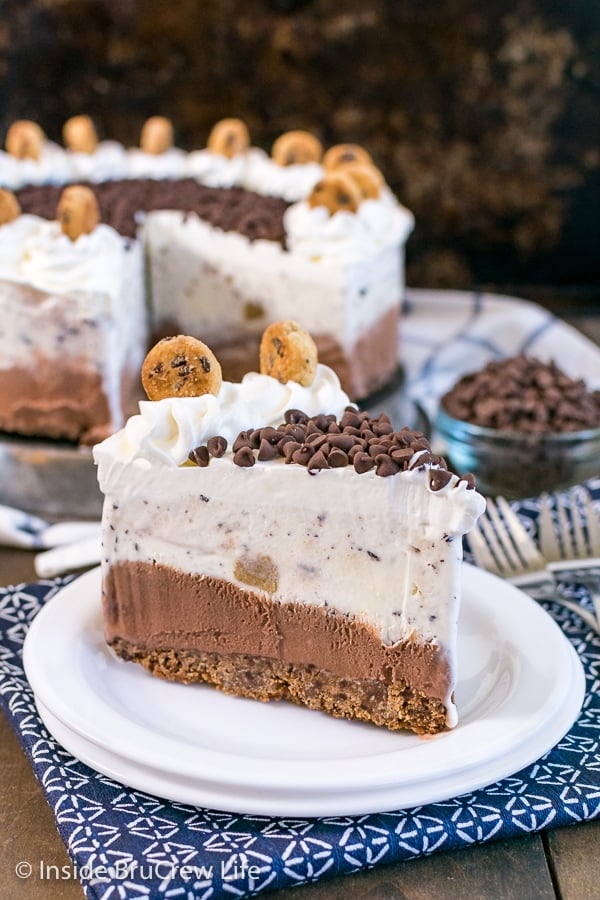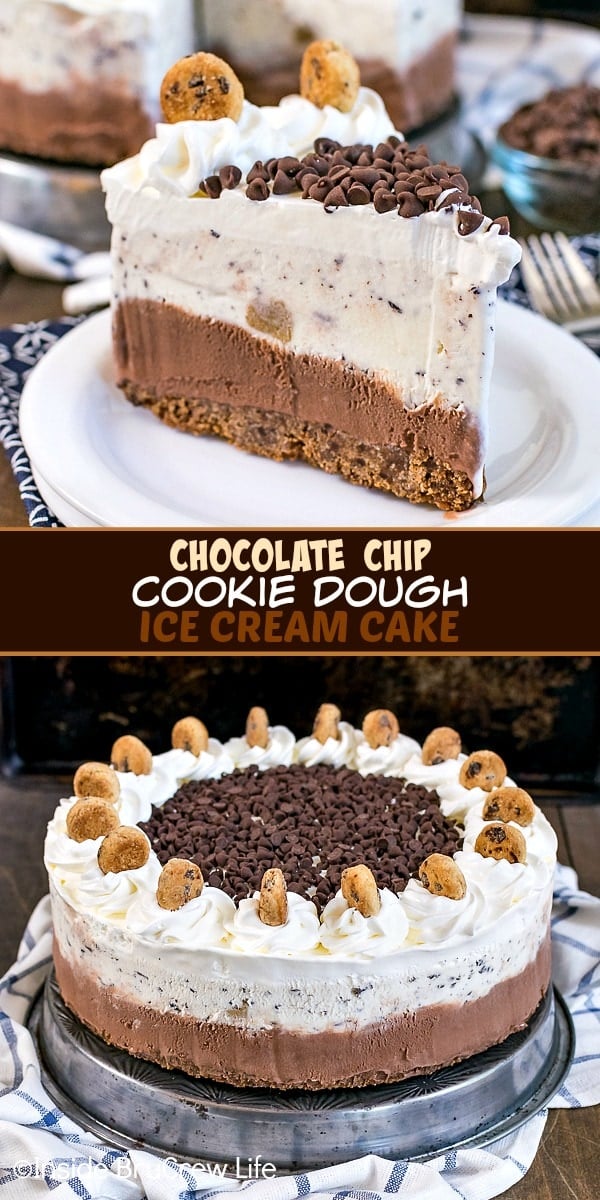 *The post for this Chocolate Chip Cookie Dough Ice Cream Cake was first published on July 27, 2015. The post and pictures have been updated and republished July 21, 2020.