Pumpkin Chocolate Chip Cookie Pie: A chocolate chip cookie dough crust topped with creamy no bake pumpkin cheesecake. Try one slice and you will be in pumpkin cookie heaven.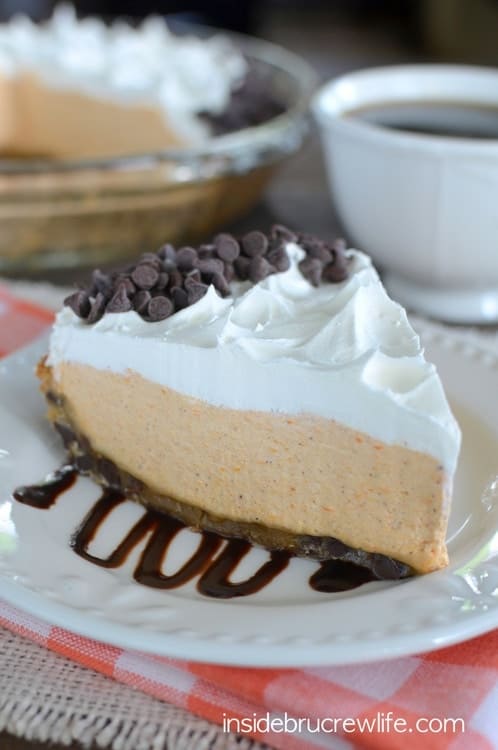 It's been a month of getting up early to go work out.
I still do not like it...something tells me I will never actually "enjoy" getting up early to do physical anything.
But I can honestly say that I do enjoy wearing clothes that fit just a little bit better. If that's the result of all these crazy work out of the days, then I'll keep telling myself that 5:30 AM is really the new 7:30 AM.
What? You don't try to trick yourself into getting up each and every morning?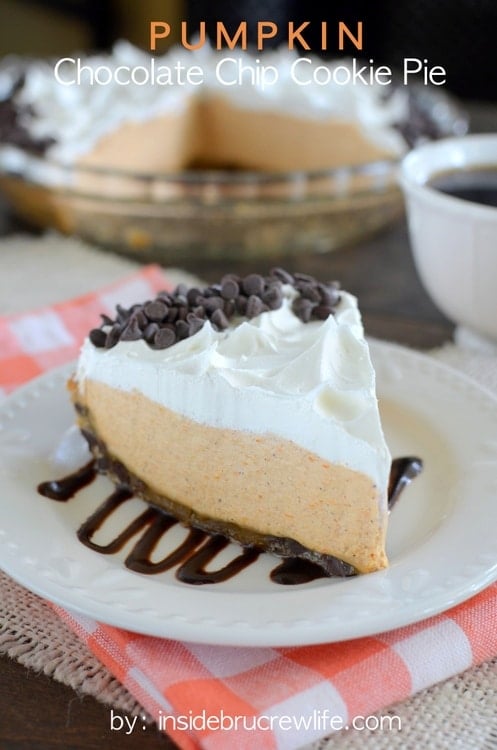 While I'm at it, I might as well try to trick myself into thinking that box jumps and sled pushes are the most fun thing to do in the world. Oh, and drinking a gallon+ of water each day is a blast! And veggies and meat for every meal is my favorite. Nope, still not buying any of this!
Another thing that isn't fun...making another awesome pumpkin treat and only sampling a small slice. Seriously, why do I keep doing this to myself? Oh, yeah, it's this little thing called self control that I am trying to put into practice.
Believe me, this pie had me weak in the knees! That self control resolve was really, really hard to stick to with this dessert!
I have to admit something. A few weeks ago I said these Pumpkin S'mores Bars were going to be my favorite pumpkin dessert of the season. Then I made a S'mores Pumpkin Roll and said that was the best.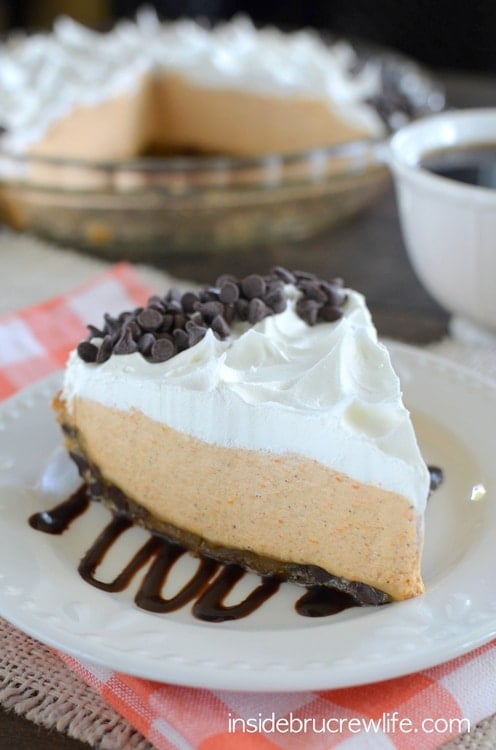 Apparently I was lying to you...because this Pumpkin Chocolate Chip Cookie Pie blows them completely out of the water. Totally! It's my new favorite pumpkin treat...for now that is!
This pie starts with cookie dough. Now I like to use Pillsbury cookie dough for these, but feel free to use your own if you feel better about it. But really once you cover it in the filling, you will never know. Press it into a pie plate and bake for about 14-15 minutes.
It will be puffy when it comes out, but as it cools it will settle into the pan. Go ahead and help it out by pressing gently with the back of a spoon. Do not press too hard. We want the cookie to stay even as a crust!
Then top with the filling. This no bake pumpkin cheesecake is so light and fluffy. Be careful because taste testing one bite may lead to more samples. Not that I would know or anything. Wink, wink!
Another layer of Cool Whip...yes, I did just said Cool Whip. I like that white fluffy stuff, and that's how I roll. Anyway, top it with more Cool Whip and some mini chocolate chips around the edges to prettify it!
Then comes the hard part...you have to refrigerate it for a few hours so it can set up. Now you could eat it right away, but your slices won't be as nice to cut out.
This pie is definitely the dessert to make this fall! My self control is getting thin...I think I should make another pie right now!!!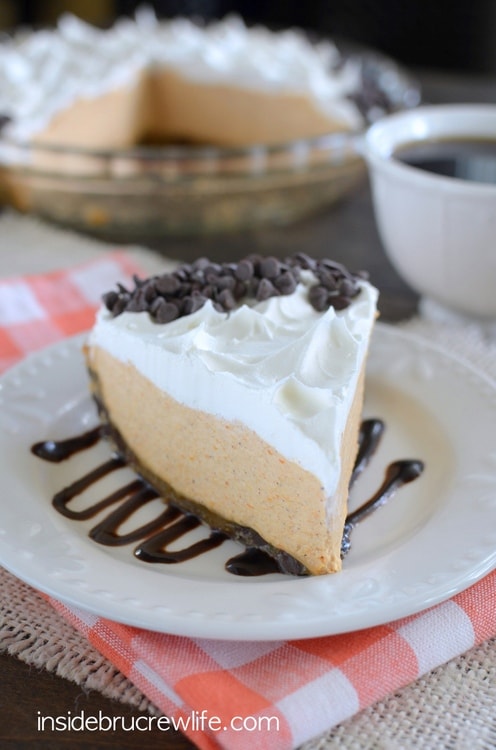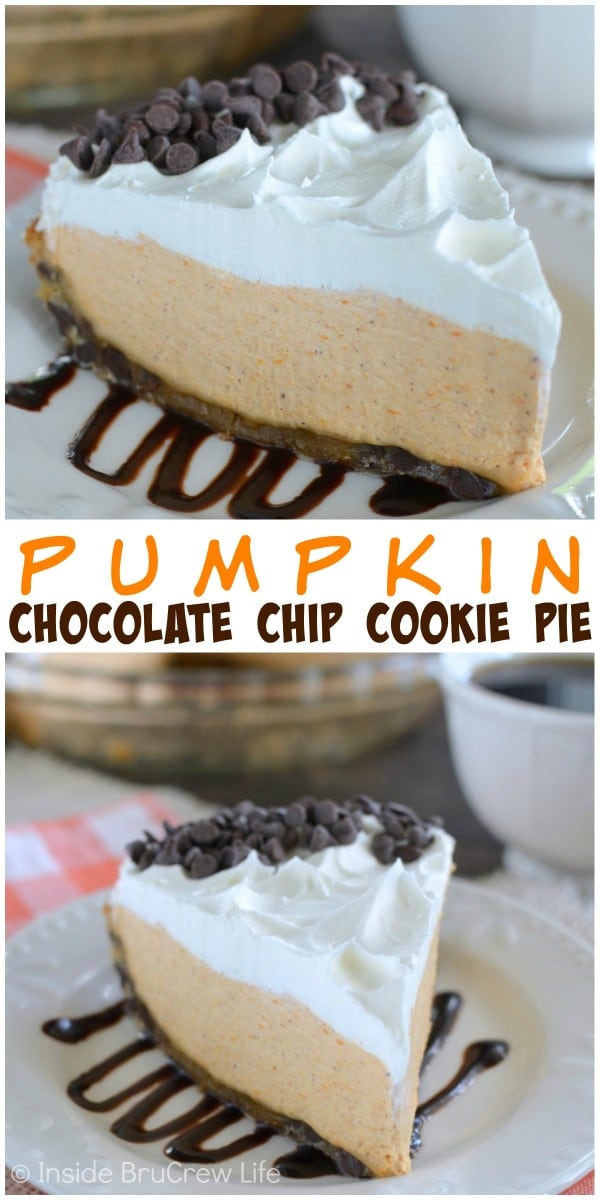 More pumpkin treats to try this fall season: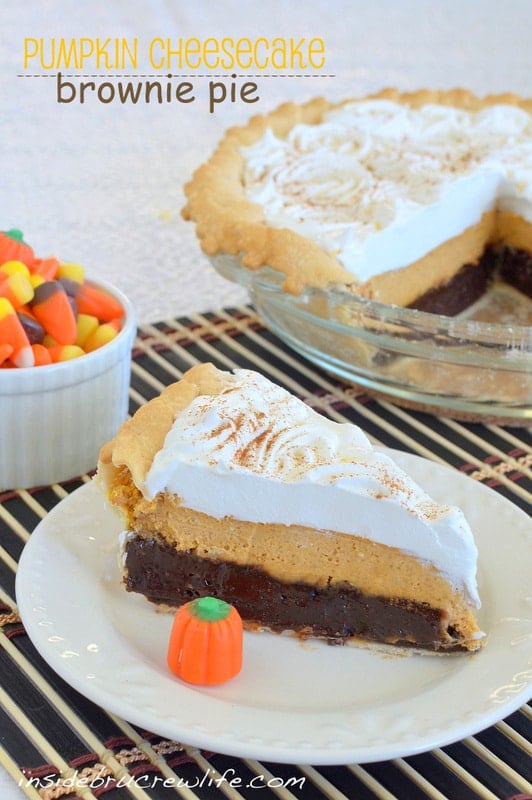 Pumpkin Cheesecake Brownie Pie