You are going to love all the layers in this Chocolate Chip Cookie Mousse Cheesecake. Chunks of cookies and chocolate chips in every bite make this a must make dessert.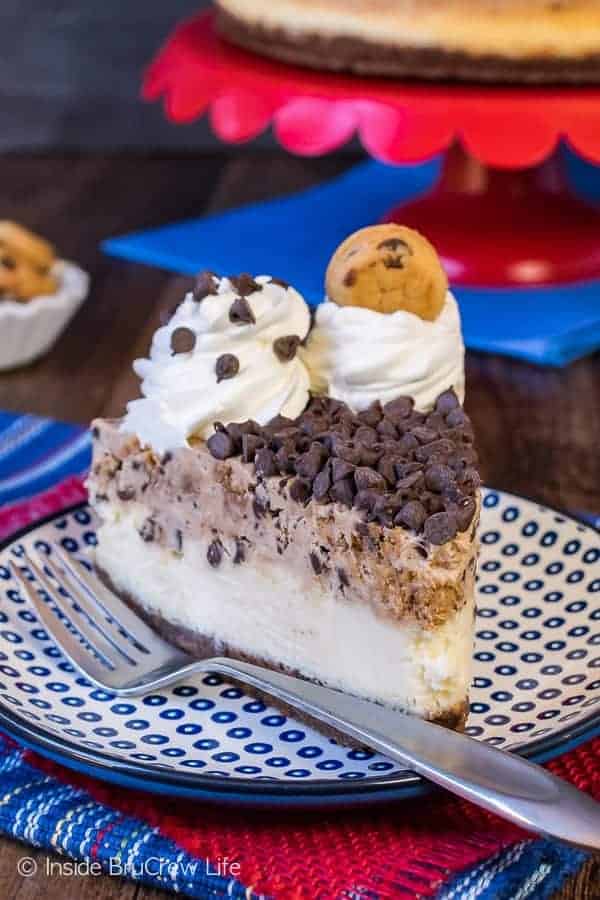 You guys! I haven't even begun to put a dent in all the cheesecake ideas that I have swirling in my head. And that's after writing Cheesecake Love. There are 75 cheesecake ideas in the cookbook, and I probably have another 75 ideas still waiting to be made. Maybe more.
A friend of mine suggested that book number 2 might need to happen since I had so many more ideas. Or I could just start making a new cheesecake every week and share it right here on the blog. That sounds like a much easier idea.
Since it took about 3 years from start to finish in the cookbook process, I'm not really interested in doing another one...now. Of course, that could all change if the right offer came along.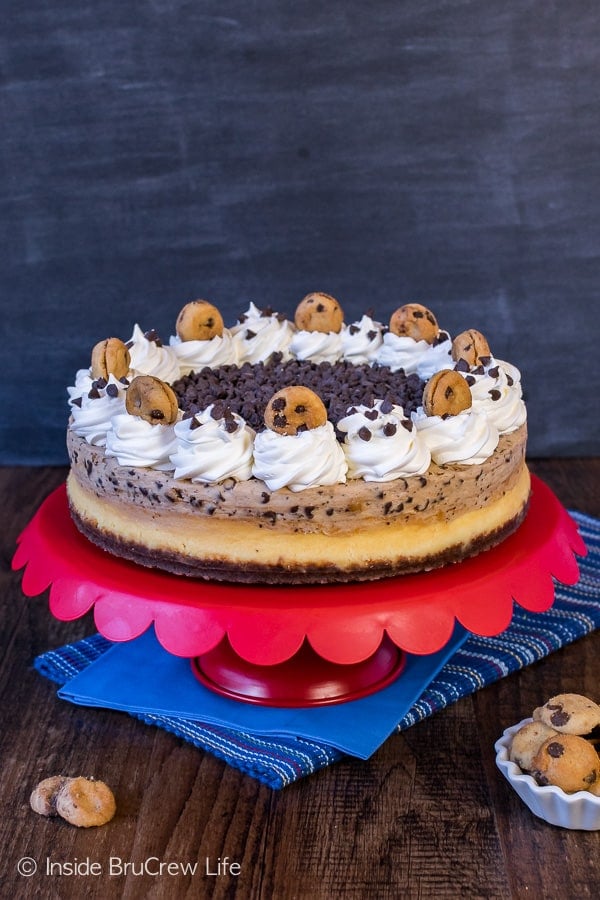 This fun layered creation that you see right here is one of those ideas that just didn't make it into the book. Certain ones had to be cut because I had way too many ideas to fit in one book.
Aren't you glad for that? Now you get the pictures and recipe without having to leave your house. Of course, I do recommend getting your own copy of the cookbook because there are so many great new cheesecakes you need to make.
This cheesecake apple pie and this hot chocolate cheesecake dip are a few of the most popular ones that made it into the book too.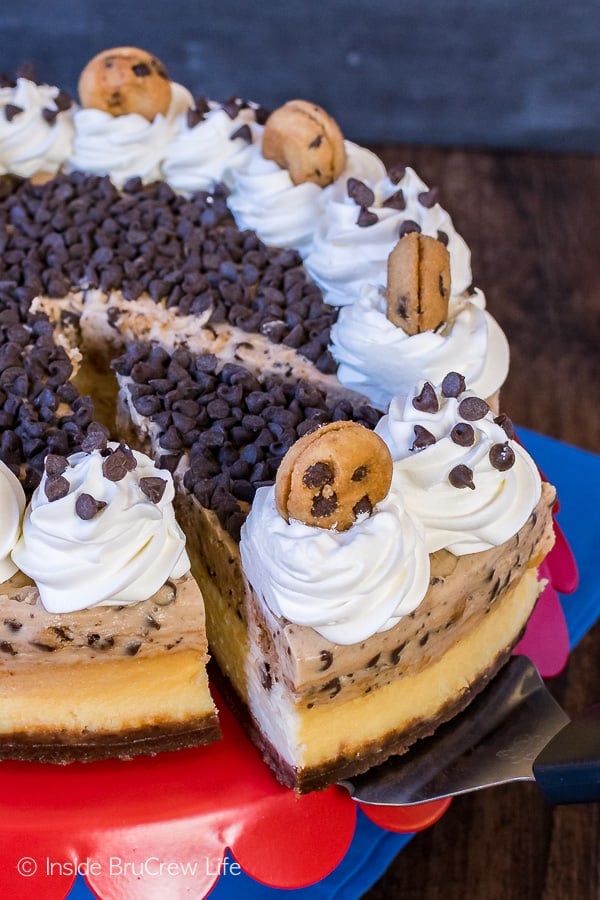 Let's talk about each of the layers in this cheesecake that is staring you down.
We love using this chocolate chip cookie crust! Crushed chocolate chip cookies and butter make up the crust on this chocolate chip cheesecake.
It's basically the best thing ever. I think I like it even more than a regular Oreo crust. At least for this particular cheesecake.
The cheesecake layer in this one has melted white chocolate in it. It bakes up so creamy and delicious.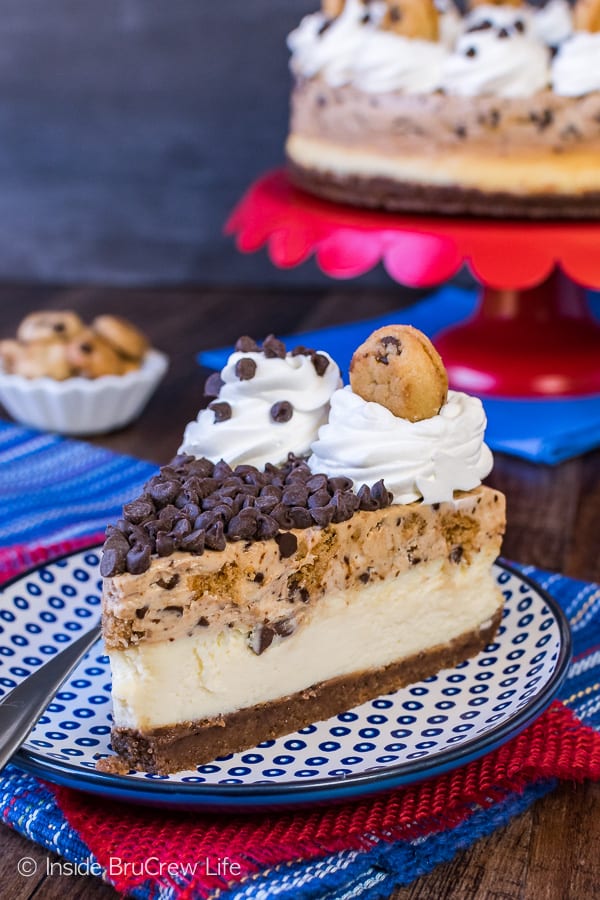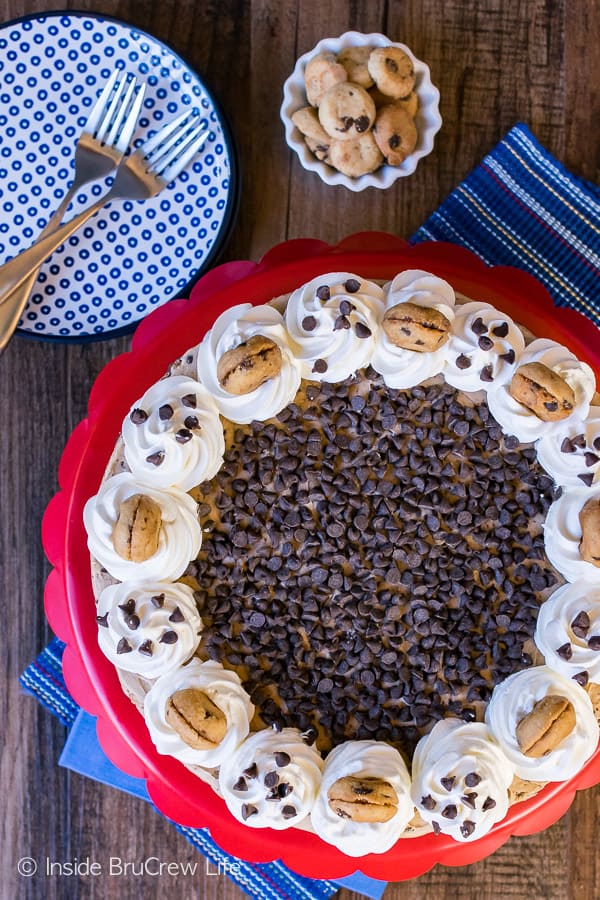 Cream cheese, sugar, and Cool Whip make up the top layer. It creates a light fluffy mousse that is so good.
To make it even better, I added crushed cookies, chopped cookies, and mini chocolate chips. Yup, it's just as good as it sounds. Actually it's better when you are digging in with a fork.
And to finish the cheesecake off, I swirled more Cool Whip on top with mini cookies and added another layer of mini chocolate chips. That's four layers of amazing cheesecake goodness.
What are you waiting for? Off to the kitchen...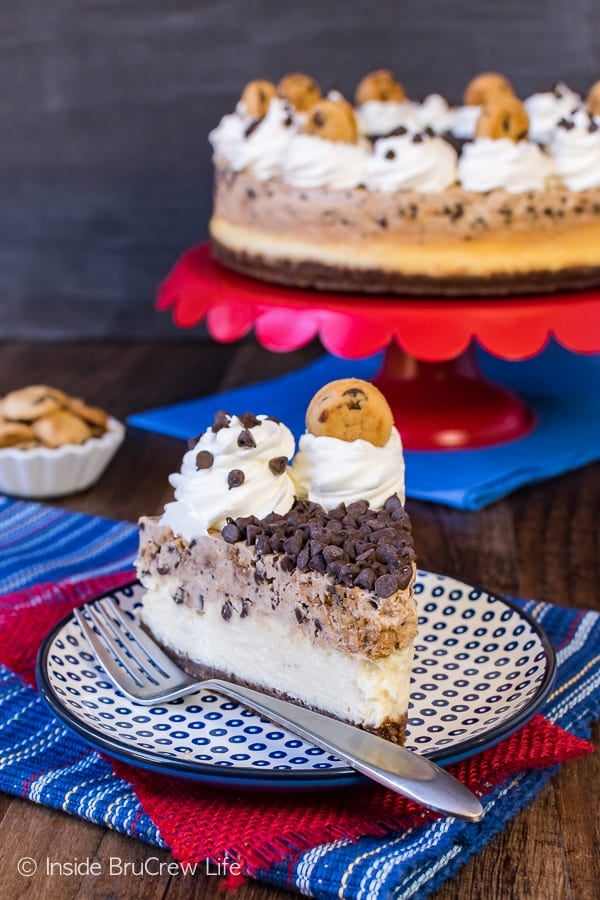 Here are a few more cheesecake recipes from friends:

*This post contains an affiliate link. Inside BruCrew Life may receive a very small percentage from sales made through these links. As always, these links do not cost you any extra. Thank you for letting us share products with you this way.