Layers of fudge, fresh bananas, and banana pudding make this Fudge Bottom Banana Cream Pie a delicious ending to any meal.
*Love these recipes? Sign up for the BruCrew email to have them sent to your inbox.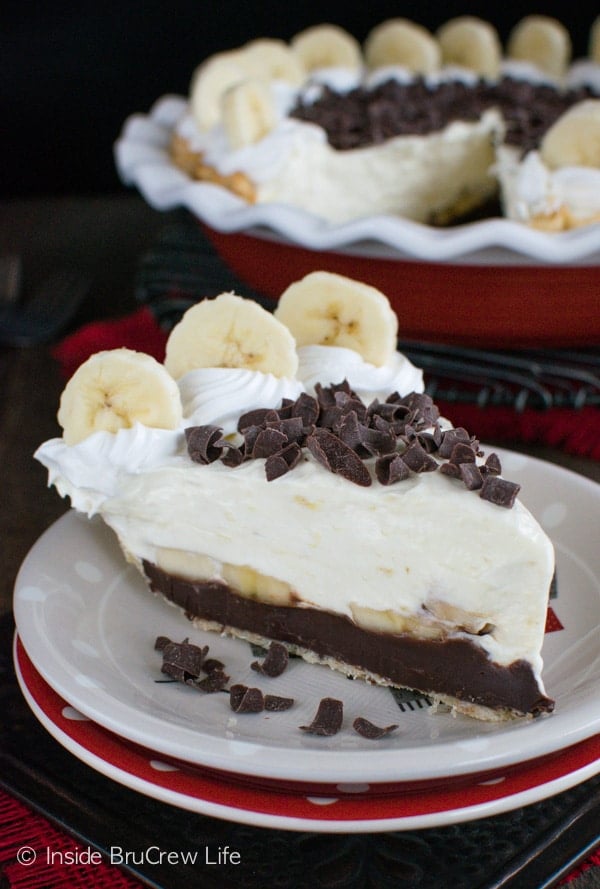 The past few weeks we have been adjusting to a new area, schools, and house.  Going from a small private school to a much larger public school was hard at first for our kids, but they have been troopers and learned the building, schedules, and school id's in no time at all.  Kids really are resilient and can adjust to new things so much quicker than adults.
So far in the house we have painted kitchen cabinets and the ceiling and walls in the living, kitchen, and dining area.  And by we painted…I really mean my hubby painted.  I supervised and pointed out spots that he missed.  That's the part of painting that I'm good at.
Just for the record, I did use the small roller and paint the wall color in the small spots.   I was a little nervous about the yellow color we picked out, but now that it is all done with white trim and a few other places white, I really like it.  Once we get some things hung on the wall, I'll take some more pics and show you before and after shots.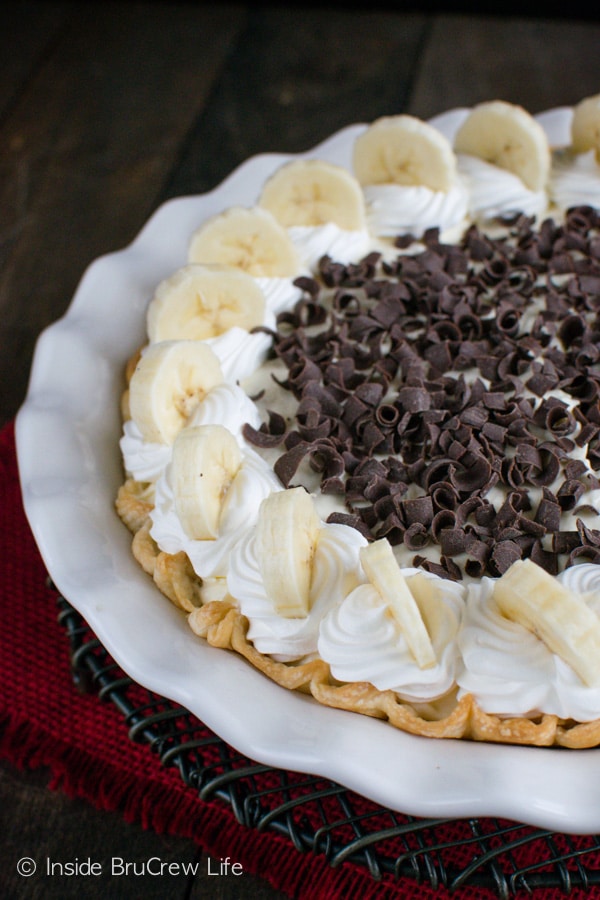 Another new thing in this house that everyone has to adjust to is ceramic tile floors.  The last few houses we have lived in have had a laminate type flooring.
Let's just say the glassware in our home needs to beware!
So far a plate has been dropped and shattered in the kitchen, and yesterday a picture wasn't sitting on a table very well and knocked off a few glass vases onto the entryway tile.  Then last night our son had the bright idea to kick a soccer ball around in the living room.  It got away from him and went sailing over the half wall into the kitchen, knocking off a glass cookie jar right onto the floor.
I'm pretty proud of us for not reacting to that.  It would have been easy to get mad because I have told him before about the ball in the house.  But it is just a cookie jar.  Keeping cool and calm is a better example to him as he is getting older.  Things happen. I'm just glad it wasn't something more expensive.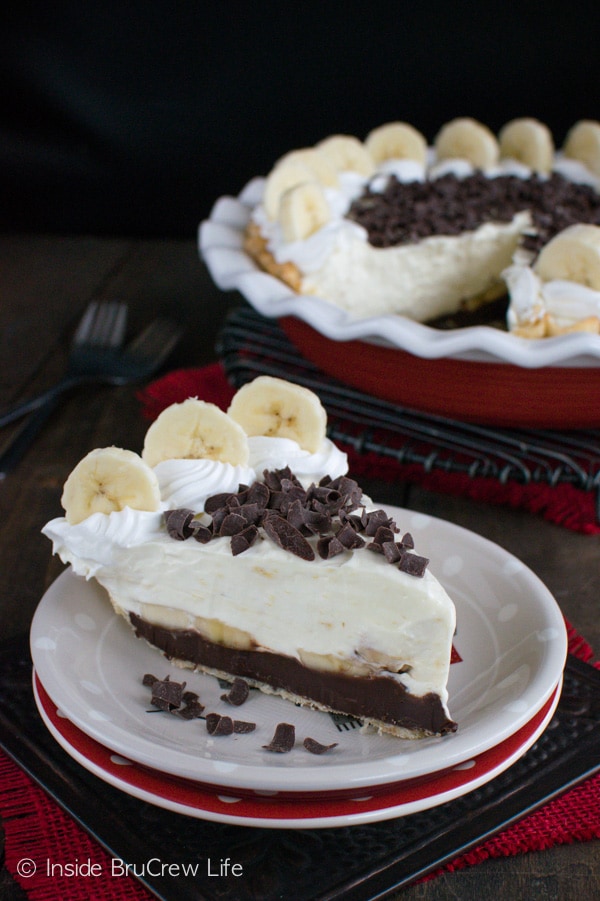 Another thing I'm adjusting to is a new oven and new lighting.  It always amazes me that each oven may say 375 degrees, but they all have slight quirks in baking.  I bought a bunch of bananas for more raspberry mint smoothies and for baking in the "new to me" oven. The cake I made the other day turned out amazing, but you will just have to wait for that one.
Today we are talking pie!!  A few months ago I had a Facebook reader ask about a banana cream pie.  It made my list of things to make, but then life happened and I didn't get it done…until now.
And in true BruCrew fashion, it has dessert layers.  I tend to do that to just about everything I make.  Layers are my friend.  The only thing you have to bake in this pie is the crust.  If you want to keep it all no bake, you could also use a cookie crust like in this white chocolate peanut butter pudding pie.
After you get your crust made, you are going to fill it with a chocolate layer, sliced bananas, and a banana cheesecake pudding filling.  You could eat it right away, but letting it set up in the refrigerator is going to be better for you.  The pie slices will come out better.  Just trust me!
Then add some banana and chocolate decorations and this fudge bottom banana cream pie is ready to be devoured.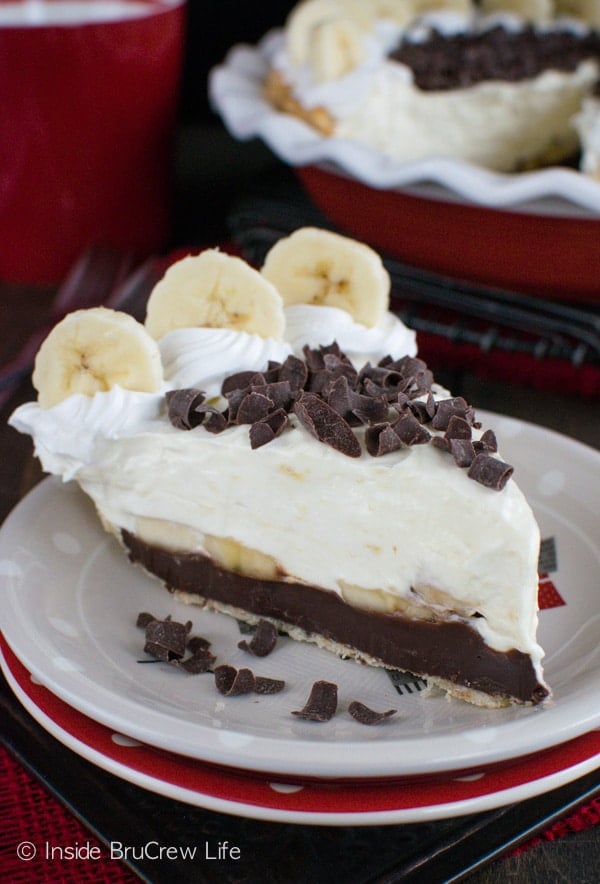 Stay up to date on all the BruCrew baking here:
FACEBOOK | PINTEREST | GOOGLE+ | TWITTER | INSTAGRAM | BLOGLOVIN
 Sign up to receive an email in your inbox for each new recipe:
EMAIL SUBSCRIPTION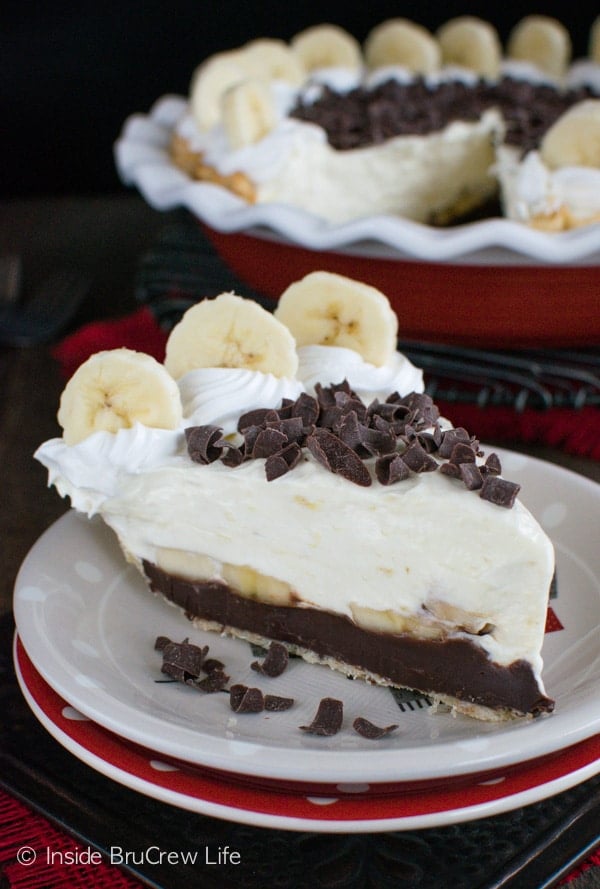 A layer of fudge under bananas and banana pudding makes this pie a delicious ending to any meal.
Ingredients
1 refrigerated pie crust
1 cup dark chocolate chips
1/2 cup heavy whipping cream
1 - 8 ounce package cream cheese, softened
1/2 cup smashed banana (1 ripe banana)
1 - 3.4 ounce box instant banana cream pudding
1 cup milk
1 - 8 ounce container Cool Whip, thawed and divided
2 bananas, sliced
chocolate curls*
Instructions
Bake the pie crust in a 10 inch pie plate according to the package directions. Cool completely.
Heat the heavy whipping cream in a sauce pan. As soon as it starts to boil, remove it from the stove and add the chocolate chips. Stir until creamy. Spread in the bottom of the cooled pie crust. Refrigerate.
Beat the cream cheese until creamy. Add the smashed banana and beat again.
Whisk together the pudding mix and milk. Refrigerate for 5 minutes or until firm.
Add the pudding to the cream cheese mixture and beat until creamy. Fold in 2 cups of Cool Whip gently.
Slice the bananas and place on top of the cooled chocolate in the pie crust. reserving some slices for garnish. Cover with the pudding mixture gently.
Pipe on the remaining Cool Whip around the edges. Top with banana slices. Cover the center with chocolate curls. Refrigerate for at least an hour before serving. Serves 8-10. Refrigerate leftovers in a tightly sealed container.
Notes
*I found the chocolate curls with the sprinkles in the baking aisle at Walmart.
https://insidebrucrewlife.com/fudge-bottom-banana-cream-pie/
Copyright Inside BruCrew Life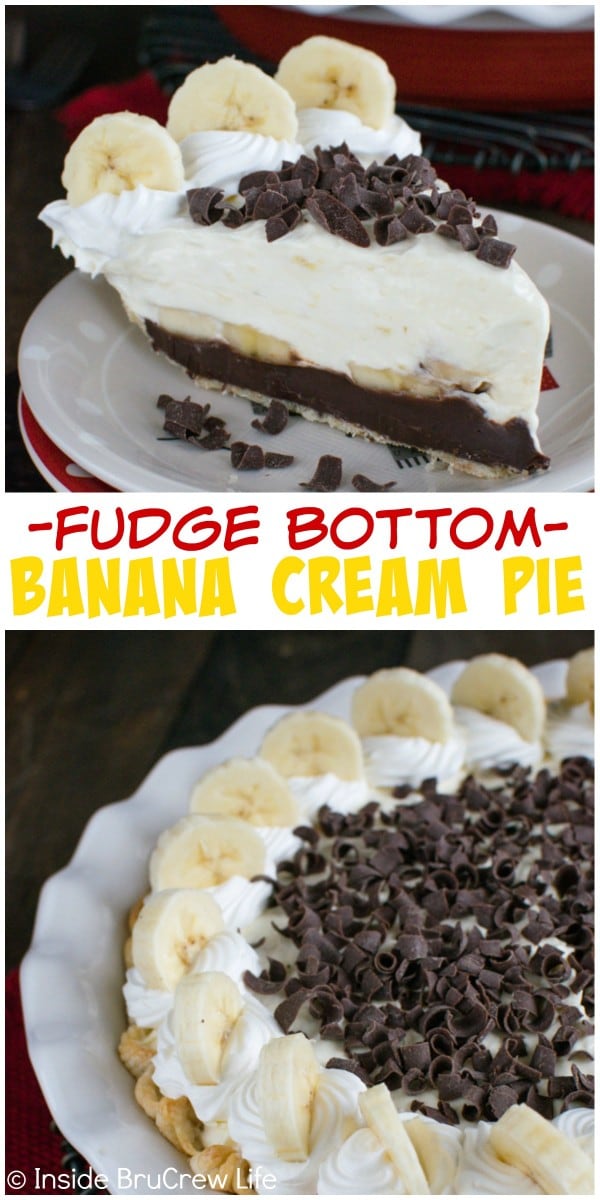 More delicious ways to use up those ripe bananas: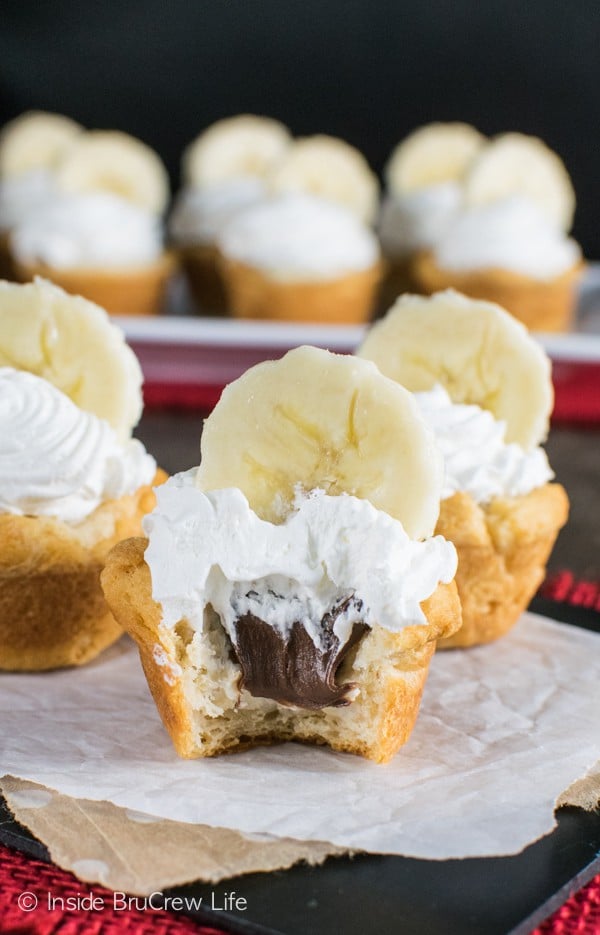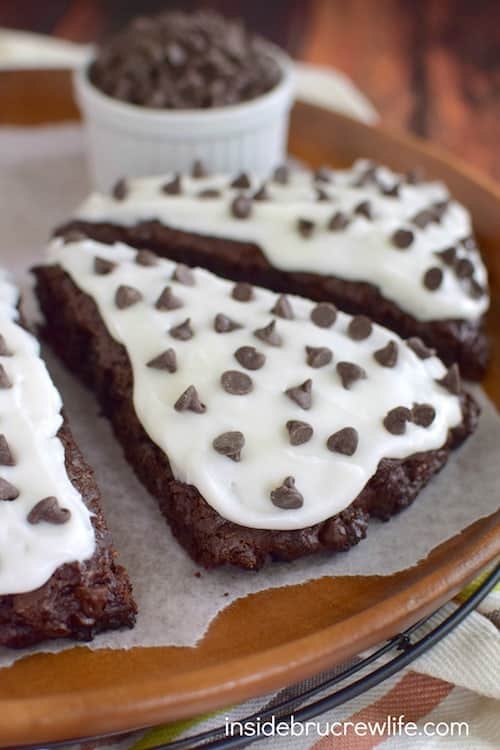 Frosted Chocolate Banana Scones