Looking for the perfect Cinnamon Sugar Ratio to add sweet and spice to your recipes? Learn how to make cinnamon sugar in minutes with two ingredients you probably already have. This sweet spice blend is great for toast, donuts, muffins, and so much more.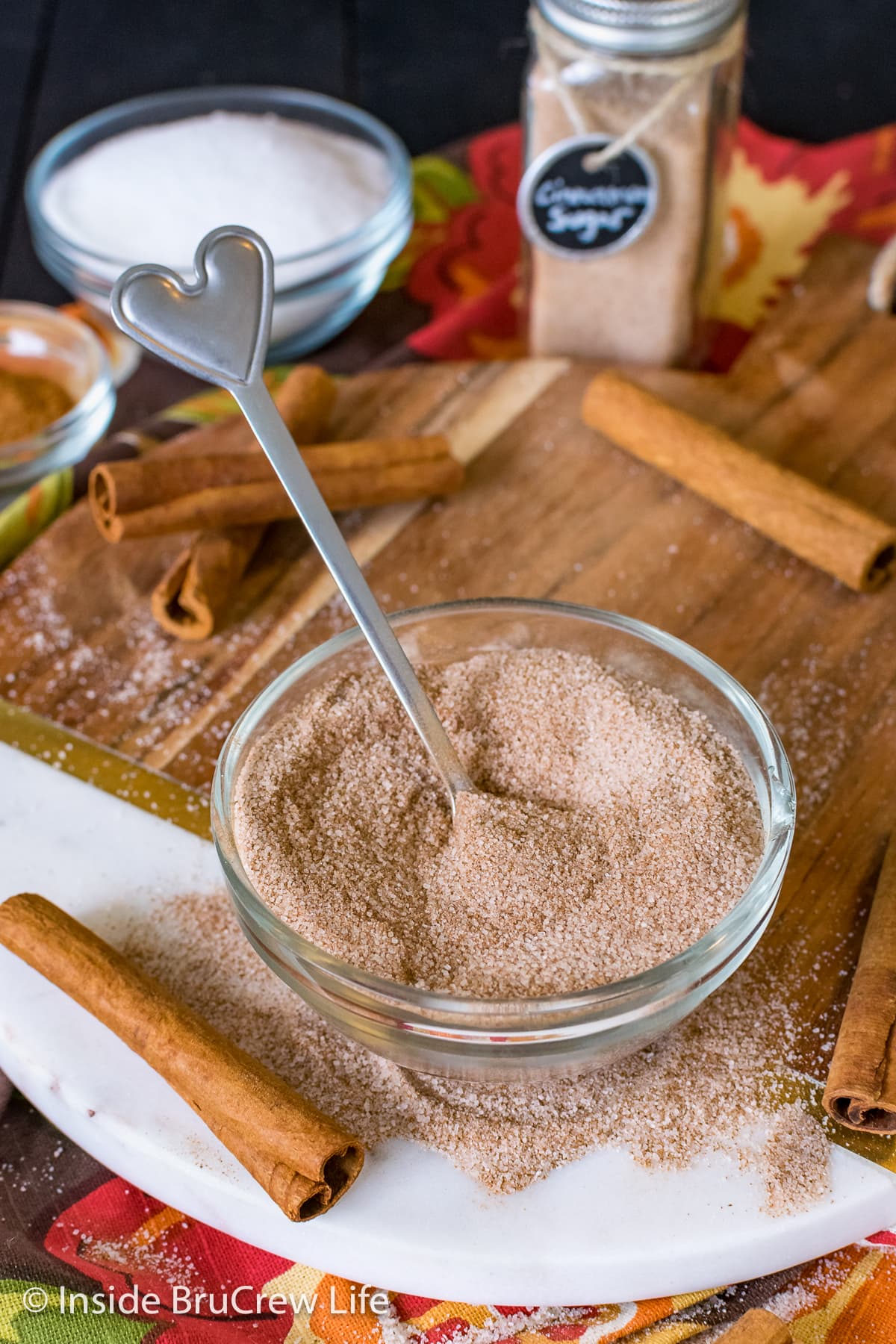 Jump to:
There are certain foods that bring back childhood memories. My favorite breakfast growing up was cinnamon sugar toast.
Even the thought of it takes me back to when I was little and spooning large amounts of sugar and cinnamon on top of my buttered toast.
There are so many uses for spiced sugar. You can sprinkle it on cinnamon banana bread, make cinnamon donut holes, coat monkey bread muffins with it, or sprinkle it on Rolo cookies.
Why Make Cinnamon Sugar Mix
Sure, it is easy to just buy a spice jar at the store. But once you see how easy it is to make your own homemade spice mix, you will never buy it at the store again.
Simple and Affordable - When you purchase store-bought cinnamon and sugar it costs more money. It's more economical to make your own from ingredients you already have.
Control the Ratio - If you prefer things a little sweeter, you can add more sugar. If you like more spice, you can add more cinnamon.
No Added Preservative - Sometimes store-bought cinnamon and sugar can have extra preservatives in the bottle. When you make your own there are no unwanted ingredients.
Fun and Creative - Making your own cinnamon sugar can be a great kitchen activity. Experiment with different sugars, different types of cinnamon, and even add in other spices or flavorings to create your own unique spice blend.
Ingredients Needed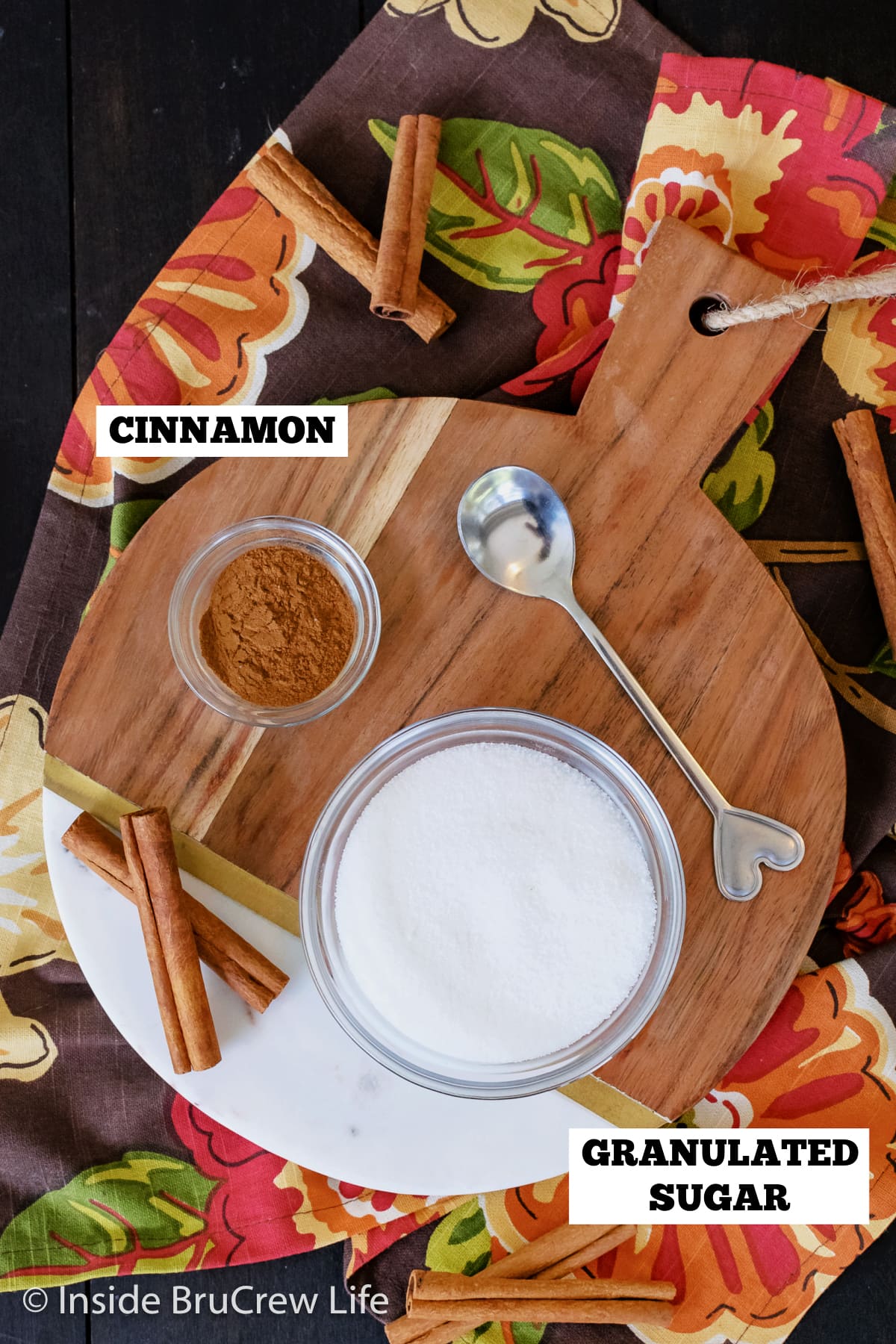 This cinnamon sugar recipe comes together in minutes, keeps well, and is the perfect cinnamon sugar ratio to add to pie crust, fruit cobbler, sweet bread, or muffins before baking. We love the sweet streusel-like crunch it gives baked goods.
Sugar - For the best texture and taste, use granulated sugar for this mix. You can also use brown sugar, cane sugar, or monkfruit.
Ground Cinnamon - You can use any cinnamon that you have in your pantry. Just make sure it is fresh because spices do expire and loose their potency. Try using a higher quality cinnamon such as Ceylon or Saigon to get a better flavor.
BruCrew Tip: Customize your mix by adding a little bit of ginger, allspice, nutmeg, or vanilla powder to create a different flavor profile.
How to make Cinnamon Sugar
This sweet seasoning blend is simple to make and will add a delicious taste to everything you use it on.
Add the granulated sugar and ground cinnamon to a small bowl.
Stir or whisk until everything is completely mixed together.
Spoon the cinnamon and sugar into a jar or bag that has a tight seal.
Use as desired.
Best Cinnamon Sugar Ratio
Everyone has a different opinion on what the perfect ratio for cinnamon and sugar is. The standard cinnamon sugar ratio is 1 to 4 (1:4). This equals ¼ cup of ground cinnamon to 1 cup of granulated sugar or 1 tablespoon to ¼ cup of sugar.
It really comes down to your personal preference when making cinnamon sugar. Everyone's ratio for spice is different, so you have to find out what you like best.
My favorite ratio is to use less spice with more sugar. I use a ratio of 1:8. This is sweet with a definite, but not overwhelming cinnamon addition. In my opinion, this is the best ratio of cinnamon to sugar.
Storage
Store spiced sugar in a cool, dry place and it will keep its strength for 6 months. Of course, over time the mix will lose some of its strength.
Use an air tight jar that has a lid with a shaker cap for the easiest use. Save old cinnamon or spice jars to repurpose for homemade spice blends.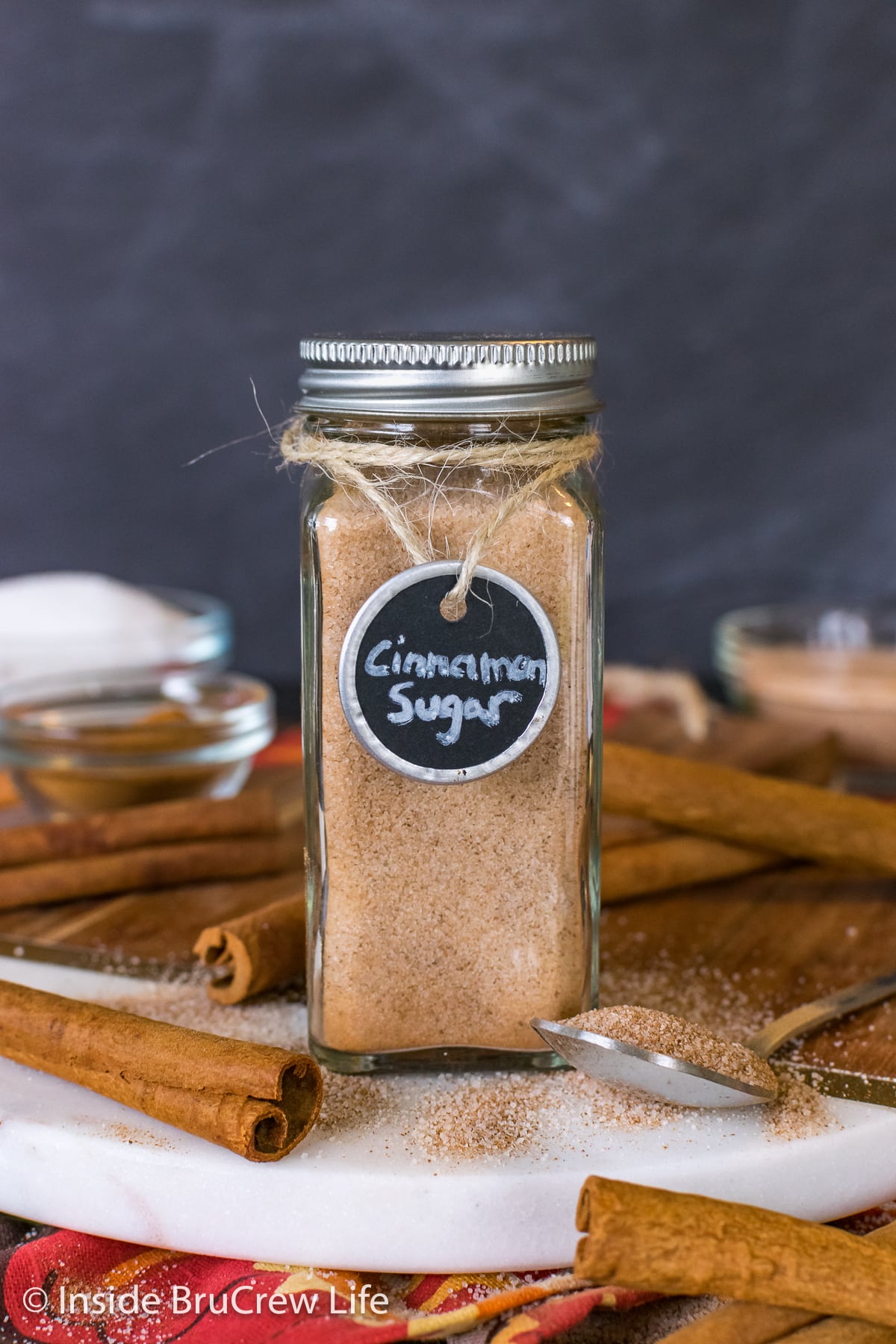 Tips and Tricks
Double the cinnamon. Use twice the amount of cinnamon for a stronger spice in your mix.
Make it sugar free. Use stevia or monkfruit sweetener for a low calorie version.
Use dry bottles. Make sure your jars are completely dry before adding the cinnamon and sugar for storage.
Make it smaller. Scale down the recipe for a smaller batch. (Use ¼ cup sugar with 1 ½ teaspoons cinnamon)
Gift it. Fill extra jars with cinnamon sugar, tie a ribbon and tag on it, and give it to friends and family for Christmas.
FAQ
Can I make cinnamon sugar ahead of time?
Yes, you can make cinnamon sugar in advance and store it in an airtight container for later use. It's convenient to have it on hand for whenever you need it.
What is the perfect cinnamon and sugar ratio?
The standard ratio is 1 part cinnamon to 4 parts sugar. I prefer it to be sweeter and use a 1:8 ratio.
Can I use brown sugar instead of granulated sugar?
Yes you can use any variety of sugar or sweetener. Adjust according to your taste preference.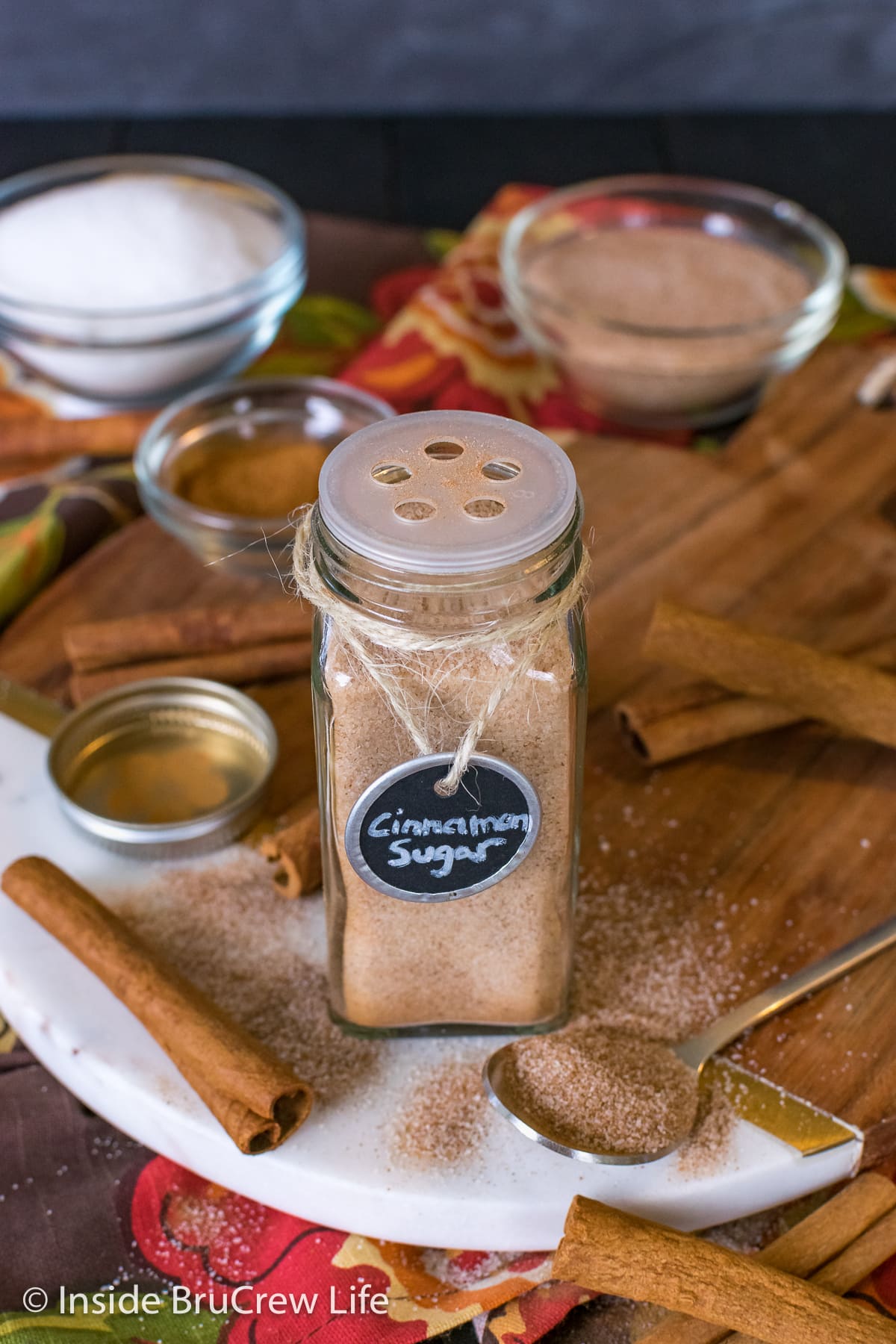 How to Use
Cinnamon Suga

r

Once you have a jar of the perfect cinnamon sugar ratio in your pantry, you will find so many different ways to use it. It adds the perfect sweetness to anything you sprinkle it on.

Do you love a recipe you tried from Inside BruCrew Life?

Please leave a 5-star ⭐️ rating and a review in the comments section below.

*The post for cinnamon sugar was first published September 2020. It was updated and republished April 2023.