Have you ever wondered what the best cinnamon sugar ratio is to get the right amount of sweet and spice in your recipes? Problem solved. Learn How to Make Cinnamon Sugar from the two ingredients you already have in your pantry.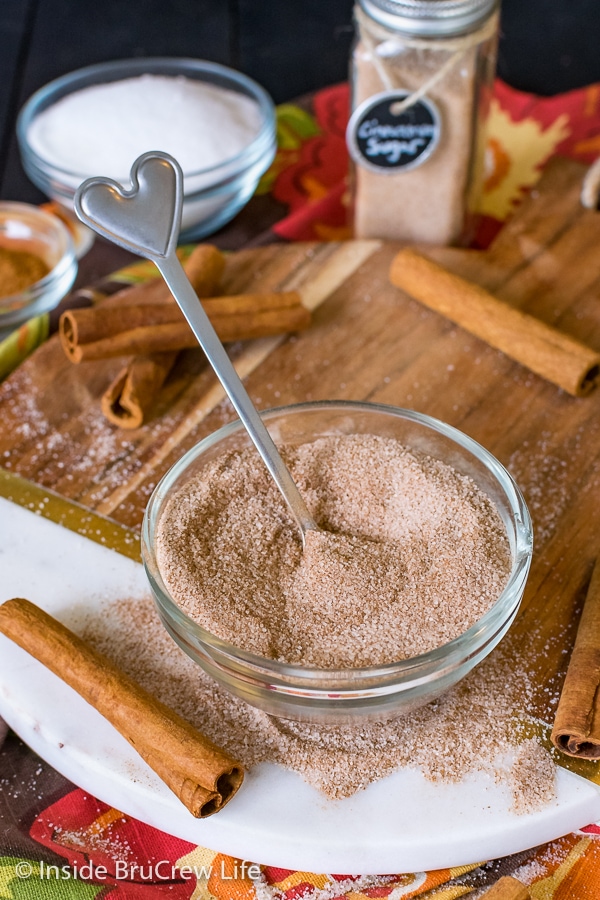 There are certain foods that bring back childhood memories. My favorite breakfast growing up was cinnamon sugar toast. So today even the thought of it takes me back to when I was little and spooning large amounts of sugar and cinnamon on my buttered toast.
I realize it is so easy to just buy a spice jar at the store. But once you see how easy it is to make your own homemade cinnamon sugar, you will never buy it at the store again.
Like most homemade things, it will save you money to make your own. Plus, you can control the ratio and make it to your own preference.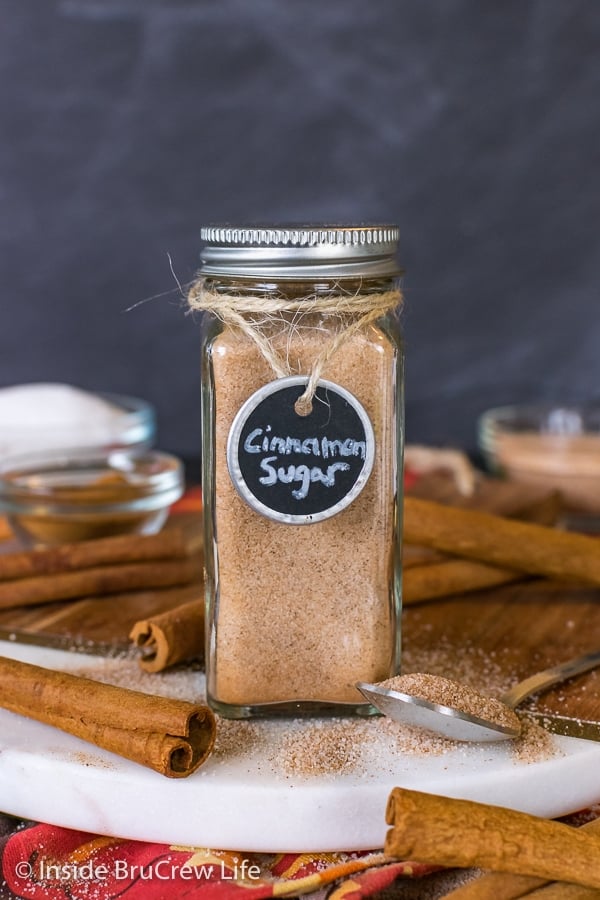 Why You Will Love Cinnamon Sugar Mix
There are 1001 uses for this spiced sugar. You can sprinkle it on butter toast, roll donut holes in it, coat monkey bread muffins with it, sprinkle it on pretzels, sugar cookies, popcorn, or add a rim to frosty glasses to serve apple cider iced tea in it.
Sprinkling this cinnamon sugar recipe on a pie crust, easy strawberry cobbler, sweet bread, or muffins before baking gives baked goods a sweet streusel-like crunch. One of my favorite things about this pumpkin pie are the cute little pie crust cookies sprinkled with the sugar mix.
I also love to sprinkle the mix on my bread pans after greasing them instead of using flour. It really does add a great texture to the outside of this banana bread recipe using sour cream.
You could also make extra jars, tie a ribbon/tag on it, and gift it to all your friends for Christmas.
What You'll Need
Granulated Sugar
Ground Cinnamon
Bowl & Spoon
Container & Tag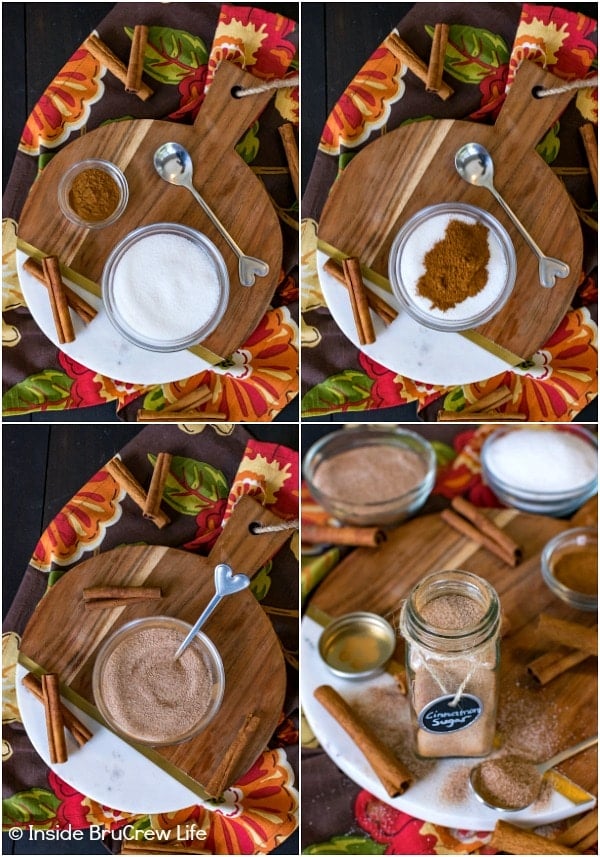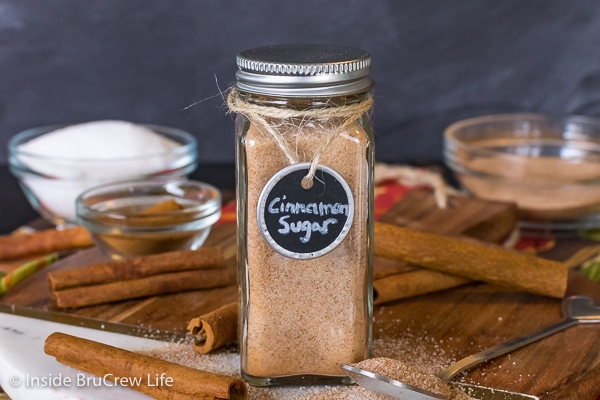 How to make Cinnamon Sugar
The standard cinnamon sugar ratio is 1:4. (think ¼ cup cinnamon to 1 cup sugar) Although, it comes down to preference when making cinnamon sugar. Everyone's ratio for spice is different, so you have to find out what you like best.
I happen to like mine less spicy and more sweet, so I do less cinnamon than most people. My ratio is definitely sweet with a definite, but not overwhelming cinnamon addition. In my opinion, this is the best ratio of cinnamon to sugar.
Combine the granulated sugar and ground cinnamon in a bowl and mix completely.
Spoon into a jar or bag that has a tight seal.
Use as desired.
Tips and Tricks
Double the amount of cinnamon, if you want a stronger spice in your mix.
Use palm (coconut) sugar or monkfruit sweetener for a healthier version.
Scale down the recipe for a smaller batch. (Use ¼ cup sugar with 1 ½ teaspoons cinnamon)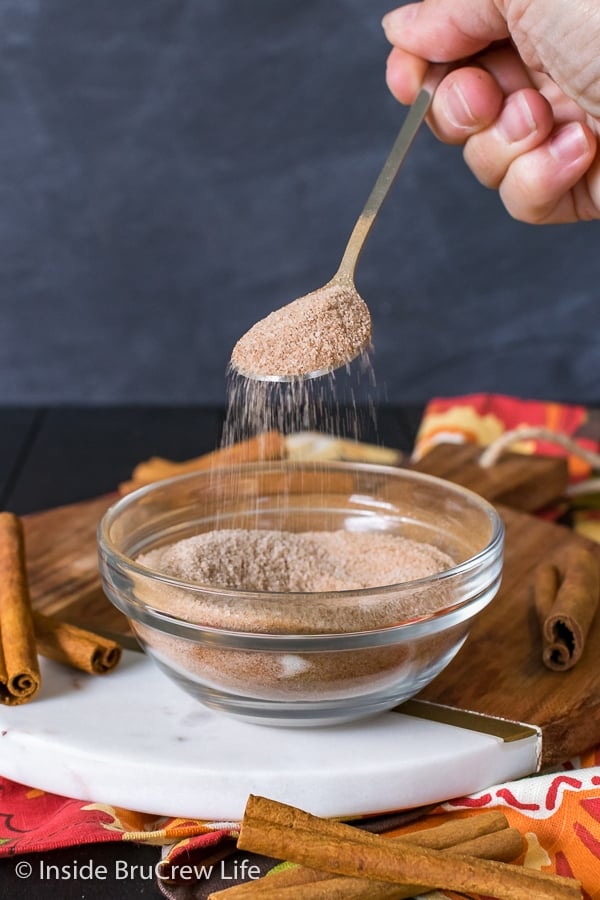 Cinnamon Suga

r Uses

Once you have a jar of cinnamon sugar in your pantry, you will find all kinds of ways to use it.
Sprinkle on butter toast, pancakes, or french toast.
Roll sugar cookies in it.
Use it to grease and "flour" bread pans when making sweet bread.
Add to oatmeal, overnight oats, or yogurt.
Toss with warm popcorn or roasted nuts.
Stir into softened butter.
Storage
Keep it in a cool, dry place and the cinnamon sugar will keep for a very long time. Of course, if it sits too long the mix will lose its strength.
Use a jar has a lid with a shaker cap for easy use. You can repurpose old cinnamon or spice jars.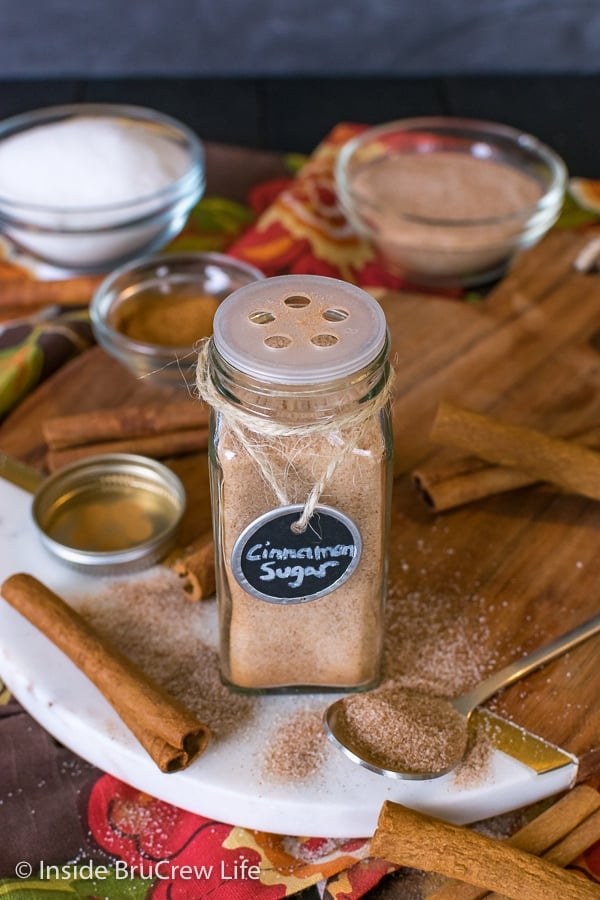 Cinnamon Sugar Recipe Ideas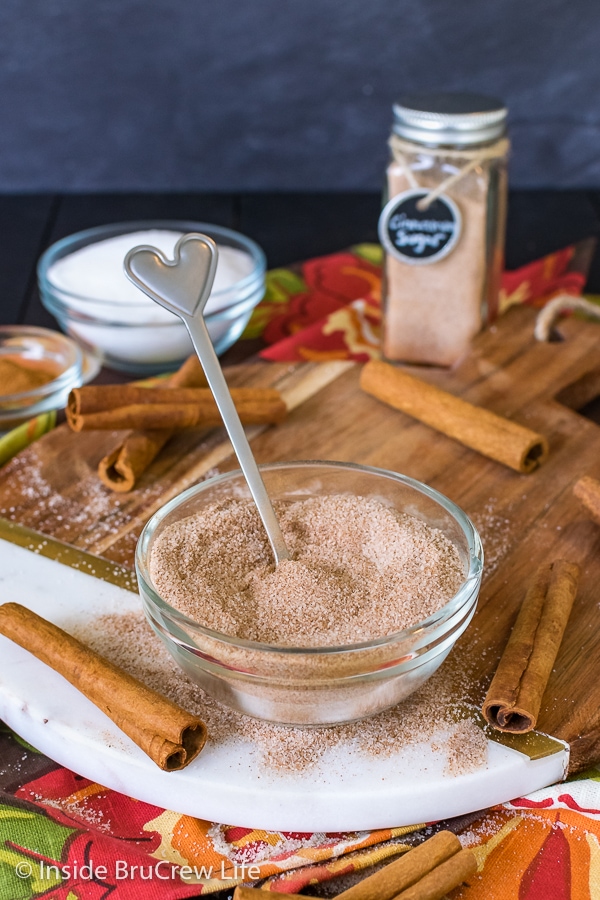 Love a recipe you tried from Inside BruCrew Life?
Please leave a 5 star ⭐️ rating and/or a review in the comments section further below.