This easy Coconut Fudge Poke Cake is sure to be a summer favorite with your family. This delicious cake is topped with Cool Whip and hot fudge after being covered in cream of coconut. It is the perfect cold dessert after a hard day of work (or a day at the pool).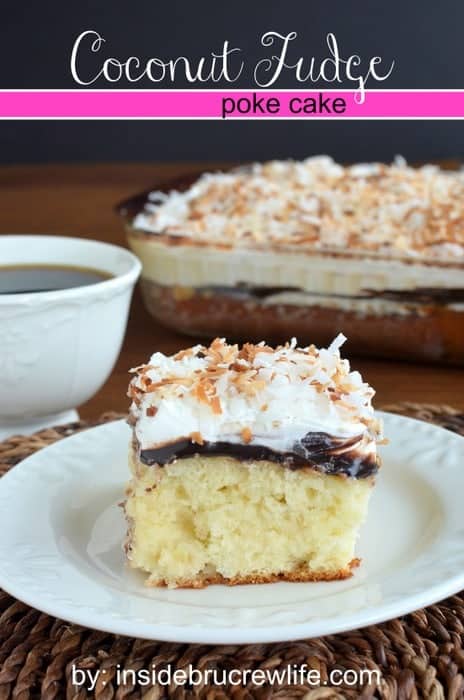 So the other day, I was driving home from picking my kids up from school. We were stopped at a red light, and I wasn't paying attention to the light. Apparently the lady behind me didn't like that I didn't move the nanosecond the light turned green. She started honking at me to go. I looked in my rear view mirror to see what all the commotion was about. There she was with her hands up in the air as if to say, "Come on already!" So, I did what any normal person would do...I let off my brake very, very, VERY slowly. She didn't like that at all, and she whipped around me as soon as she could. What? I was going.
My son was in the front seat and thought this was hilarious. It probably was not my best teaching moment seeing as he will be driving in 2 years. But sheesh, don't honk at me the second the light turns green. We were telling my husband this story later and laughing at what a hurry she was in. (yes, I realize she could have been heading to an emergency, so my action wasn't the most Christian)
My comment was, "She doesn't know me and probably will never see me again." My husband got this funny look and reminded me that we are probably the only black van in our town with a Dunkin Donuts magnet on the back. Hhhhmmm he's right. She just might see me again. Well, as long as she doesn't honk at me to go, we should be fine.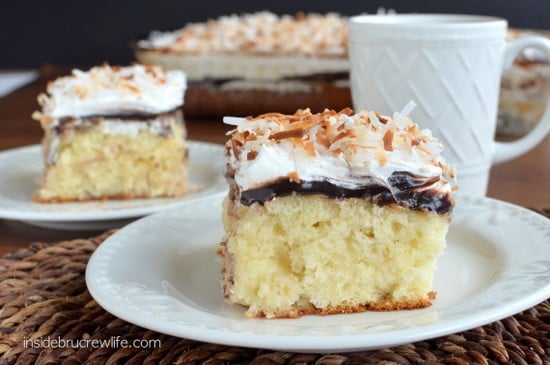 Although, I might want to keep some of this cake in my refrigerator to use as a peace offering. I sure hope she likes coconut.
I love easy cake recipes. This one starts out with a cake mix. I do love a good home made cake, but seriously cake mixes come together so quickly. (And I personally love the taste of them better.) This cake would totally work for a homemade cake though, if that is what you prefer. After it finishes baking, you are going to poke it all over with a fork or end of a wooden spoon. Make sure it has a ton of little holes for the milk to soak into.
For this cake, I wanted to amp up the coconut taste, so I used shredded coconut in the cake batter, coconut milk poured on top, and more coconut on top. Now because I love chocolate and coconut so much, I also added a layer of hot fudge under the Cool Whip. I seriously couldn't stop eating bites of this cake. Thank goodness my husband took most of it over to our church staff.
This just might be my new favorite cake!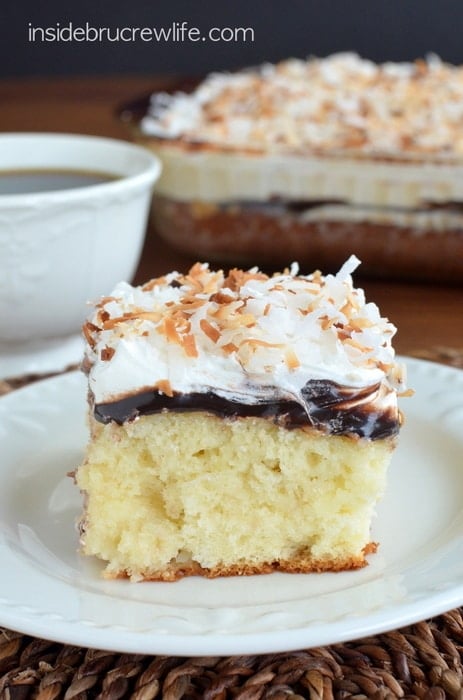 Make sure you don't miss any of the crazy baking
by following the BruCrew here:
FACEBOOK | PINTEREST | GOOGLE+ | TWITTER | INSTAGRAM | BLOGLOVIN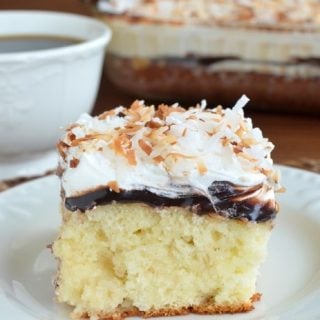 Coconut Fudge Poke Cake
Hot fudge and three times the coconut will this fun Coconut Fudge Poke Cake disappear every time you make it.
Ingredients
1 white cake mix
3 cups shredded coconut, divided
1 - 15 ounce can Cream of Coconut*
1 - 14 ounce can sweetened condensed milk
1 cup hot fudge topping
1 - 8 ounce container Cool Whip, thawed
Instructions
Preheat oven to 350 degrees.
Place ½ cup shredded coconut on a baking sheet. Place in oven for 5-6 minutes. Stir coconut every couple of minutes while baking, so it doesn't burn. Let cool.
Bake cake according to package directions for a 9x13 pan, adding 1 cup shredded coconut to the batter before baking.
As soon as the cake comes out of the oven, use a fork to poke the warm cake all over. Make sure the cake is completely covered in holes.
Mix the 2 cans of milk together in a bowl and pour slowly over the entire cake, making sure to fill the holes. Let cool on the counter for an hour, then refrigerate until chilled.
Microwave the hot fudge for about 30 seconds, or until spreadable. Cover the cake with the hot fudge.
Spread the Cool Whip on top of the cake and sprinkle with the remaining coconut. Add the toasted coconut to the top for some color.
Notes
Place the Cream of Coconut in a bowl of hot water for about 5 minutes before opening and mixing with the sweetened condensed milk.
Nutrition Information:
Yield:

24
Serving Size:

1
Amount Per Serving:
Calories:

285
Total Fat:

17g
Saturated Fat:

12g
Trans Fat:

0g
Unsaturated Fat:

4g
Cholesterol:

29mg
Sodium:

130mg
Carbohydrates:

32g
Fiber:

2g
Sugar:

26g
Protein:

4g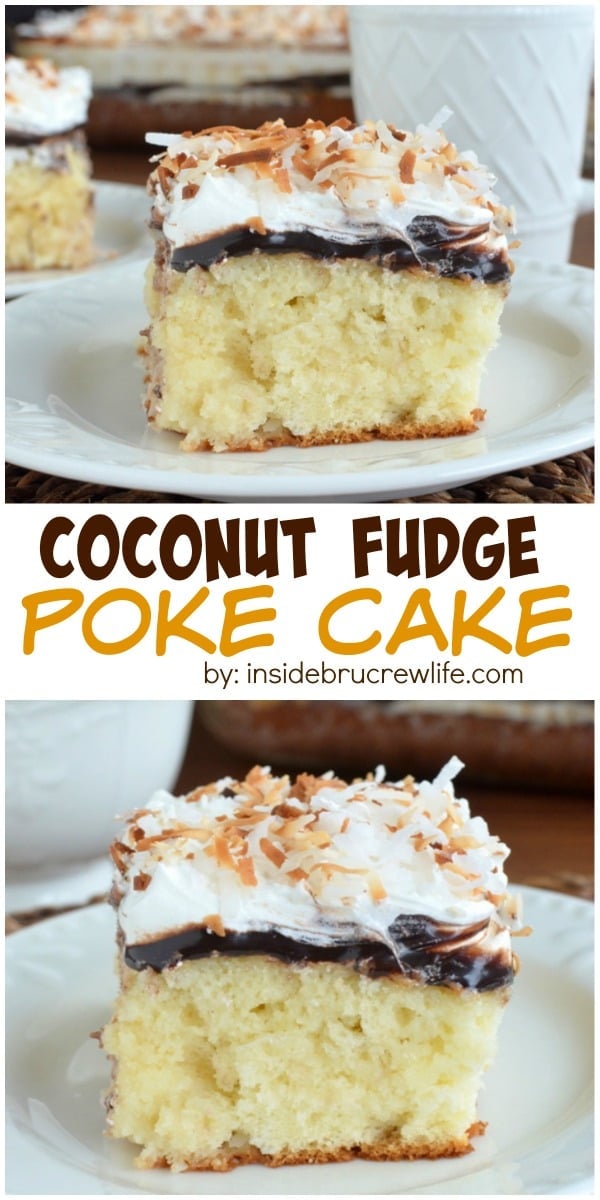 Other Favorite Coconut Treats from our house: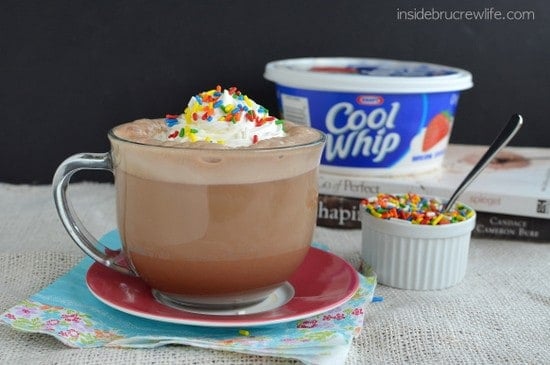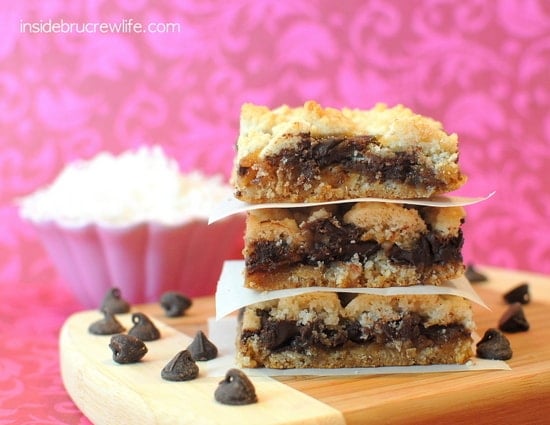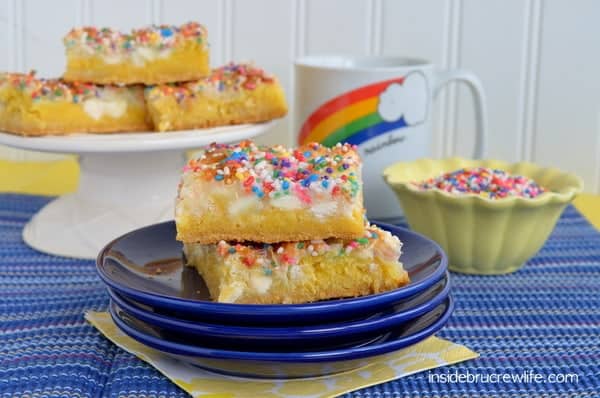 Other Fun Poke Cake recipes from Blog Friends:
Orange Chocolate Poke Cake from Wine & Glue
Chocolate Mint Pudding Poke Cake from Mother Thyme
Rainbow Poke Cake from Something Swanky