Creamy Salsa Chicken Stuffed Shells is an easy, but delicious meal to serve on busy nights. Cheesy goodness is always a winner in our house.
*I am partnering with Kroger to bring you this delicious meal idea.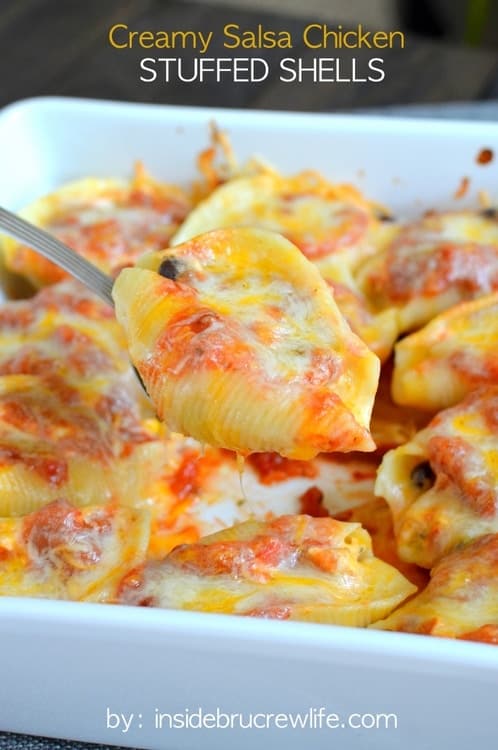 Is it obvious that I kind of have a thing for pasta? Yeah, I thought so.
When I am in charge of dinner prep, I almost always go for some sort of pasta. Something about it that just yells comfort food to me. Add a bunch of cheese and a meat and who can resist it? I think more of this Chicken Supreme Pasta Bake needs to happen on a regular basis. Or some BLT Alfredo Skillet Ravioli...I'm good with either every week.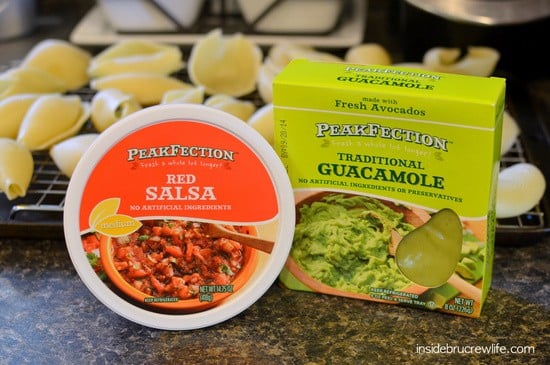 Recently I was asked by Kroger to try their new PeakFection Salsa and Guacamole. I love that this is made with fresh ingredients and will last for weeks in your refrigerator if you keep it unopened. These days it is hard to find pre made anything that isn't loaded down with preservatives and more. Reading the labels, I was able to read everything and know what it was. You can find both of these in the refrigerated deli section in your Kroger grocery stores.
Mexican food is a very close second to pasta in my list of meal favorites, so it was a no brainer to say yes to this opportunity.
Now my first thought when the box with salsa and guacamole came, was to go to town on it with a bag of chips. (I seriously have no restraint when it comes to guacamole...I could probably eat my body weight in guac, and still want more.) Snacking on it would have been a great option, but I decided to see what kind of fun dinner I could create incorporating the fresh salsa and guacamole in to.
Of course pasta was the first thing that came to mind. Surprise, surprise! Mashing my two favorite food tastes into one amazing dish = a happy camper right here.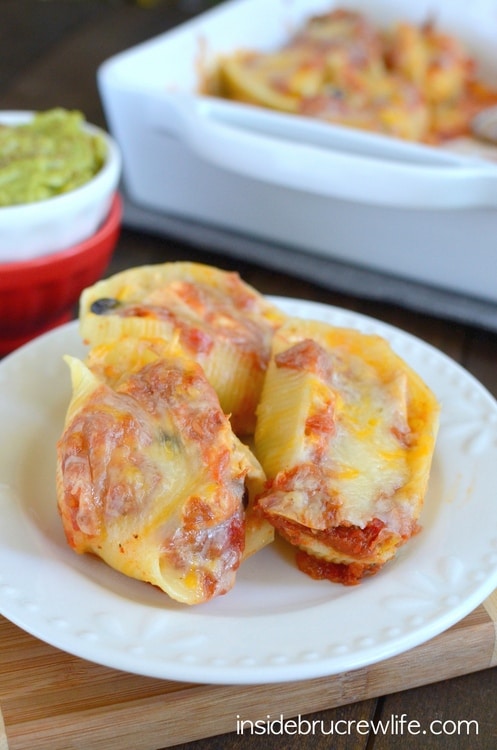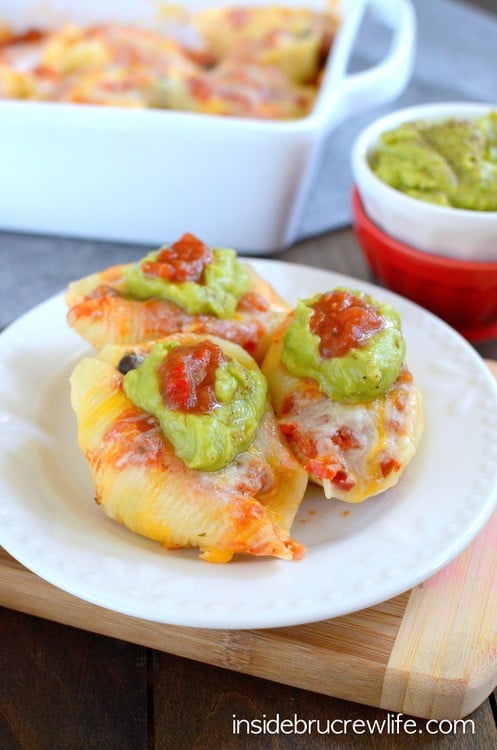 I am all about easy convenience dinners during our kid's sports season, so I loved that I could use the PeakFection salsa and guacamole straight from the container for my meal. I also picked up a rotisserie chicken from the grocery store just so I didn't have to cook it. Lazy dinner maker...yeah, that's me. But I prefer to call it smart planning 🙂
A few easy tips when making shells.
1. Boil according to the package directions, but take off a few minutes of boiling time. The shells go into the oven with the filling, so we don't want to over cook them too much. I think I boiled mine for about 10 minutes.
2. Drain them, and immediately pull them apart and put them on a wire rack. You don't want to leave them all together in a pan...one big lump of shells is no fun to get apart. The shells will be hot, but just keep running your fingers under cold water while you separate the shells from each other.
3. You can also cook the shells the night before. Just drain them and separate on the wire rack until cool. Place in a container and drizzle with oil. I closed up my container and shook it to get the oil all over the noodles. Refrigerate until needed.
While the shells are cooling, heat your chicken, garlic, and cream cheese until creamy. Stir in a little bit of salsa, some corn, and some beans, and then you are ready to fill those shells. Add a little bit of salsa to the bottom of the pan, so the shells don't stick. Fill each one and place in the pan. Then pour more salsa over everything and top it with cheese. 20 minutes in the oven and dinner is ready. You can serve these shells with guacamole on the side. I enjoyed my shells with a huge helping!
Dinner in a hurry thanks to delicious fresh ingredients from the grocery store. Gotta love that!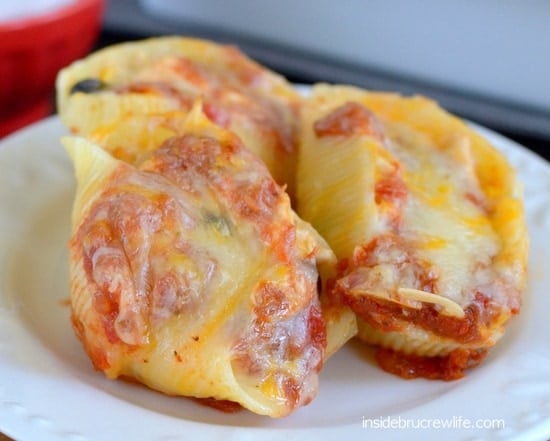 More delicious Mexican inspired meals that you can top with salsa and guacamole: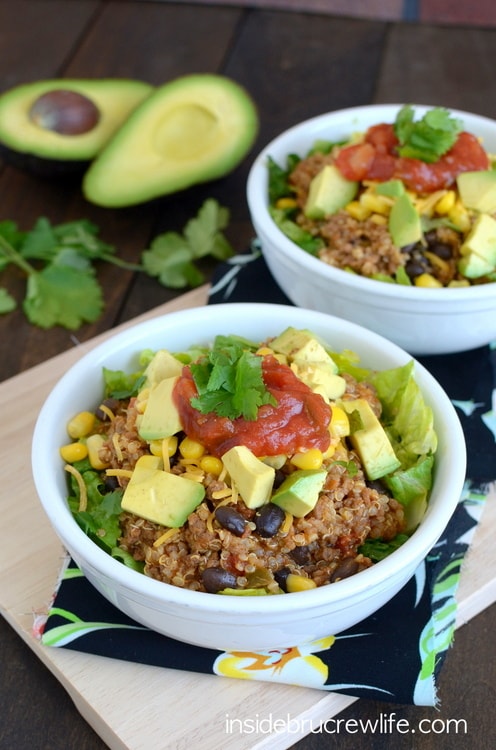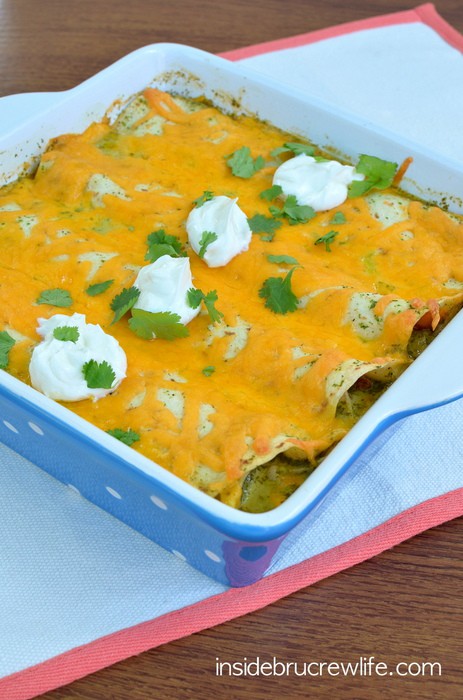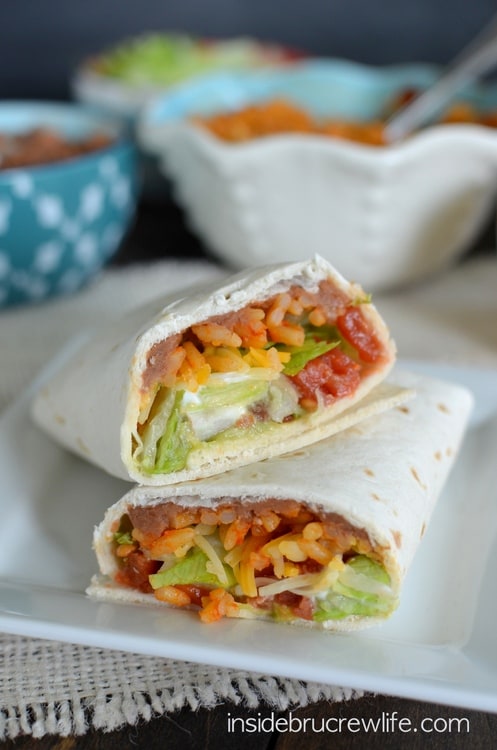 *Kroger sponsored this post and sent the PeakFection Salsa and Guacamole for review. All opinions and thoughts in this post are 100% my own.