These loaded Chicken Enchiladas are an easy meal to have on the dinner table after a busy day. Prepping ingredients the night before means dinner can be ready quicker the next day.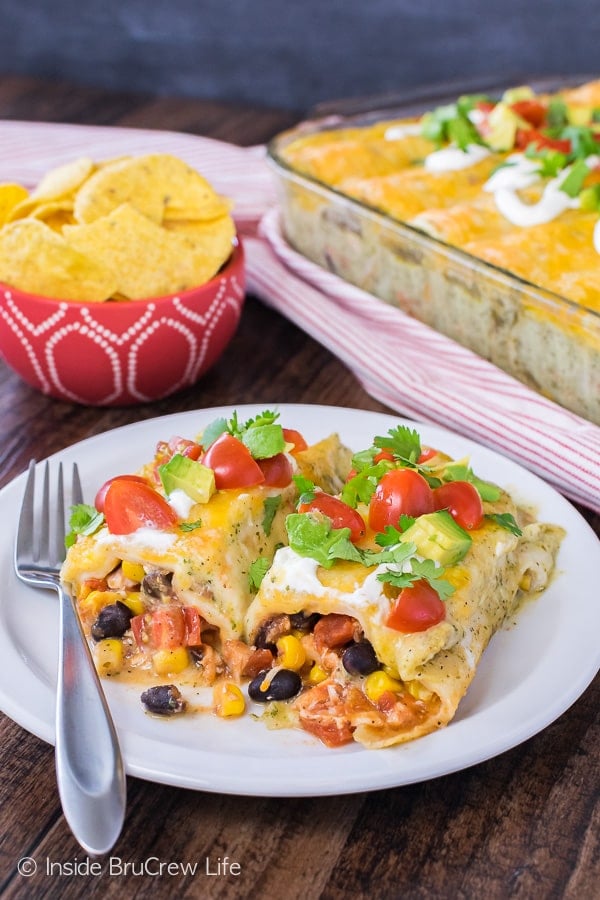 CLICK HERE TO PIN THIS RECIPE FOR LATER!
How many of you use your slow cookers all year round? I wish I could say my hand was up with all of you. No, I tend to only pull mine out during the winter months.
But really the summer is the time when I should be using it the most. On hot summer days when I know we are going to be spending the day at the beach, I need to be better at putting a meal in that morning.
Because when I come home, the only thing I feel like "making" is cereal and milk.
Luckily, my family loves cereal for dinner, so they don't mind those days. It just can't be every single one.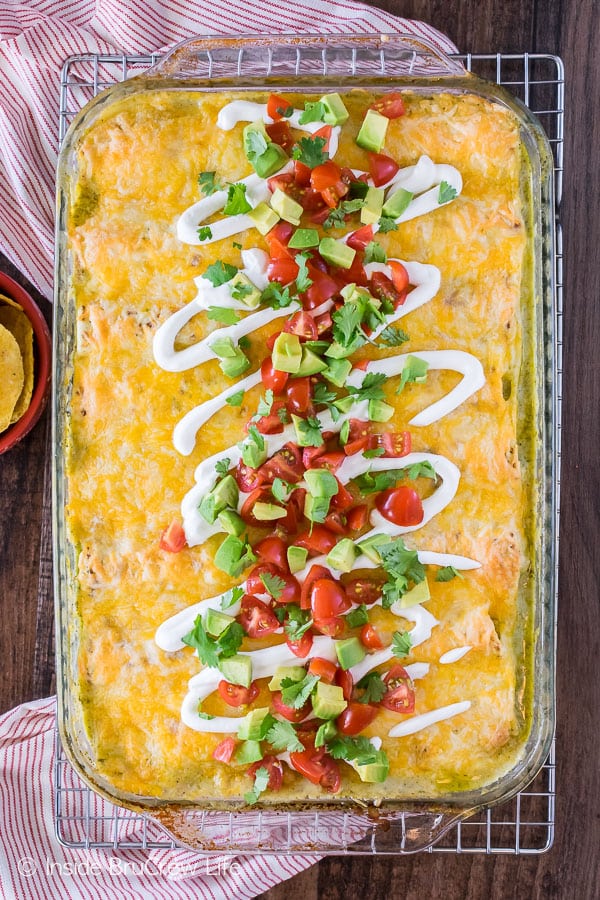 I bought a whole chicken with every intention of slow cooking it, but then I forgot to put it in before we left for the day.
Imagine that. Me, forget about real food. Not a shocker, is it? I was probably too busy thinking of things like these Reese's Rocky Road Brownies or this Banana Split Cheesecake.
Let's talk about this Ninja cooker and how extremely easy it is to use. I love that it roasts, slow cooks, steams, sears, and bakes!
Oh, and the inside of the cooker is non-stick, so whatever you choose to make in it will wipe clean in a hurry.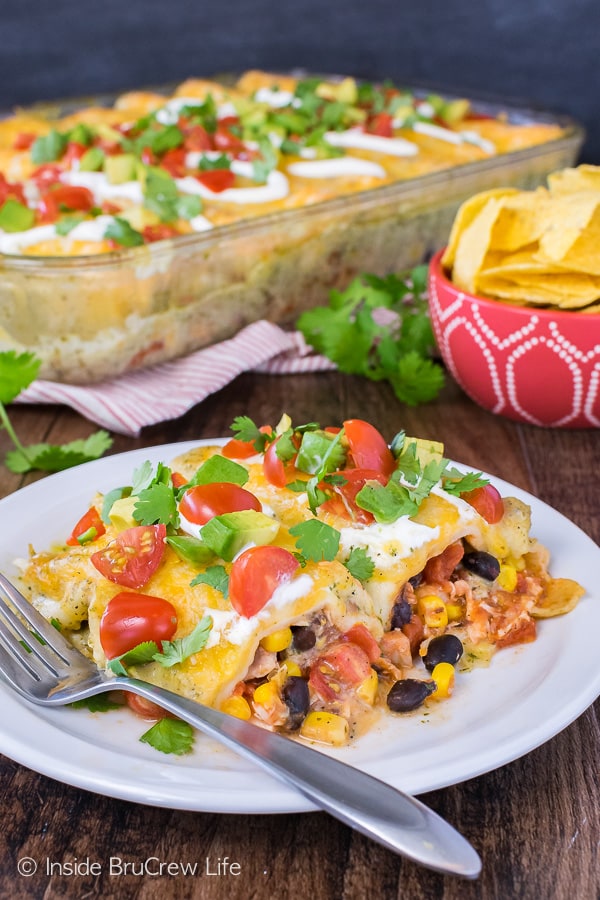 So around 9 pm at night, I remembered that I needed to cook the chicken, so we could make dinner the next night.
Obviously, at that time of night I didn't want to be up for 3-4 hours waiting on a slow cooker. And I didn't want to run to the store for a rotisserie chicken the next day since I had a whole chicken in the fridge.
I love that this cooker also has an oven feature in it. I put the whole chicken in the bottom of the pan, seasoned it, and turned it on.
In about an hour our house was filled with the smell of cooked chicken. And my kitchen was still cool, even though it was still pretty hot and humid outside.
How to shred chicken:
Pull the meat off the bones, and placed it in the bowl of a KitchenAid mixer to shred the meat.
Your mixer does all the work of shredding for you. Just make sure the meat is still hot. It works best that way.
You will use half the chicken for these easy chicken enchiladas, and then you can use the other half to make these Bbq Chicken and Avocado Quesadillas later in the week.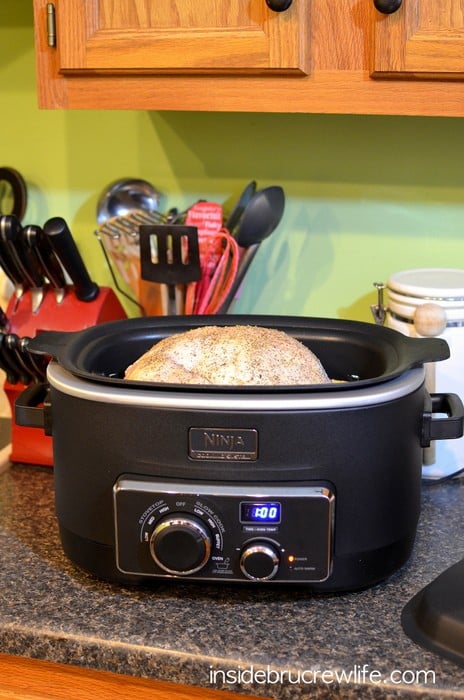 Stir together the chicken and veggies the night before to save you time on dinner prep the next day.
I have been wanting to make these chicken enchilada with green sauce for a while. I found the recipe in one of the Bible study books I was reading. With just a few adaptations it is definitely one that we make over and over.
My family gave this easy dinner two thumbs up. Now I need to find some more easy dinner recipes with chicken because I am really starting to get the hang of this dinner making.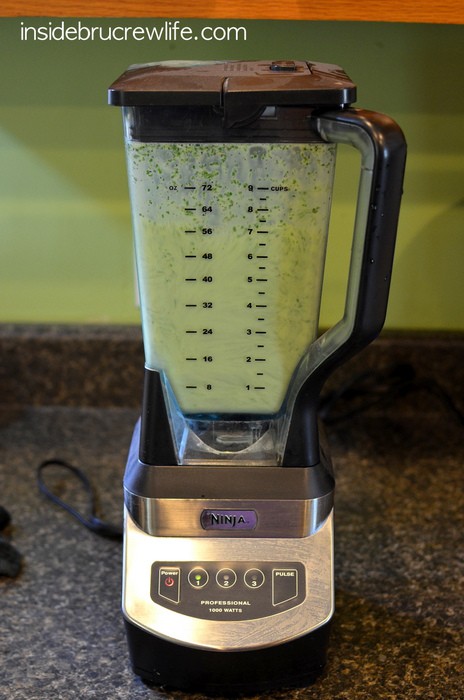 How to make Chicken Enchiladas with a Green Sauce:
Combine the shredded chicken, veggies, taco sauce, and a little bit of cheese in a bowl.
Make the sauce by blending chicken broth, cilantro, sour cream, and spices in a blender.
Melt butter in a skillet. Stir in flour and cook for one minute. Whisk in the rest of the broth and bring to a boil. Add the thickened sauce to the mixture in the blender and pulse again.
Fill tortillas with spoonfuls of the chicken mixture and roll up. Place the enchiladas seam side down in a baking dish.
Pour the sauce on top and sprinkle with cheese. Bake and serve hot.
What goes well with these easy Chicken Enchiladas?
I like to set out bowls of tomatoes, avocados, sour cream, green onions, and cilantro for everyone to jazz up the tops of their own enchiladas.
We also enjoy a bowl of Easy Homemade Salsa and chips along side this Mexican dinner.
If you want another side dish that is delicious and healthy, serve this Easy Cauliflower Rice too.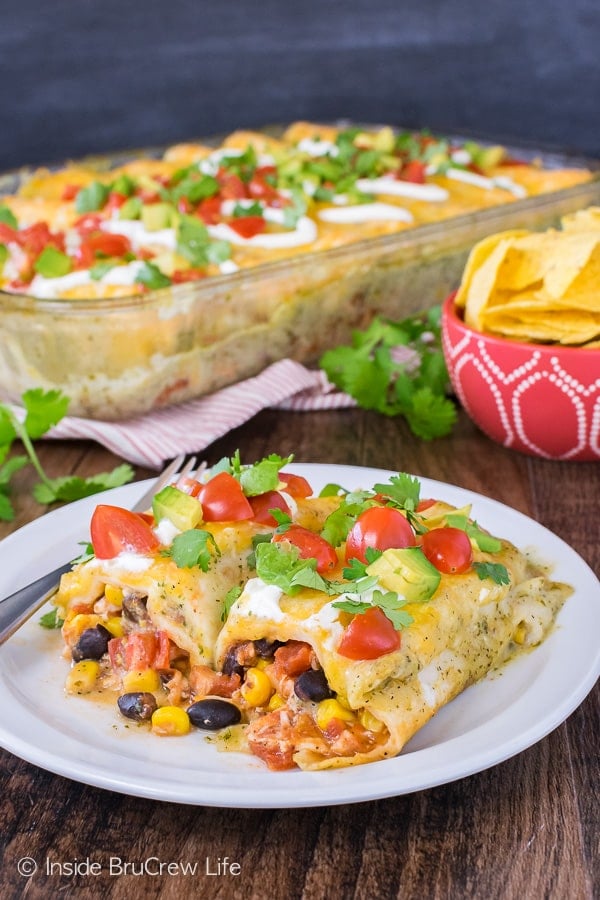 More easy dinner recipes with chicken:
Connect with Inside BruCrew Life! Be sure to follow us on our social media, so you never miss a post.
FACEBOOK | PINTEREST | TWITTER | INSTAGRAM | BLOGLOVIN | EMAIL SUBSCRIPTION
I also created a fun Facebook group, and I would love for you to join. It's a group where you can share your favorite recipes, ask questions, share photos, and see what's new with the BruCrew. If you would like to check it out, you can request to join HERE.
Yield: 8 enchiladas
Easy Chicken Enchiladas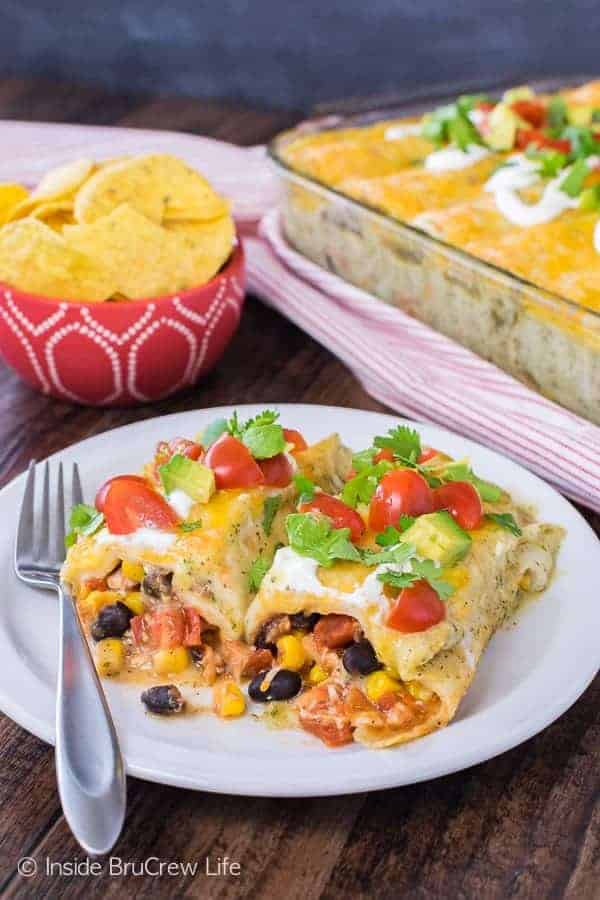 These easy Chicken Enchiladas are loaded with meat, veggies, and beans. A light green cilantro sauce adds a great flavor and texture to the meal.

Prep Time 30 minutes

Cook Time 30 minutes

Total Time 1 hour
Ingredients
3 cups cooked, shredded chicken
1 - 15 ounce can black beans, drained & rinsed
1 - 15 ounce can corn, drained
1 - 14.5 ounce can diced tomatoes with green chilies, drained
1/2 cup taco sauce
salt & pepper
3 cups chicken broth, divided
1/3 cup packed chopped cilantro
1/3 cup sour cream
3/4 teaspoon cumin
3/4 teaspoon pepper
2 Tablespoons flour
3 Tablespoons butter
8 - 10 inch flour tortillas
2 1/2 cups shredded Mexican cheese
Instructions
Preheat the oven to 350 degrees.
Combine the chicken, beans, corn, tomatoes, taco sauce, and 1/2 cup cheese. Salt and pepper to taste. Set aside.
Add 1 1/2 cups chicken broth, cilantro, sour cream, cumin, and pepper in a blender. Blend until smooth.
Heat the butter in a skillet until melted. Stir in the flour and cook 1 minute. Slowly whisk in the other 1 1/2 cups of broth. Bring to boil and cook 1 minute. Add to the mixture in the blender and pulse.
Pour 1/2 cup sauce in the bottom of a 9x13 pan.
Lay out all the tortillas. Divide the chicken mixture onto each tortilla. Roll up and place seam side down in the pan.
Pour the green sauce on top. Sprinkle the remaining cheese on top evenly. Bake uncovered for 30-35 minutes. Serve warm with sour cream, tomatoes, avocados, and cilantro, if desired.
Notes
Recipe has been adapted from one found in The Living Room Series: Ruth: Loss, Love, & Legacy
Recommended Products
As an Amazon Associate and member of other affiliate programs, I earn from qualifying purchases.
Nutrition Information:
Yield:
8
Serving Size:
1
Amount Per Serving: Calories: 561Total Fat: 24gSaturated Fat: 12gTrans Fat: 0gUnsaturated Fat: 10gCholesterol: 90mgSodium: 1435mgCarbohydrates: 54gFiber: 7gSugar: 5gProtein: 33g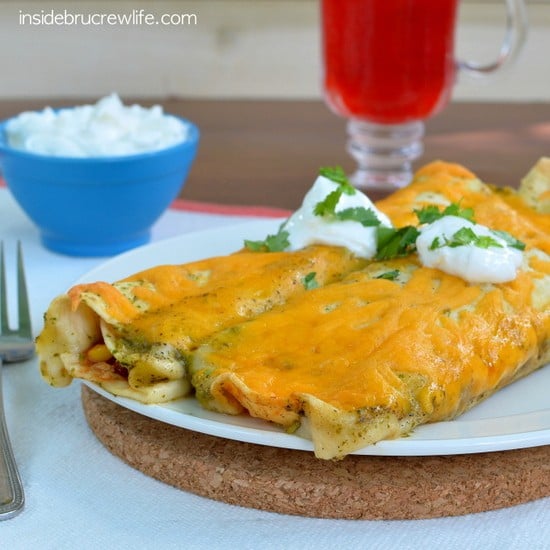 (original photo from July 2013)
*The post for Easy Chicken Enchiladas was first published on July 28, 2013. The photos were updated in June 2017, and the post was republished on August 6, 2019.
**This post contains an affiliate link. Inside BruCrew Life may receive a small percentage from sales made through these free links. As always, these do not cost you any extra. Thank you for letting use share products we love and use this way.