These Seven Layer Burritos are an easy dinner meal that your children can get in the kitchen and help you prepare.
Today I am partnering with Uncle Ben's to show you an easy way to use their Ready Rice for dinner prep.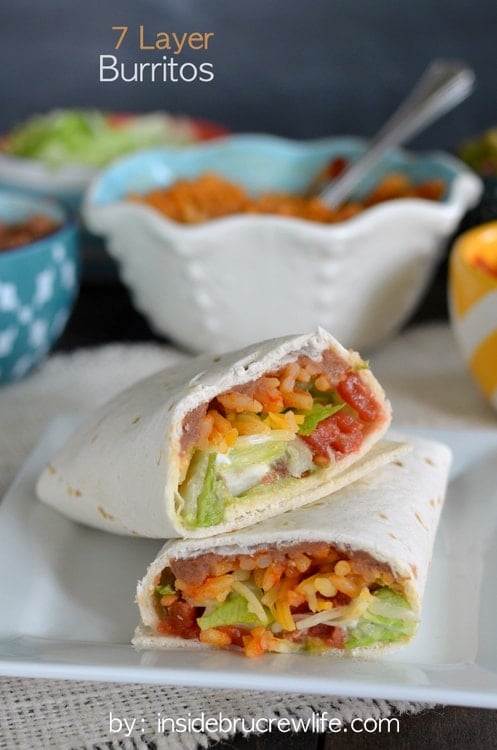 It's that time of year when everyone is trying to get back into a good routine with school, sports schedules, and dinner times. We are constantly on the go running between different soccer, volleyball, and dance practices. With our busy schedules, it is great to spend some quality time in the kitchen preparing easy meals that we can enjoy together.
Our kids have grown up helping us in the kitchen. They love to be involved in all the steps. Did you know that studies have shown that cooking with your children teaches them to have better eating habits later in life? Cooking can also be a fun time to catch up on the day with them too. Let them handle the little things like mashing and stirring while you do the chopping. Then start asking questions about what they learned in school and who did what.

When Uncle Ben's® contacted me about using one of their rice products in a recipe, I couldn't wait to make something easy that our kids could help out with.
We all enjoy Mexican food, so we chose the Spanish Style Ready Rice® for in our burritos.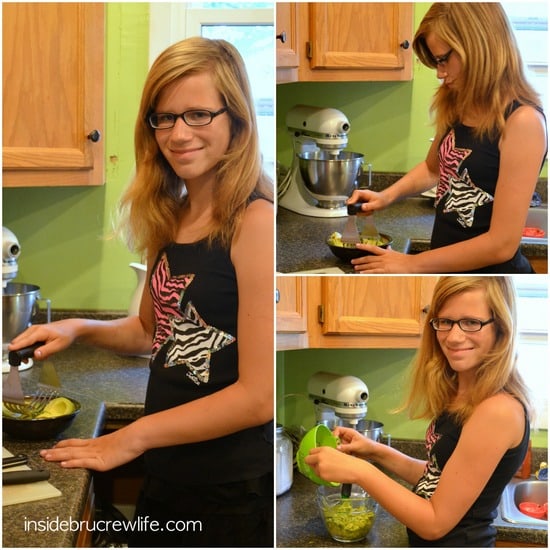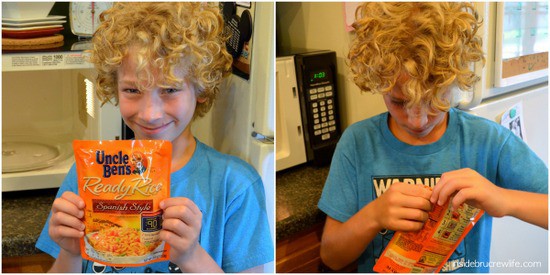 Seven Layer Burritos have always been one of my favorites. Our daughter made the Spicy Guacamole for our dinner, while our son cooked the rice.
The Uncle Ben's Ready Rice® is so easy to make. Tear one corner and pop it in the microwave for 90 seconds. My son couldn't believe that was all he had to do for it.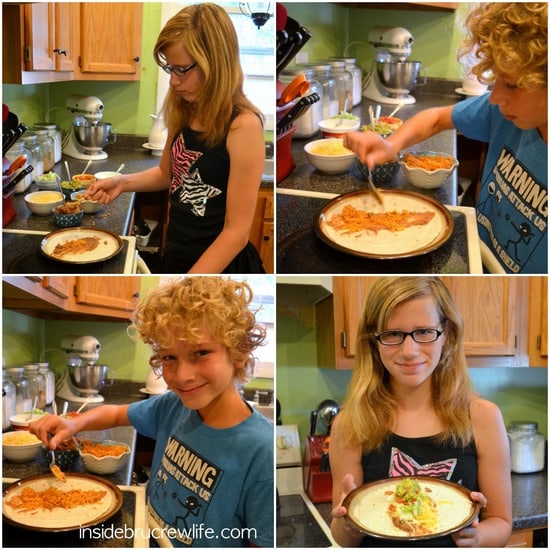 Once you have all your toppings ready, give everyone a plate with a warmed tortilla and let them have fun spreading everything on.
You might want to give them some guidelines on how much is too much though. Some of their burritos ended up too big to fold at first, but they quickly figured out how to not over fill them.
Want to get in the kitchen with your kids and create a prize winning recipe?
The Ben's Beginners Cooking Contest is a nationwide cooking video competition that has families coming together to make a healthy rice base meal.
Connect more with Uncle Ben's®:
Website | Facebook | Pinterest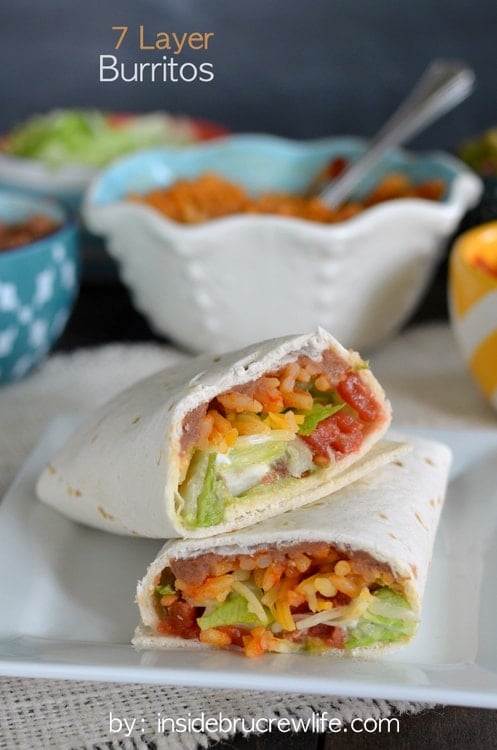 Using Uncle Ben's Ready Rice makes these Seven Layer Burritos so much easier to put together. Have you kids help you in the kitchen with all the prep work.
Ingredients
10 - 8 inch flour tortillas
1 - 15 ounce can refried beans
1 package Uncle Ben's Spanish Style Ready Rice
1 cup shredded cheddar cheese
1 cup shredded lettuce
1 - 15 ounce can diced tomatoes and chills, drained
1/2 cup sour cream
1 cup spicy guacamole
Instructions
Prepare the Uncle Ben's Ready Rice according to the package directions.
Open the can of refried beans and spoon into a glass bowl. Heat in the microwave for at least 1 minute or until heated through. Heat the tortillas for 20-30 seconds too.
Spread a layer of beans down the middle of the tortillas. Top with a little bit of rice, cheese, lettuce, tomatoes, sour cream, and guacamole. Roll up and serve immediately. Makes 10 burritos.
https://insidebrucrewlife.com/seven-layer-burritos/
Copyright Inside BruCrew Life
Cooking with your children makes for a great beginning! Visit www.unclebens.com and click on The Ben's Beginners™ Cooking Contest page to learn more!
This is a sponsored conversation written by me on behalf of Uncle Ben's. The opinions and text are all mine.