Taco Salad Bowls are a delicious and healthy 30 minute meal that satisfies everyone at the dinner table. They are simple, fresh, and easy to make.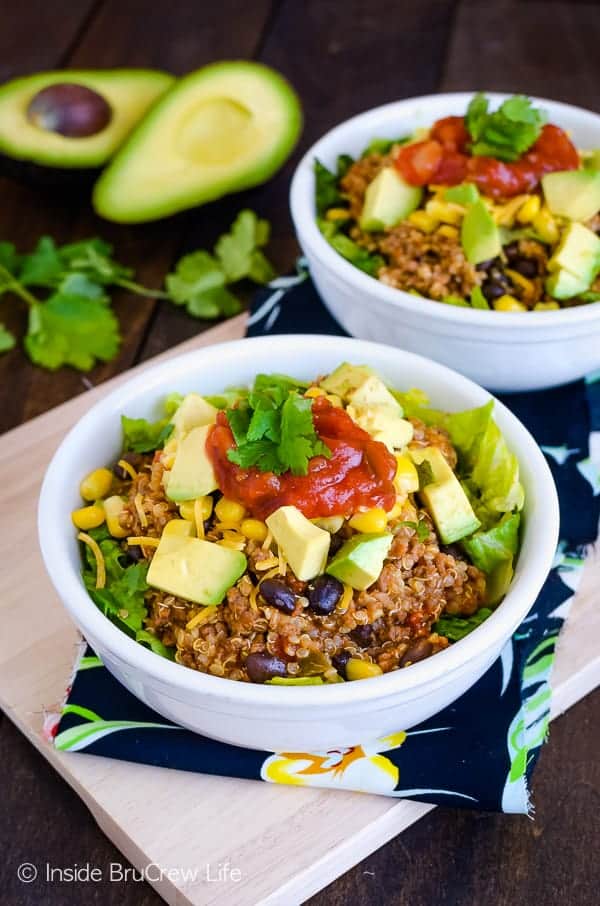 CLICK HERE TO PIN THIS RECIPE FOR LATER!
The other night my husband had a meeting at church, so that meant I was in charge of coming up with dinner for the kids and me. I seriously thought about putting out a bag of chips and some Easy Homemade Salsa on the table and calling it dinner.
I'm getting so much better at coming up with delicious lean and green meals that our kids enjoy, so I headed to the kitchen to see what ingredients we had in our fridge.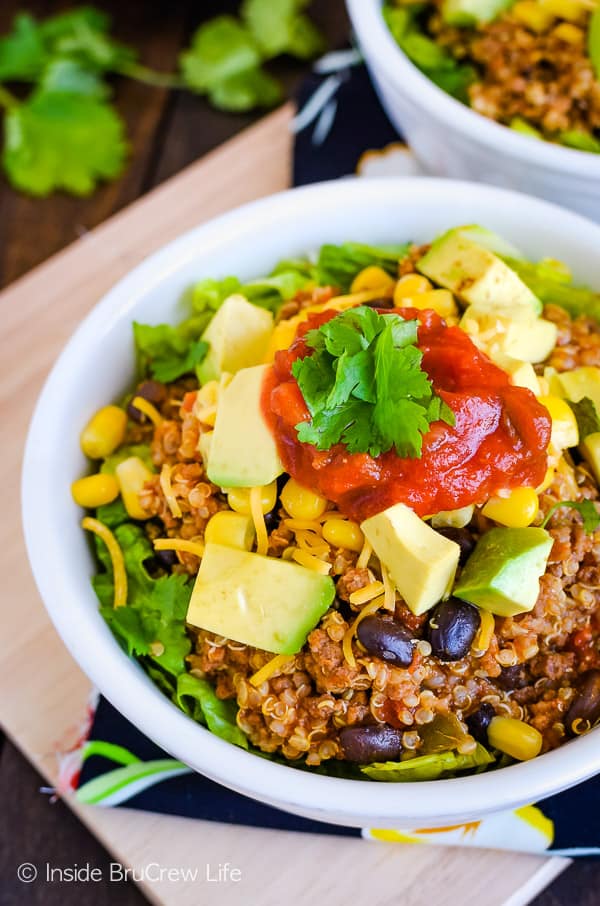 Since tacos are a favorite meal for all three of our kids, I decided to play with that flavor combo and see what happened. I figured tacos were a pretty safe food because you can't really mess it up too much.
Haha! Unless you ask my husband. About 19 years ago, I told him we were having tacos for dinner, and then I made a taco ring.
Needless to say, he has not let me forget about that one. It tasted just fine, but it wasn't what he was expecting.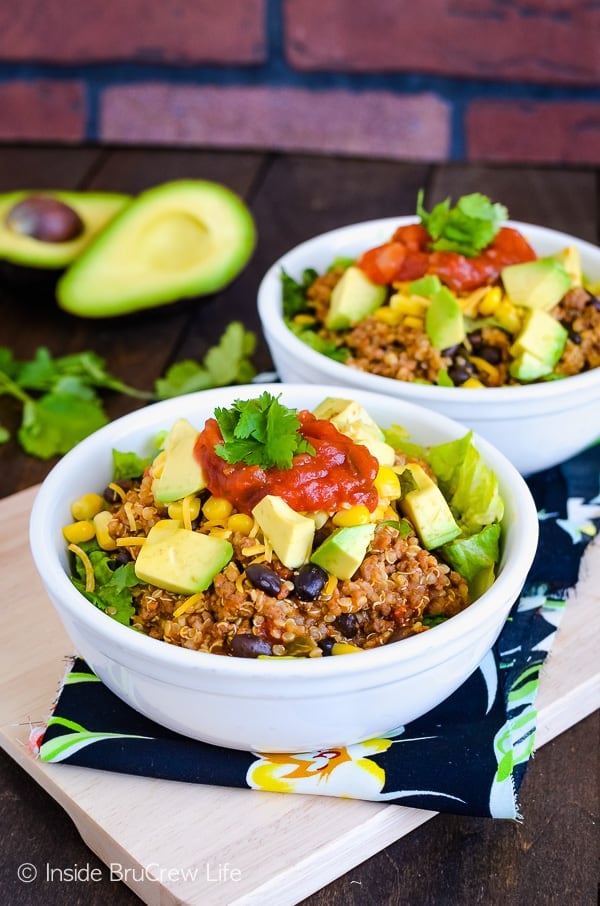 Taco salad is a healthy option I like to make when I'm craving Mexican food. This easy taco skillet comes together in 30 minutes making it perfect for busy school nights.
Thankfully God has blessed us with three very easy going children. They pretty much will eat whatever we make for them. I did say pretty much. There are a few foods that are met with resistance, but that's true for me too.
So, I knew that I could add quinoa in place of rice without any complaints. We have been incorporating this super food and this Easy Cauliflower Rice into everything lately.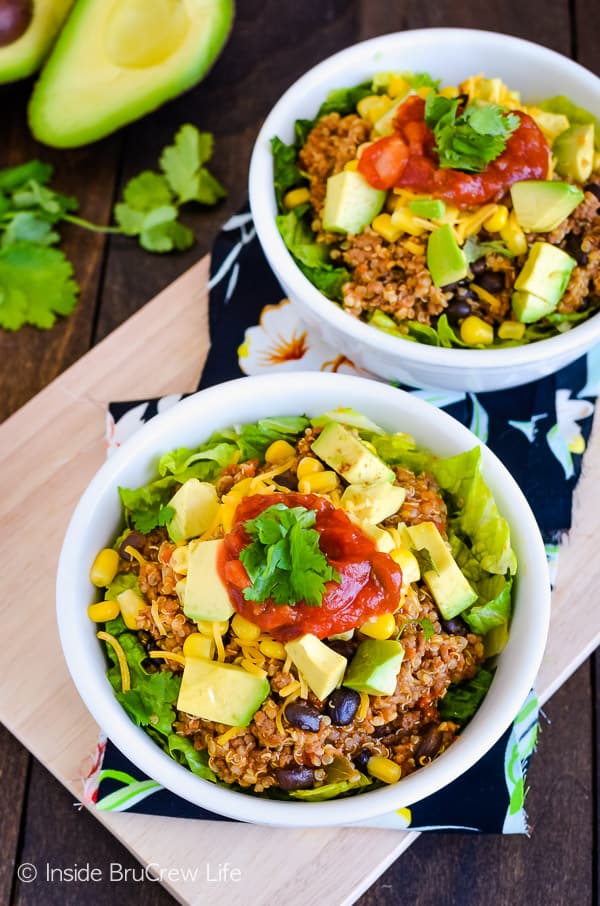 Tips for making Taco Salad Bowls:
Boil some water and then cook the quinoa according to the package directions. Feel free to substitute cauliflower rice instead to keep it a low carb meal.
While that is cooking, cook the hamburger meat and onions in a large skillet until done. Stir in the water and taco seasoning and cook for another 3-4 minutes.
Stir in a can of undrained tomatoes and a can of rinsed black beans. Add the cooked quinoa.
Add lettuce to bowls and top with the taco mixture and toppings.
What goes on a taco salad?
Corn
Avocado chunks
Cheese
Salsa
Green Chiles
Onions
Cilantro
Ranch dressing
Crushed chips - tortillas or Doritos
There are so many other toppings that would be delicious on a salad bowl, but those are just a few of our favorites. I also suggest making some Spicy Guacamole to put on top as well.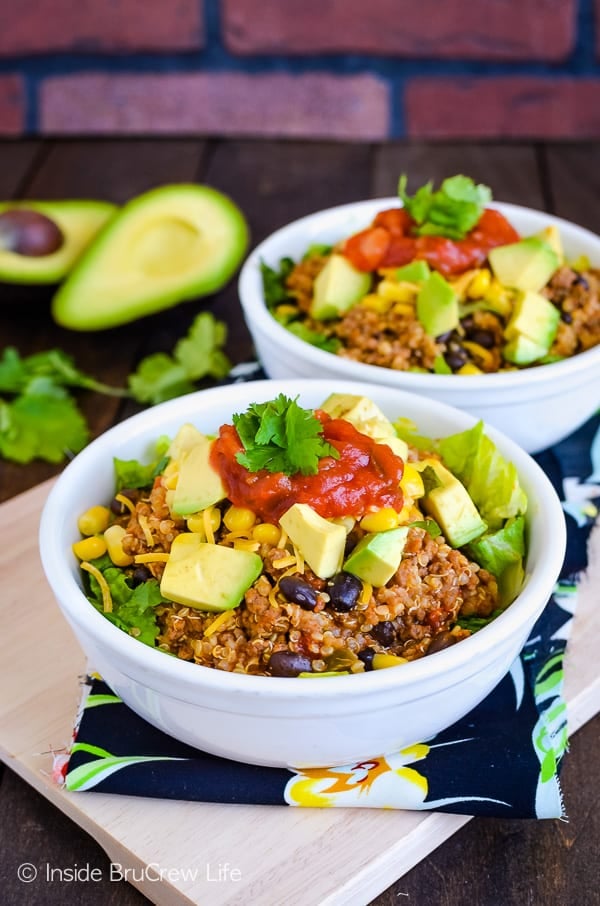 If you liked this recipe, try these other Mexican-inspired recipes: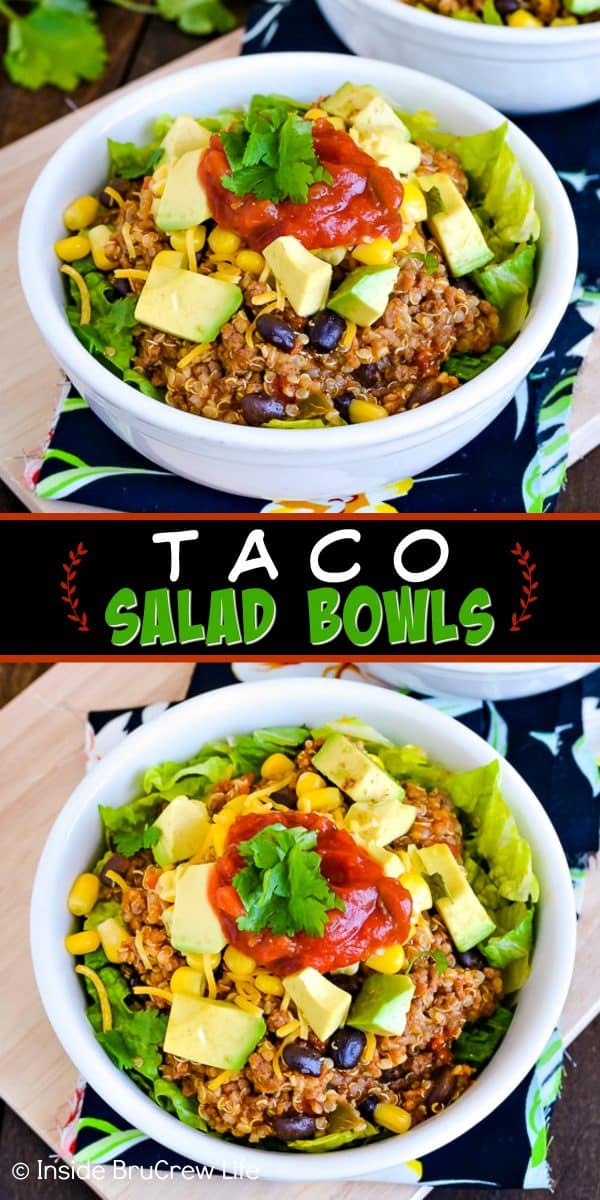 *The post for Taco Salad Bowls was originally published on February 19,2014. The post and pictures have been updated, and the post was republished on January 4, 2019.