Bacon, spinach, tomato, and Alfredo sauce makes this easy skillet dinner a family favorite. This Chicken Alfredo Skillet Ravioli got a thumbs up from our kids when we served it for dinner. Add it to your menu rotation and see why it got rave reviews.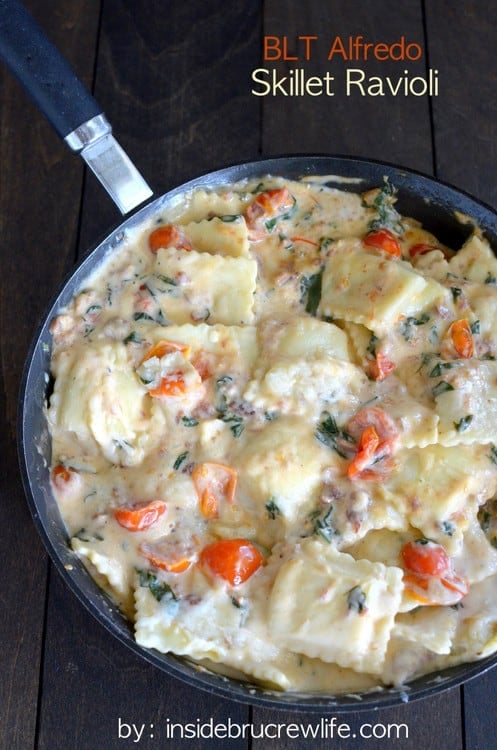 Seriously, I am not usually the brains behind our dinner meals.
All day long I work on desserts, so when it comes to dinner time I just kind of space out. I can be staring at an entire fridge or cupboard full of ingredients and still have no clue what to make. Thank goodness my husband loves to cook, otherwise it would be cereal and mac & cheese most nights with the occasional pizza or corn dog thrown in there!
Although, lately I have been rocking out the pasta dishes. Earlier this year I made this Chicken Supreme Pasta Bake, and now I can't stop making pasta dishes. You don't mind, do you?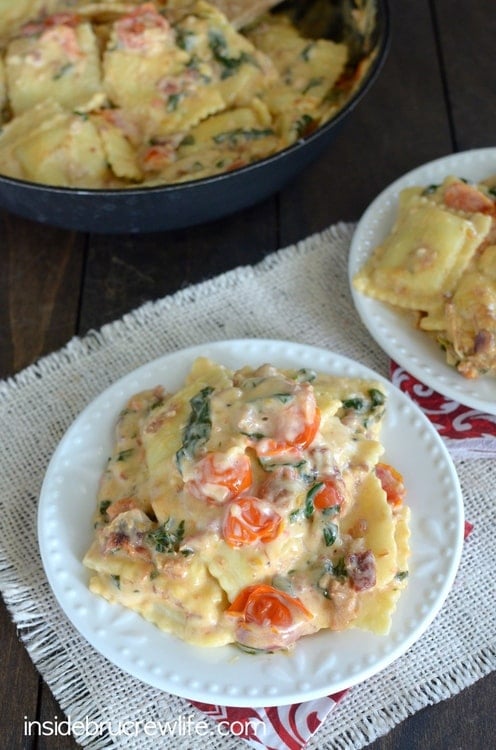 The other day I was walking through the grocery store and spotted ravioli. It has been forever since we had that as a dinner, so I picked up two bags of the frozen ravioli. I wasn't sure what I was going to do with them and when, so I opted for frozen over fresh. You can use either in this recipe though.
When I got home, I happened to see a jar of Alfredo sauce in our cupboard and thought it would be a nice change from red sauce for the ravioli. Although, I still wasn't sure what else to do with it.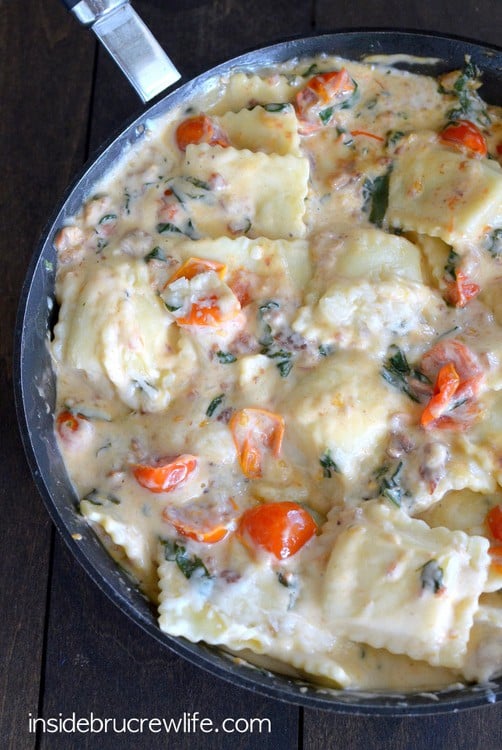 Then a few days later we were cutting up some veggies for a Veggie Salad, and I started thinking about how cherry tomatoes might work with the Alfredo and ravioli.
From there my brain went wild thinking about chicken Alfredo flavor combos, but the one that stuck out the most was BLT. I love me some bacon, lettuce, and tomato sandwiches, so why not add that to ravioli, right? Of course lettuce doesn't cook so well, so I used spinach in place of it.
This skillet dinner is perfect for busy nights. I used mostly prepackaged items to save a little bit of time, but feel free to do any of it homemade if you want. Cook the ravioli according to your package directions and keep them warm.
While they are cooking you can cut up the cherry tomatoes and spinach. We also have a big bag of bacon crumbles in our fridge, so I totally cheated and used that in place of fresh bacon. Go with whatever works for you! I just happen to be a total recipe cheater when it comes to making dinner!
Saute the veggies and bacon, toss in the cooked ravioli and sauce, and top it with a little cheese.
Boom! Dinner is ready in about 20 minutes! Gotta love easy meals that everyone loves!!! My kids keep asking for this again...so, it's a good thing I bought 2 bags of ravioli!!!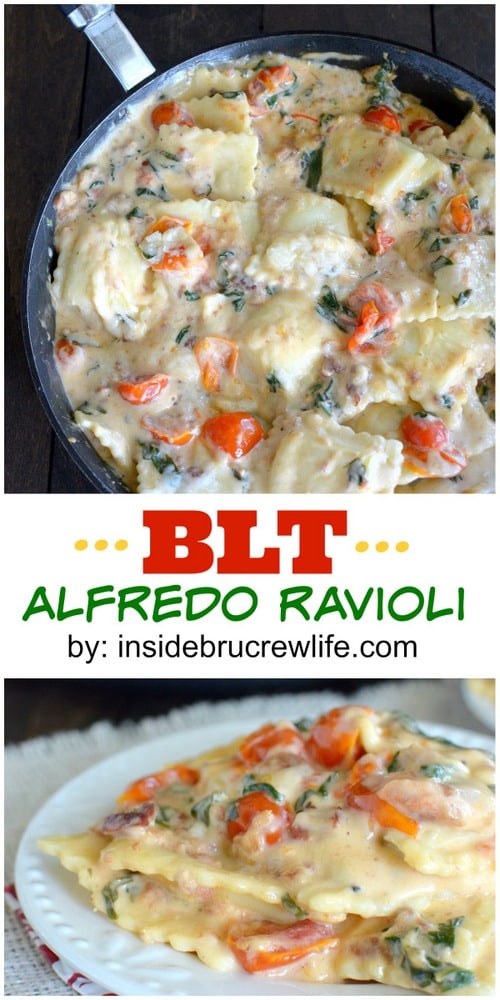 More easy dinner ideas to get dinner on the table faster for you: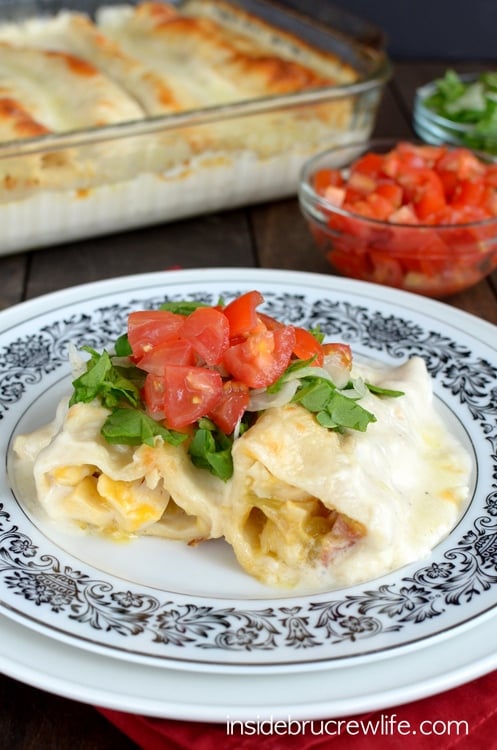 Chicken Bacon Alfredo Enchiladas