Dill Pickle Deviled Eggs are a welcome addition to potlucks and picnics. The subtle flavor of pickles and paprika in the creamy filling make these the best deviled eggs you will ever eat.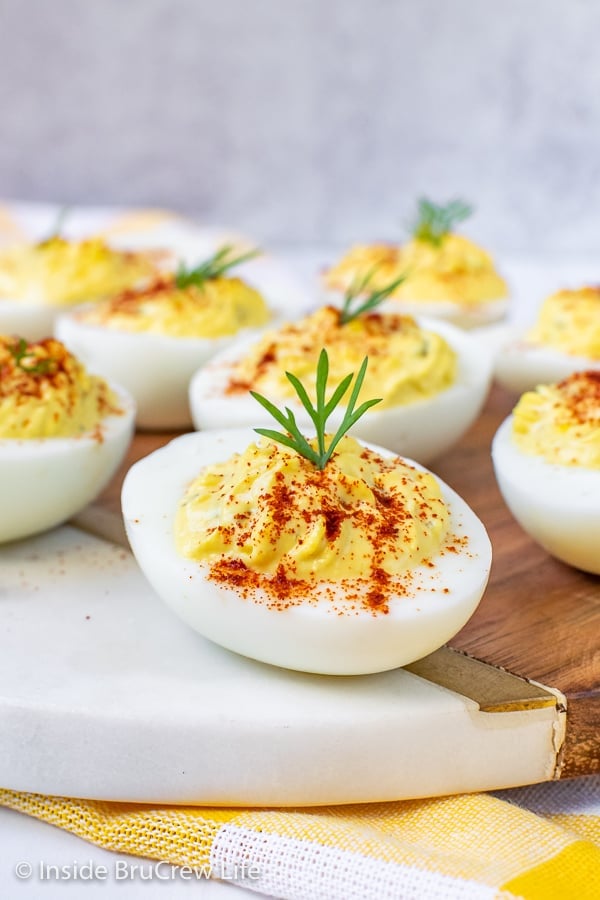 Deviled eggs are always one of those things that are always included in potlucks and picnics. They are easy to make and everyone loves them.
They are also one of the best ways to use up all the hard boiled eggs in the fridge after Easter egg hunts. Our family looks forward to making these dill deviled eggs and this Roasted Red Pepper and Bacon Egg Salad the week after Easter.
Our youngest absolutely loves deviled eggs though, so we tend to make those all year long.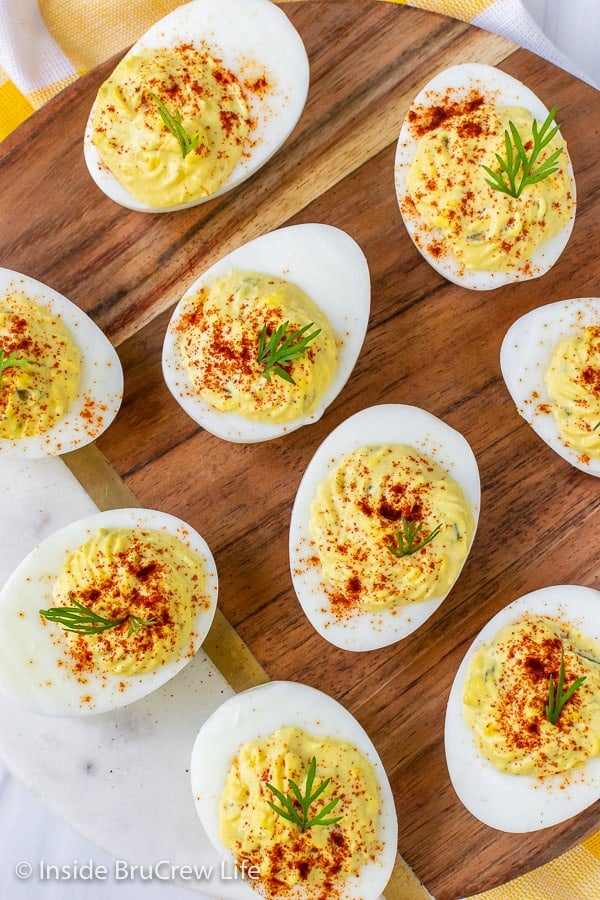 Peeling eggs is my least favorite part of making deviled eggs or egg salad. I used to get so frustrated when half the egg would come off with the peel. It turns out that there are a few things to know about peeling eggs.
Using older eggs is better because the membrane does not stick to the shell as much after cooking. Also, soaking the eggs in ice water immediately after cooking stops the cooking process and helps the egg shells come off easier.
How to Hard Boil Eggs:
Dash Egg Cooker: Pierce the larger ends of each egg with the pin on the bottom of the measuring cup and place on tray. Pour cold water into heating plate. Cover with lid and plug in. Press power button to start cooking. When eggs are finished a buzzer will sound. Allow eggs to sit an additional minute before removing. Place in ice bath for 15 minutes.
Stove Top: Arrange eggs in single layer in pot. Cover with cold water. Turn heat to high and heat until water begins to boil. Cover and reduce heat too low. Cook for 10 minutes. Pour off hot water and submerge eggs in ice water for 15 minutes.
Instant Pot: Place eggs on rack and pour in 1 cup of water. Cook on low pressure for 6 minutes. Allow eggs to sit an additional 6 minutes, then place eggs in ice bath for 15 minutes.
I have tried all these methods and my favorite way to make hard boiled eggs is the Dash egg cooker. I find that it is the easiest way to cook eggs, and the cute little shape makes me smile every time I use it.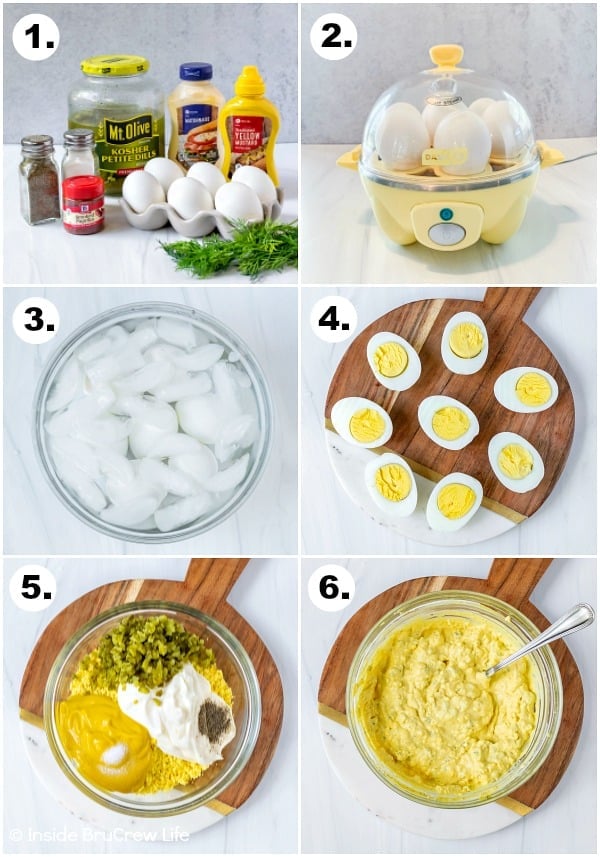 I have always added dill pickles to egg salad, so it was natural to start adding them to our deviled egg filling. It is now the only way we make them in our house.
There is something so delicious about the subtle pickle flavor and the little bit of crunch from the diced pickles.
How to make Dill Pickle Deviled Eggs:
Hard boil your eggs using your preferred method. Place in an ice bath to stop the cooking process.
Peel the egg shells carefully from the hard boiled eggs and rinse.
Cut the eggs in half lengthwise and place the egg yolks in a separate bowl.
Mash the egg yolks with a fork or pastry blender.
Add the rest of the ingredients and mash until creamy.
Use a spoon or a piping bag to fill the egg whites.
Sprinkle with paprika and add a sprig of fresh dill right before serving.
The sprig of dill gives these deviled eggs a pretty presentation. Plus, it tells people what flavor the eggs are. You could also use a slice of dill pickle as garnish instead of the fresh dill.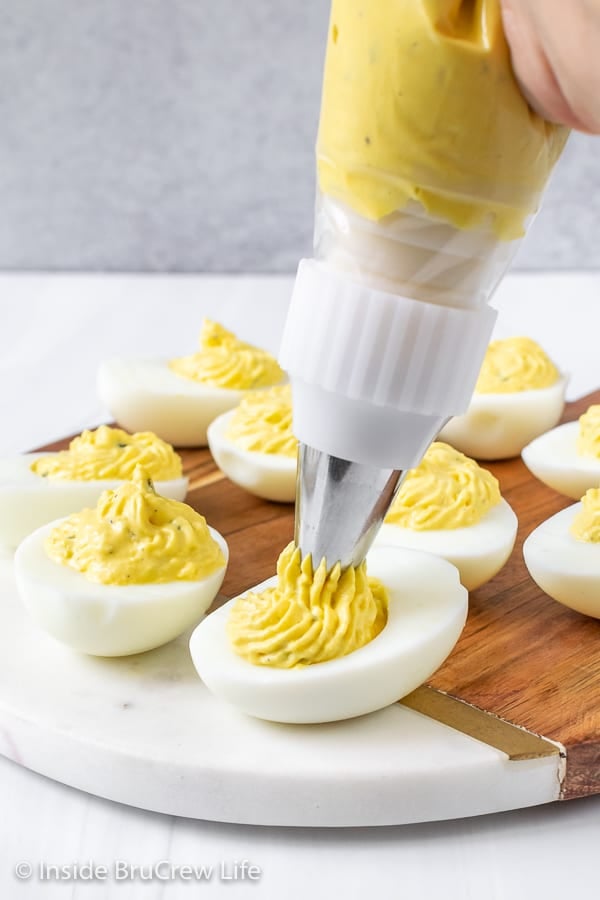 Serving and Storing Deviled Eggs:
Eggs can be hard boiled and then peeled one day ahead of time. Store the eggs in the refrigerator.
The filling can also be made ahead of time and stored in an air tight container in the refrigerator.
Fill the eggs right before serving for best flavor and presentation.
How to Fill Deviled Eggs:
I personally love using a piping bag with a large star tip to fill deviled eggs. It is easier to control how much filling you add to each egg and also makes the tops look so pretty. The amount of extra pickle juice you add to the filling will affect the swirls.
If you want the filling to pipe into a firmer swirl use less juice or you can leave it out all together. Also, if you are using a piping bag, be sure your pickles are finely diced so they pass through the icing tip without getting stuck.
You can also use a ziplock bag to fill eggs with. Cut one corner off and squeeze into the egg whites.
Other fun flavors to add to deviled eggs:
Hot Sauce or Chili Powder
Sweet Pickles
Artichoke Hearts
Bacon
Avocado
Chives
Cheese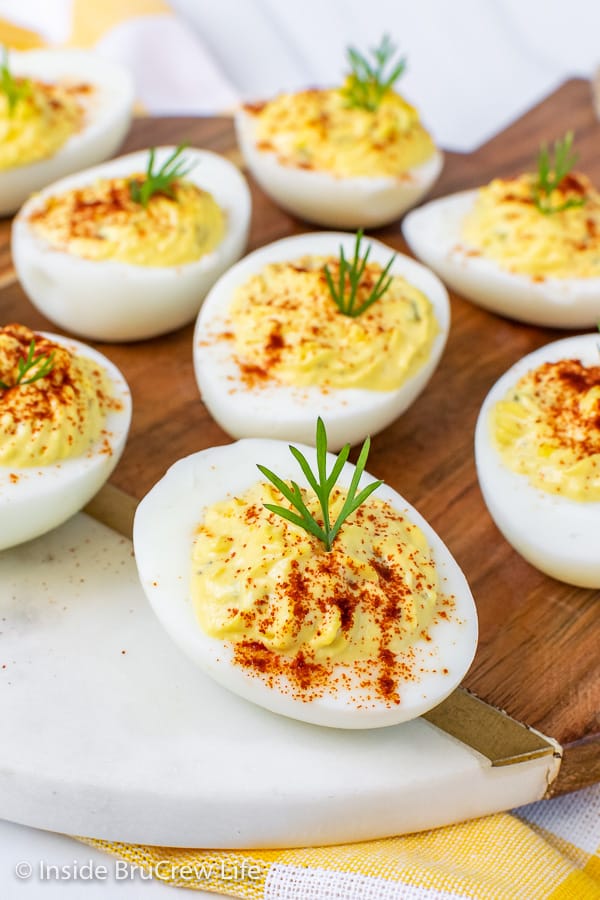 Other recipes with hard boiled eggs: