Eggs, pickles, and celery gives Mom's Classic Potato Salad a delicious flavor that everyone loves. Bring this tried and true potato salad recipe to your next summer picnic or barbecue. You won't be disappointed.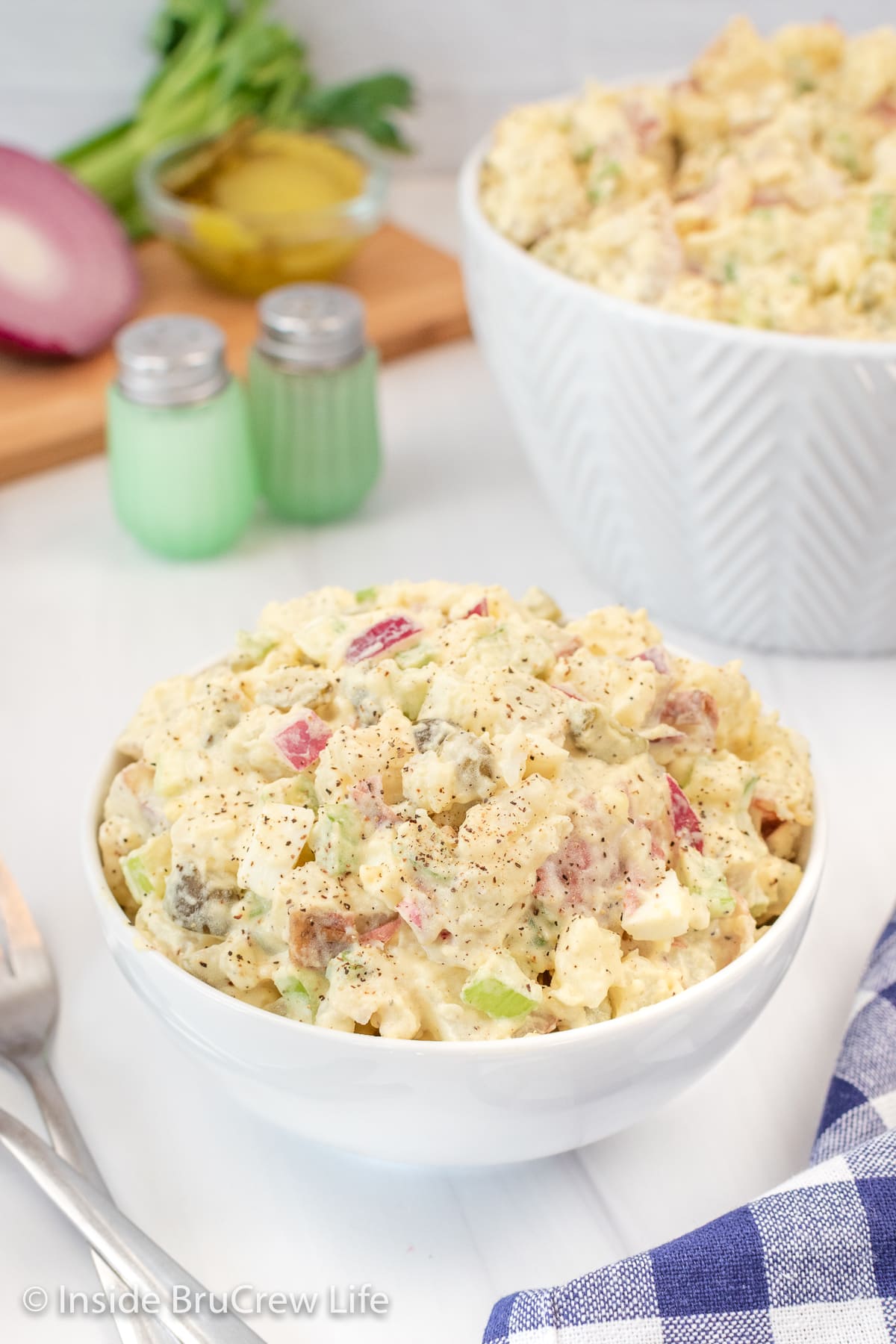 One of the best things about summer picnics are all the side dishes and desserts that everyone brings. We usually make veggie pasta salad, ranch blt pasta salad, or a big bowl of potato salad to share.
Everyone has their favorite way of making potato salad, and it is usually based on what you grew up eating. I totally get it because I make mine the same way my mom did.
Why This Works
If you need a creamy potato salad for a picnic or potluck, this is the recipe you should use. It is simple to make, and everyone always asks for more.
It is so easy to make this potato salad recipe your own. Use more or less of the ingredients, or change it up and use different things. Although, I think this is the best combo of ingredients.
Mom's classic potato salad with eggs is a crowd favorite. It always disappears in a hurry at summer picnics. It has that mom touch to it that everyone loves!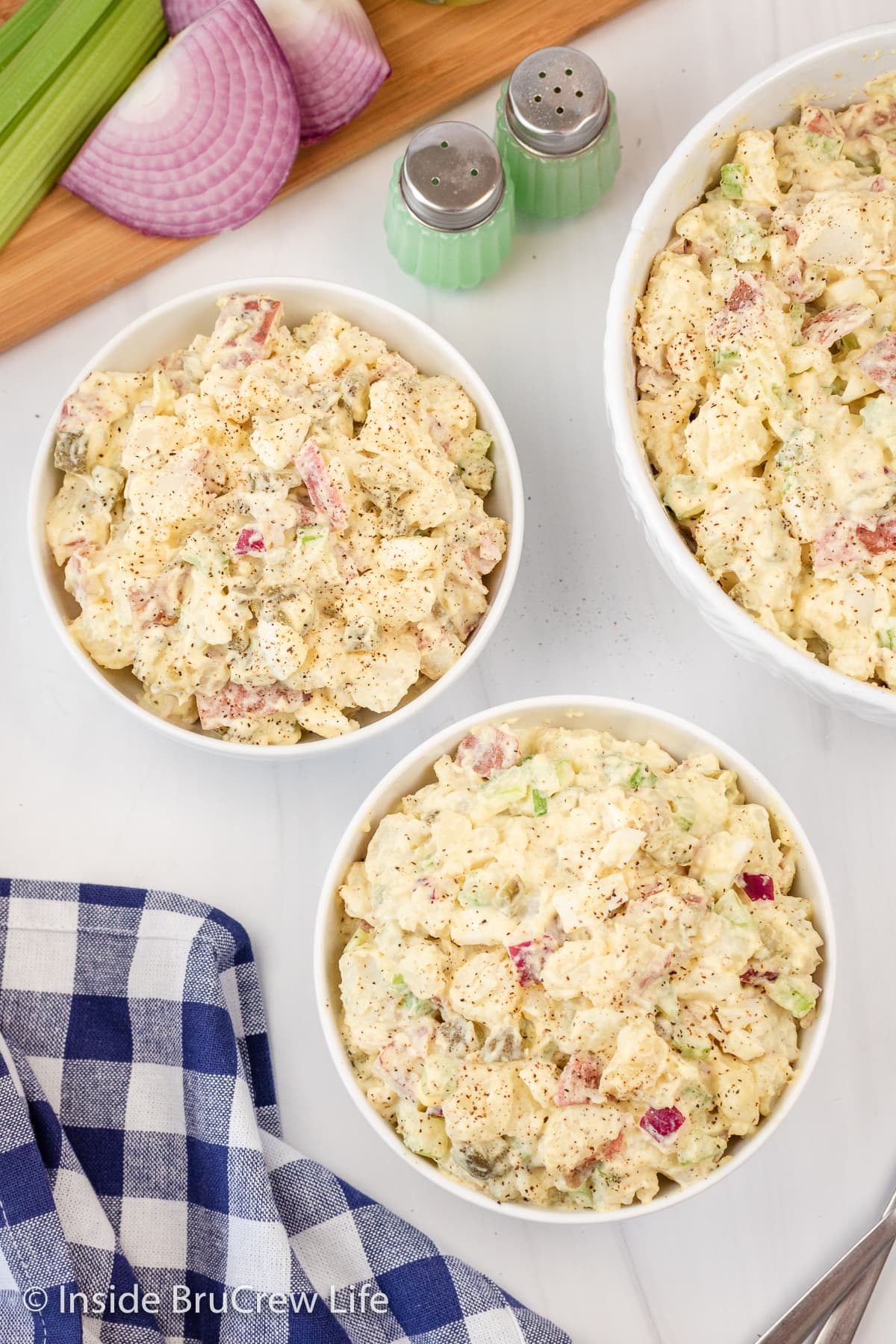 Key Ingredients
Making potato salad all depends on your preferences. Eggs, celery, and pickles are classic ingredients to start with. Use as much or as little as you like.
Potatoes - We like to use red potatoes with the skins on for our salad.
Dill Pickles - Add a fresh flavor and crunch. If you prefer a sweeter flavor, use sweet pickles.
Celery & Red Onion - Adds just the right amount of crunch.
Eggs - Hard boiled eggs add a good flavor and texture.
Mayonnaise & Mustard - Hellmann's mayo mixed with plain yellow mustard is the secret to a creamy sauce.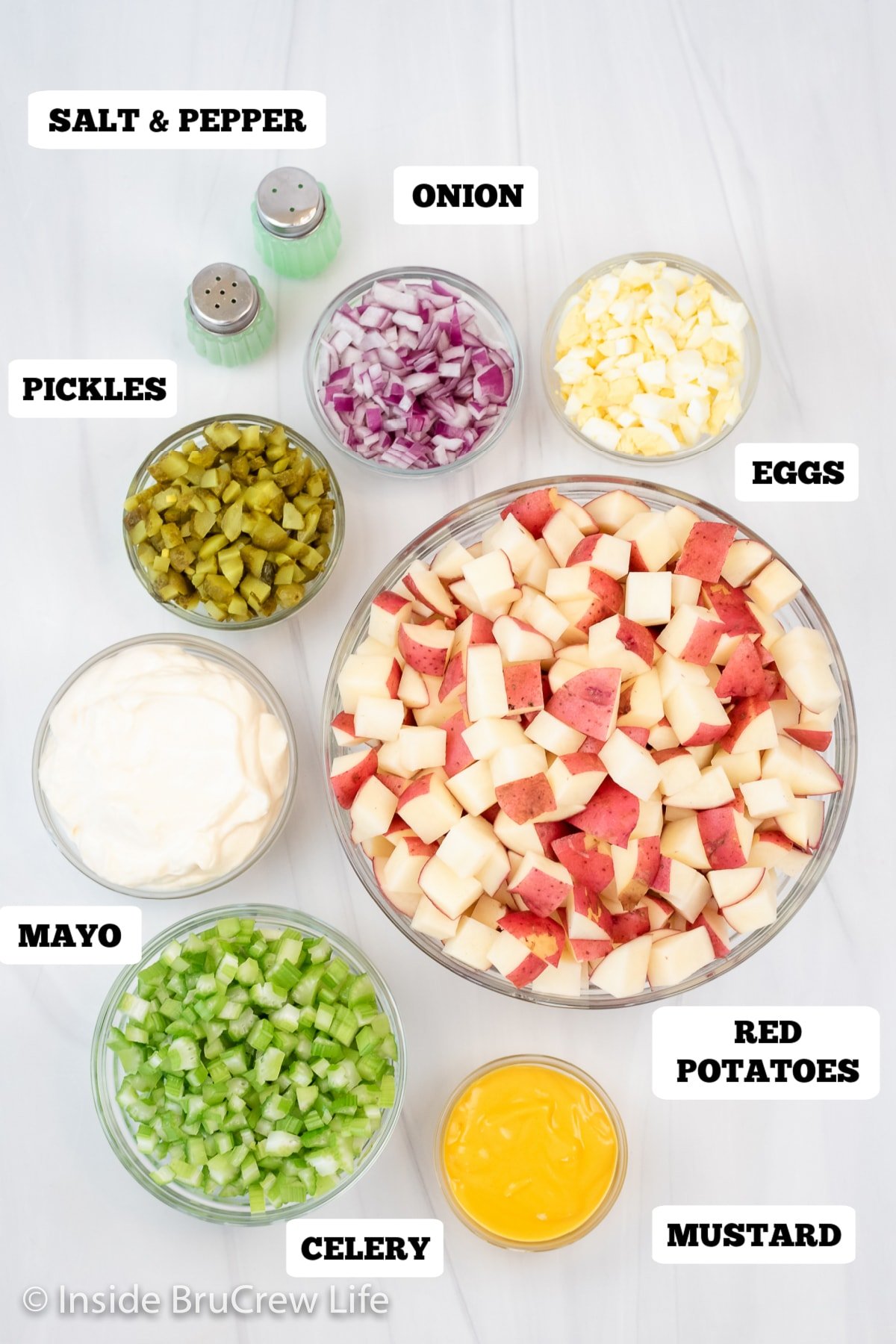 How to Make
You can't go wrong with a big bowl of old fashioned potato salad during the summer months. It is so easy to make in minutes and tastes amazing with grilled main dishes.
Prepare the potatoes. Wash and rinse the red potatoes. Cut into even cubes and place in a large pot. Cover with cold water and bring to a boil. Reduce the heat and simmer until the potatoes are soft and can easily be pierced with a fork or skewer. Rinse the cooked potatoes with cold water to stop the cooking process.
Prep the other ingredients. Cut the onions, pickles, celery, and hard boiled eggs into small pieces.
Assemble the salad. Gently stir the veggies, mayo, and mustard into the cooled potatoes. Season to taste with salt and pepper.
Chill until ready to serve. Cover the bowl tightly and refrigerate.
Storage
Keep the potato salad in an air tight container in the refrigerator for 3-4 days. After a while the eggs and onions will start to release odors.
I do not recommend freezing this classic potato salad. It will be runny and watery after it thaws out.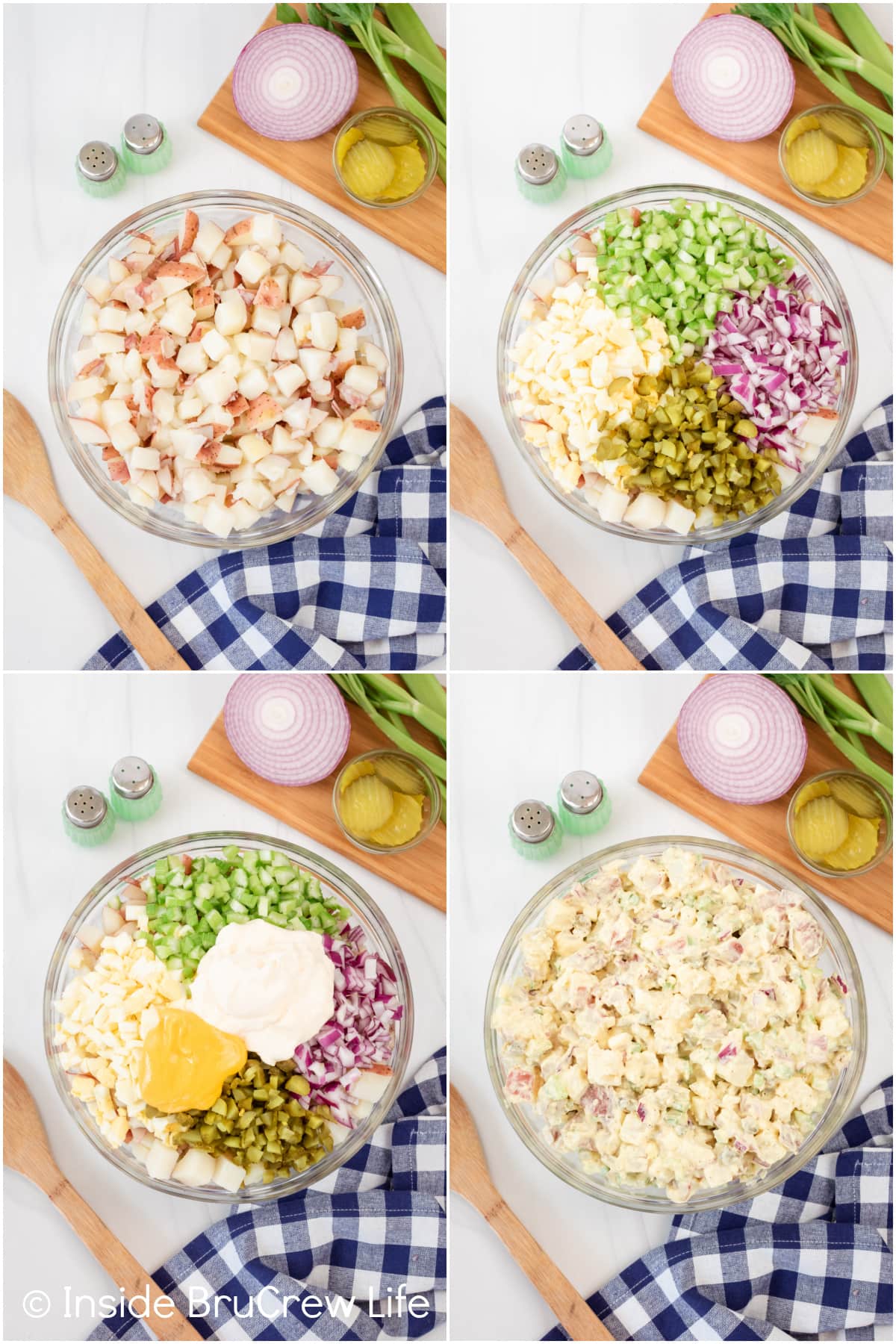 Tips and Tricks
Cut the potatoes into the same size cubes, so they cook evenly.
Rinse the warm potatoes in cold water to speed up the cooling process.
Use a large bowl, so you have plenty of room to stir everything together.
Make the potato salad at least 4 hours ahead of time, so the flavors can blend and deepen.
Try adding bacon, shredded cheese, and sour cream.
Want to give it a healthy boost? Use half Greek yogurt and half mayonnaise.
Serve with grilled chicken, burgers, and or this McCormick Pulled Pork recipe.
FAQ'S
What are the best potatoes to use for potato salad?
Red potatoes or Yukon gold potatoes are more of a waxy potato. They will hold their shape when cooked which makes them great for potato salad.
Russet potatoes are a soft, fluffier potato when cooked, so they are better for mashed potatoes.
Do you have to peel the potatoes?
Not at all. In fact, we like to leave the skins on because it adds color. It also helps to hold the potatoes together as they cool.
Why is my potato salad watery?
Make sure you drain your potatoes very well before stirring the other ingredients and dressing into them.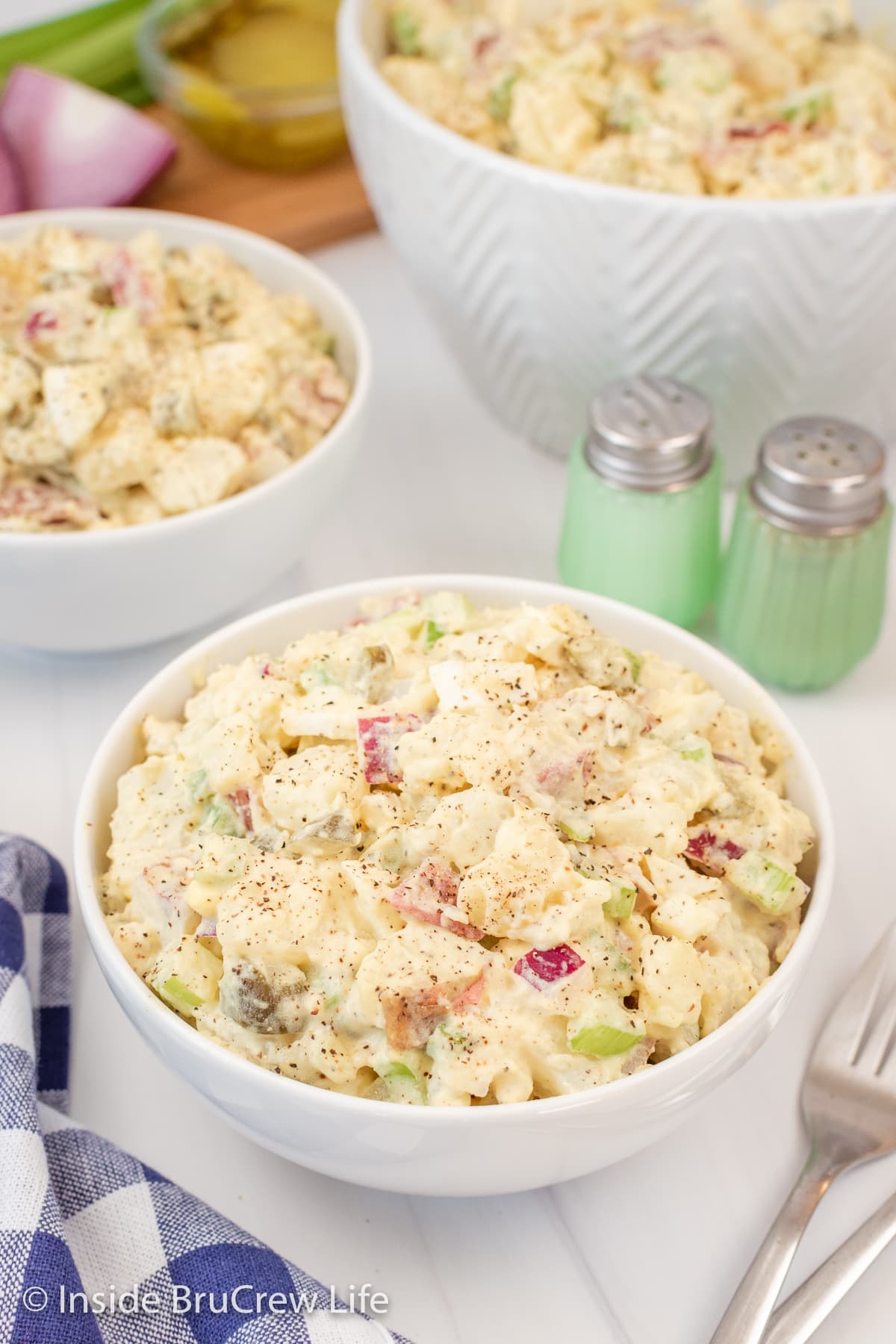 More Picnic Salads
Do you love a recipe you tried from Inside BruCrew Life?
Please leave a 5-star ⭐️ rating and a review in the comments section below.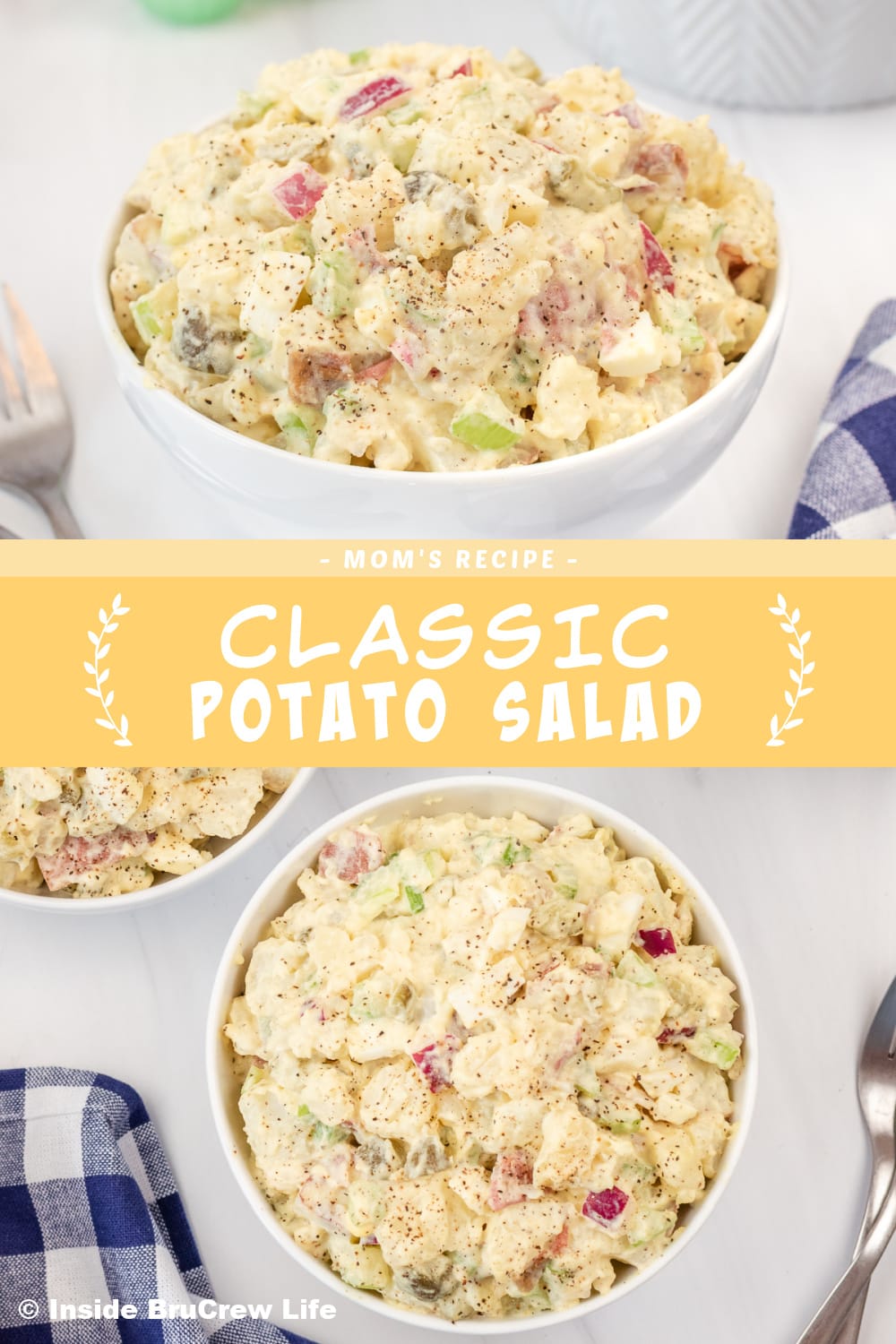 *The post for Mom's Potato Salad was first posted July 2015. The pictures and post were updated and republished May 2022.