This easy Everything Tuna Salad is a delicious dinner option when eating healthy. Perfect for stuffed avocados, low carb wraps, or salads.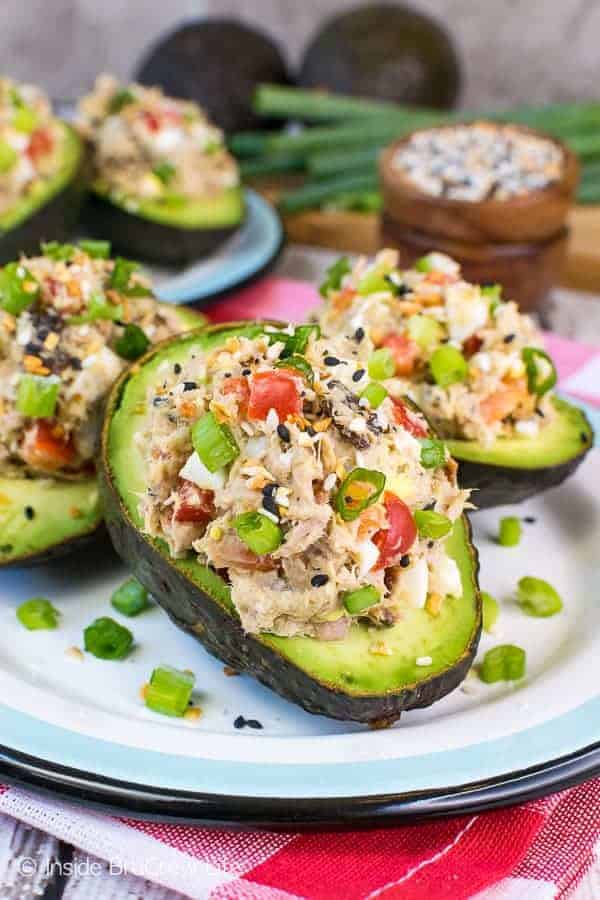 Over the past few year and a half we have completely switched around our way of eating to that of mainly lean and green. Don't get me wrong, we still enjoy the occasional pizza or cheesy pasta, but we limit those meals to few and far between.
In fact, I have noticed that now when I indulge in a heavy carb filled dinner, I actually don't feel that great. It is kind of sad because I love those comfort foods, but it is also a great way to keep myself in check the next time I go to grab an extra breadstick.
Tuna salad is one of my favorite things to make when we don't have a lot of time for dinner prep. It's so easy to pop open a can, toss a few ingredients into it, and eat it quickly on a pre-made salad or in a low carb wrap.
The classic tuna salad is usually made with mayonnaise, pickles, and celery. If you are like me, you also like to toss some hard-boiled eggs into the mix. Unfortunately this version is loaded with extra fat and calories.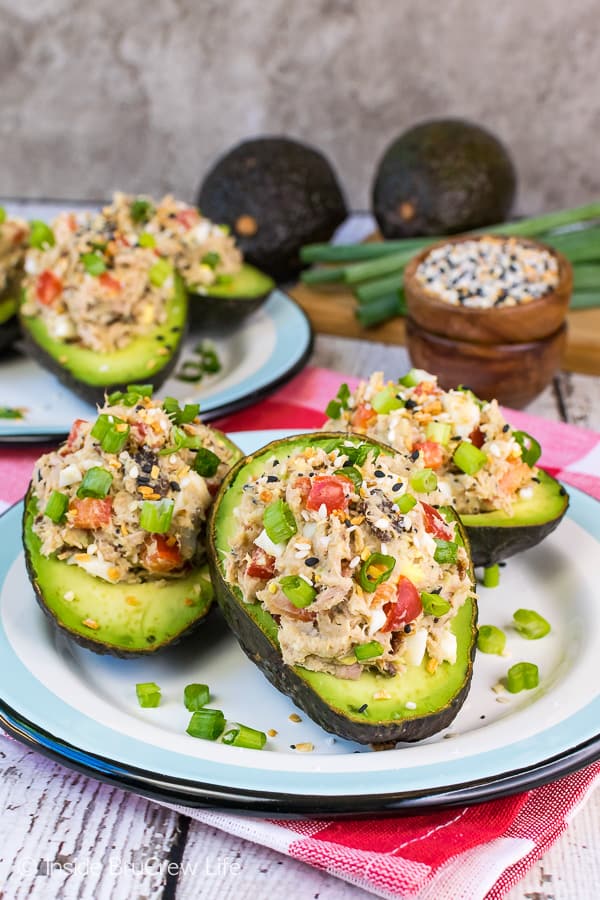 This past summer I picked up a bottle of Everything but the Bagel Seasoning from Trader Joe's because I have seen so many people raving about it. I figured it had to be good if that many people kept saying so.
And it didn't disappoint us at all. That seasoning blend is totally worth it, and now I wish I had bought a few more bottles because I have been sprinkling it on just about everything.
What can you use Everything but the Bagel Seasoning on:
This blend of seasoning is delicious on salads, scrambled eggs, hummus, cottage cheese, avocado toast, chicken kabobs, and popcorn are just a few ways to use your bottle of seasoning.
The next time I make these Roasted Veggies, I'm going to sprinkle them with the Everything but the Bagel Seasoning. I think they will be so good that way!
The other day I decided to use the Everything seasoning to make a healthy tuna salad because I was craving tuna stuffed avocados for dinner that night. It's crazy how once you start eating healthy, you start craving healthy meals!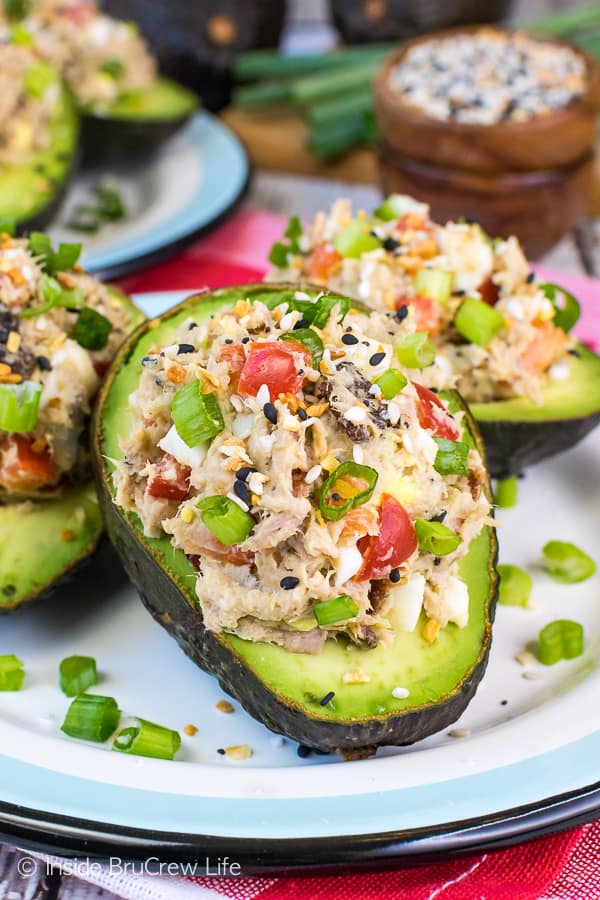 How do you make a Healthy Tuna Salad?
Replace the calorie laden mayonnaise with a healthier option like plain Greek yogurt. Not only is this lower in calories, it will also help boost your protein count for the day.
Smashed avocado, hummus, or cottage cheese is also a great replacement for mayonnaise.
Stir in red peppers and hard-boiled eggs to add more veggies and protein to your meal.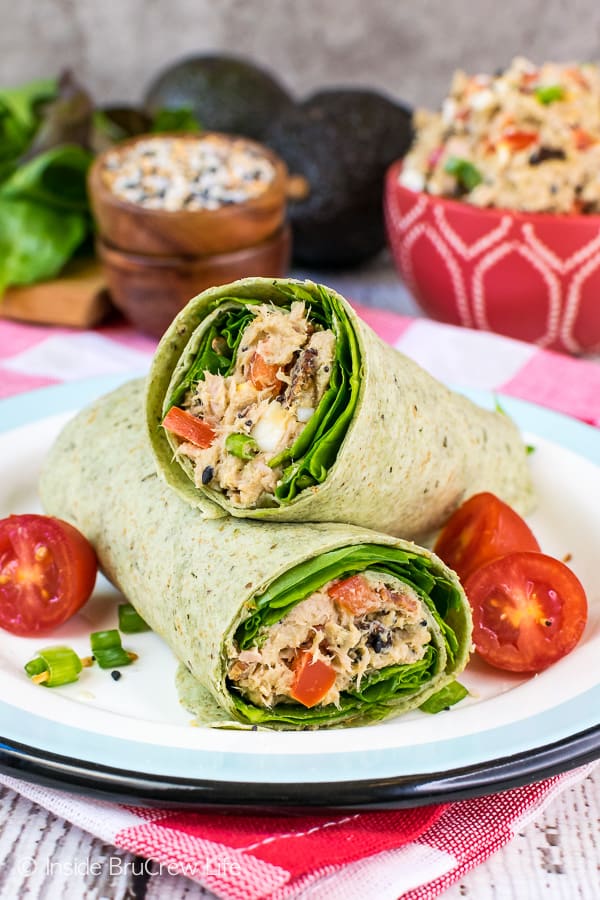 How to make Everything Tuna Salad:
Drain three cans of light tuna. Make sure you buy the ones packed in water if you are watching your fat content.
Smash one whole avocado and stir it into the tuna chunks.
Add Greek yogurt and the Everything but the Bagel Seasoning and stir it until is is mixed in. If you like a creamier tuna salad, go ahead and add a few extra Tablespoons of yogurt.
Add diced red peppers, diced hard boiled egg, and some crumbled bacon to the tuna mixture.
The Everything Tuna Salad is ready to eat right away, or you can refrigerate it for later and let the flavors meld before serving it.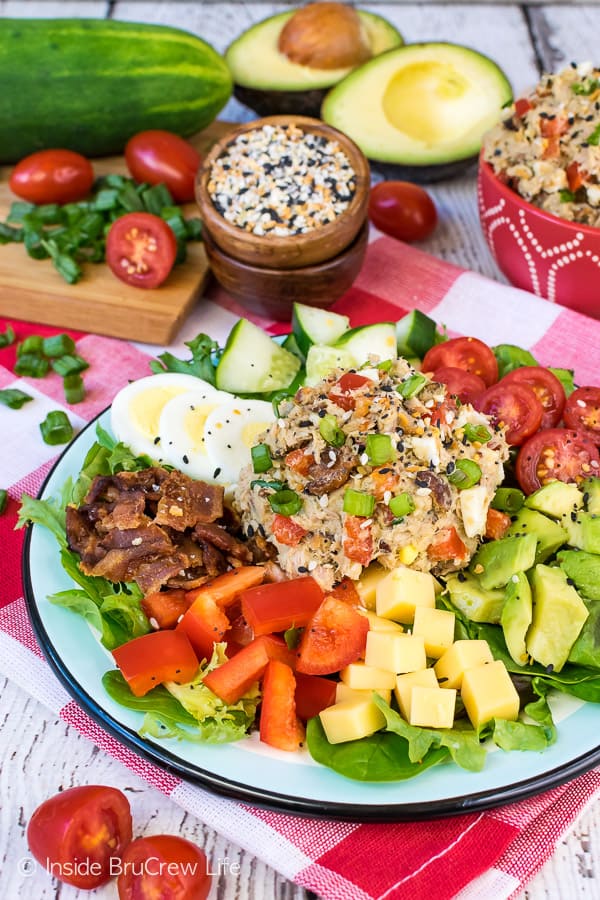 How to eat Tuna Salad without Bread:
Use a low carb tortilla and a handful of dark leafy greens for a satisfying "sandwich". Enjoy some cherry tomatoes and cucumber slices on the side. You can also use lettuce leafs in place of the tortillas to cut your carbs even more.
A big scoop of the Everything Tuna Salad on a bed of greens is a delicious Keto dinner choice. Add additional veggies like tomatoes, avocado chunks, red pepper, cheese, cubes, cucumbers, hard-boiled egg slices, and crumbled bacon to fill the salad out.
Cut open avocados and remove the pit. Scoop a little bit of the avocado from the center to make the hole bigger. Place a large scoop of tuna in the center of each half. You can also stuff tomato halves the same way.
Another low carb option for eating tuna salad is to slice cucumbers and use them as chips to dip the tuna salad.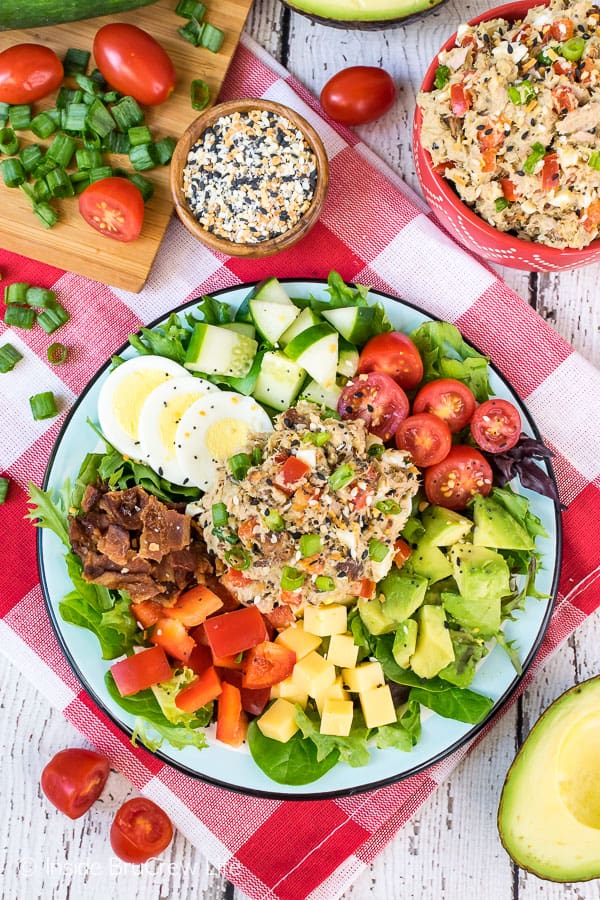 If you are looking for more Lean and Green recipes, here are a few of our favorites:
Bacon Cheeseburger Stuffed Zucchini - zucchini halves stuffed with a delicious meat and veggie filling and topped with cheese.
Coconut Curry Shrimp - shrimp cooked in a light coconut curry sauce and cauliflower rice can be on your table in under 30 minutes.
Healthy Stuffed Peppers - these bell peppers are stuffed with a healthy meat and veggie mixture and baked until soft.
Broccoli Cheese Egg Muffins - these three ingredient egg muffins are a delicious and healthy breakfast that can be made ahead of time.