This Healthy Tuna Salad without mayo has all the flavor you love without the added calories. Easy to make, it's perfect for a light lunch or dinner, and can be served in stuffed avocados, low-carb wraps, or salads.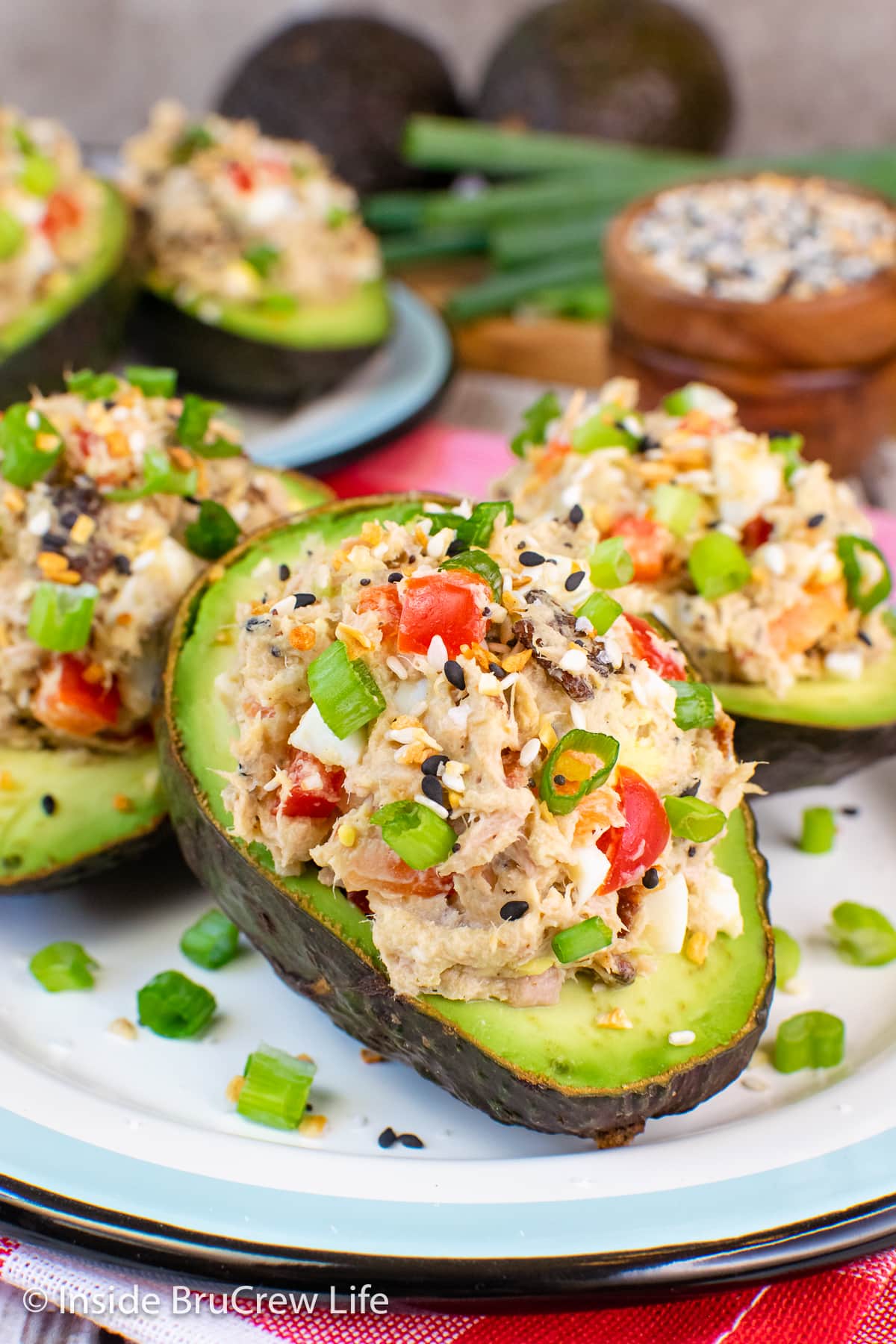 Jump to:
Tuna salad is one of my favorite things to make during the hot summer months. It's easy to open a can, mix a few ingredients into it, then eat it in a wrap or on a salad.
The problem with most classic tuna salads is that they are coated in mayonnaise and loaded with fat and calories. I've got the perfect recipe for a clean and healthy tuna salad without mayo that will help you stay on track with your goals.
Why Make Healthy Tuna Salad
Say goodbye to boring lunches or dinners--this healthy tuna salad is packed with flavor! Adding creamy avocado and everything bagel seasoning makes it so delicious, you won't even miss the mayo.
Easy to Make - There is no cooking involved, so this salad can be mixed up and served in less than 15 minutes.
Loaded with Flavor - The combination of avocado, yogurt, and bagel seasoning gives the tuna an amazing taste.
Low Calorie & Low Carb - By using healthier alternatives, you can reduce the calorie and fat content of your tuna salad while still enjoying a creamy and flavorful dish.
If you are looking for a quick and easy meal that will keep you on track with your healthy eating goals, our avocado tuna salad is a nutritious option.
Key Ingredients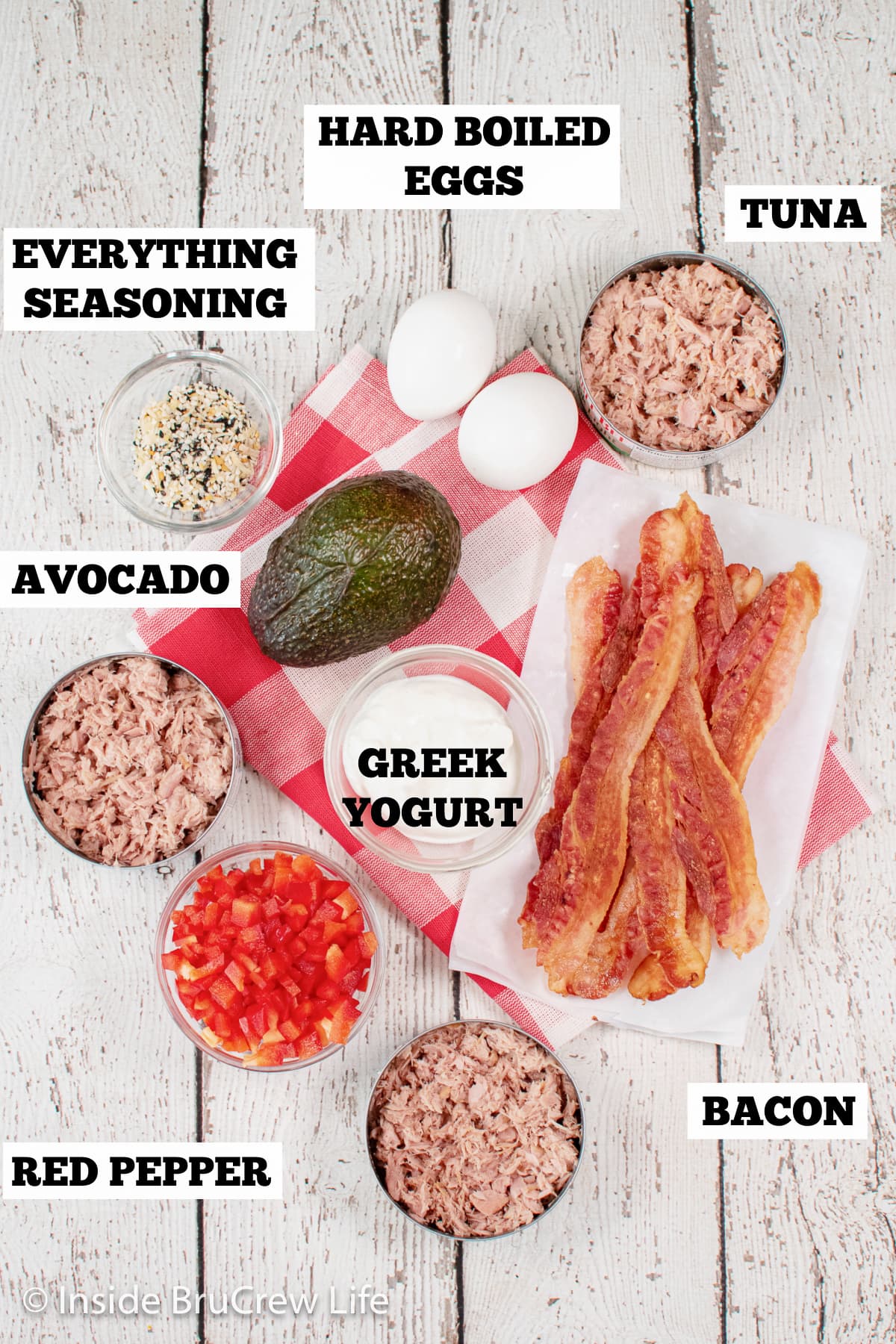 This low calorie tuna salad is made with just a few simple ingredients. It's a great salad to make ahead of time for quick and easy lunches.
Tuna - We usually use chunk light tuna in our salads. You can also use a white Albacore. Just make sure you buy tuna packed in water, which is lower in fat and has a milder flavor.
Avocado - Adds healthy fats and helps to tone down the "tang" from the yogurt. Look for ripe soft avocados that can be mashed easily.
Greek Yogurt - This adds a creamy texture, plus extra protein.
Everything Bagel Seasoning - We keep a bottle of Trader Joe's on hand all the time, but you can make a homemade blend too.
Hard Boiled Eggs - Adds protein and flavor.
Red Peppers - Adds a sweet and delicious crunch.
Bacon - Gives a smoky flavor to the mixture. Use turkey bacon if you want to lower the calories.
Types of Canned Tuna
There are quite a few options for canned tuna at the grocery store. It is helpful to know what they offer, so you can pick what is best for you.
Chunk Light Tuna vs Albacore
Albacore Tuna - This is a white tuna that is firmer and has a milder fish flavor. This type of fish usually has a higher mercury level.
Light Tuna - This is a blend of smaller species such as yellowfin, skipjack, or tongol tuna. The color is usually tan or pinkish, has a slightly fishier taste, but has less mercury.
Solid vs Chunk Tuna
Solid - An entire piece of tuna is packed into the can.
Chunk - Smaller pieces of tuna are combined and put into the can.
Flake - The tuna pieces are pressed through a screen to break it apart before packing it in a can.
Oil vs Water
Oil - Vegetable or olive oil is added to the fish to add flavor. It usually costs a little bit more.
Water - Tuna packed in water has a milder flavor and costs a little less.
How to make Tuna Salad without Mayo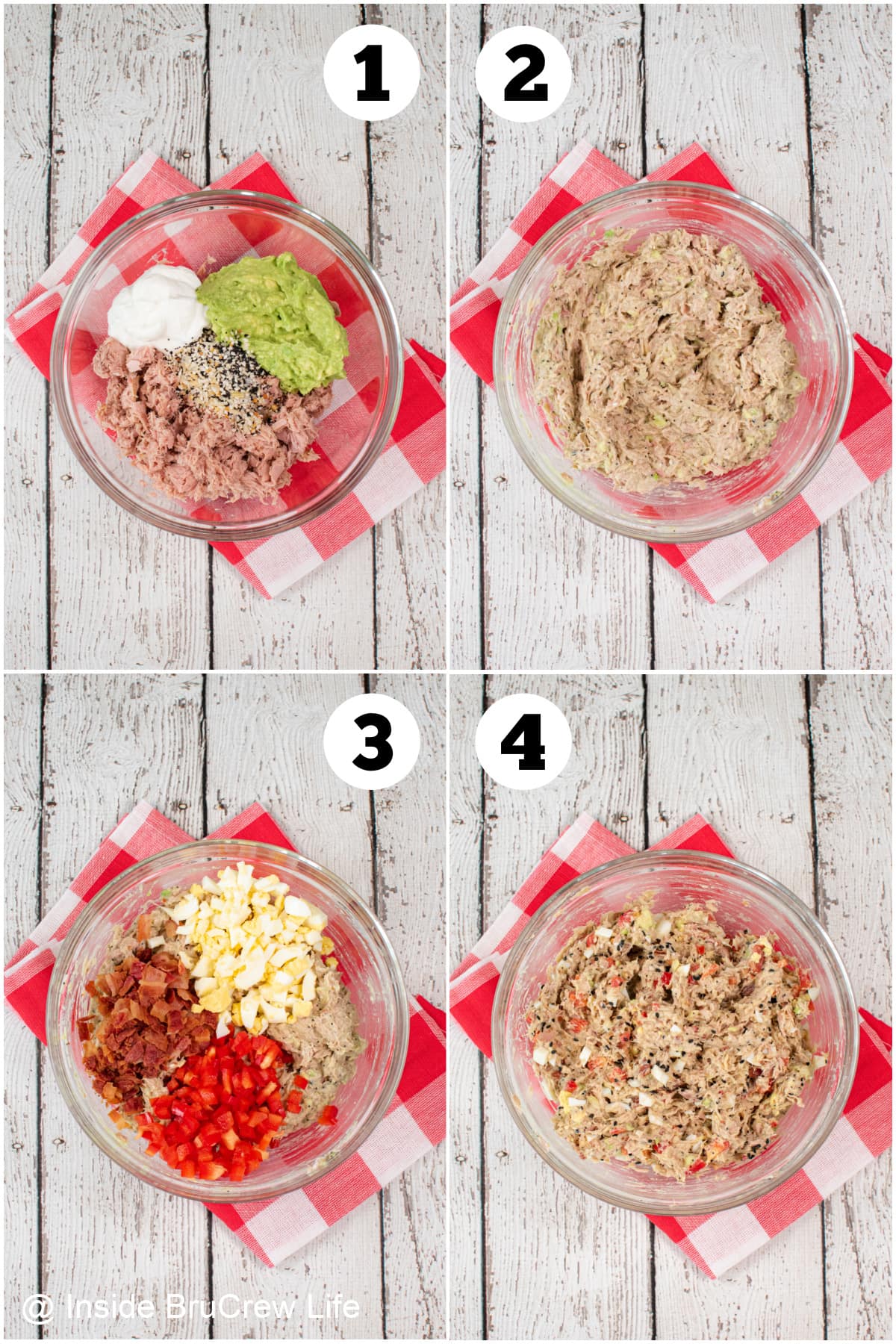 This healthy tuna salad recipe is so easy to mix together. It comes together in under 15 minutes and makes a delicious light lunch or dinner when paired with a veggie salad.
Drain and flake the canned tuna. Add the tuna, smashed avocado, Greek yogurt, and bagel seasoning to a large mixing bowl.
Mix together the tuna and dressing. Gently stir until everything is mixed in. If you like a creamier tuna salad, go ahead and add a little more yogurt.
Combine all the ingredients. Add diced red peppers, diced hard boiled egg, and some crumbled crispy bacon to the tuna mixture and stir again.
Stir and refrigerate. Serve the tuna salad right away or refrigerate it for later and let the flavors blend before serving it.
Storage Recommendations
Tuna salad is best if eaten within 2-3 days. To keep it fresh, place the salad in an airtight container and refrigerate. It may darken slightly because of the fresh avocado in it, but it still tastes great.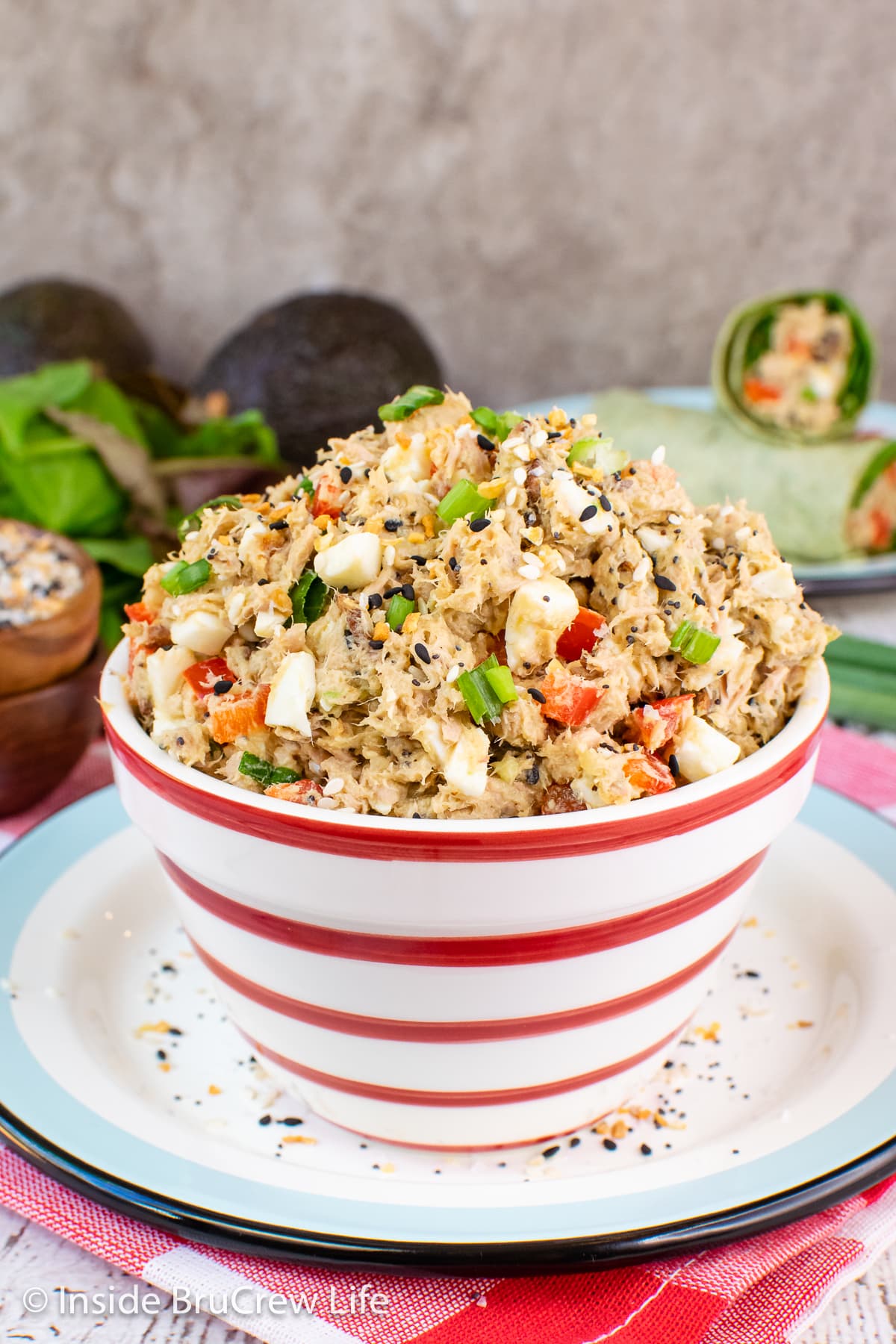 How to eat Tuna Salad without Bread
Tuna salad can be served many different ways. The most traditional way to eat it is on bread, but if you are eating healthy, here are some of our favorite low carb options.
In Wraps - Use a low carb tortilla and a handful of dark leafy greens for a satisfying "sandwich". Enjoy some cherry tomatoes and cucumber slices on the side. You can also use lettuce wraps in place of the tortillas to cut your carbs even more.
On a Salad - A big scoop of tuna salad on a bed of greens is a delicious Keto dinner choice. Add additional veggies like tomatoes, avocado chunks, red pepper, cheese cubes, cucumbers, hard-boiled egg slices, and crumbled bacon to fill the salad out.
In an Avocado - Cut open avocados and remove the pit. Scoop a little bit of the avocado from the center to make the hole bigger. Place a large scoop of tuna in the center of each half. You can also stuff tomato halves, bell peppers, or cucumber boats the same way.
As a Dip - Another low carb option for eating tuna salad is with sliced cucumbers. Use them as "chips" to dip the tuna salad.
What to Serve with Tuna Salad
A bowl of tuna salad can be served on its own, but you can add a few side dishes to make it a full meal.
Tips for the Best Tuna Salad
Dice the veggies into small pieces. This makes it easier to eat and to mix together.
Use tuna packed in water. Tuna that is in oil has a higher fat content. Make sure to drain it very well, so the salad doesn't get watery in the fridge.
Change up the veggies. Use green peppers, celery, red onions, pickles, or cucumbers for a different flavor.
Add a splash of lime or lemon juice. The avocado can make the tuna salad turn slightly brown if you make it ahead of time. Try adding a little bit of juice to help slow down the browning process.
Try other fresh herbs or seasonings. Fresh dill, parsley, cilantro, or green onion will add a delicious flavor.
FAQs
Is canned tuna healthy?
Tuna is a good source of lean protein, omega-3 fatty acids, and other important nutrients like vitamin D, selenium, and potassium. Eating tuna salad can be a healthy way to get these nutrients and boost overall health.
What can I use instead of mayo in tuna?
For a tuna salad without mayonnaise, use a healthier option like plain Greek yogurt. Not only is this lower in calories, it will also help boost your protein for the day. Smashed avocado, hummus, or cottage cheese is also a great replacement for mayonnaise.
Can you use a different canned protein?
Yes, canned salmon or canned chicken are great options for this low calorie salad.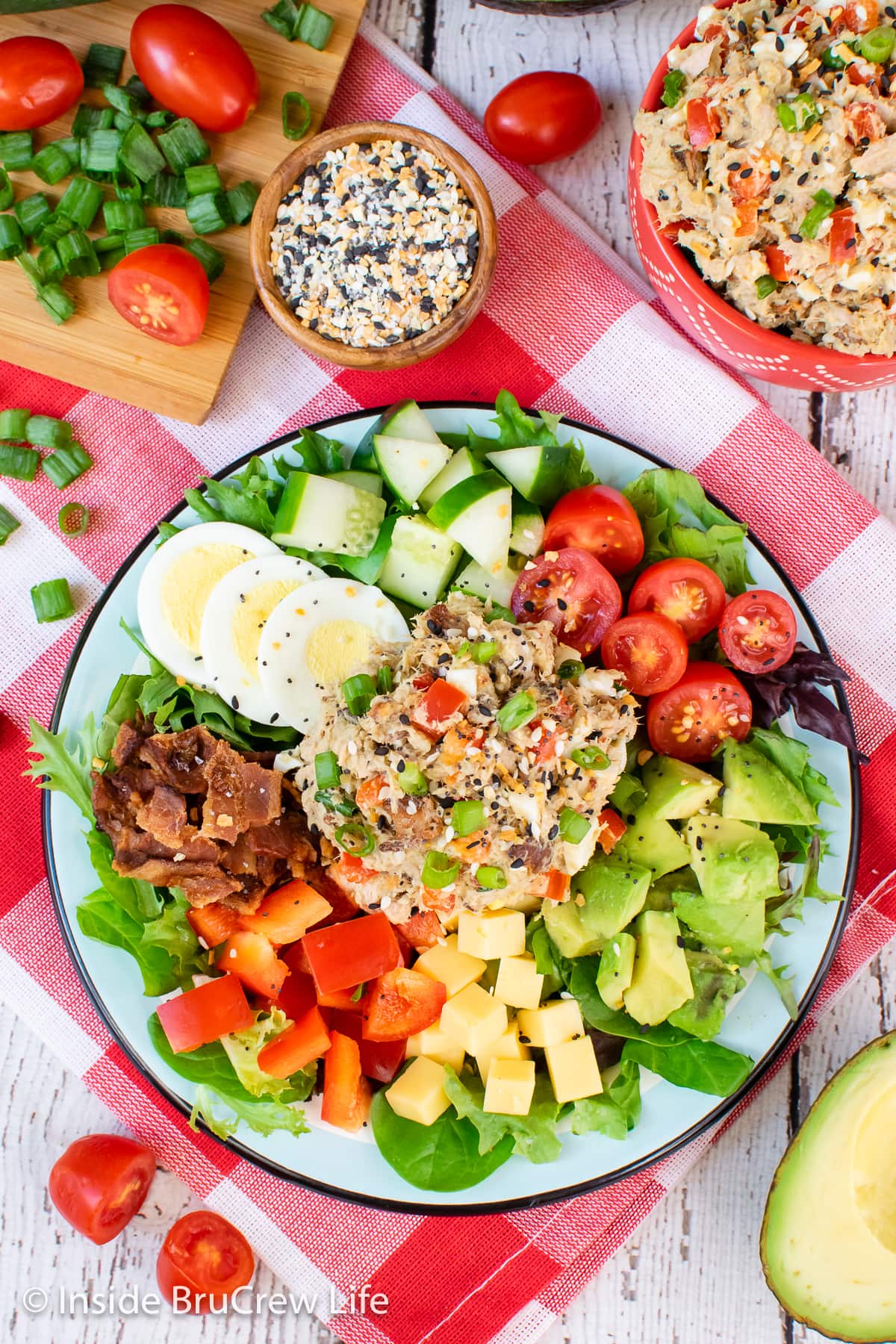 More Easy Salad Recipes
Do you love a recipe you tried from Inside BruCrew Life?
Please leave a 5-star ⭐️ rating and a review in the comments section below.
*This post was first posted November 2018. It was updated and republished May 2023.