Cheese soup and spicy tomatoes turn this Fiesta Nacho Chicken Bake into a delicious and easy dinner that will warm you up.  It is perfect comfort food for those cold, blustery winter days.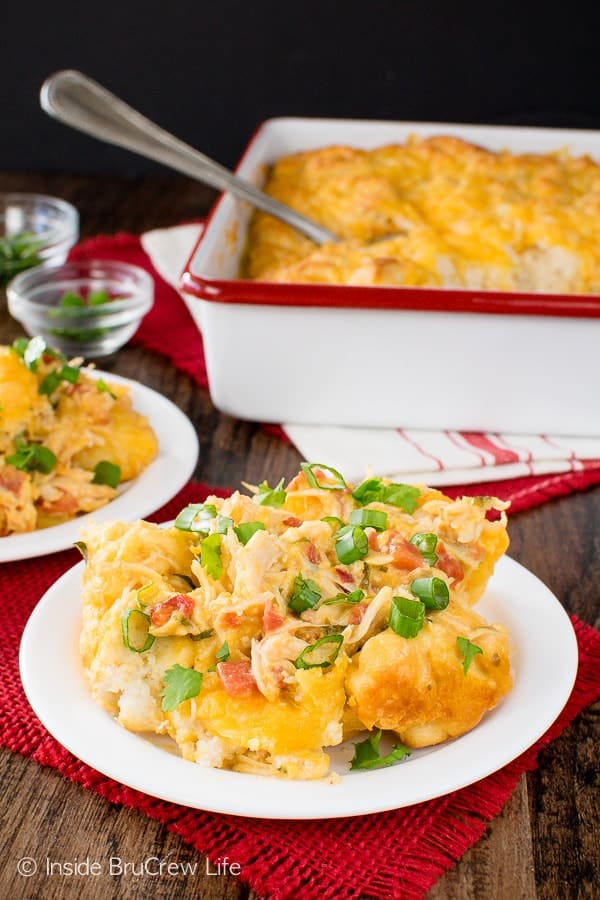 (photos updated February 2017)
CLICK HERE TO SAVE THIS RECIPE FOR LATER!
 There is something about cold, chilly days that just call for comfort food.  This winter has been the coldest winter here in a very long time.  It has been colder than Alaska cold here.  The past few years of mild winters with only 1 or 2 mini snow showers has totally and completely spoiled me.
That and I am getting older, so the cold just doesn't agree with me.  Not that it ever agreed with me, but now it bothers me even more.  I now understand why so many people head south when it starts to get cold.  Bring on the soups and melty cheese casseroles that warm you up from your head to your toes.  We are going to need it to make it through the next few months.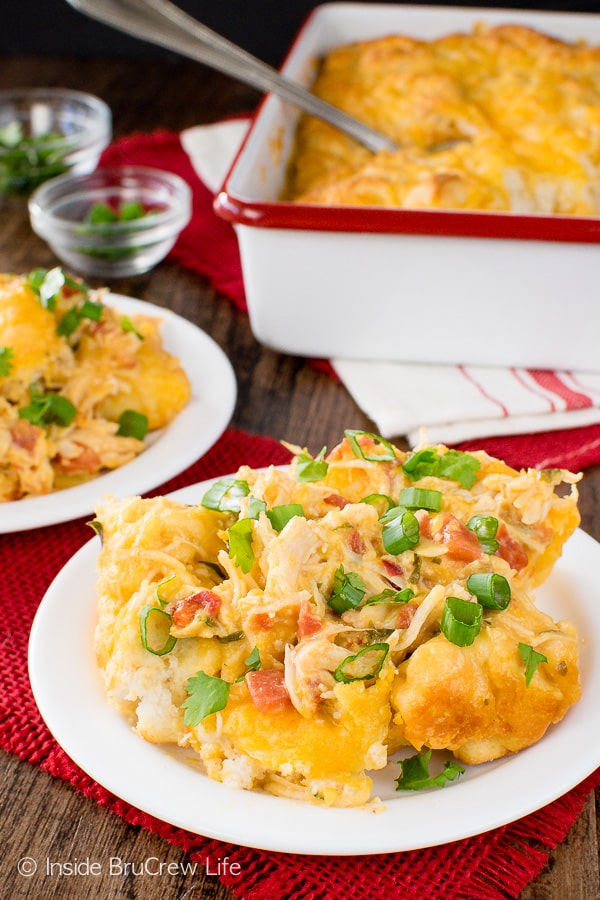 I made this spicy chicken and biscuit casserole a few weeks ago, and my boys have been begging me to make it again because they loved it so much.
I'd say we have a total recipe winner here. This one made it to the top of the list along with this hearty meat lover's pizza skillet ravioli. It's safe to say we love our cheese!!!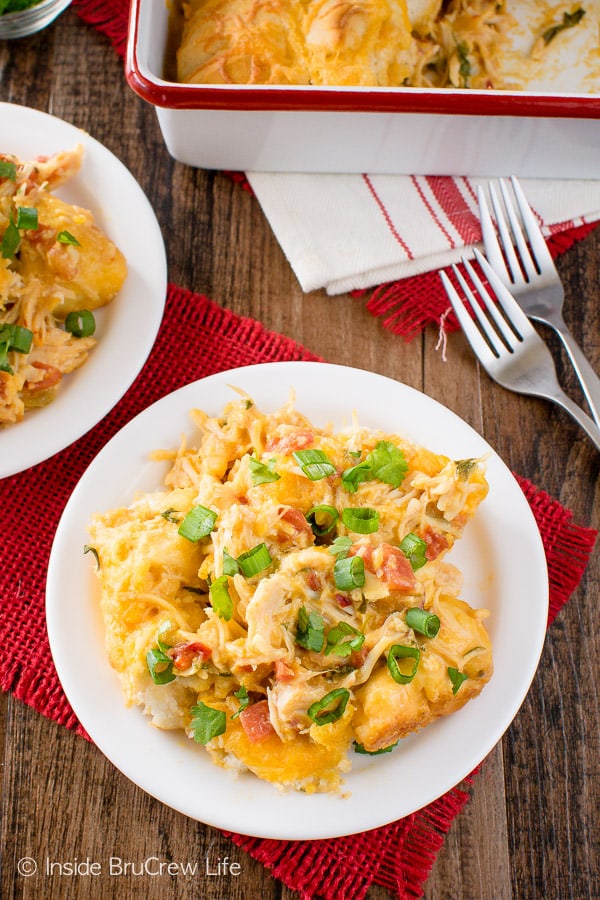 The fiesta cheese soup mixed with more spicy tomatoes and chicken creates a pot pie like filling.  (If you are not a spicy food lover, feel free to use a plain cheese soup and regular diced tomatoes.)  Bake this mixture until it is all warm and bubbly, and then add some biscuit love to the top.
I used the smaller refrigerated biscuits to top this casserole.  You could use the bigger ones, but you will need to cut them up a little bit more.  The smaller biscuits just get quartered and tossed on top.    More cheese melted on top of the biscuits…well, because more cheese is always good and it adds to the comfort love of this dish.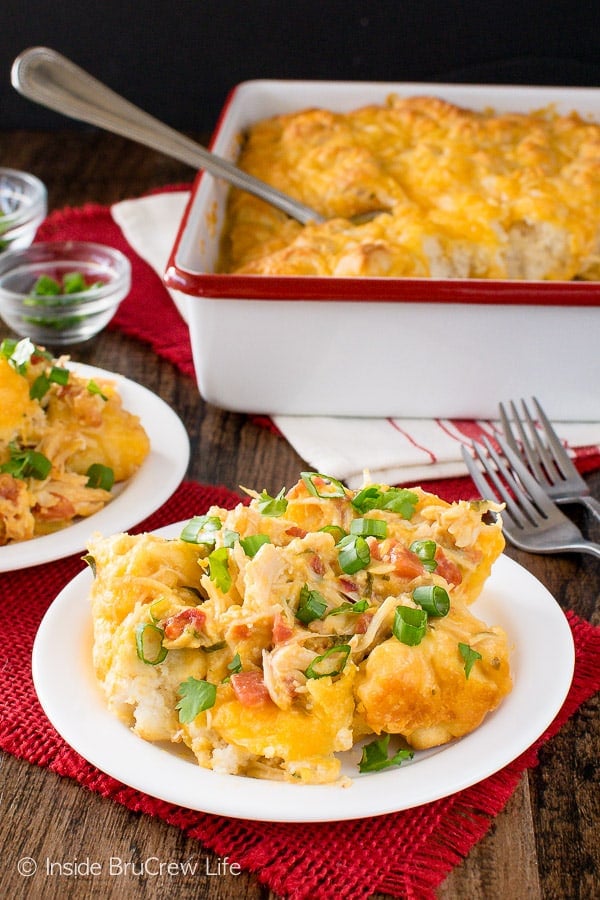 All right, winter.  Do your worst because we have a pan of fiesta nacho chicken bake to keep our spirits up.
Ok, I was kidding because I really do not like the cold.  Please do not send more cold and snow this winter, mmmkay?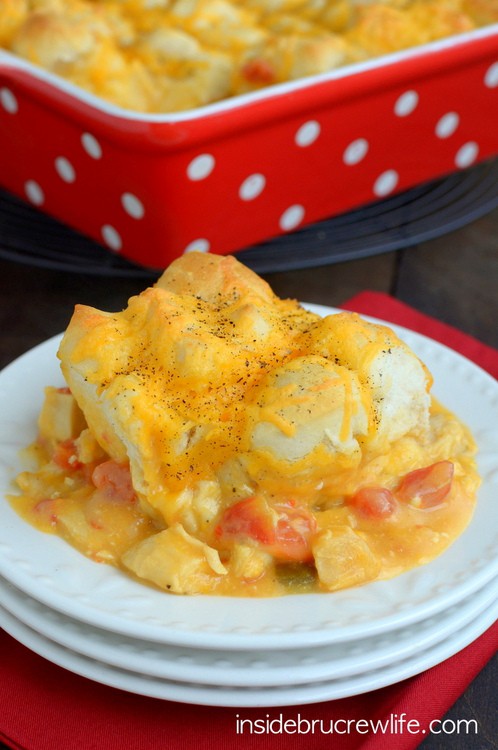 (original photo from January 2014)
Stay up to date on all the BruCrew recipes here:
FACEBOOK | PINTEREST | GOOGLE+ | TWITTER | INSTAGRAM | BLOGLOVIN
Yield: 5-6 servings
Fiesta Nacho Chicken Bake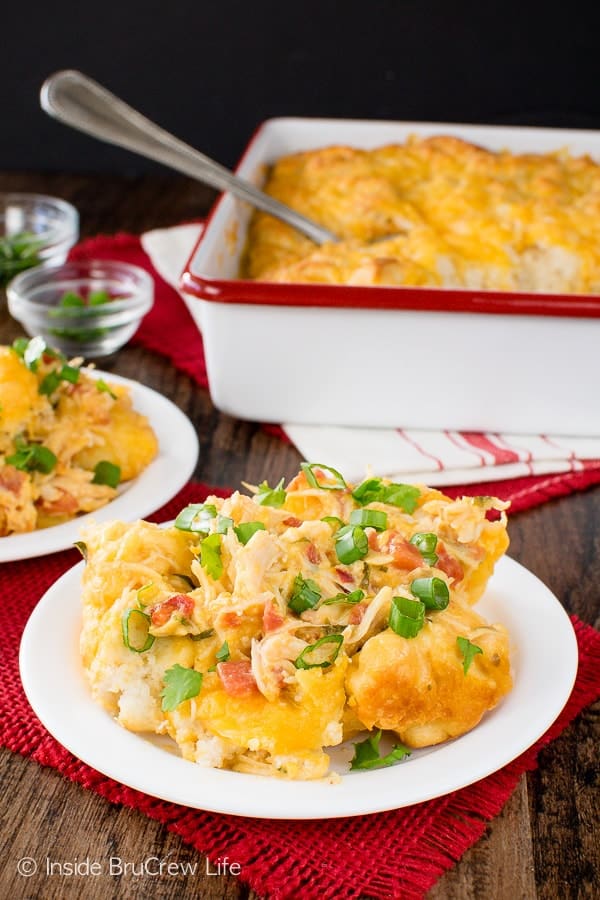 Spicy cheese soup and tomatoes give this Fiesta Nacho Chicken Bake a new and delicious flavor. It's a great comfort food dinner to warm you up on cold days.
Ingredients
1 - 10 3/4 ounce can condensed Fiesta Nacho Cheese Soup
1/2 cup milk
1 - 10 can tomatoes and green chilies, drained
2 1/2 cups cubed cooked chicken
1/2 cup diced cilantro +extra for garnish
2 cups shredded cheddar jack cheese, divided
2 - 7.5 ounce cans refrigerated biscuits
1 diced green onion
Instructions
Preheat the oven to 375 degrees. Spray an 8 inch baking dish with nonstick spray.
Whisk together the soup and milk. Stir in the tomatoes, chicken, cilantro, and 1 cup cheese.
Spoon the mixture into the prepared dish. Bake 20 minutes.
Quarter the biscuits while the mixture is baking. Drop the biscuits on top of the hot mixture as soon as it comes out of the oven.
Sprinkle the remaining cheese on top and bake another 20 minutes. Garnish with green onion and cilantro. Serve immediately.
Notes
*You can also use a plain cheese soup and regular diced tomatoes if you want to make it without the fiesta flavor.