This Fiesta Nacho Chicken Casserole recipe is cheesy, spicy, and so delicious. Your family will love the Mexican twist on this easy chicken and biscuit dinner.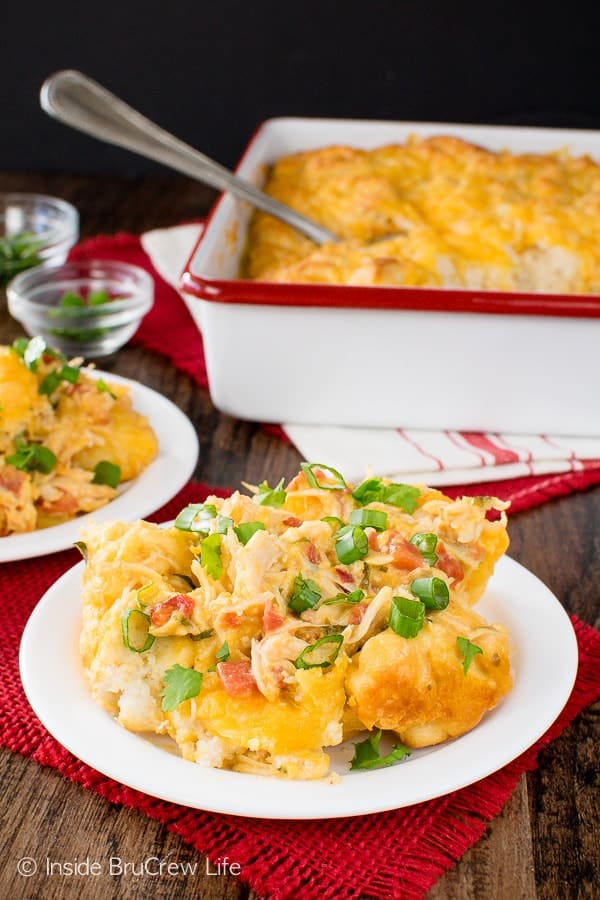 There is something about cold, chilly days that just call for comfort food. Am I right? I grew up in the northeast and then lived for many years in the midwest, so I remember plenty of cold and snowy winters.
I have to admit that I do not miss that chilly winter weather at all. Living in the south has completely spoiled me.
Now that I am used to warm temperatures, the cold just does not agree with me. Not that it ever agreed with me, but now it bothers me even more.
My idea of enjoying the cold is turning down the air conditioning and breaking out the sweatshirts, then making lots of soups and melty cheese casseroles to warm me up.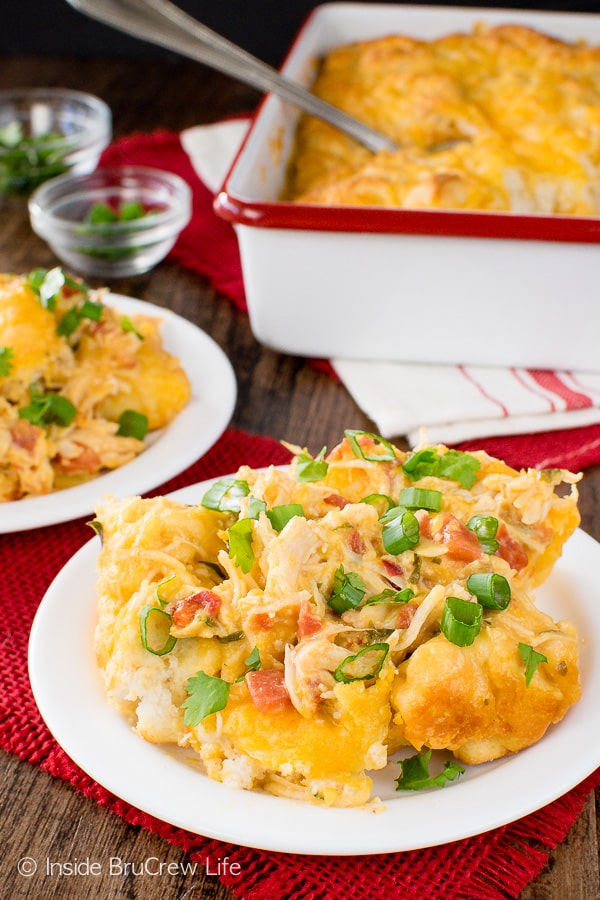 I made this chicken and biscuit casserole a few years ago, and our boys still beg me to make it from time to time.
I'd say we have a total recipe winner here. This one made it to the top of the list, along with this hearty Meat Lover's Pizza Skillet Ravioli and this Buffalo Chicken Pasta Bake.
It's safe to say we love our cheese!!!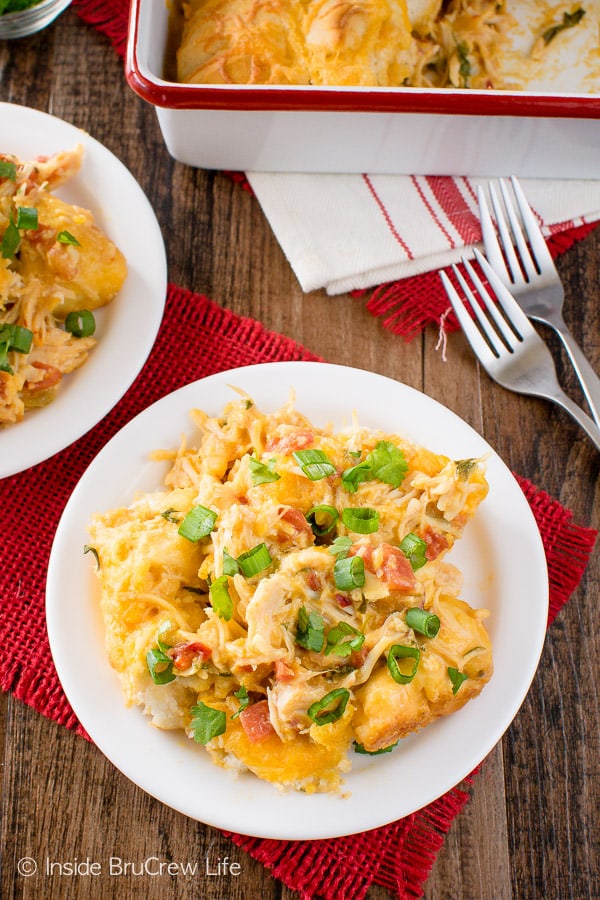 A can of fiesta cheese soup mixed with tomatoes with green chiles and shredded chicken creates an easy chicken pot pie like filling.
How to make Fiesta Nacho Chicken Casserole:
Whisk together a can of nacho cheese soup and milk.
Stir in a can of drained tomatoes, shredded cooked chicken, cilantro, and some cheese.
Pour the mixture into a greased dish and bake.
Remove the pan and top with quartered biscuits.
Sprinkle on more cheese and bake again.
We like to serve this chicken casserole with green onions and cilantro. Here are a few other garnishes that would be great on it.
Avocados
Jalapeños
Black Olives
Recipe Tips:
Save time by using an already cooked rotisserie chicken. Canned chicken or grilled chicken could also be used.
If you are not a spicy food lover, use a plain cheese soup and regular diced tomatoes.
Use the smaller refrigerated biscuits on top of this chicken casserole. You could use the bigger ones, but you will need to cut them up a little bit more, so they bake all the way through.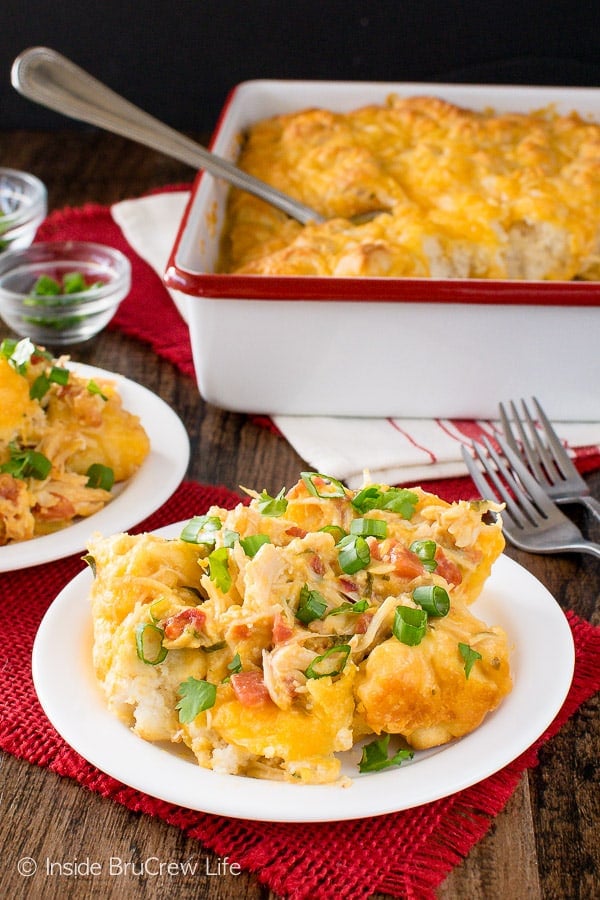 More easy chicken casserole recipes you may like: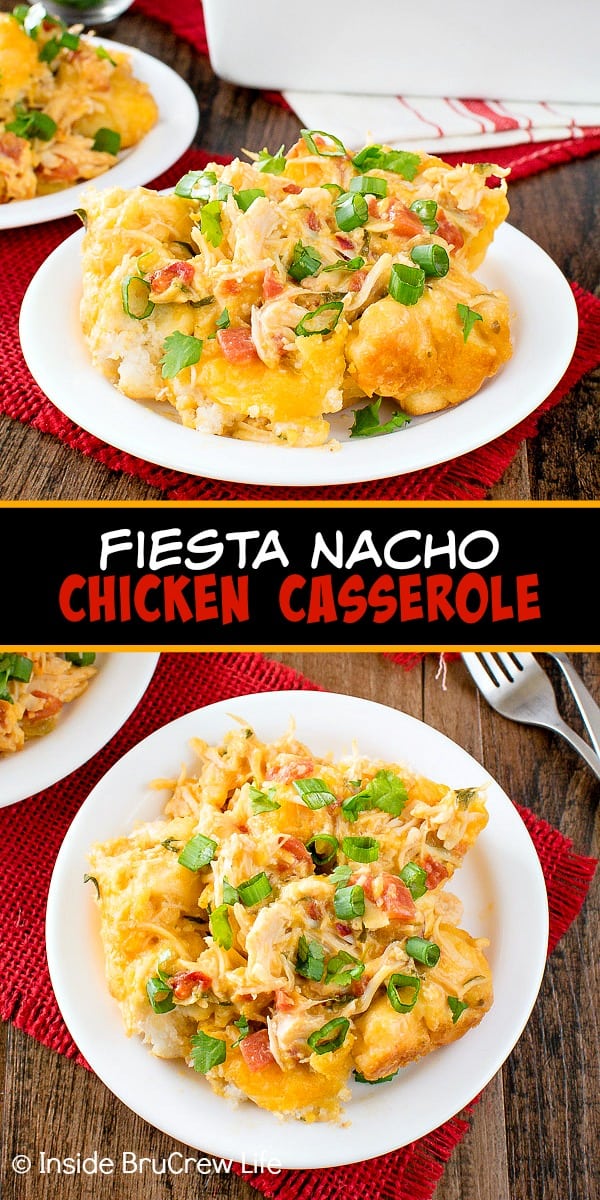 The post for Fiesta Nacho Chicken Casserole was first published on January 28, 2014. The photos were updated February 2017, and the post was republished on February 20, 2020.