Looking for a quick and easy meal that your entire family will enjoy? These Monterey Chicken Enchiladas are loaded with barbecue chicken, cheese, and tomatoes.
*I am partnering with Red Gold® as a brand ambassador this spring creating recipes using canned tomatoes.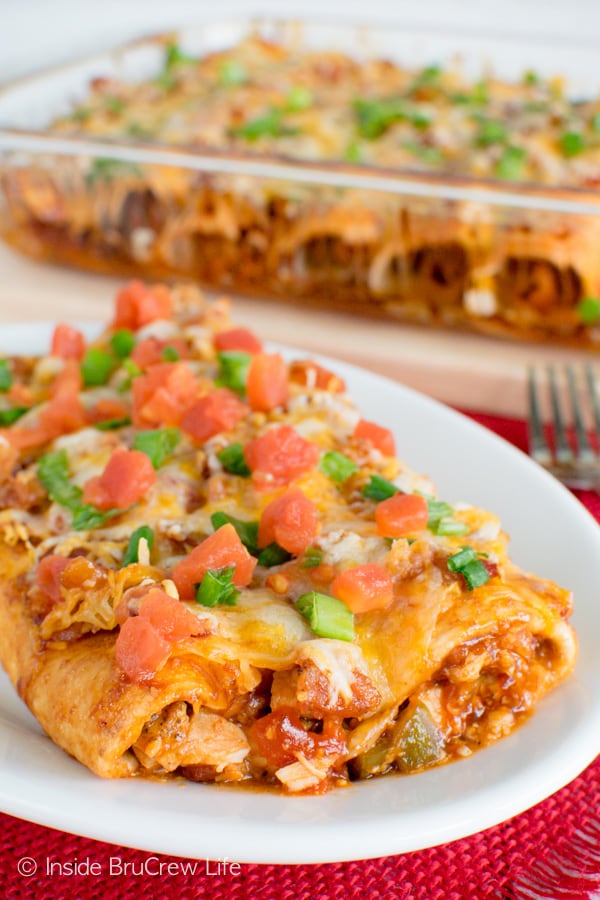 PIN IT NOW TO SAVE IT FOR LATER!
My family has started to boycott sweets.  I'm not sure I know who they are anymore!!  I mean seriously, how can you live with me and not like sweets?  This is boggling my mind for sure!
Ok, fine.  I guess if you have sweets around 24/7, it could get pretty old.  I still haven't gotten to that point of not wanting the sweets…although, I'm pretty sure my jeans would love it if I could join the no sweets train a little more often.
Since the sweets I have been making have been going untouched, I need to get back to creating some more savory dishes.  This family of mine insists that dark chocolate layer cake just don't work for dinner. So it's time to find some more dinner dishes that will get devoured.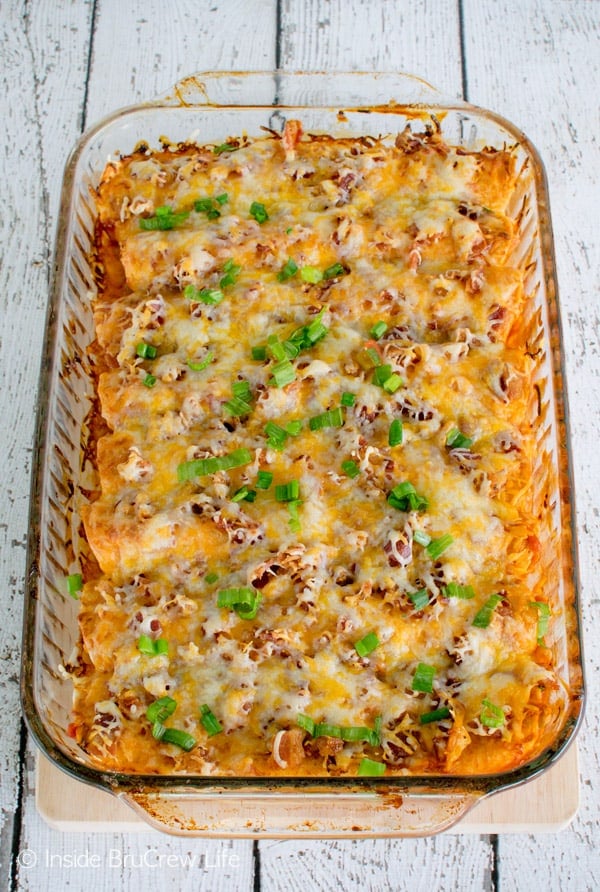 The past few weeks we have been pretty boring in the dinner department.  Just sticking to a few basic recipes and some takeout has become the new normal.
Well, no more normal.  I get tired of the same old dishes all the time, and it makes me want to create something new and exciting.
Although, ask my husband to tell you about the time I decided to get creative with his taco night.  Oh, boy!  Don't mess with a hungry hubby and his tacos!  He still insists that taco ring is not tacos, but whatever!  I still blame that night on my phobia of making dinner.  LOL!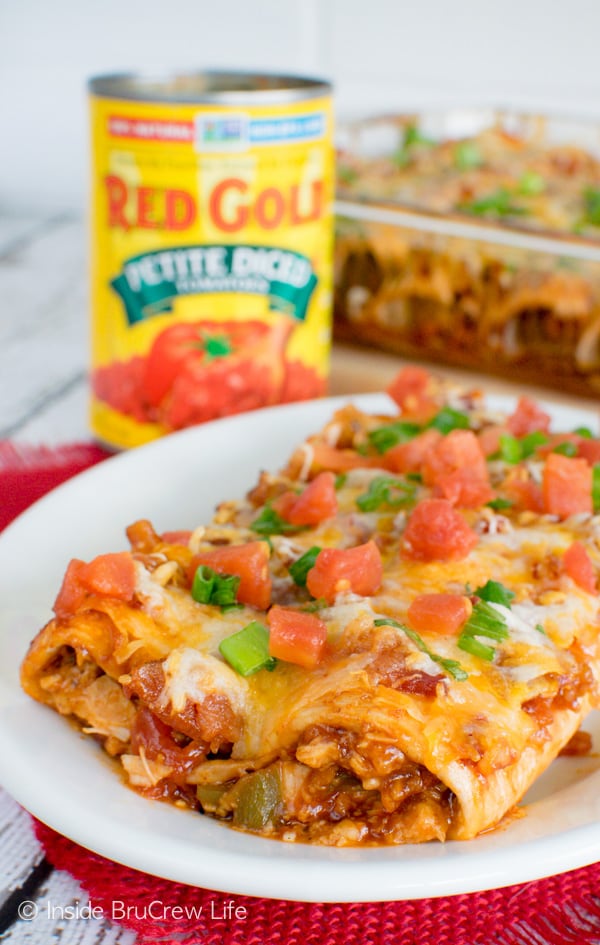 This spring I have had the awesome opportunity to partner with Red Gold® as a brand ambassador.  It has been exciting to be able to work with a brand that I use regularly in our kitchen.
The care and love of the company shows in every single can you open.  Quality tomatoes that make your dishes taste amazing!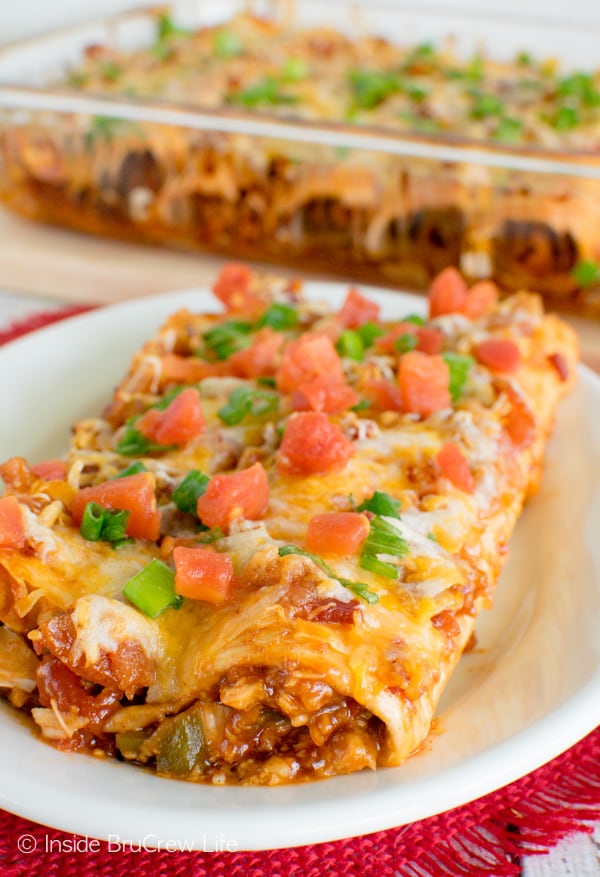 This week I decided to get a little crazy in the kitchen.  Every once in a while I get that itch to create a fun and different dinner.
My husband's go to meal at Chili's is their Monterey chicken.  So, I decided to take the flavors of that dinner and give it a Mexican twist. Barbecue chicken, tomatoes, green peppers, and cheese make up the easy filling for these rolls.  Then to top them off, they got a thinned down barbecue sauce, tons of bacon, and more cheese on top.
This is an easy dinner to get on the table quickly if you prep some things ahead of time. You could chop the meats and veggies the night before to save some prep time.  Even better, you could make this entire dish the night before or the morning of, and then refrigerate it until dinner time.  Just remember to set it out about 30 minutes before you put it in the oven, or cover it with foil and bake it a little longer so it can heat all the way through.
Just don't trip as you walk to the table holding the hot pan…barbecue sauce is a pain to clean off curtains.  Although, thank goodness for the enchiladas staying put in the pan, so I could still serve them as dinner!
I may have been holding my breath slightly as I served these Monterey chicken enchiladas to my family.  Who knows what they are going to think when I decide to do a crazy dinner idea!  Thankfully, most of them enjoyed every bite.  Only the youngest snubbed his nose, and he doesn't count because he would live on Ramen if we let him.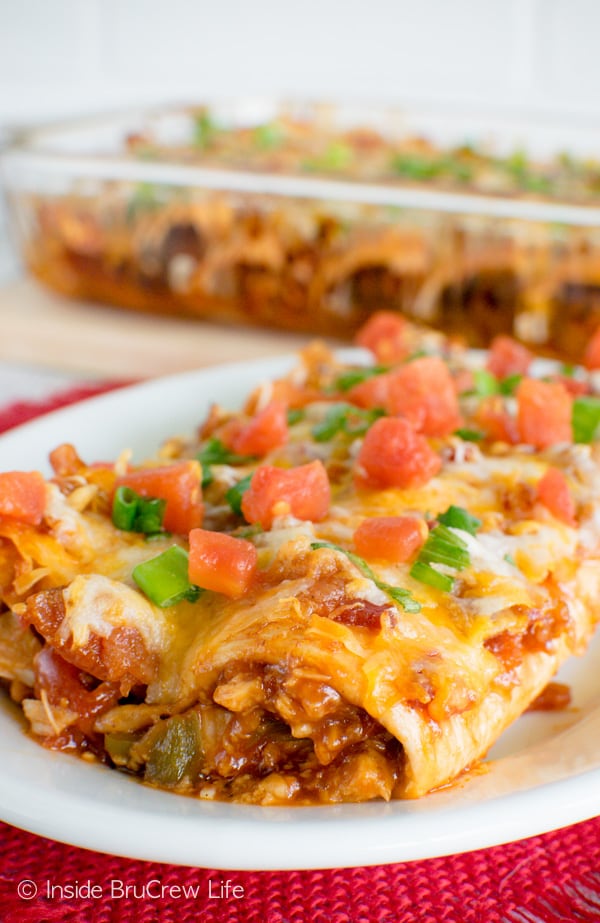 Connect more with Red Gold:
Facebook | Twitter | Pinterest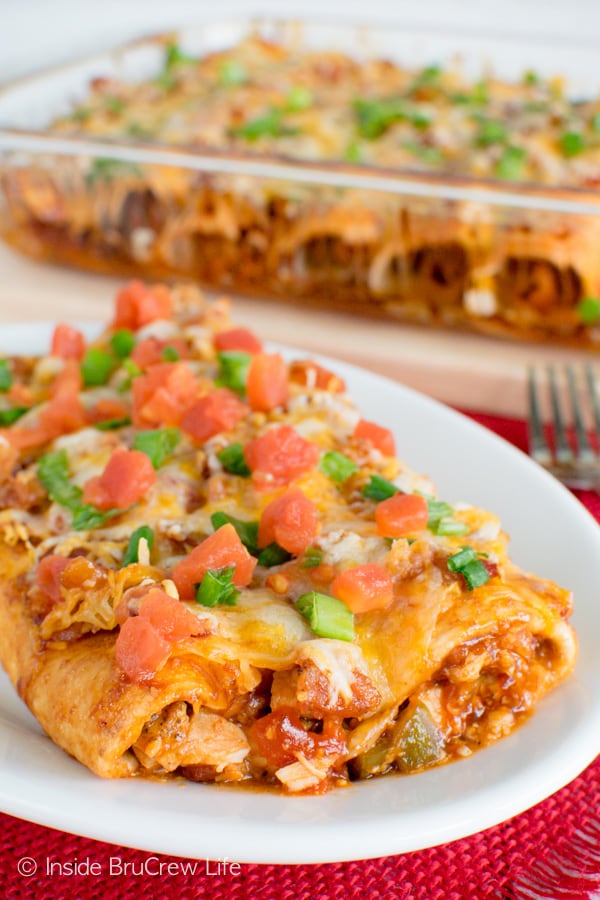 These Monterey Chicken Enchiladas are full of barbecue chicken, tomatoes, and cheese. Great dinner recipe for busy nights.
Ingredients
1 teaspoon olive oil
1 cup diced green pepper
2 cups cooked, chopped chicken
1 - 14 ounce can Red Gold Petite Diced Tomatoes, drained and divided
1 cup barbecue sauce, divided
2 1/2 cups cheddar jack shredded cheese, divided
1/4 cup water
8 - 8 inch flour tortillas
8 sliced cooked bacon, crumbled
2 diced green onions
Instructions
Preheat the oven to 375 degrees.
Heat the olive oil on medium heat in a large skillet. Add the green peppers and saute for 3-4 minutes.
Add the chicken, 1 cup tomatoes, and 1/2 cup barbecue sauce. Stir together until heated through.
Add 1 cup of the cheese and stir until melted.
Stir together the remaining 1/2 cup barbecue sauce and water. Spread half of this mixture in the bottom of a 9x13 baking dish.
Lay the tortillas out on the counter and divide the chicken mixture evenly down the center of the tortillas. Roll them up tightly and place side by side in the prepared pan.
Spread the remaining thinned barbecue sauce on top of the tortillas. Sprinkle the crumbled bacon evenly over the top, and then top with the remaining cheese.
Place the pan in the oven and bake for 20 minutes. Broil for the last minute to brown up the top of the cheese, if desired. Top with the remaining tomatoes and diced green onions immediately before serving.
https://insidebrucrewlife.com/monterey-chicken-enchiladas/
Copyright Inside BruCrew Life

More dinner recipes that our family loves: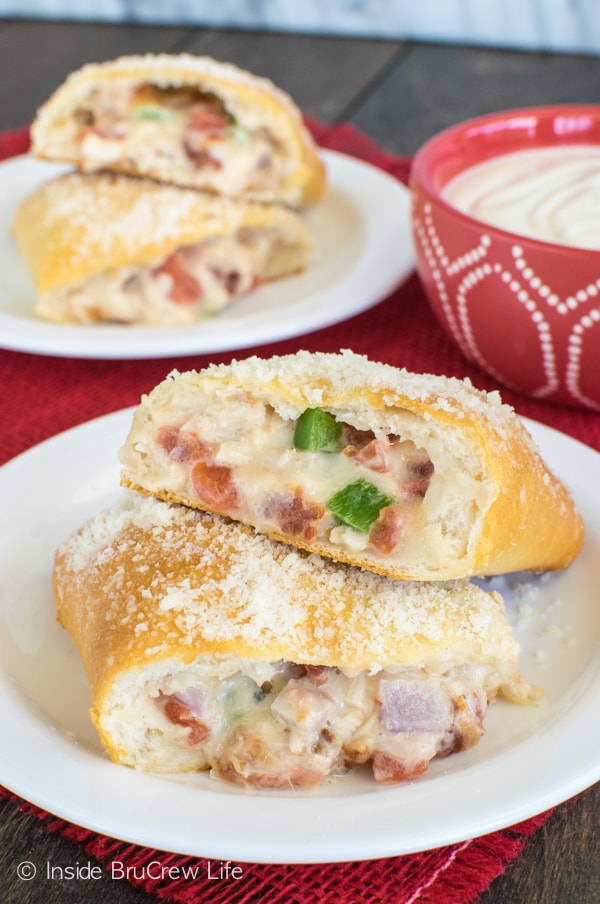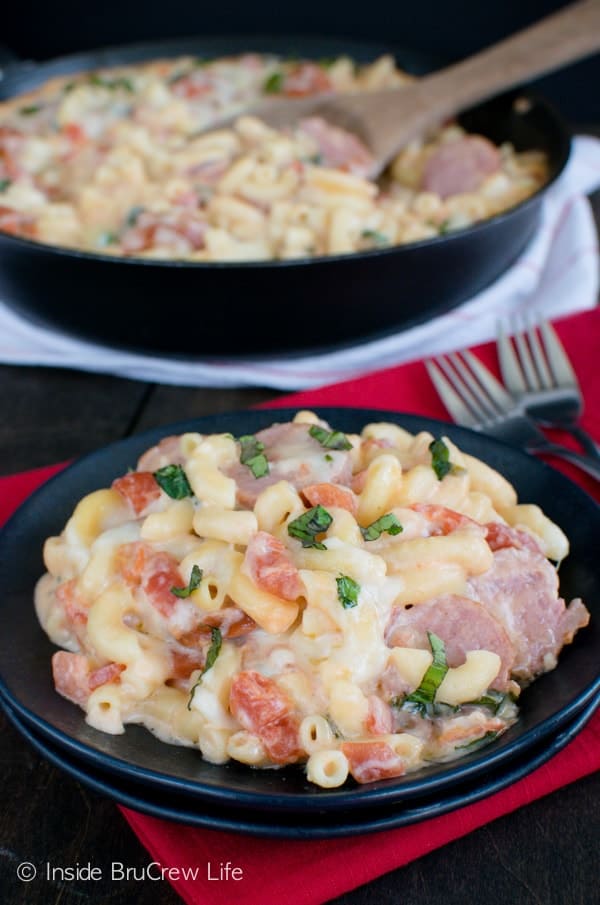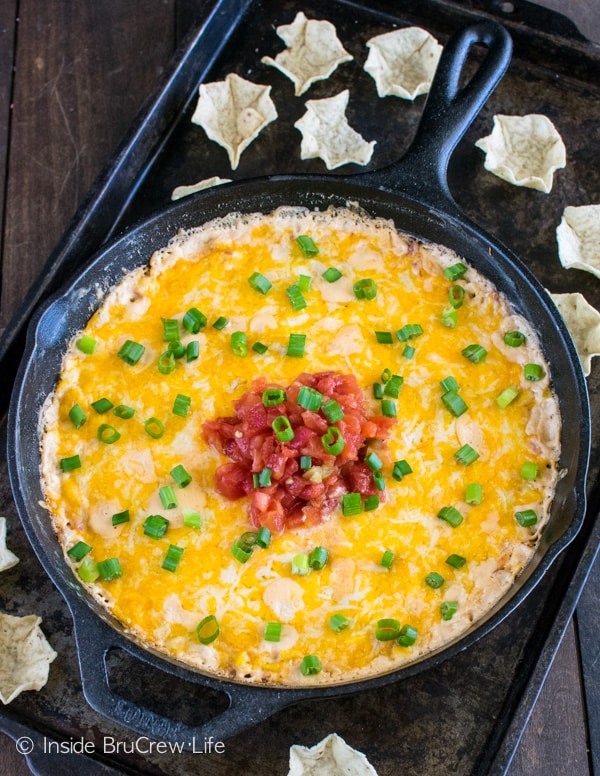 *I was compensated for my time creating this recipe as a brand ambassador for Red Gold. All opinions expressed in this post are 100% my own. Thank you for letting me share the brands and products we use and love.