Layers of meat, cheesy pasta, and veggies makes this Chicken Alfredo Ravioli Lasagna an easy meal to make for dinner. It's the perfect comfort food to enjoy on busy nights.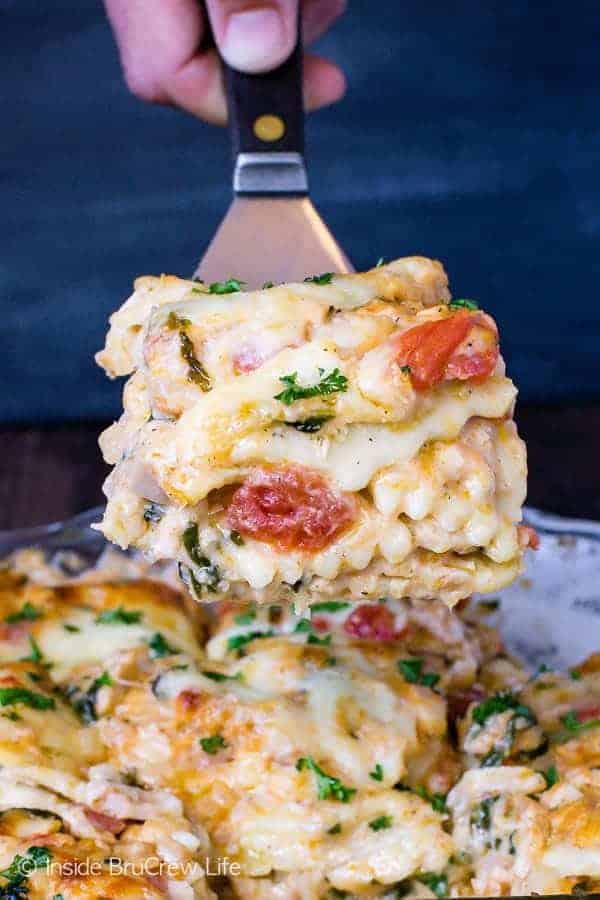 We are still slowly adjusting to life in sunny Florida. I know those of you in states covered in snow are probably wondering why it would take time to adjust to warm weather. It's not the warmth that I'm adjusting to at all. The weather in Texas was quite warm too, so I was used to that already.
This year has been one of so many changes all at once that it has thrown me off quite a bit. One of those changes that I thought I was prepared for was sending our oldest to college thousands of miles away, but it hit me hard once he actually left.
That was six months ago, and I still have days where I tear up. I can't imagine what it will be like when the youngest goes off to school too. Thank goodness for brownies and comfort food. Because on days when I feel the emotions catching me off guard, I need easy recipes like this ravioli lasagna.
Yes, my comfort foods always include cheesy pasta and tomatoes.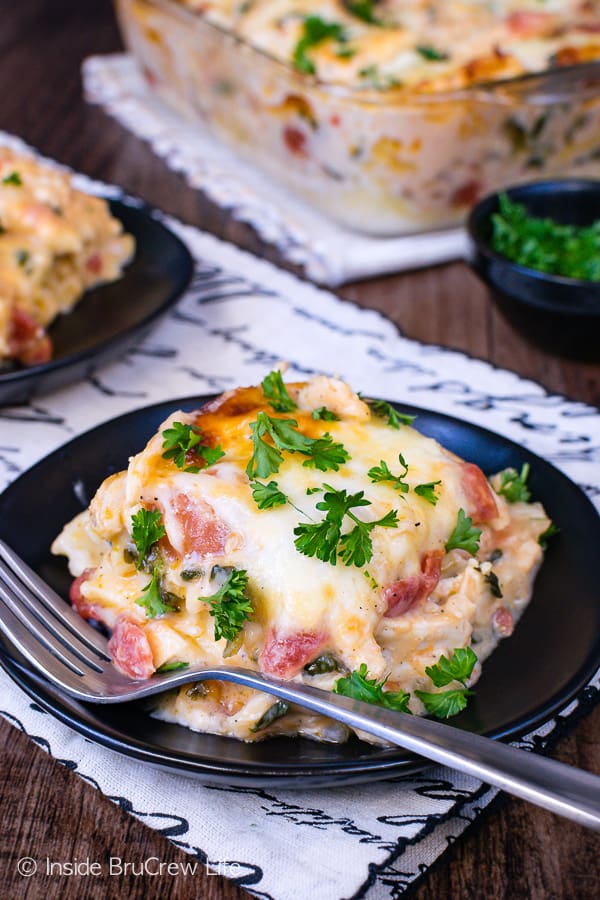 I have the awesome privilege to partner with Red Gold® tomatoes creating new recipes. Being able to partner with brands that we use and love is so exciting.
A few years ago I visited tomato farms and the Red Gold factory in Indiana where I saw the intense pride that the Midwest farmers had for growing an amazing product. These family owned farms know that love and care from farm to can is very important.
Their mission is to produce the best tomatoes in the most sustainable and environmentally conscious way. The farmers care for the land while reusing and recycling as much as they can because it is the right thing to do.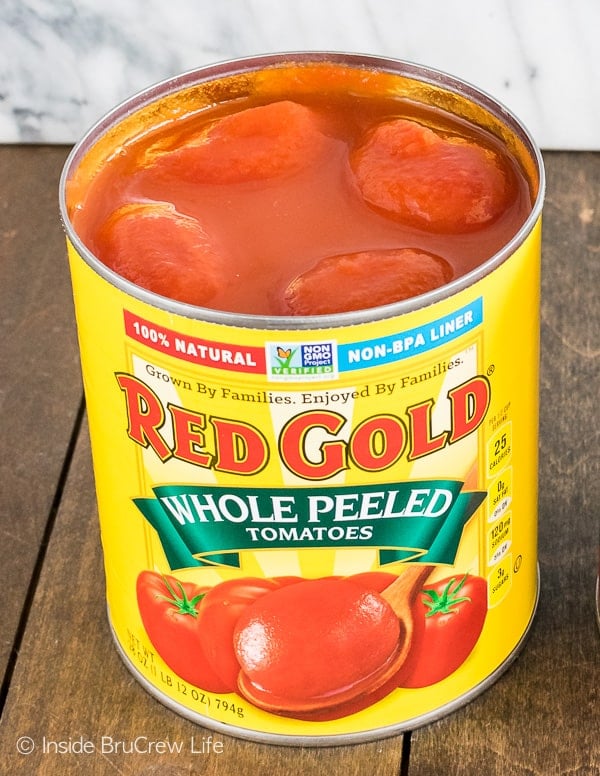 One of the things that impresses me every time I open a can of Red Gold tomatoes is the quality of the product. The smooth, firm tomatoes in every can are always bright red.
Just look at the difference between the Red Gold whole peeled tomatoes versus the other brand's tomatoes.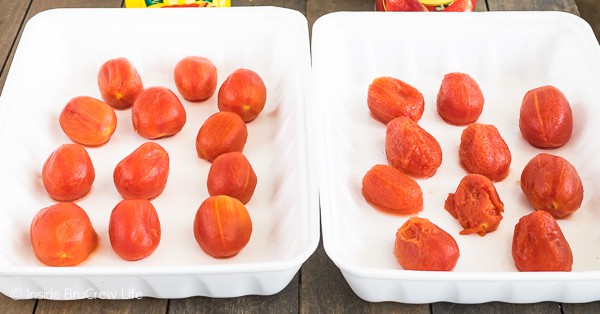 These tomatoes are always packed fresh from the field and are sealed without preservatives. That's just one more reason why I always reach for the yellow label when I'm making dinner.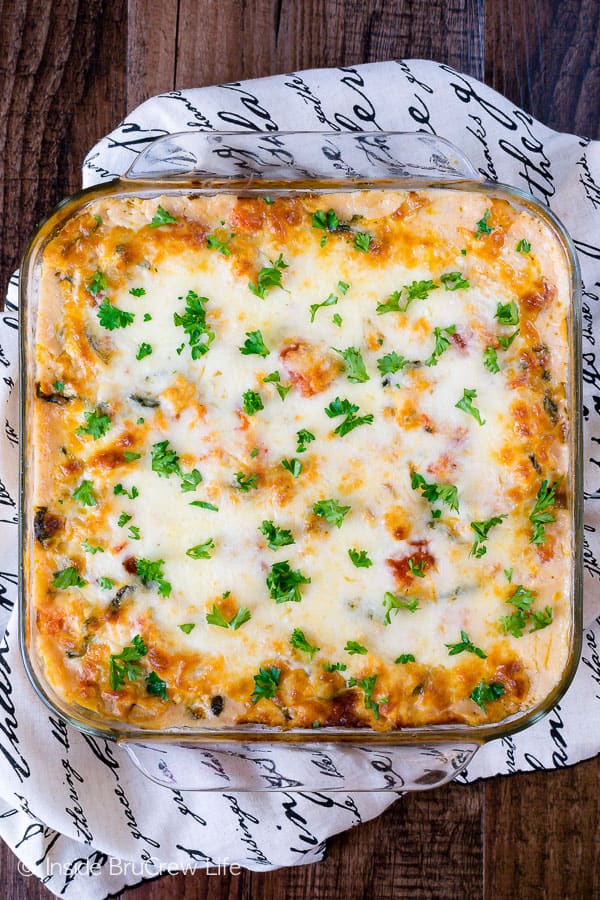 One of my favorite comfort food dinners is chicken Alfredo. My husband usually makes me the best homemade recipe for my birthday each year because he knows how much I enjoy it.
Over the years I have found other ways to incorporate that dish into easy kid friendly meals like these Chicken Alfredo Calzones and this BLT Chicken Alfredo French Bread Pizza.
This time I layered a chicken and tomato mixture with some precooked ravioli and baked it until golden. Our kids went crazy for this easy ravioli lasagna!!!
I knew they would love it because this Easy Skillet Lasagna Ravioli is another easy dinner that we love to have for dinner on busy nights.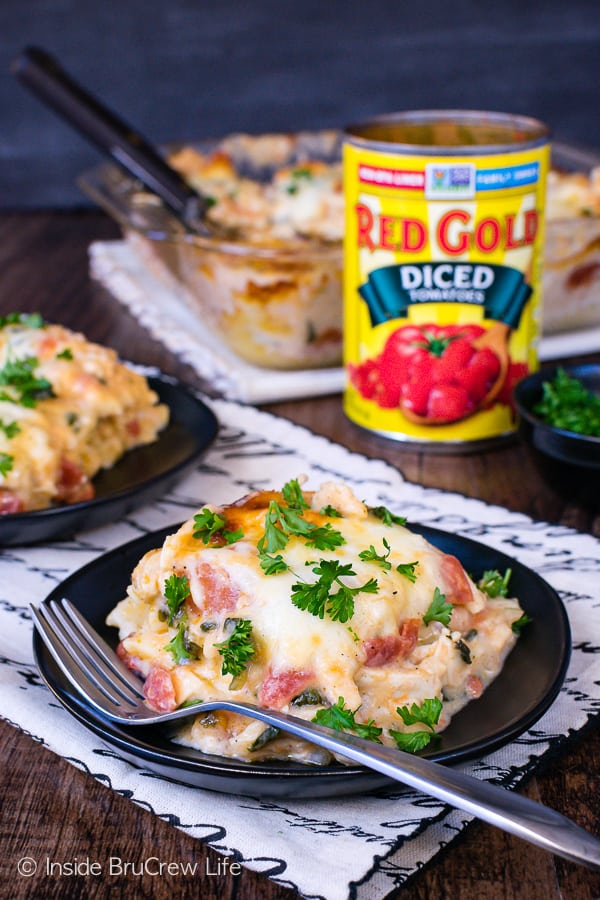 This Chicken Alfredo Ravioli Lasagna is an easy recipe to add to your dinner plans.
How to make Chicken Alfredo Ravioli Lasagna:
Cook the ravioli according to the package directions. Drain and drizzle with olive oil because this will keep them from sticking together.
Sauté the onions in a large skillet to soften them slightly. Then add the diced tomatoes, chicken, spinach and cook until the spinach wilts.
Stir in the sauce and cheese and let it thicken.
Layer the cooked ravioli, chicken mixture, and cheese in a pan and bake for 30 minutes. You could also make this ahead of time and have it in your refrigerator. Make sure to pull it out of the fridge at least 10-15 minutes before you bake it.
Place the pan of cheesy pasta on the table and watch your family devour the ravioli lasagna casserole in a hurry.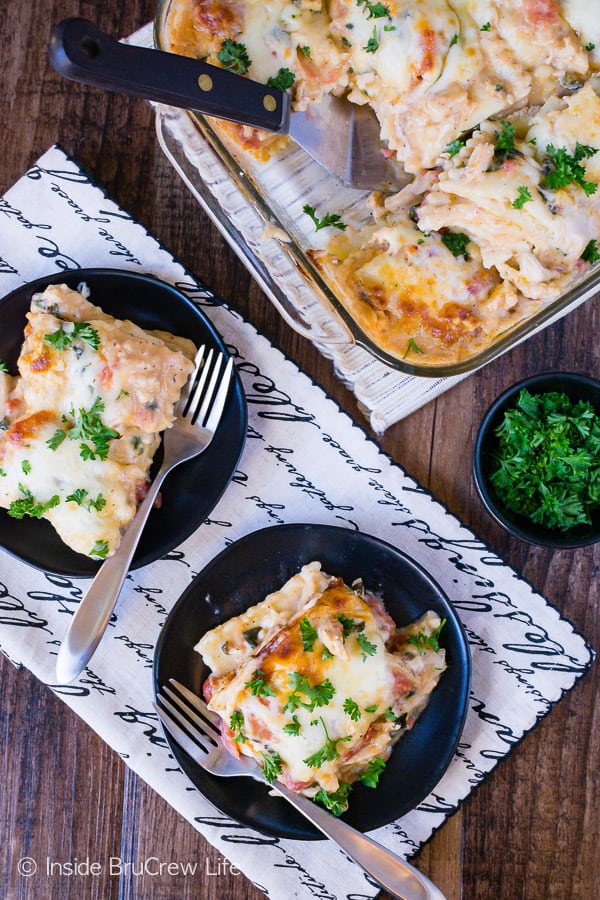 More easy comfort food dinners that your family might enjoy:

*Red Gold compensated me for my time in creating this recipe, post, and video. All opinions expressed in this post are 100% my own. Thank you for letting me share the brands and products we use and love.