This easy Meat Lover's Pizza Skillet Ravioli is loaded with meat and cheese and can be on your dinner table in under 30 minutes. Awesome meal for busy school nights!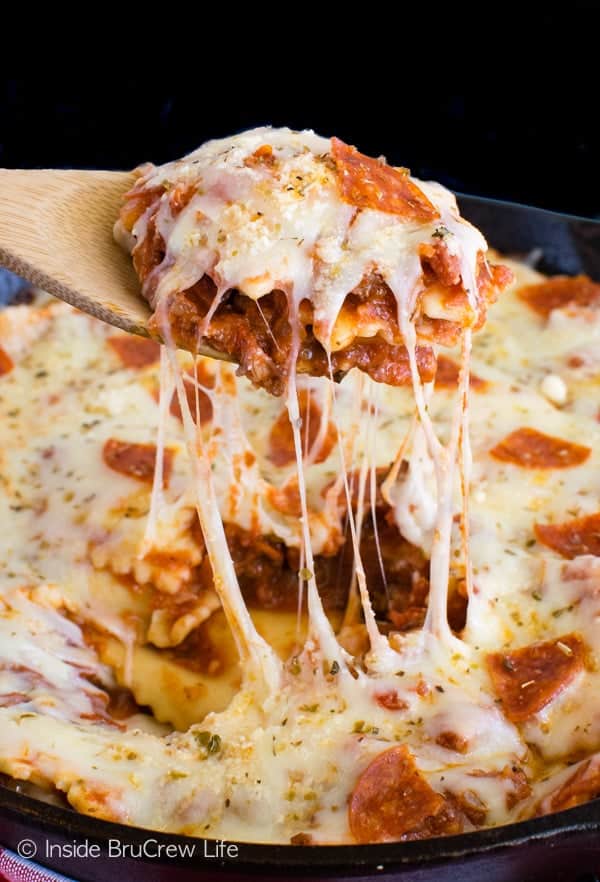 Now that school is back in session, that means I need to get back to planning meals. This summer we slacked off big time on planning dinners for our family. I'm not really sure what we ate every week. Since we are all still alive, we must have had some sort of food each day.
Meal planning is one area that I struggle in big time. I can rattle off ten different desserts to create, but when it comes to dinner time I stare at my cupboards blankly!
This year the school start and finish time changed, so our kids don't walk in the door until 4:30 pm. They are ready to devour our entire pantry of snacks the minute they walk in the door. So, I need to be prepared to serve dinner right away before someone has to leave for work or practice.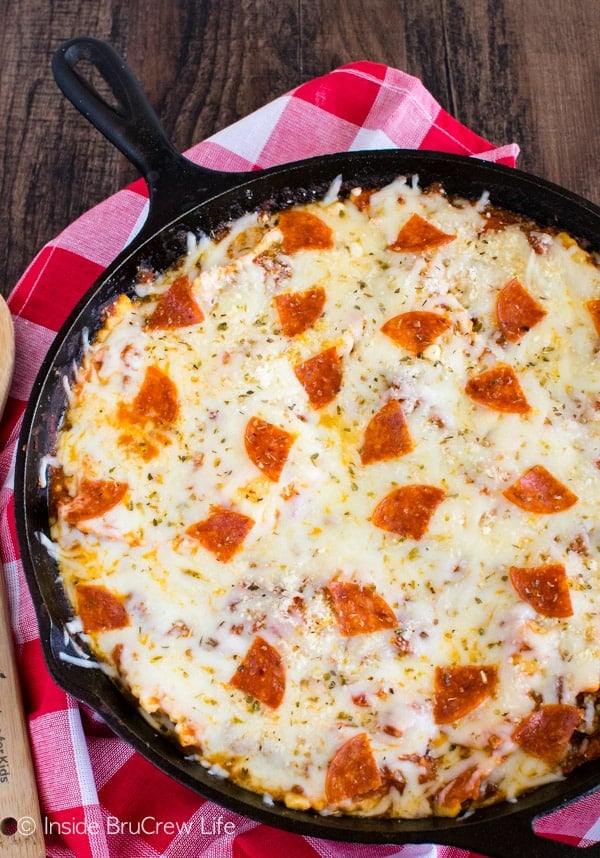 So far I am two for two on making meals. Of course, I served leftovers the second day, so that probably doesn't really count. But...I'm giving myself a point for it anyway.
Desserts like these Oreo Marshmallow Brownies are my favorite to create, but when I have to make dinner all I can think about is cheesy goodness. This Buffalo Chicken Pasta Bake is always a favorite!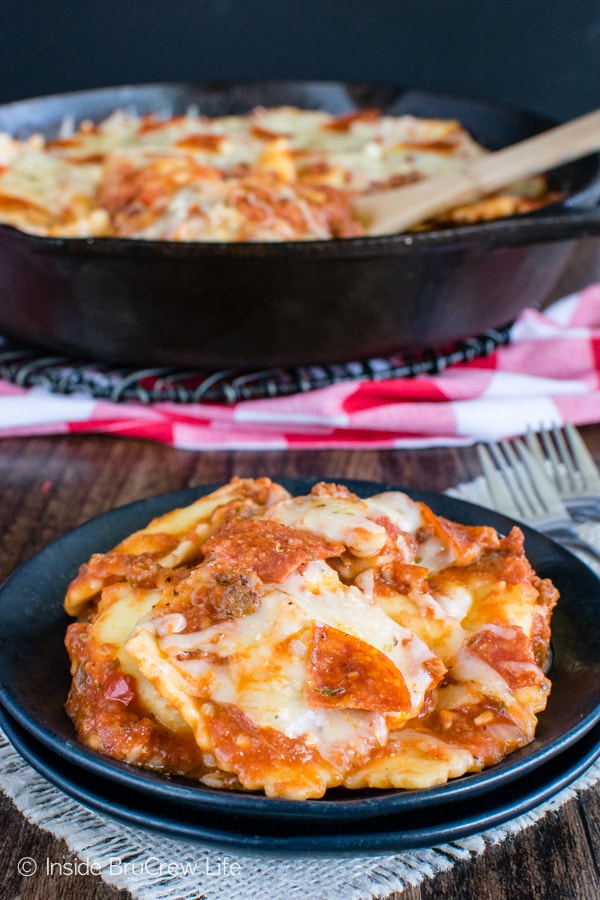 Our kids loved this Easy Skillet Lasagna Ravioli, so I knew that I wanted to give it a pizza twist using some of the things we had in the cupboards and freezer.
I love keeping bags of frozen ravioli in the freezer for quick and easy meals like alfredo ravioli and this new pizza ravioli in a hurry.
How to make Meat Lover's Pizza Skillet Ravioli:
Cook ravioli according to package directions. (full recipe at bottom of post)
Sauté onions in large skillet. Add tomatoes, garlic, and oregano and simmer 2 minutes.
Stir in milk and meats and simmer another 10 minutes.
Add cooked ravioli and stir until coated.
Top with shredded cheese and pepperoni. Cover with a lid until the cheese is melted.
Gooey melted cheese, pasta, and plenty of meat made this easy skillet dinner disappear in a hurry. As long as I keep coming up with dinners like this, meal planning this year should be a cinch!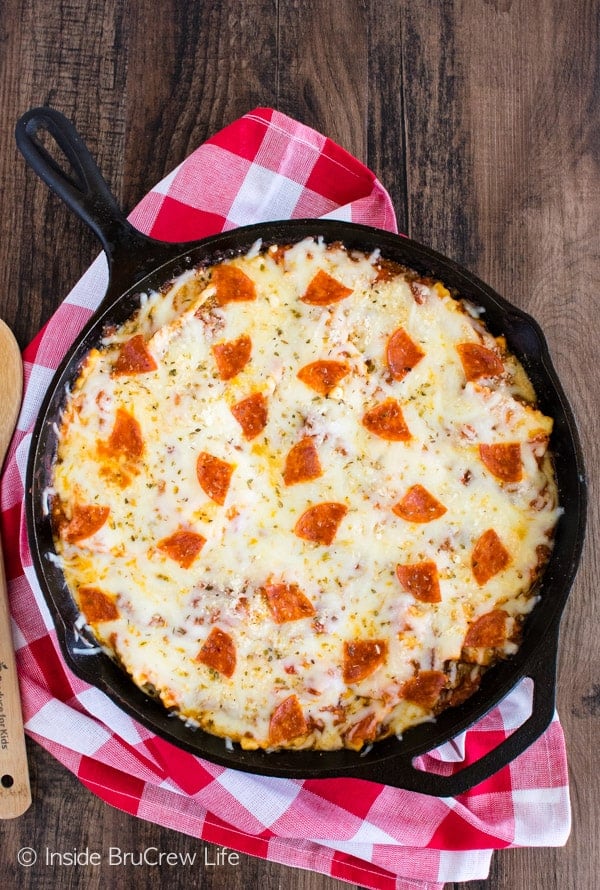 More cheesy pasta dishes that our family loves: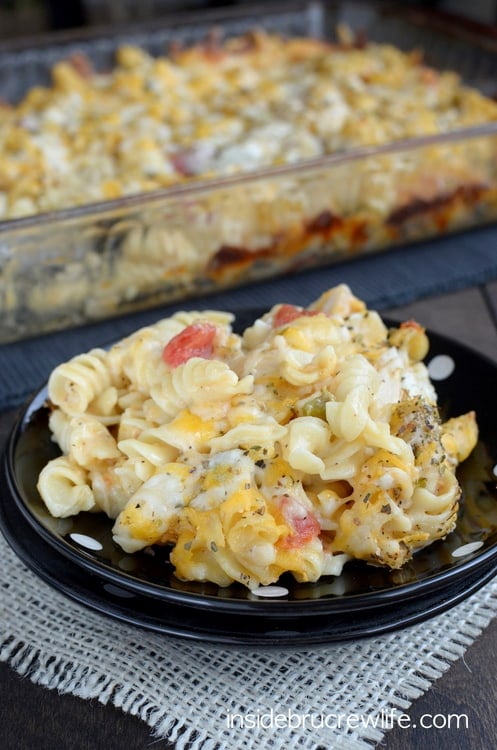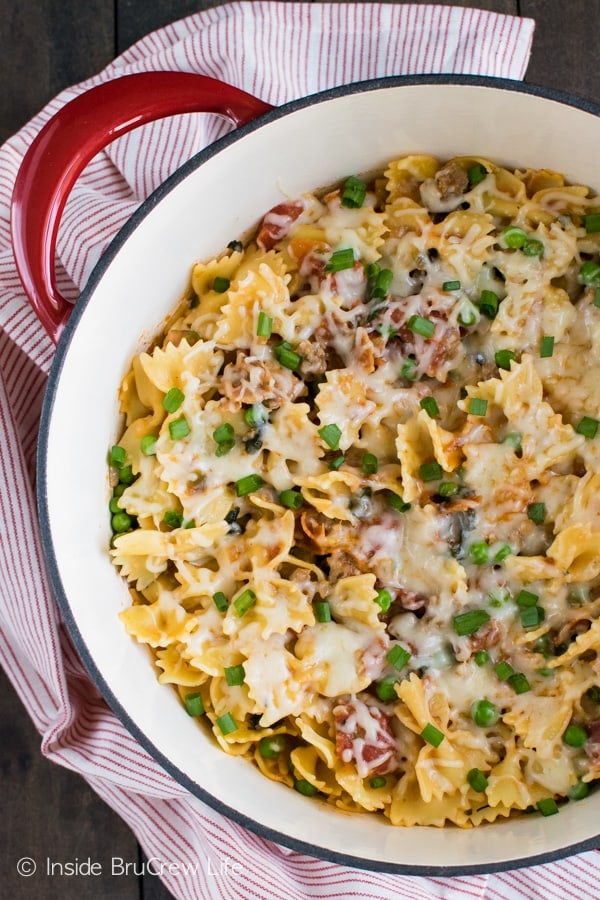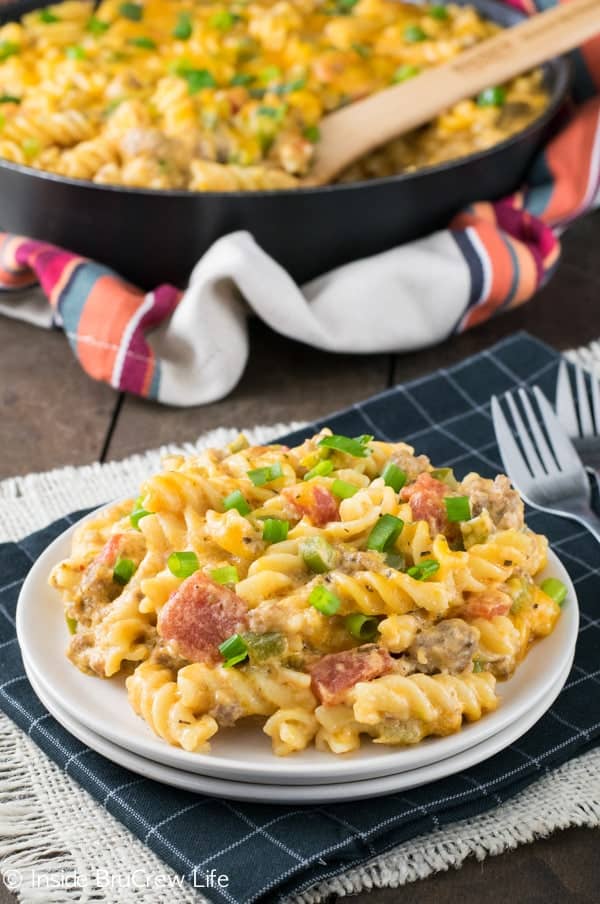 More pasta dishes from friends:

*This post does contain an affiliate link. We do receive a small percentage of sales made from purchases through these links. Thank you for letting us share products we use and love.