These Frankenstein Marshmallows are a quick and easy treat for Halloween parties. They are easy enough that your kids could even dip them on their own. The paper straws make them perfect for serving alone or for topping festive cupcakes.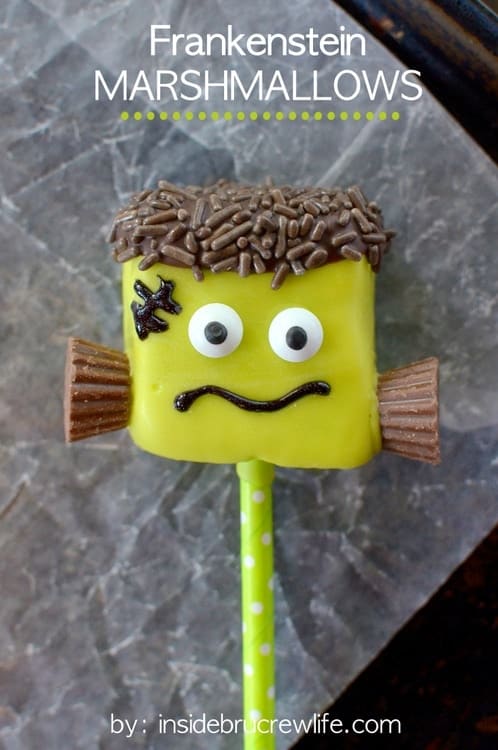 So, I just realized that Halloween is less than a week away.
Oh, I knew it was coming up quickly, but I kind of lost track of the weeks and then all of a sudden, "Boom!" it was here. As I was deleting old pictures on my computer, I realized that I never shared these fun and easy chocolate covered marshmallows with you this month. What was I thinking?
And they have googly eyes which are my absolute favorites, so right then and there I decided you needed to see these treats ASAP!!! Yay for extra blog posts full of cuteness, right? I knew you would be as excited as me.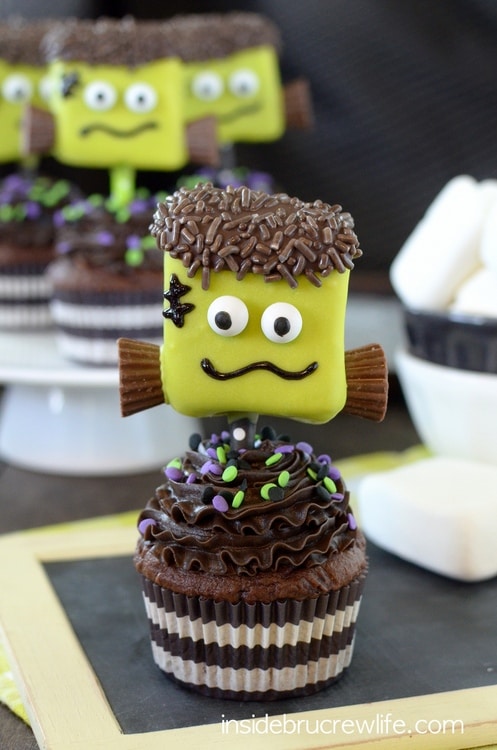 A few years ago I bought a container of googly eyes and made these Chocolate Pumpkin Spider Donuts.
Since then I have become slightly obsessed with making fun googly eyed treats for each holiday. These little candy eyes crack me up so much!!! I really don't know why I find them so amusing.
All I know is that every holiday the eyes come out until I create something fun and crazy with them. This year I found two uses for them. This Spooky Chocolate Vanilla Oreo Fudge from a few weeks ago was the first thing to get eyeballs.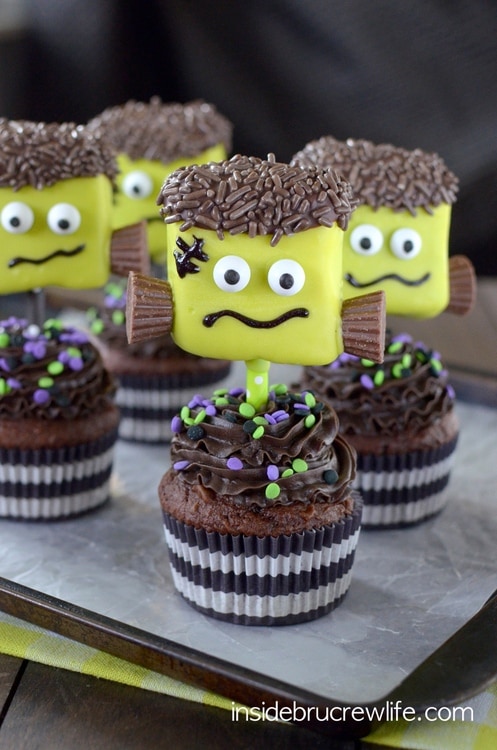 Then I left the jar of eyes on the counter because I had a feeling a cute googly eye turkey would come to me if I saw the container each day.
Instead the bag of S'more Mallows sitting on the counter and the Mini Reese's Peanut Butter Cups in the cupboard begged me to create something fun. All of a sudden as I looked at the eyes, marshmallows, and candy, I saw Frankenstein!
Gotta love it when inspiration like that happens!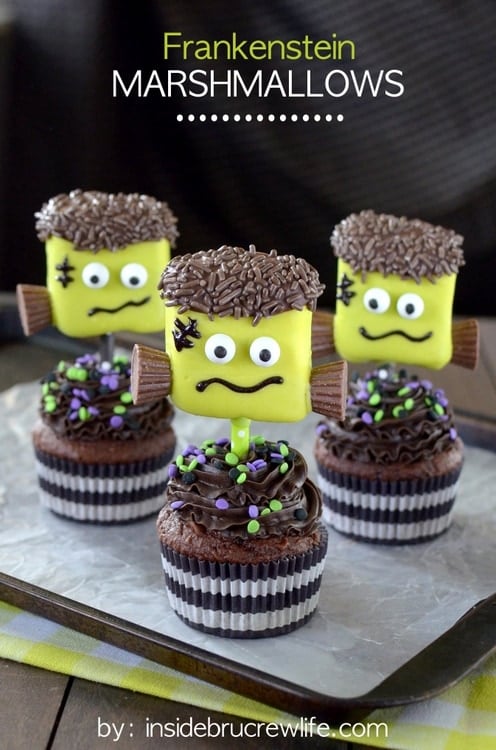 I dug through the cupboards and found green candy melts, chocolate sprinkles, and a container of black gel frosting. The more fun things I found, the more excited I got for my little guys to come to life. Yeah, so excited I almost forgot about them! #crazyblogger
Start by melting the green candy melts, then dipping a straw into the chocolate and pushing it into the bottom of the marshmallow. I used a knife to cut a slit in the bottom of each marshmallow, so it would slide in easier. After those dry, dip each marshmallow into the melted green chocolate and let those dry on a wax paper lined tray. You can use a spoon to cover each marshmallow with the chocolate. Then tap gently to remove the excess chocolate. Be careful because the paper straws will bend very easily. Yes, I may have bent a few while tapping. It happens.
Then dip the tops of each marshmallow into some melted brown candy melts and sprinkle it with chocolate jimmies. Or you can use black sanding sugar if you happen to have that on hand too. I went with the chocolate to match the chocolate peanut butter cups because I'm crazy like that.
After everything is dry, use a toothpick to add a little dab of green chocolate to attach the eyes and the peanut butter cup bolts. Then draw a mouth and stitches with the black gel and Frankenstein is ready to party with you.
These marshmallows are great by themselves, but if you want to add them to cupcakes, I recommend making these Mocha Cookie Crumble Cupcakes. Just know that the marshmallows will make the cupcakes top heavy, so cut the straws down before inserting into the tops of the cupcakes.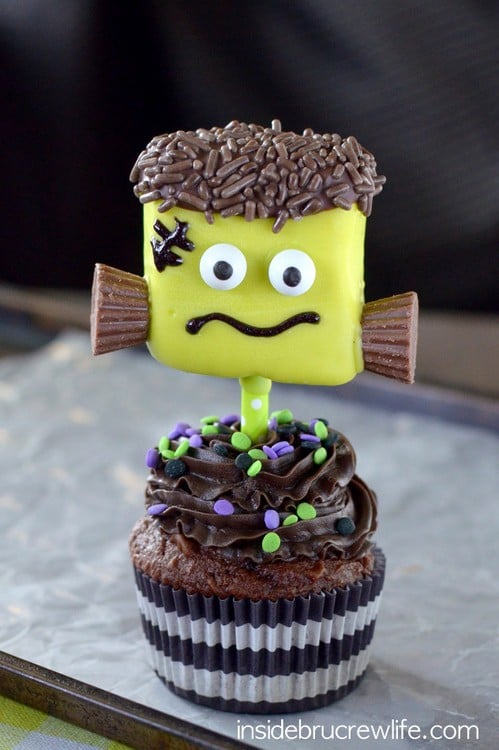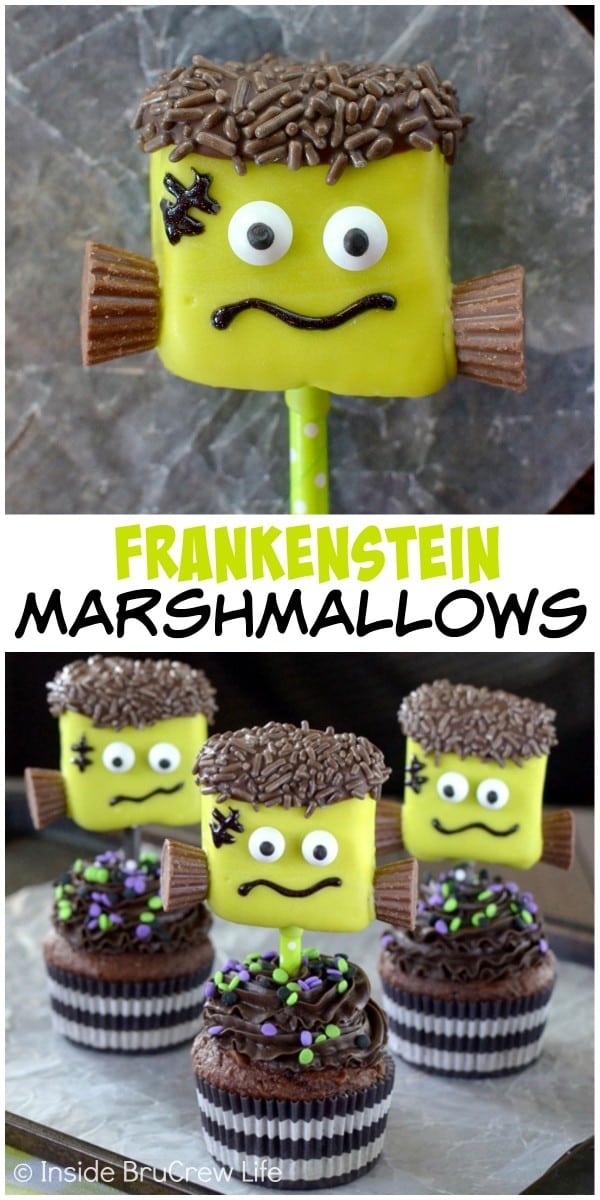 More fun Halloween treats with spooky eyes: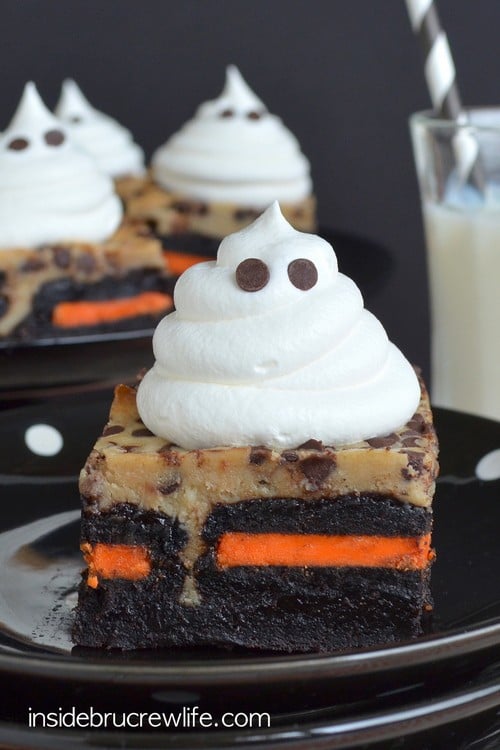 Coffee Cheesecake Oreo Brownies with Ghosts