Layers of chocolate, vanilla, Oreo cookies, and sprinkles make this Spooky Chocolate Vanilla Oreo Fudge a fun treat to make and eat. Candy eyes give it the spooky "Eye will be watching you" feel.
*Make sure you sign up for the BruCrew email, so you see these recipes in your inbox each morning.**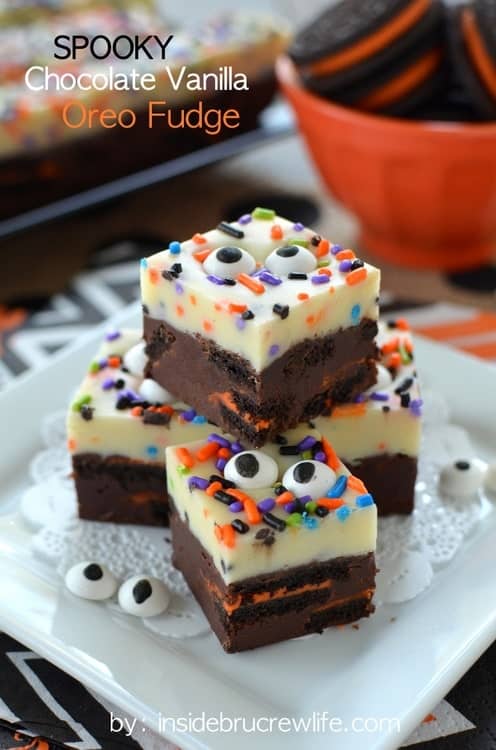 Are you a holiday decorator? As in, do you pull out scarecrows in September, skeletons in October, turkeys in November, and snowmen in December?
I used to be so much better about decorating our house for these holiday months. Over the past few years, I have done less and less. This year I didn't even get out the scarecrows. I have a few vases with some fall leaves and berries, and three Halloweens signs I just bought. Oh, and a metal skeleton in one of our plants. Actually that's really our only plant left because I seriously have killed them all.
Other than that no other spooky decor has emerged from our basement. The picture of the skeleton from 4 years ago doesn't count anymore...after being up this long he's like family now.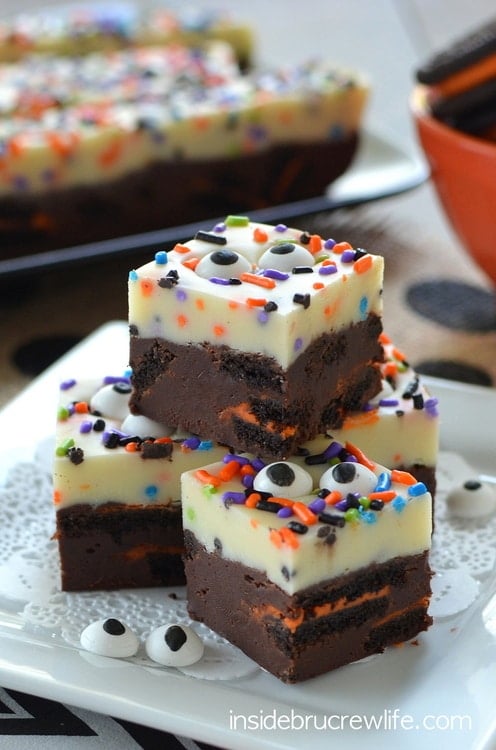 One year I tried to say the dust in the house was "decor". Really I was just trying to get out of housework by calling it decorating. I tried that again this year with the cobwebs on the front of the house. My husband wasn't having it and got out the pressure washer. Bye bye Halloween decor.
Instead of decorating our house for the seasons, I think I will stick to decorating fun treats.
A few months ago I made this Funfetti Cookies and Cream Fudge. I decided to give it a fun Halloween makeover by using the holiday Oreo cookies, Halloween sprinkles, and candy eyeballs. Googly eyes are my favorite, so I have to admit that's my favorite part of the whole treat! Nothing like a spooky eyeball staring back at ya!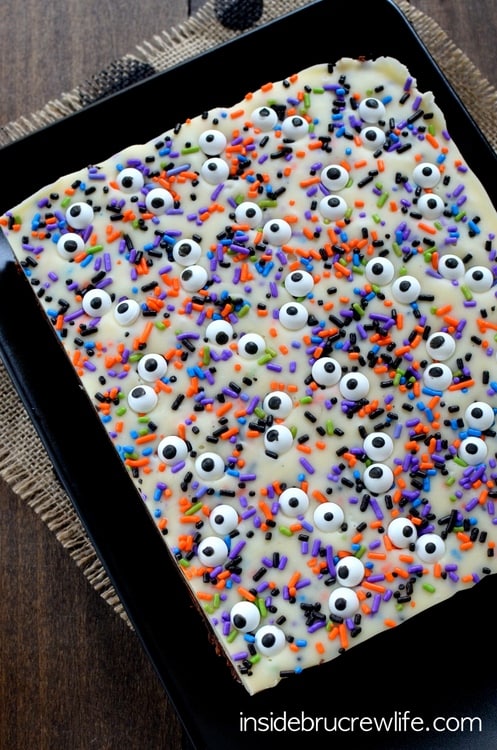 My husband said this fudge was totally freaking him out the other morning. He walked over to the cupboard to get a plate, and there were eyes staring up at him from the pan of fudge. He apparently doesn't have the same googly eye appreciation that I have.
Let's talk about how easy this fudge is to make. Chocolate chips, sweetened condensed milk, butter, a little marshmallow cream, Oreo cookie chunks, sprinkles, and don't forget the eyeballs. Unless you are weird like my hubby and don't like your food to stare back at ya. You can leave them off...your fudge just won't be as cool as mine. "Eye" won't judge you...too much 🙂
Melt down half the can of sweetened condensed milk with the chocolate chips and butter. After it gets all melty and smooth, stir in the marshmallow cream. Then fold in the Oreo cookies gently. Do not stir too much or the cream filling will start to mix into the fudge. We want to see the fun filling color when we cut into the fudge.
Then repeat with the white chocolate chips. Pour it right on top of the chocolate layer. Then top it with more sprinkles and the fun eyeballs! I always cut this fudge into 36 squares, so I tried to put the eyeballs in that kind of grid pattern. You can do that, or just press them all over. Let it set before cutting it into squares. If you make it the night before, it will be ready to go first thing the next morning.
Q. What treat do eye doctors hand out on Halloween?
A. Candy Cornea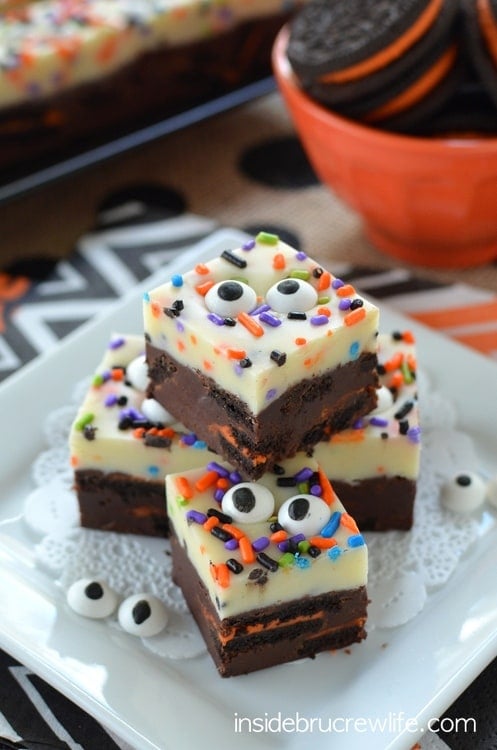 Stay up to date on all the BruCrew baking here:
FACEBOOK | PINTEREST | TWITTER | INSTAGRAM | BLOGLOVIN
Sign up to receive an email in your inbox for each new recipe:
EMAIL SUBSCRIPTION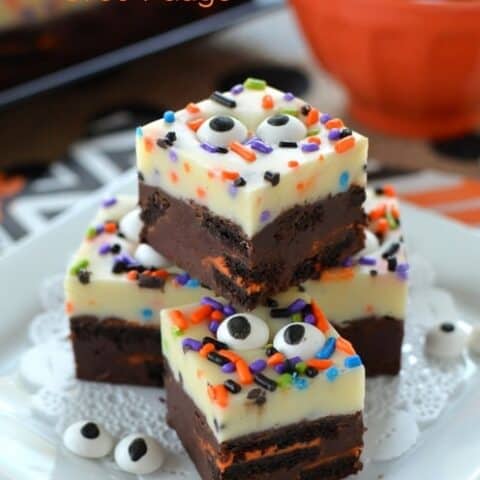 Spooky Chocolate Vanilla Oreo Fudge
Yield:
36 pieces of fudge
Oreo cookies and sprinkles give this chocolate and vanilla layered fudge a fun holiday look.
Ingredients
For the chocolate layer
1 ½ cups dark chocolate chips
½ can sweetened condensed milk (½ cup + 2 Tbsp.)
1 tablespoon unsalted butter
2 tablespoons marshmallow cream
8 Halloween Oreo cookies, broken into chunks
For the vanilla layer
1 ½ cups white baking chips
½ can sweetened condensed milk
1 tablespoon unsalted butter
2 tablespoons marshmallow cream
5 tablespoons sprinkles, divided
72 edible candy eyes
Instructions
For the chocolate layer: Combine the chocolate chips, sweetened condensed milk, and butter in a saucepan over low heat. Stir until melted and creamy. Add the marshmallow cream and stir again. Fold in the Oreo cookie chunks gently. Pour into a foil lined 8x8 pan. Set aside.
For the white chocolate layer: Combine the white chips, sweetened condensed milk, and butter in another saucepan over low heat. Stir until melted and creamy. Stir in the marshmallow cream. Let cool for 2-3 minutes. Stir in 3 Tablespoons sprinkles quickly. Pour over the chocolate layer.
Top with the remaining sprinkles and candy eyeballs. Let set before cutting into 36 squares. Store in a sealed container on the counter.
Nutrition Information:
Yield:

36
Serving Size:

1
Amount Per Serving:
Calories:

122
Total Fat:

4g
Saturated Fat:

2g
Trans Fat:

0g
Unsaturated Fat:

2g
Cholesterol:

3mg
Sodium:

23mg
Carbohydrates:

21g
Fiber:

1g
Sugar:

14g
Protein:

1g
Nutrition facts are an estimate and are not guaranteed to be accurate. If you need special diet advice, please see a registered dietician.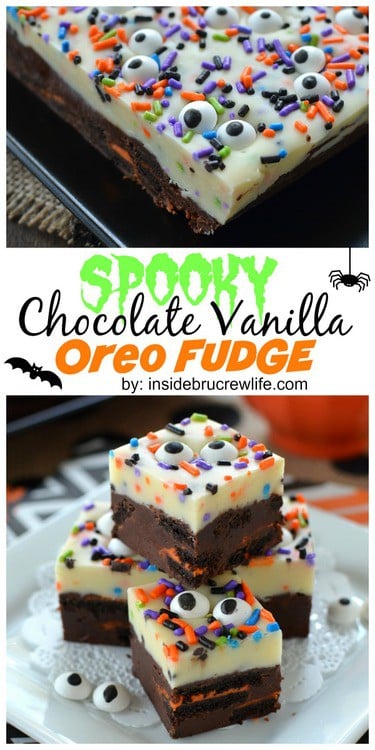 Here are few more fun Halloween themed treats we like to make: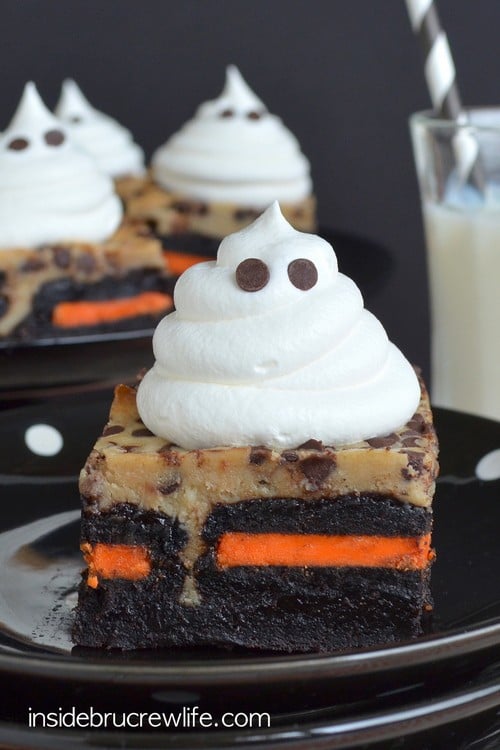 Coffee Cheesecake Oreo Brownies