Add these Chocolate Pumpkin Spider Donuts to your Halloween parties and watch all the kids grab a spooky treat! Soft fluffy donuts decorated with candy and edible eyes are a fun breakfast this time of year!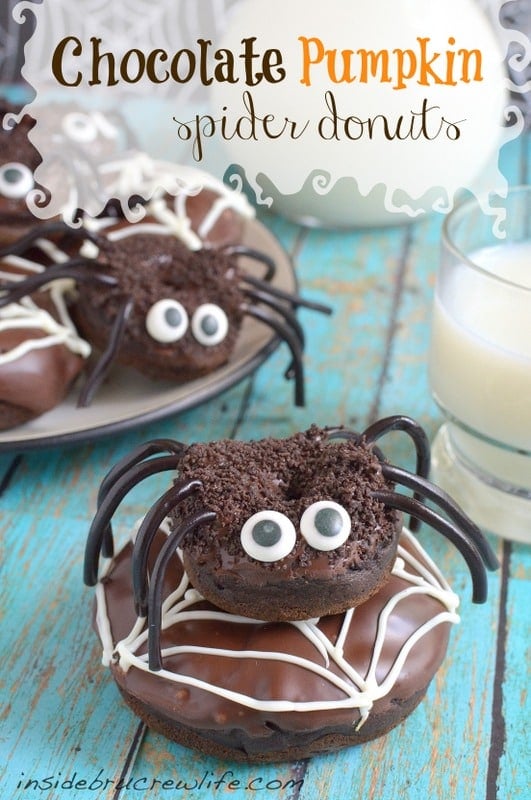 CLICK HERE TO PIN THIS RECIPE FOR LATER!
A few years ago I decided I was going to boycott dusting. I was putting out my Halloween decorations…things like skeleton bones, spiders, and gravestones.
They kind of looked out of place on nice bright clean shelves.
Last year I added some plastic rats to our decor. Let's face it. Bones and rats look much better with a layer of dust surrounding them.
So, for the month of October, I am letting the dust pile up on everything.
The spiders have free reign of my ceiling corners…for now anyway.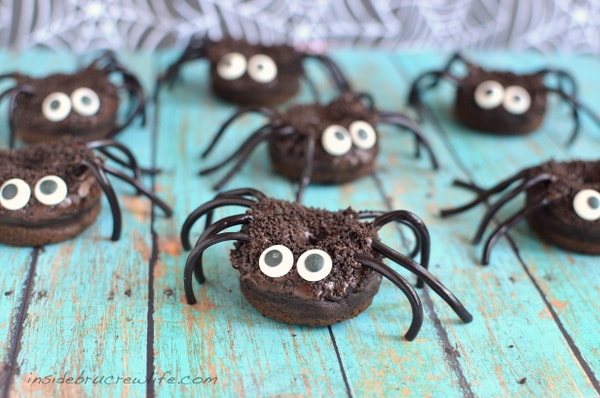 Then come November I will be very thankful for all our cleaning supplies and our vacuum.
See what a good system I have come up with. I just made not cleaning my house part of my decorating.
Now I just need to figure out how that would work for the other holiday's in the year. Easter bunnies live outside in the dirt, soooo dust makes them feel more at home?
Yeah, that might be stretching it a little. Wink, wink!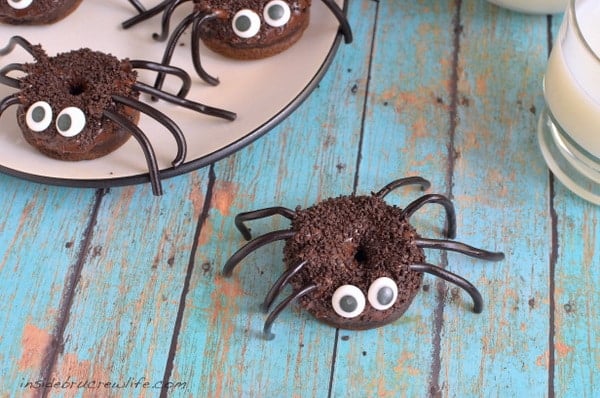 The other day I was at Target browsing the Halloween aisle for something fun to make. They have all sorts of kits for making spooky and yummy food.
But I just wanted the box of black string licorice because I had these cute chocolate pumpkin spider donuts in mind.
And did I seriously just call spiders cute????
All the dust and cobwebs in my house have me on spider alert. I sure hope the real spiders don't think I am inviting them to come live with me. Because that would not be cool. Not cool at all.
Now spiders made of chocolate and googly eyes can come visit me any time they like.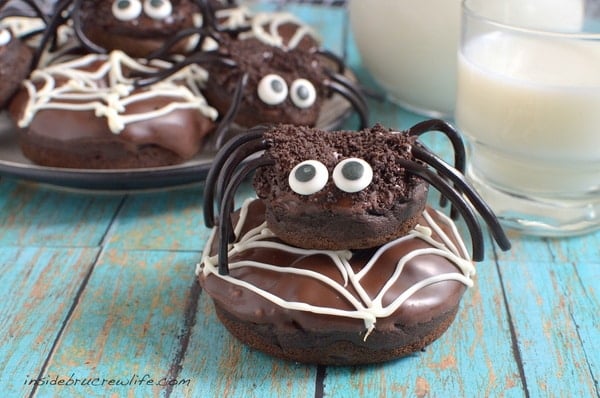 Chocolate Pumpkin Spider Donuts
Let's talk about the baked donuts for a minute.
I have started using yogurt in place of sour cream for all my donut recipes. There is nothing better that you can replace the high fat items with. Plus, all my baked goods come out super soft from the yogurt baked in them.
I love that it is packed with protein. It makes me think I am eating healthy, even when I'm really just eating chocolate covered donuts.
Don't burst my healthy eating bubble!!! I know they are coated in chocolate, sprinkles, and candy.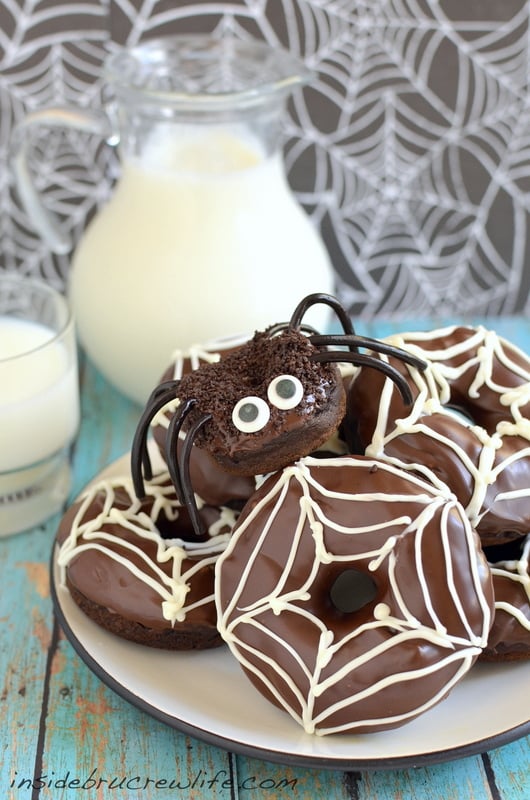 Chocolate Pumpkin Spider Donuts recipe:
Yield: 24 small donuts or 10 large donuts
Chocolate Pumpkin Spider Donuts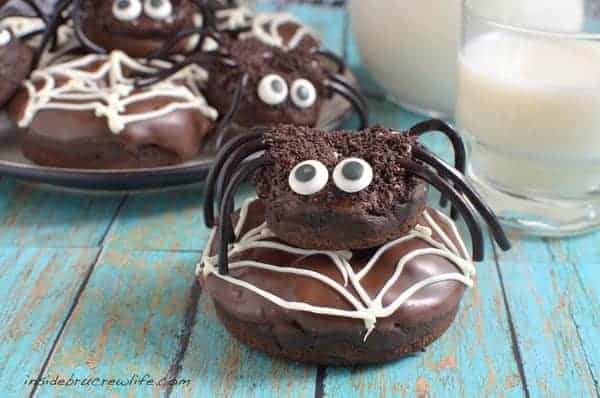 Chocolate pumpkin donuts with a chocolate coating and a fun candy twist
Ingredients
1/2 cup butter, softened
1/3 cup brown sugar
1/3 cup sugar
2 teaspoon vanilla
1 egg
2/3 cup plain yogurt
1 cup canned pumpkin puree
1/3 cup buttermilk
1 1/2 teaspoons baking powder
1 1/2 teaspoons baking soda
1/2 cup dark cocoa powder
2 cups flour
2 teaspoons pumpkin pie spice
1/2 teaspoon salt
1/2 cup mini chocolate chips
2 cups chocolate chips
1/4 cup white chocolate chips
1 1/2 teaspoons shortening, divided
chocolate sprinkles
candy eyes
black licorice
Instructions
Preheat oven to 425 degrees. Spray a mini and large donut with nonstick baking spray.
In a large bowl, sift together the baking powder, baking soda, cocoa powder, flour, pumpkin pie spice, and salt. Set aside.
In another mixing bowl, beat the butter and sugars until creamy. Add the egg, vanilla, yogurt, pumpkin and buttermilk and blend well.
Slowly add the flour mixture until just mixed. Stir in the chocolate chips by hand.
Spoon the batter into a large plastic bag and cut the tip off. Pipe the batter into the prepared donut pans, filling the cavities at least half full.
Bake the mini donuts 4-5 minutes and the large donuts 8-9 minutes. Let cool for a few minutes and then remove to a wire rack to cool completely.
In a microwave combine the chocolate chips and 1 teaspoon shortening. Heat for 30 seconds and stir. Repeat until melted and smooth.
Dip the tops of the donuts in the chocolate. Sprinkle with chocolate sprinkles. Attach eyes and licorice legs with chocolate.
Melt the white chips and 1/2 teaspoon shortening the same way and drizzle over the large donuts in a web pattern. Makes 24 small donuts and 10 large donuts. Store in a sealed container.
Recommended Products
As an Amazon Associate and member of other affiliate programs, I earn from qualifying purchases.
Nutrition Information:
Yield:
24
Serving Size:
1
Amount Per Serving:
Calories:

215
Total Fat:

11g
Saturated Fat:

6g
Trans Fat:

0g
Unsaturated Fat:

4g
Cholesterol:

19mg
Sodium:

204mg
Carbohydrates:

29g
Fiber:

2g
Sugar:

18g
Protein:

3g