Add these Chocolate Pumpkin Spider Donuts to your Halloween parties and watch all the kids grab a spooky treat! Soft baked donuts decorated with chocolate, sprinkles, and edible eyes are a fun breakfast this time of year!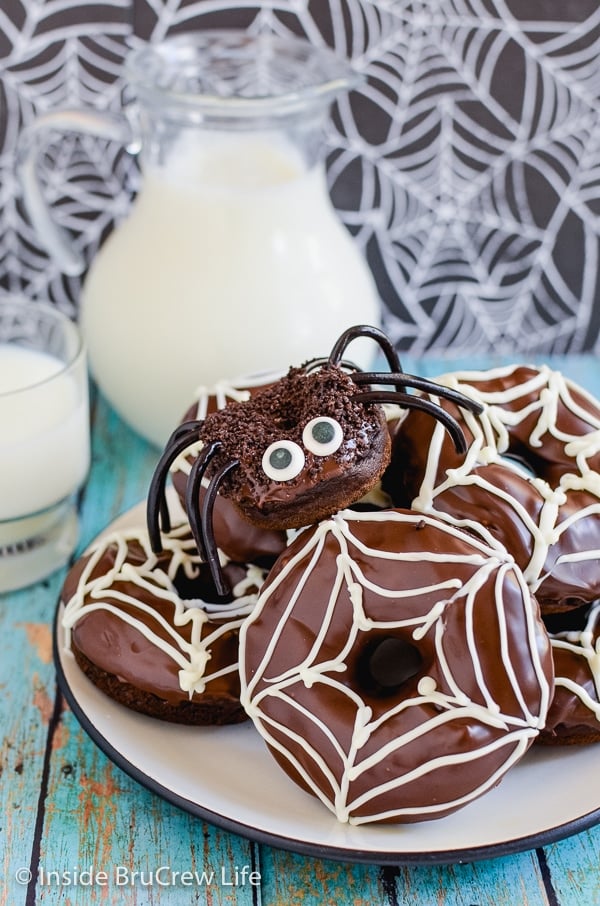 A few years ago I decided to boycott dusting for the month of October. As I was putting out the skeleton bones, spiders, and gravestones they kind of looked out of place on the clean shelves.
Last year I added some plastic rats to our decor. Let's face it. Bones and rats look much better when there is a layer of dust surrounding them.
So, for now, I am letting the dust pile up on everything. The spiders have free rein of our ceiling corners. Well, for now anyway.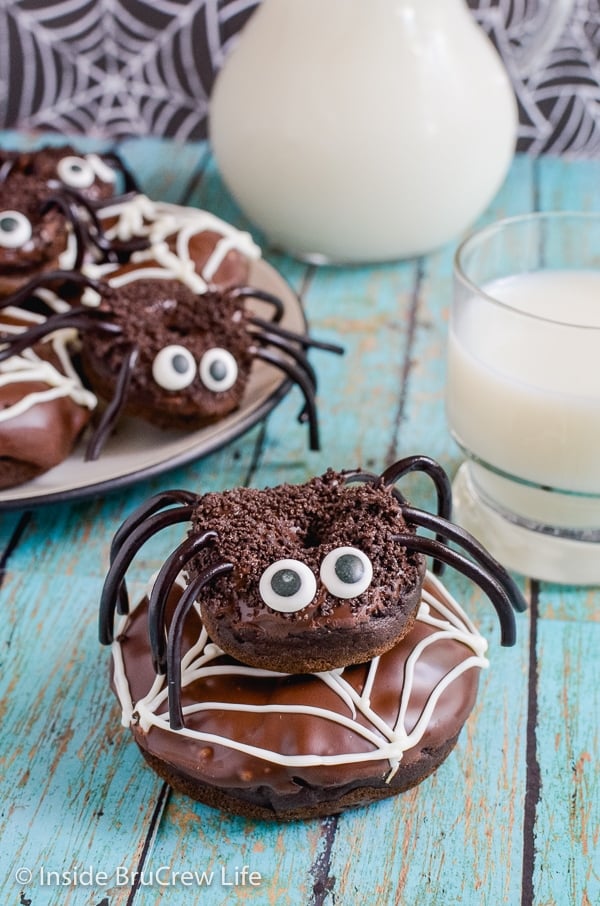 I sure hope the real spiders and bugs don't think I am inviting them to come live with me for Halloween. Because that would not be cool. Not cool at all.
I'm only ok if spider donuts, Peanut Butter Cup Cookie Spiders, and these Pudding Filled Dirt Cupcakes topped with gummy worms are in our kitchen. Come November 1st, I am going to be very thankful to use our vacuum and cleaning supplies again.
All the dust and cobwebs in our house must have me on spider alert because this year I couldn't get the idea for these cute Halloween spider donuts out of my head. Did I seriously just call spiders cute????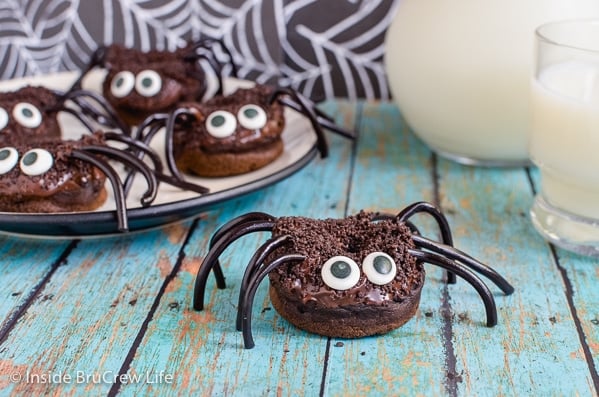 Let's talk about these chocolate spider donuts for a minute. Using Greek yogurt or sour cream make these baked donuts bake up super soft and fluffy.
How to make Chocolate Pumpkin Spider Donuts:
Spray a large and a mini donut pan with nonstick baking spray. I like to use Baker's Joy, but any spray that has flour added will work.
Beat the softened butter and sugars until light and creamy. Add the egg, vanilla, yogurt, and pumpkin and beat again. PRO TIP: Make sure you buy pumpkin puree, NOT pumpkin pie mix.
Stir together the dry ingredients and mini chocolate chips. Add them alternately with the buttermilk until a soft dough forms.
Spoon the batter into a large ziplock bag and cut one corner off. Make sure the hole is big enough for chocolate chips to get through too.
Squeeze the donut batter into the donut cavities filling them halfway. Bake and cool.
Dip the tops of the cooled donuts in melted chocolate. Add licorice legs, candy eyes, and chocolate sprinkles to the tops of the mini chocolate donuts.
Drizzle melted white chocolate on the large donuts in a spider web pattern.
Make sure to store the chocolate glazed donuts in a sealed container, so they stay soft and fresh.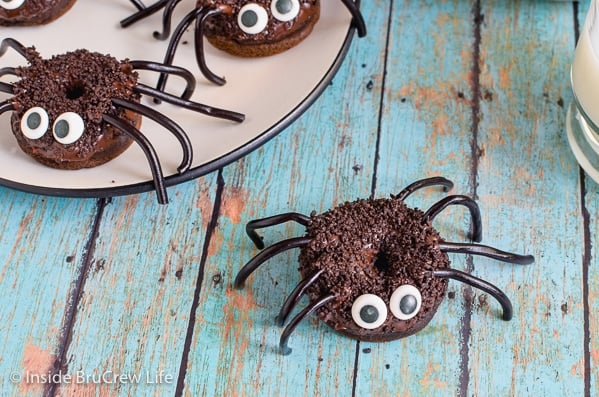 More easy Halloween treats: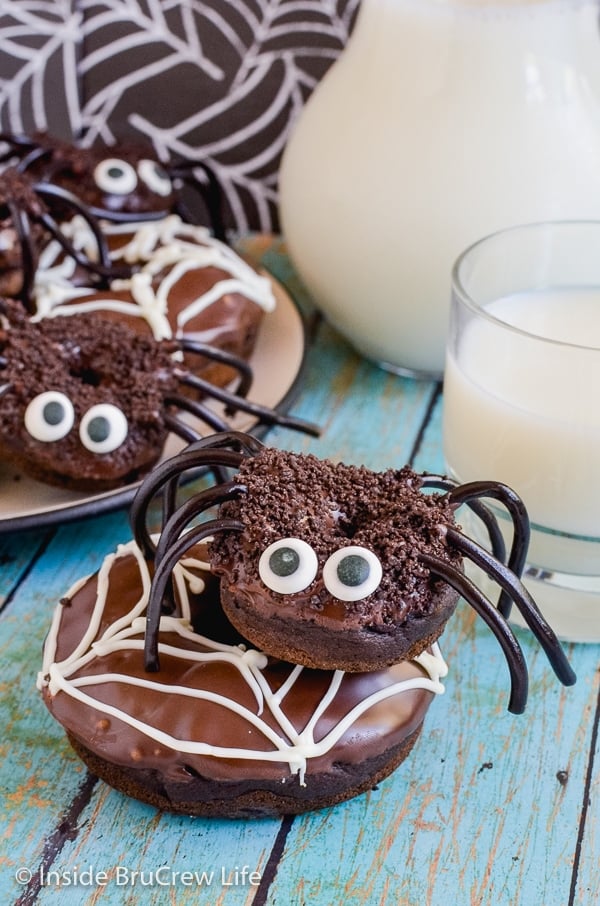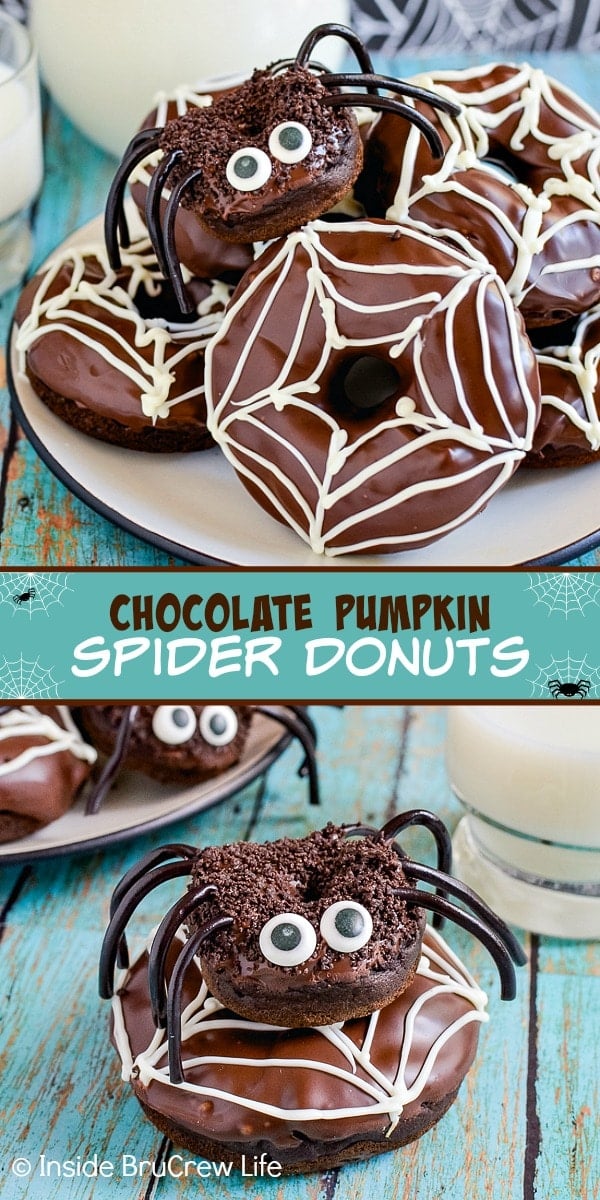 *The post for Chocolate Pumpkin Spider Donuts was first published September 30, 2012. The photos and post were updated and republished October 6, 2020.