You can make Homemade Butterfingers with just three ingredients! Candy corn, peanut butter, and chocolate give these homemade candy bars their delicious taste. Get ready to create this easy and delicious Butterfinger recipe in your own kitchen.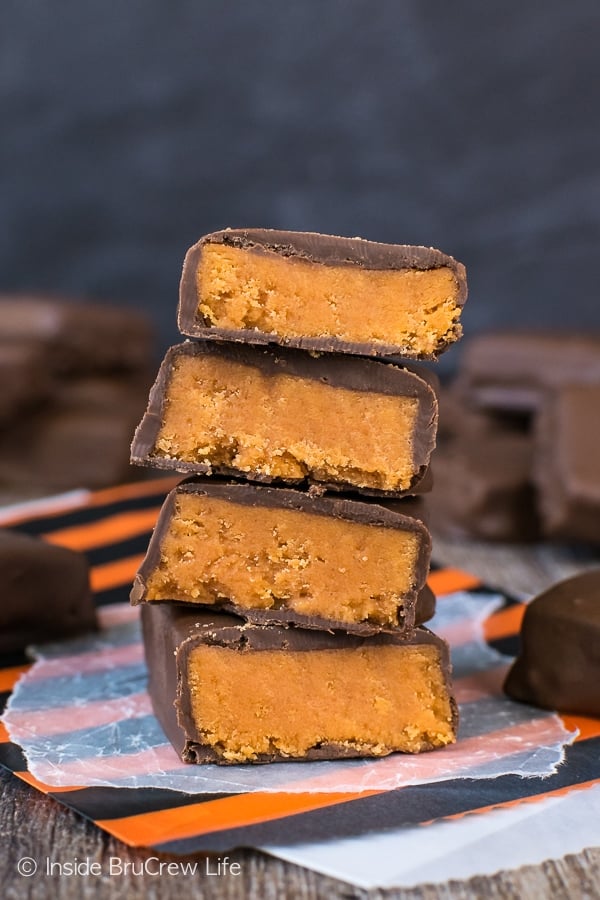 Did you know that you can do more with candy corn other than just eat it? I mean we all know candy corn is delicious in things like this candy corn popcorn or this candy pizza. And it's also perfect for decorating things like a Reese's turkey.
But did you know that you can turn candy corn into a copycat Butterfinger bar??? I was so excited when I found out you could turn candy corn into this delicious three ingredient dessert.
Why we Love these Candy Bars
We always have a few leftover bags of candy corn after fall is over, so this butterfinger recipe is the perfect way to turn them into a unique and delicious treat.
And yes, they actually do taste just like a Butterfinger candy bar! They have a slight crunchy texture, and the flavor is spot on. In fact, we brought a batch of these Butterfinger candy bars to our small group last weekend, and everyone was raving over them!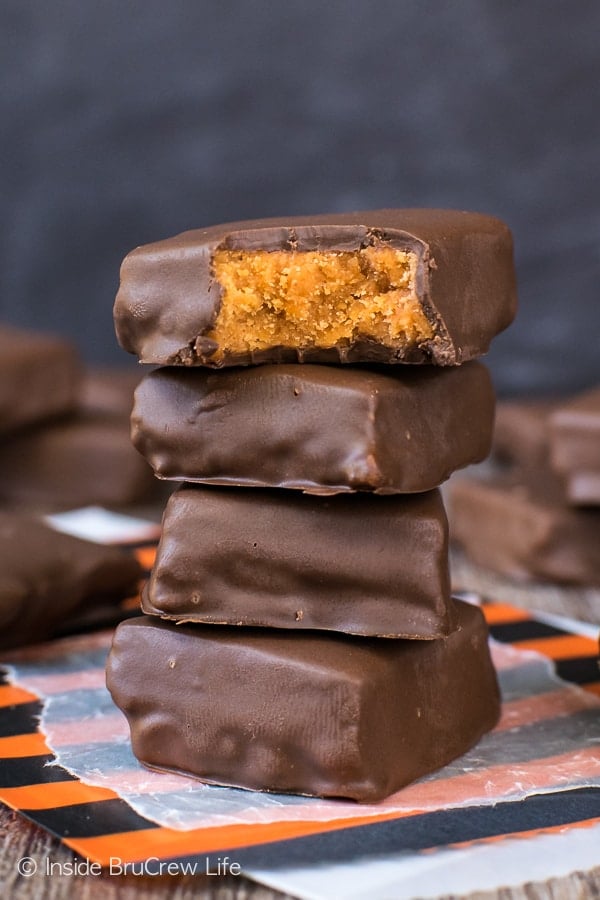 What are Butterfingers?
Butterfinger candy bars has been around since the 1920's. These candy bars have a crispy, peanut butter layer that is covered in chocolate.
The crunchy orange filling is made by combining a cooked hard candy with peanut butter.
Butterfinger Ingredients
If you want to make Butterfingers at home, you will only need three ingredients. Mix these together to achieve the same texture and taste as the candy bars in the store.
Candy Corn - Use traditional candy corn, not any of the flavored ones. Some grocery stores carry this candy year round.
Peanut Butter - Creamy works best, but a crunchy peanut butter would give the candy bars a little bit more of a crunch.
Chocolate Melting Wafers - Use a good quality of chocolate to coat these Butterfinger bites. Our favorite brand is Ghirardelli because they melt so smooth and taste delicious. Want to make white chocolate Butterfinger bars? Use white chocolate melting wafers.

How to make Homemade Butterfingers
These homemade Butterfinger candy bars can be made and chilling on your counter in a matter of minutes. It's as simple as melting the two ingredients until creamy, then dipping the cooled mixture in chocolate.
Step One: Melt
Place one cup of candy corn and one cup of creamy peanut butter in a small saucepan.
Stir over low-medium heat until it is melted and creamy.
Step Two: Cool
Pour the hot candy into a foil lined 8x8 pan. Let it cool completely while sitting at room temperature.
Lift the foil and candy out of the pan and pull the foil away from the edges.
Use a sharp knife to cut the block into 24 mini bars.
Step Three: Dip
Melt the chocolate melting wafers in the microwave according to the package directions.
Dip each candy bar into the melted chocolate and tap off the excess before placing it on a piece of parchment paper on a baking sheet.
Let the chocolate set before storing the homemade butterfinger bites in a container or bag.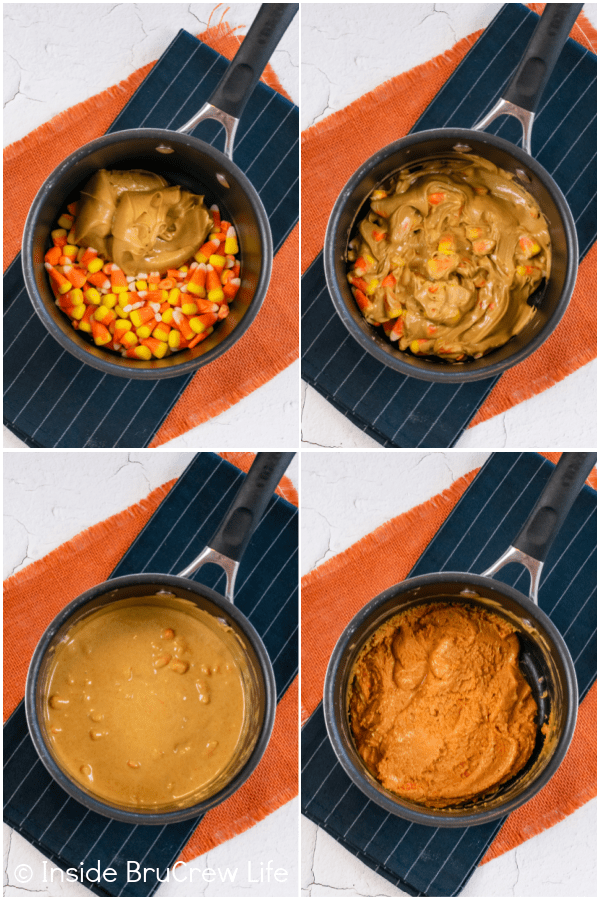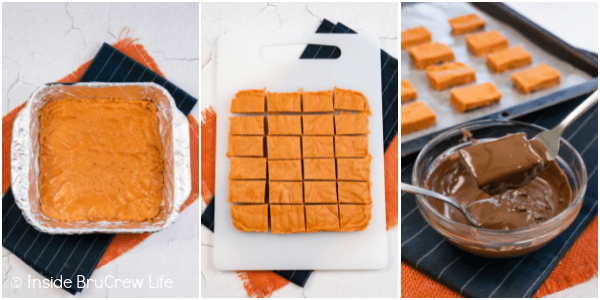 Frequently Asked Questions
Can I make these candy bars peanut free?
You sure can. I have had readers successfully use cashew butter to make these homemade Butterfinger bites.
Can I make these into fun holiday shapes?
Definitely!!! You can press the Butterfinger mixture into candy molds before it is completely cooled. Some popular shapes are eggs for Easter, skulls for Halloween, and bells for Christmas.
Paint the inside of a candy mold with different colored melted chocolate using a candy paint brush.
Refrigerate the mold for 5 minutes.
Brush a second coat of melted chocolate into the candy molds, so it has a thick layer. Set aside.
Heat the candy corn and peanut butter until melted and creamy. Let the mixture cool, but DO NOT let it harden. It needs to be pliable, so you can press and shape it.
Press small pieces of the Butterfinger candy into the painted candy mold.
Cover the back with more melted chocolate and refrigerate for 5 minutes before popping them out of the mold.
How long do these homemade candy bars last?
I don't know. We actually eat them too quickly to find out. LOL! Actually, they should keep for 5-6 days in a sealed container on the counter or up to 2 weeks if refrigerated.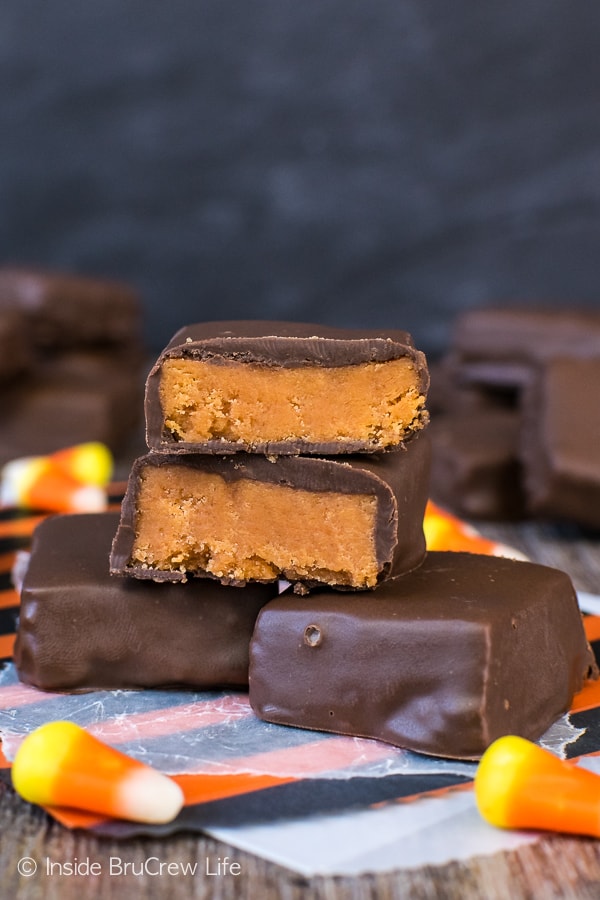 More Homemade Candy Recipes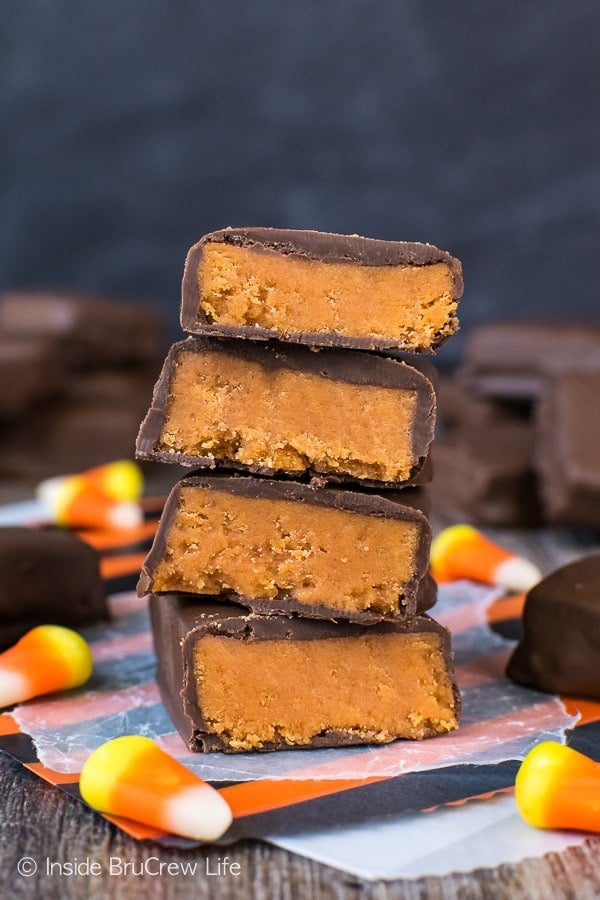 Love a recipe you tried from Inside BruCrew Life?
Please consider leaving a 5 star ⭐️ rating in the recipe card below and/or a review in the comments section further below.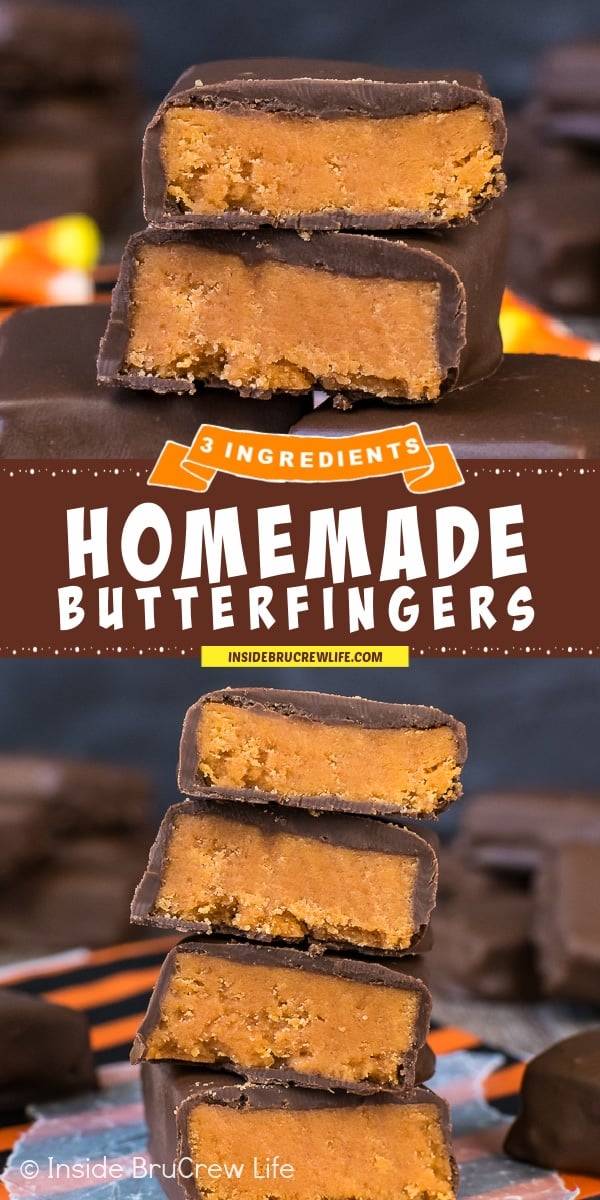 *The post and recipe for Homemade Butterfingers was originally posted on October 26, 2010. The pictures and post were updated and republished on October 23, 2018.