You can make your own Butterfingers with just three ingredients!!! These easy Homemade Butterfingers are a great way to use up extra bags of candy corn this Halloween season.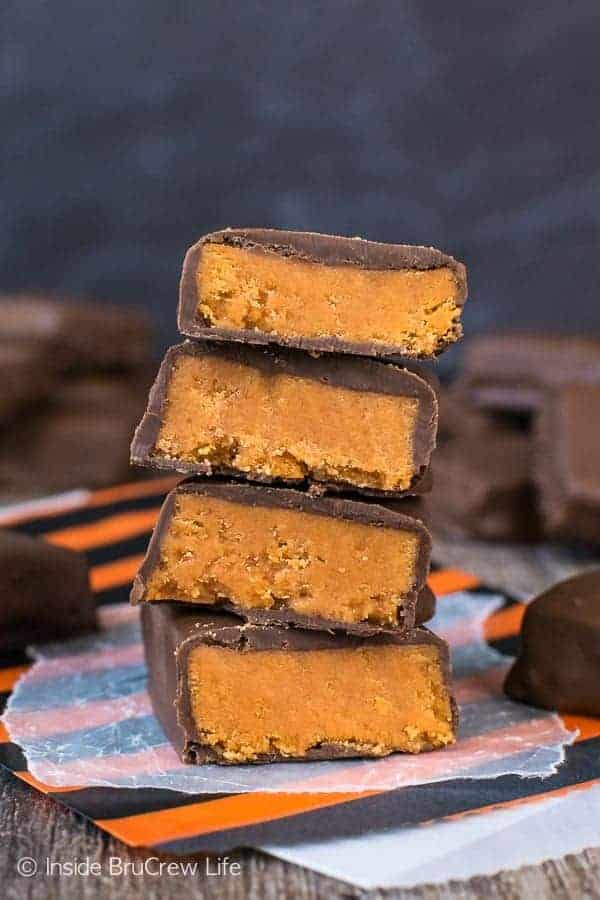 CLICK HERE TO PIN THIS RECIPE FOR LATER!
Have you ever heard of "SMIZING"? Apparently I just don't watch enough of Tyra on Next Top Model because I just now learned this fun new word
at a family photo shoot a few nights ago.
So smizing is the action of smiling with your eyes, not your lips. And it is way harder than it sounds. Trust me, you definitely feel like a FREAK trying to do this.
Because let's face it, this is something I might try out while in the safety of my bathroom. NOT while someone is snapping pictures of me.
But we gave it a whirl and the pictures actually look pretty good. Now maybe if our photographer had a bucket of these Homemade Butterfingers or Reese's Owls in front of me, my eyes might have been smizing a lot faster.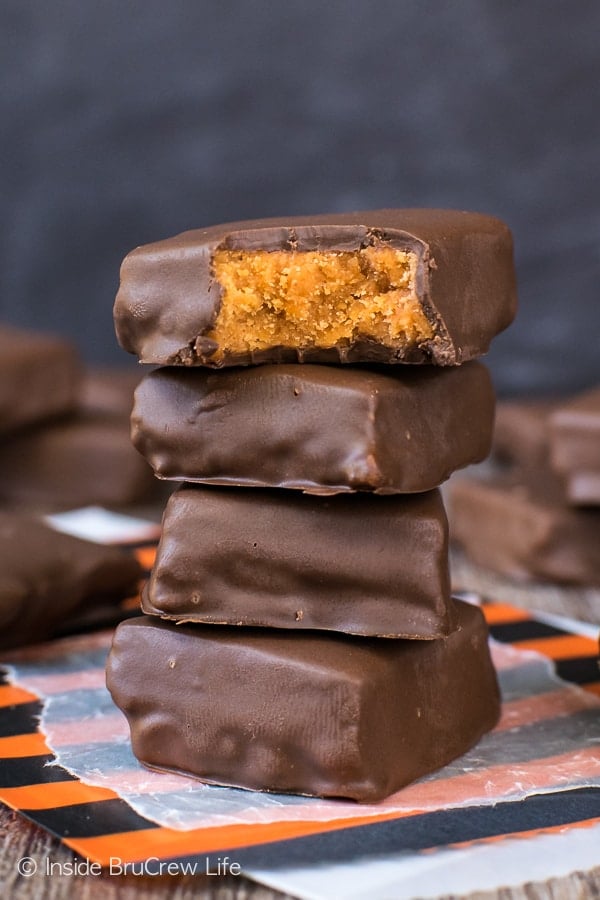 Did you know that you can do more with candy corn other than eat it?
I mean we all know candy corn is delicious in things like this Candy Corn Popcorn Mix or this Peanut Butter Candy Corn Pizza. It's also perfect for decorating things like these Reese's Turkeys.
But did you know that you can turn candy corn into a copycat Butterfinger bar?!?!?!?!?!
I definitely was just full out SMILING when I found out you could turn candy corn into this delicious three ingredient dessert!!
And yes, they actually do taste just like a Butterfinger candy bar! They are not quite as crunchy, but the flavor is pretty much spot on. In fact, we brought a batch of these candy bar treats to our small group last weekend, and everyone was raving over them!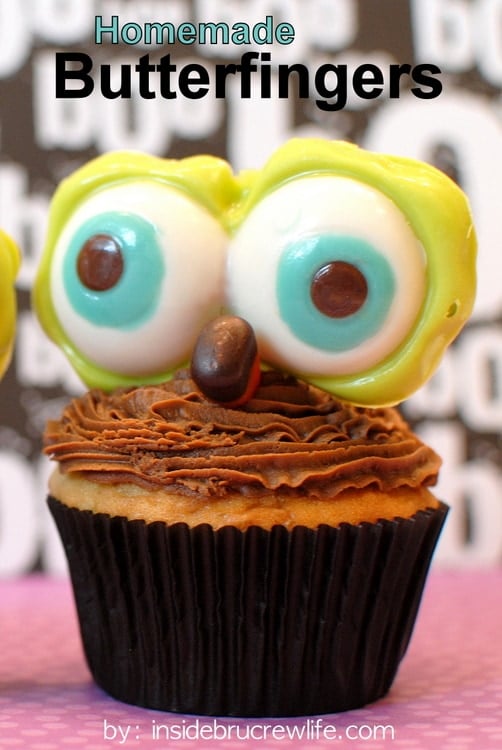 Three Ingredient Candy Bars
All you need in order to make your own Butterfingers is a bag of candy corn, a jar of peanut butter, and some chocolate melts.
You can also press the candy bar mixture into candy molds if you want to create different shapes instead of square candy bars.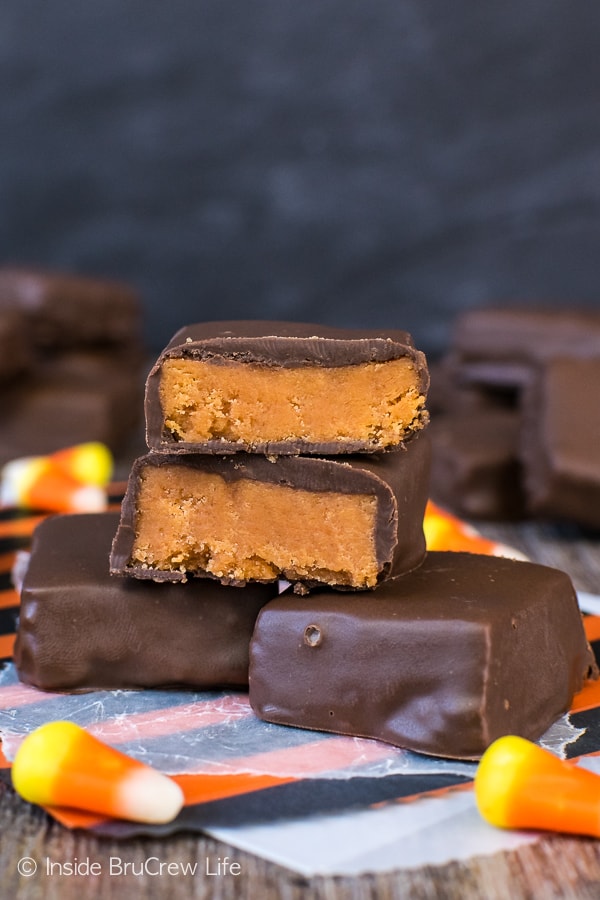 How to make Homemade Butterfingers:
Line an 8×8 pan with foil and set aside.
Place one cup of candy corn and one cup creamy peanut butter in a saucepan. Stir over low-medium heat until everything is melted and creamy.
Pour the hot candy into the prepared pan and let it cool completely.
Lift the foil and candy out of the pan and pull the foil away from the edges. Use a sharp knife to cut the block into 24 mini bars.
Melt the chocolate candy melts according to the package directions. Dip each candy bar into the melted chocolate and tap off the excess before placing it on a piece of parchment paper.
Let the chocolate set before placing the Homemade Butterfingers in a container or bag.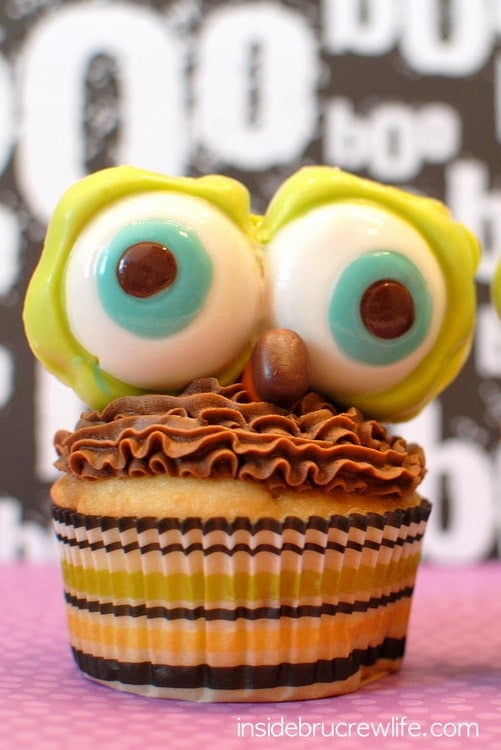 How to make Butterfinger Owls:
Paint the inside of the eyeball candy molds with different colored candy melts using a candy paint brush. Refrigerate the mold for 5 minutes. (This owl mold is another one that I love.)
Brush a second coat of melted chocolate into the candy molds, so it has a thick layer. Set aside.
Heat the candy corn and peanut butter until melted and creamy. Let the mixture cool but not harden.
Press small pieces of the Butterfinger candy into the painted candy mold. Cover the back with more melted chocolate and refrigerate for 5 minutes before popping them out of the mold.
Add the eyes and a piece of candy corn to the top of cupcakes!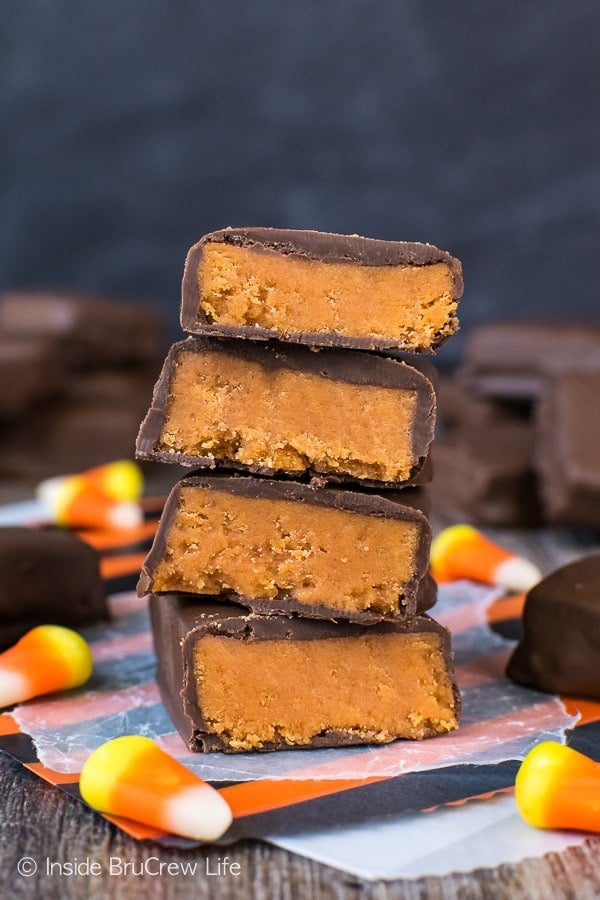 More homemade candy recipes you may like: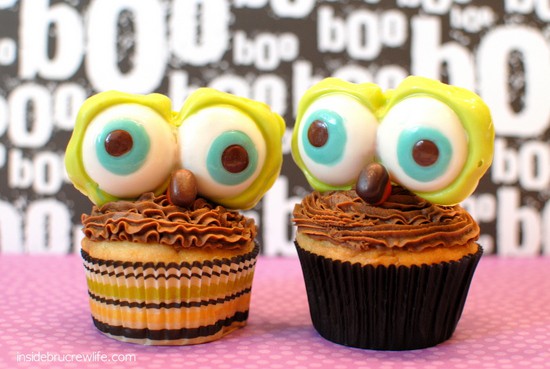 Connect with Inside BruCrew Life! Follow us on social media, so you never miss a post.
Email Subscription | Facebook | Pinterest | Twitter | Bloglovin
I also created a fun new Facebook group, and I would love for you to join. It's a group where you can share your favorite recipes, ask questions, share photos, and see what's new with the BruCrew. If you would like to check it out, you can request to join HERE.
Be sure to follow me on Instagram and tag #brucrewlifebaking, so I can see all the Inside BruCrew Life recipes you are making.
Homemade Butterfingers recipe: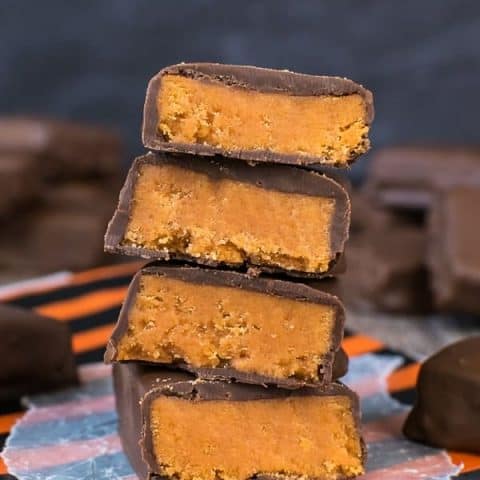 Homemade Butterfingers
You can make your own Butterfingers with just three ingredients!!! These easy Homemade Butterfingers are a great way to use up extra bags of candy corn this Halloween season.
Ingredients
1 cup candy corn
1 cup creamy peanut butter
1 cup chocolate candy melts
Instructions
Line an 8x8 pan with foil. Set aside.
In a saucepan, heat the candy corn and peanut butter over low-medium heat until melted. Stir together. Pour into the prepared pan and let cool completely.
Remove the foil and candy from the pan. Cut into 24 small bars using a long sharp knife.
Melt the chocolate melts according to the package directions.
Dip the candy bars one at a time into the melted chocolate making sure to cover all sides. Lift out with a fork and tap the handle on the side of the bowl to remove the excess chocolate.
Place the bars on parchment paper and let set.
Notes
*You can also use colored candy melts to paint the inside of candy molds. Refrigerate for 5 minutes. Press the cooled Butterfinger mixture into the candy molds. (If the mixture is too hard, you can microwave it for a few seconds until pliable but not hot. Cover the tops with melted chocolate. Refrigerate 5 minutes before trying to remove from the candy molds.
Nutrition Information:
Yield:

24
Serving Size:

1
Amount Per Serving:
Calories:

132
Total Fat:

7g
Saturated Fat:

2g
Trans Fat:

0g
Unsaturated Fat:

4g
Cholesterol:

2mg
Sodium:

58mg
Carbohydrates:

15g
Fiber:

1g
Sugar:

12g
Protein:

3g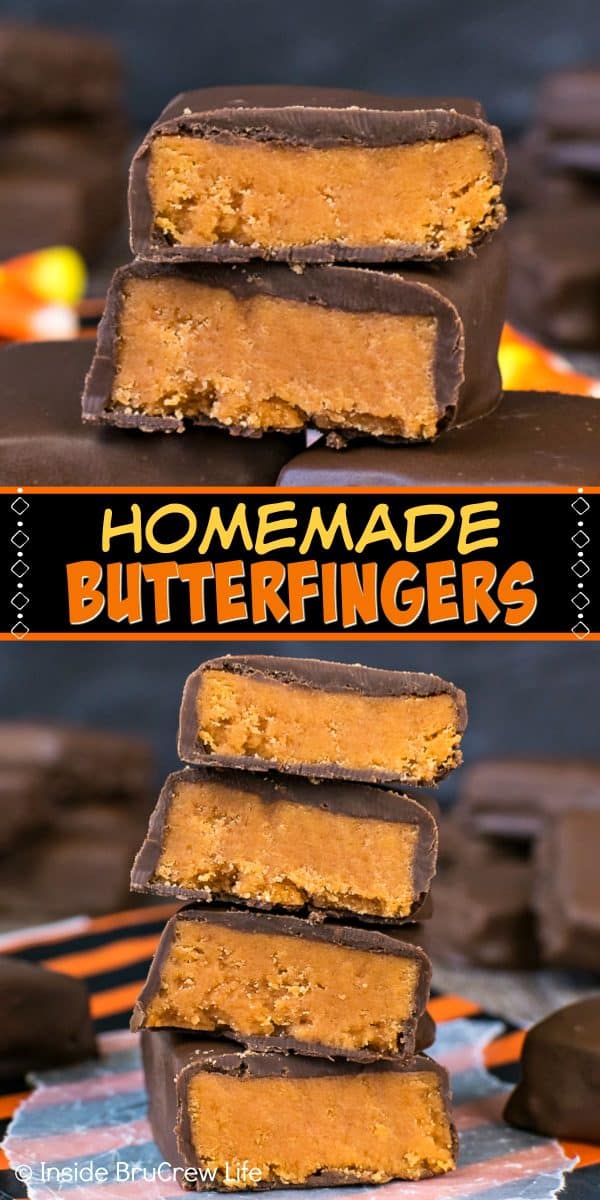 *The post and recipe for Homemade Butterfingers was originally posted on October 26, 2010. The pictures and post has been updated and republished on October 23, 2018.
**This post does contain affiliate links. Inside BruCrew Life may receive a small percentage from sales made through these free links. As always, these do not cost you any extra. Thank you for letting us share products we use and love this way.