Frosted Animal Cookie Muddy Buddies: White chocolate covered Chex cereal coated in crushed animal cookie crumbs and lots of sprinkles. You might want to make a double batch of this. One for you and one for everyone else.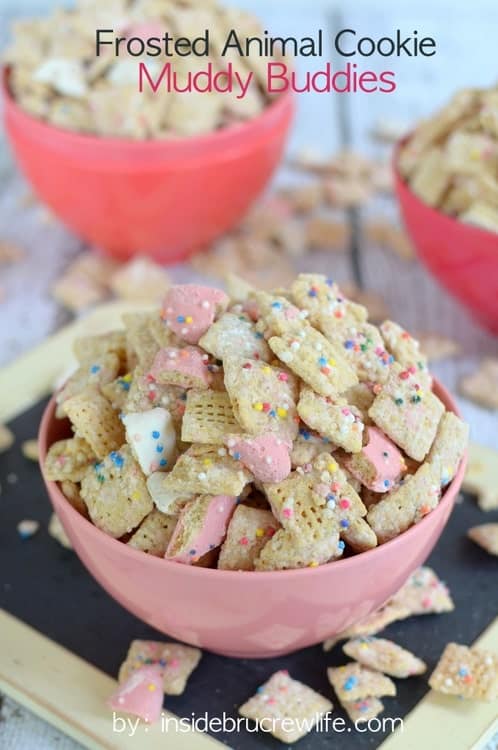 So, I found out a piece of interesting information. If you let your driver's license expire more than 6 months, they make you take a written test again.
How do I know this? Well...let's just say mine has been expired for a while. And by a while, I really mean more than a year. Now before you give me grief, I honestly didn't know it was expired for about a year. I know, I know. I should keep up on these things more. But in my defense I haven't been stopped for any driving offenses, so I'm thinking this is good track record.
Now the last few months...yeah, I might have known, but I didn't do any thing . But last week we bought a new (to us) vehicle. The guys in the auto dealer might have given me a hard time about it. Plus, with our loan I now have to get it updated.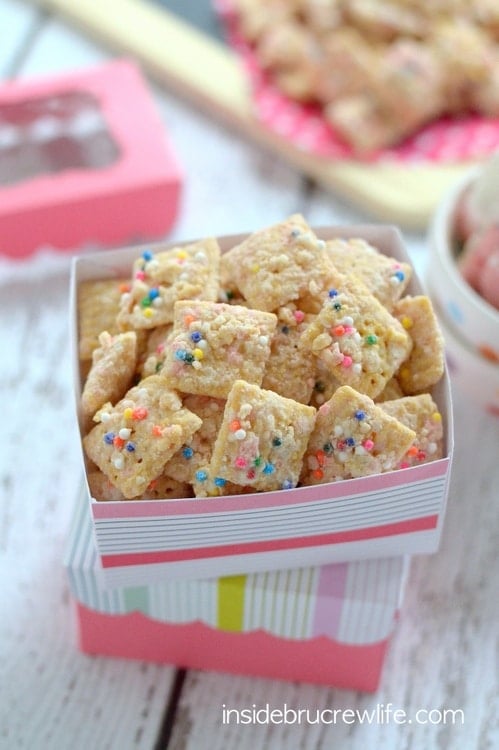 So, I went in to get it taken care of. Yeah...I didn't get it done that day because I'm a little nervous about taking the written drivers test. Seriously! It has been a long time since I have taken one.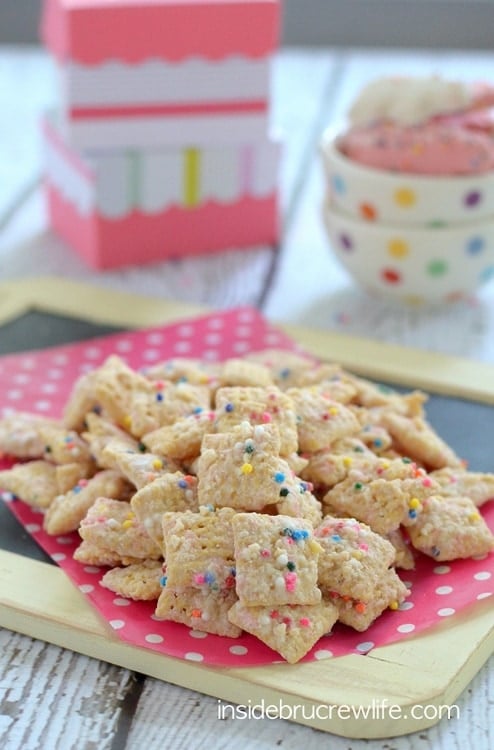 I'm going to need lots of chocolate covered treats to help me study through this stuff again. Last year I made a Chocolate Chip Cookie Muddy Buddies that I couldn't stop eating. Cookie crumbs and melted chocolate is always a good idea.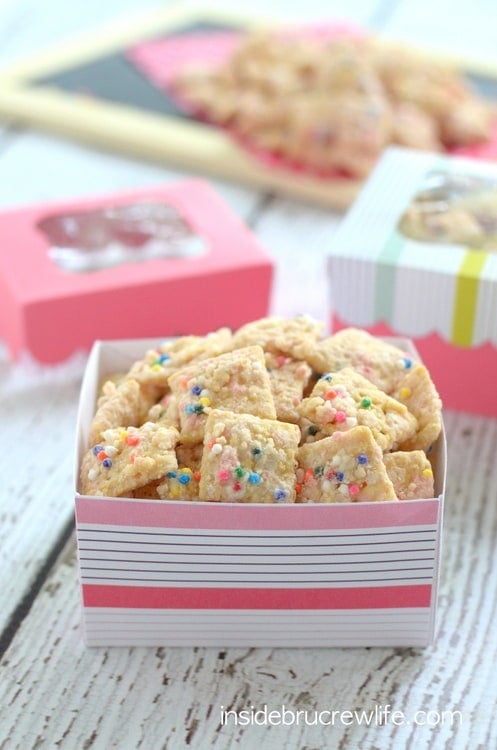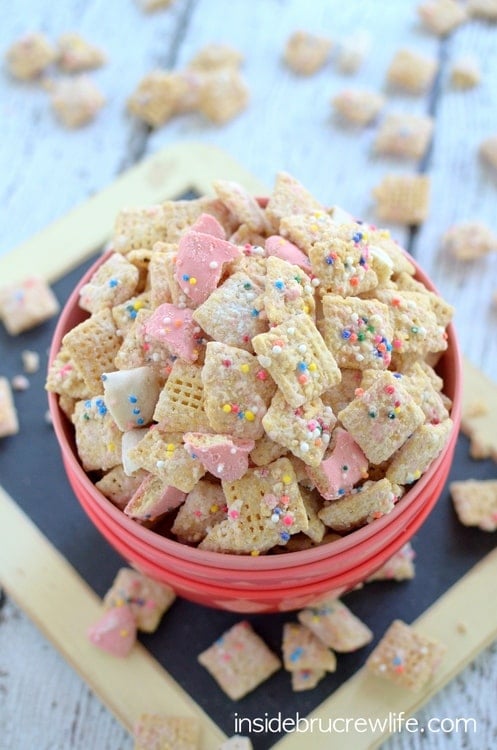 This Frosted Animal Cookie Muddy Buddies is so easy to make. I like to make a big batch of it because the three kids in my house devour it. Ok, fine. I'm usually the guilty culprit that munches on way too much of this.
Four ingredients is all you need to have this snack mix in your house. Five counting the extra sprinkles. 1 box of Chex cereal, 1 bag of frosted animal cookies, 1 package of vanilla CandiQuik, and powdered sugar needs to go on your shopping list this week.
Crush just enough cookies to make 1 ½ cups of crumbs. Extra sprinkles are a must. Stir them into the crumbs too.
Melt the CandiQuik according to the package directions. Pour it over the cereal and stir it to coat everything. Now you can either spoon the mixture into a big ziplock bag or a container with a lid. Shake the cookie crumbs and sprinkles over the cereal, then add a little bit of powdered sugar and shake again. Pour it onto a tray and let it set.
Break up the extra cookies and toss them with the muddy buddies. Then get ready to munch your way through the whole batch!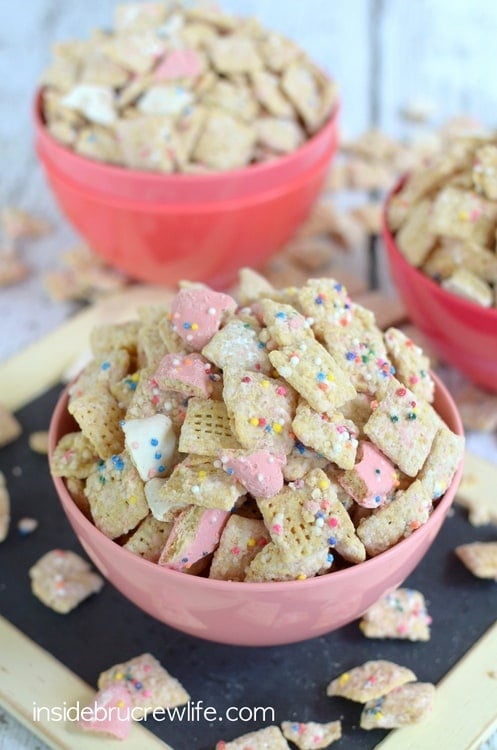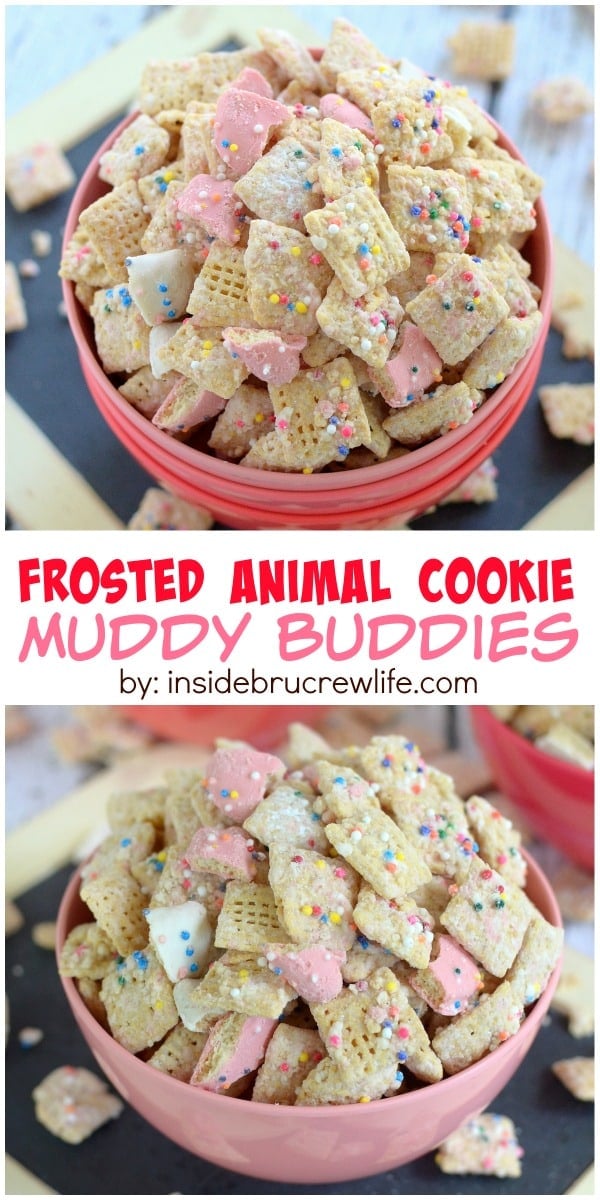 More fun and delicious snack mixes to munch on: