Take your snack time to the next level with our peanut butter puppy chow! Made with Reese's candies, this is a sweet and salty treat that you won't be able to resist. One bite and you'll be hooked!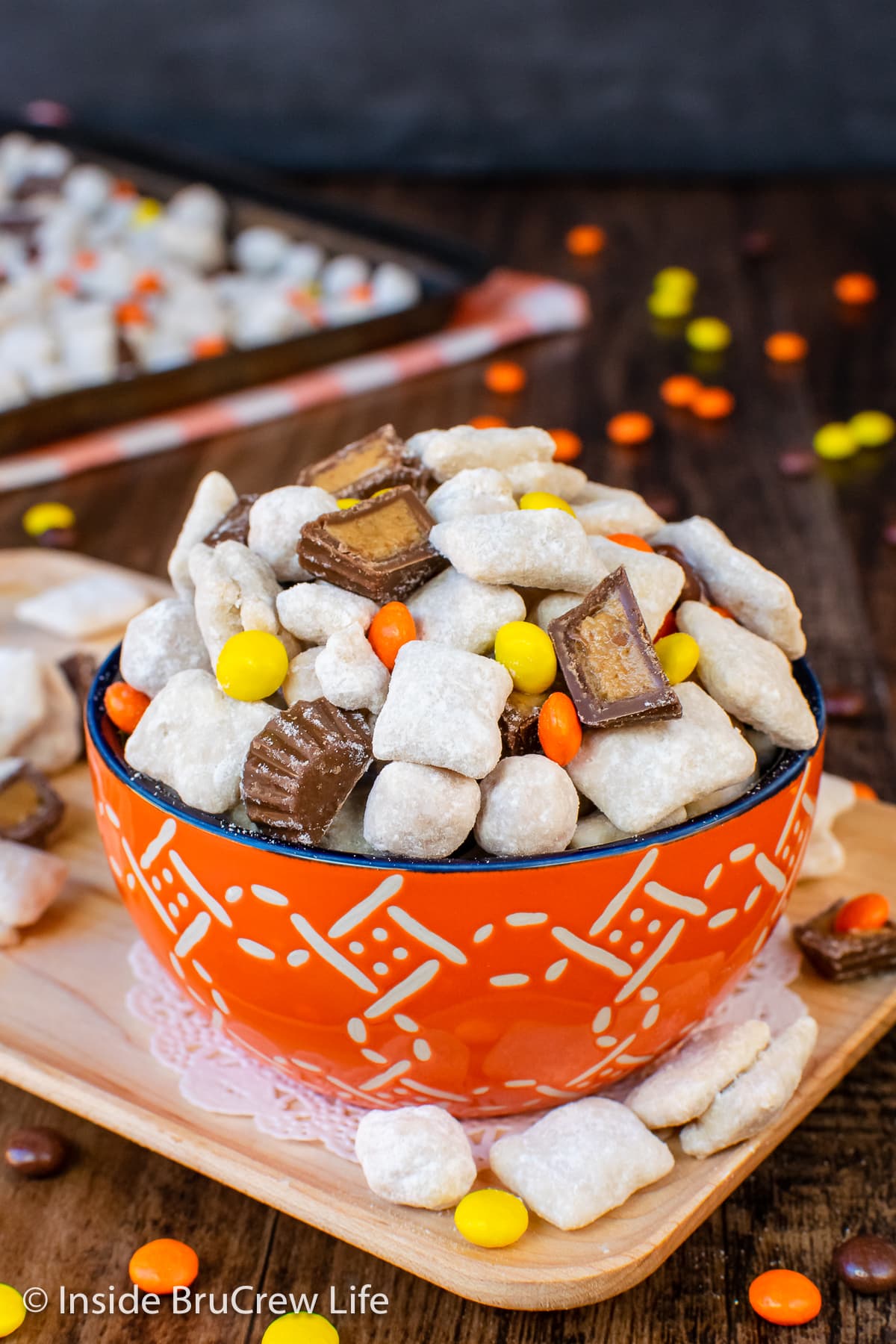 Jump to:
We love making puppy chow when it is too hot to turn on the oven. This sweet Chex mix is easy to make and ready in minutes. And despite the name, this treat IS for humans NOT for dogs.
I love finding ways to change up snack mixes with different flavors. A few of our favorites are this strawberry chex mix and this brownie muddy buddies.
What is Puppy Chow
Puppy chow is a sweet and salty snack mix. It is cereal covered in peanut butter, chocolate, and powdered sugar, all mixed together. Different versions also have candies added to them.
This easy snack mix goes by different names depending on what part of the country you live in. Muddy buddies, puppy chow, and Chex snack mix are the most common terms.
Why You Will Love Peanut Butter Puppy Chow
The combo of Reese's Pieces and peanut butter cups gives the classic snack mix a sweet, peanut-buttery twist. It's the perfect treat to satisfy your sweet tooth.
Easy to make. This treat is pretty simple and doesn't take a lot of time. You only need a few ingredients, and it's a great snack to make at home or bring to a party.
Sweet taste. The combination of chocolate, peanut butter, and cereal coated in powdered sugar makes this treat amazing.
Loaded with Reese's. We gave the classic treat a twist by using Reese's Puffs, mini Reese's peanut butter cups, and Reese's Pieces. It's the perfect treat for the chocolate and peanut butter lover.
Crowd favorite. Puppy chow will always be a hit when you share it at family get-togethers, school events, or holiday parties.
Puppy Chow Ingredients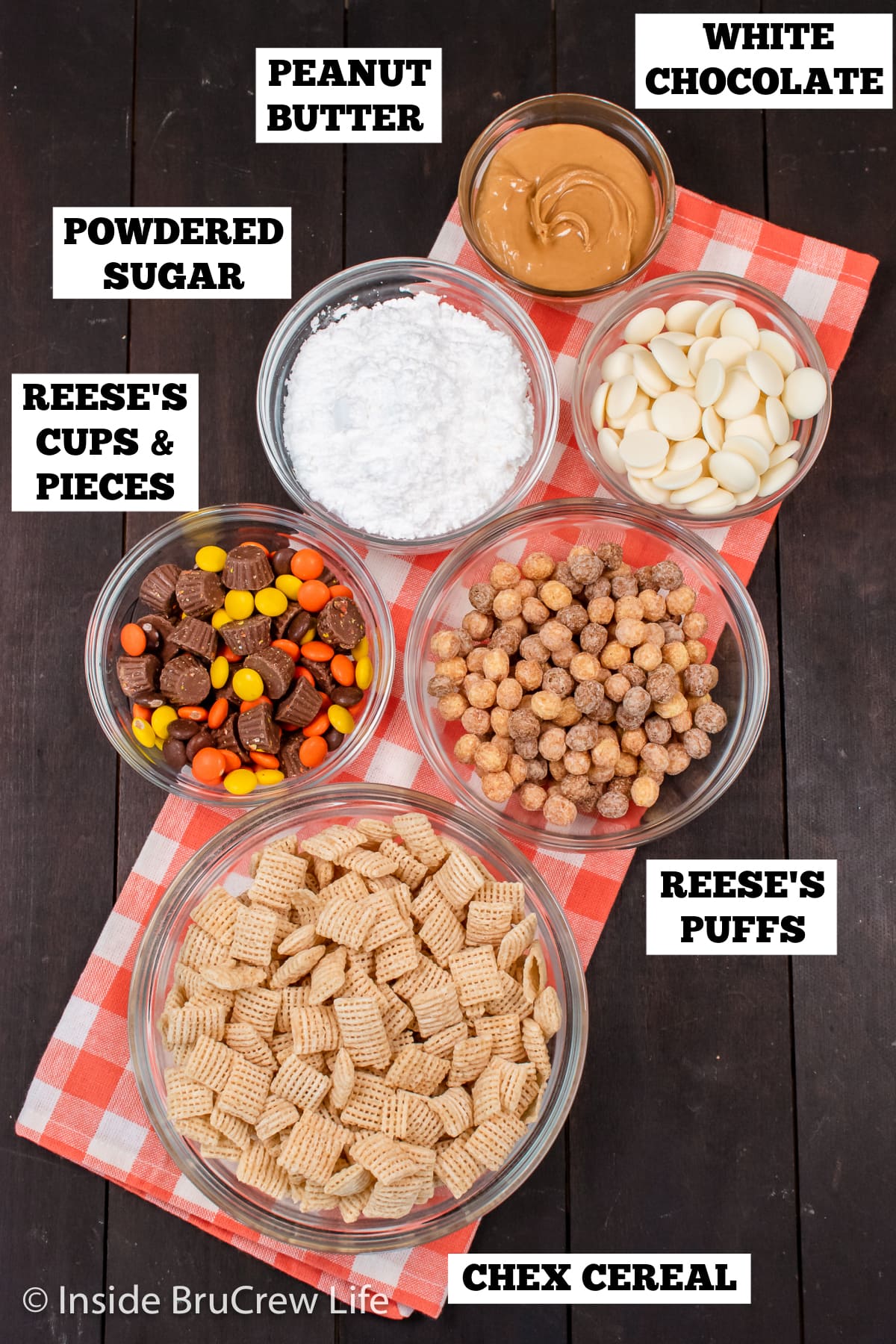 To make this sweet peanut butter cup puppy chow, you only need a few ingredients and some Reese's candies.
Chex Cereal - You can use vanilla, rice, corn, or chocolate in this mix.
Reese's Puffs - The small chocolate peanut butter ball cereal adds a fun element.
White Chocolate - I prefer to use Ghirardelli melting wafers because it tastes so good. You can also use white chocolate chips if that's what you have.
Peanut Butter - Adds a smooth and delicious flavor to the white chocolate. Creamy or crunchy will work.
Powdered Sugar - Gives the finished snack mix a white powdery coating that keeps people coming back for more.
Mix-Ins - Reese's pieces and peanut butter cups are our favorite. You could also add peanut butter chips for even more peanut butter goodness.
BruCrew Tip: Love Reese's treats? Buy an extra bag of the Reese's candies and make Reese's peanut butter pudding cookies for dessert.
How to Make Reese's Snack Mix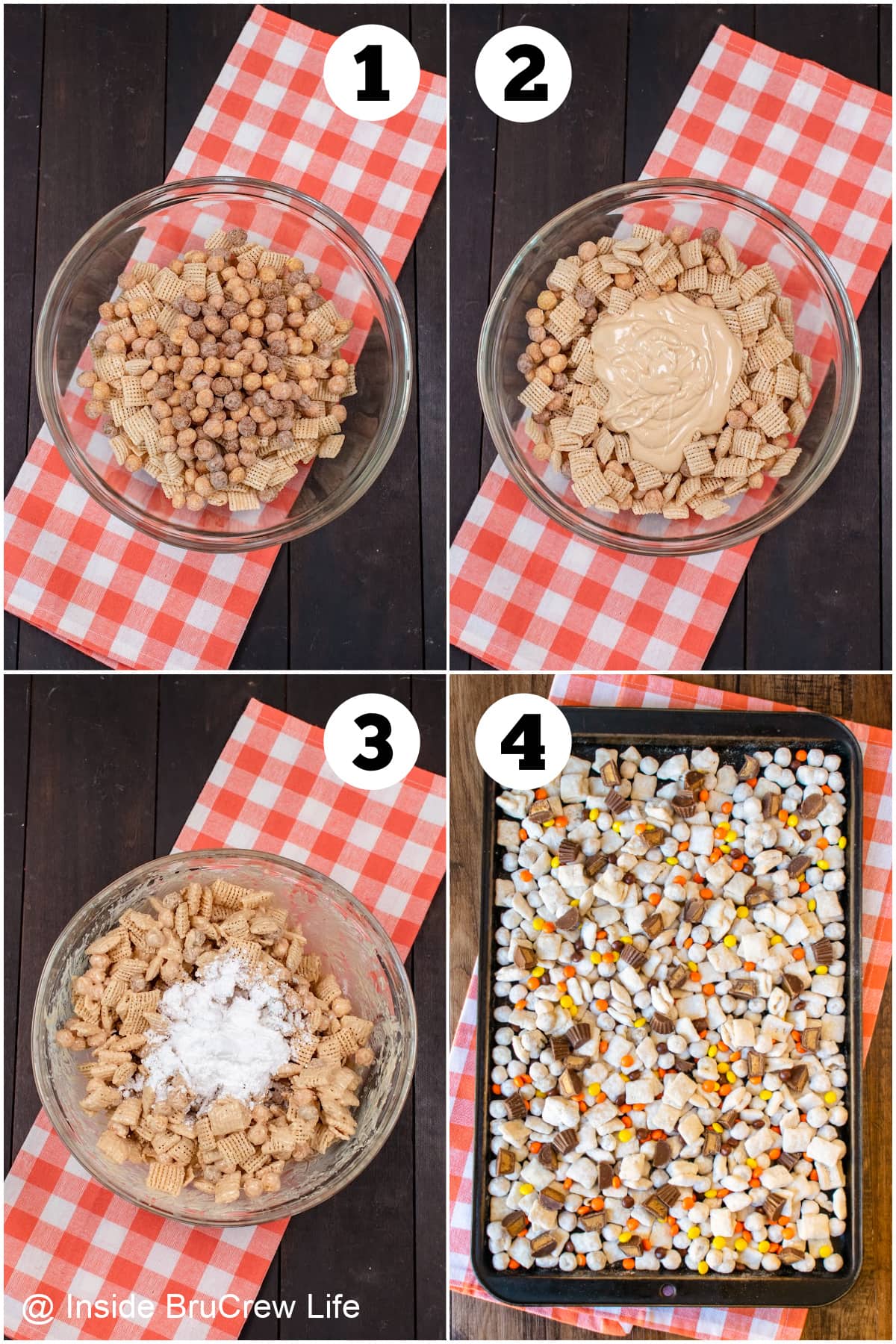 This sweet puppy chow recipe is ready in minutes because you use a microwave. No baking or special tools required! Just combine all the ingredients together in one big bowl for an easy snack that everyone will love!
Combine the cereal. Stir together both kinds of cereal in a large bowl.
Stir in chocolate. Melt the white chocolate in the microwave; stir in peanut butter until creamy. Pour the melted chocolate over the cereal and gently stir until everything is well coated.
Cover in powdered sugar. Sprinkle a third of the powdered sugar on the mixture. Put a lid or saran wrap on the bowl and shake very gently. Repeat two more times.
Add Reese's. Pour the puppy chow onto a large baking sheet and sprinkle with the candies. Let chill for a few minutes.
Storage Recommendations
Puppy chow really is best served right away. You can make it ahead of time and store it for a few days. The cereal will just start to soften after a few days.
On the Counter: Keep the Reese's snack mix in an airtight container or bag at room temperature for 3-4 days.
In the Refrigerator or Freezer: Store it in an airtight bag in the refrigerator for up to a week. You can also keep it in the freezer for up to a month.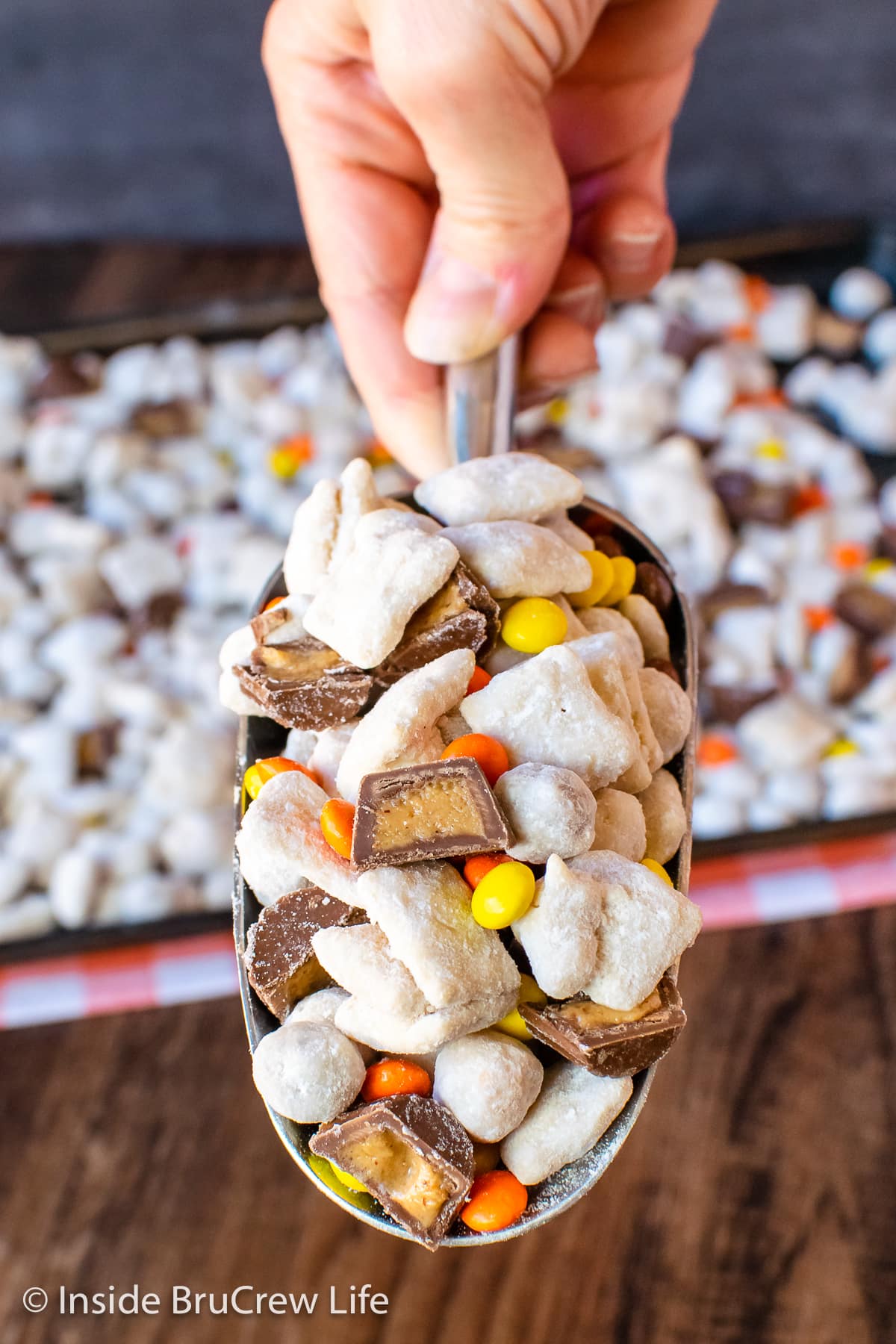 Tips and Tricks
Melt the chocolate at 50% power. Over heating the chocolate can ruin it.
Stir gently. To avoid breaking the cereal into pieces, make sure you stir the chocolate into the cereal very gently.
Use a Ziplock bag. If you don't have a bowl with a lid, you can use a big bag instead. Put the chocolate covered cereal in the bag and add sugar. Tightly seal the bag and shake until everything is coated in sugary goodness.
Remove extra sugar. If you end up with too much powdered sugar, dump the snack mix into a strainer. Tap it gently to remove the excess sugar.
Add more peanut butter. Peanuts, peanut butter baking chips, and peanut butter pretzels are all great choices to add to the snack mix.
FAQs
Can I use white chocolate chips instead of the melting wafers?
Yes, you can use white chocolate chips instead of the melting chocolate. Just be sure to buy a good quality chocolate and melt it slowly in the microwave at 50% power.
Can I use natural peanut butter?
Yes you can. I would recommend finding a natural peanut butter that does not separate or your muddy buddies will become too oily.
Is puppy chow the same as muddy buddies?
Yes, this sweet snack mix goes by many different names.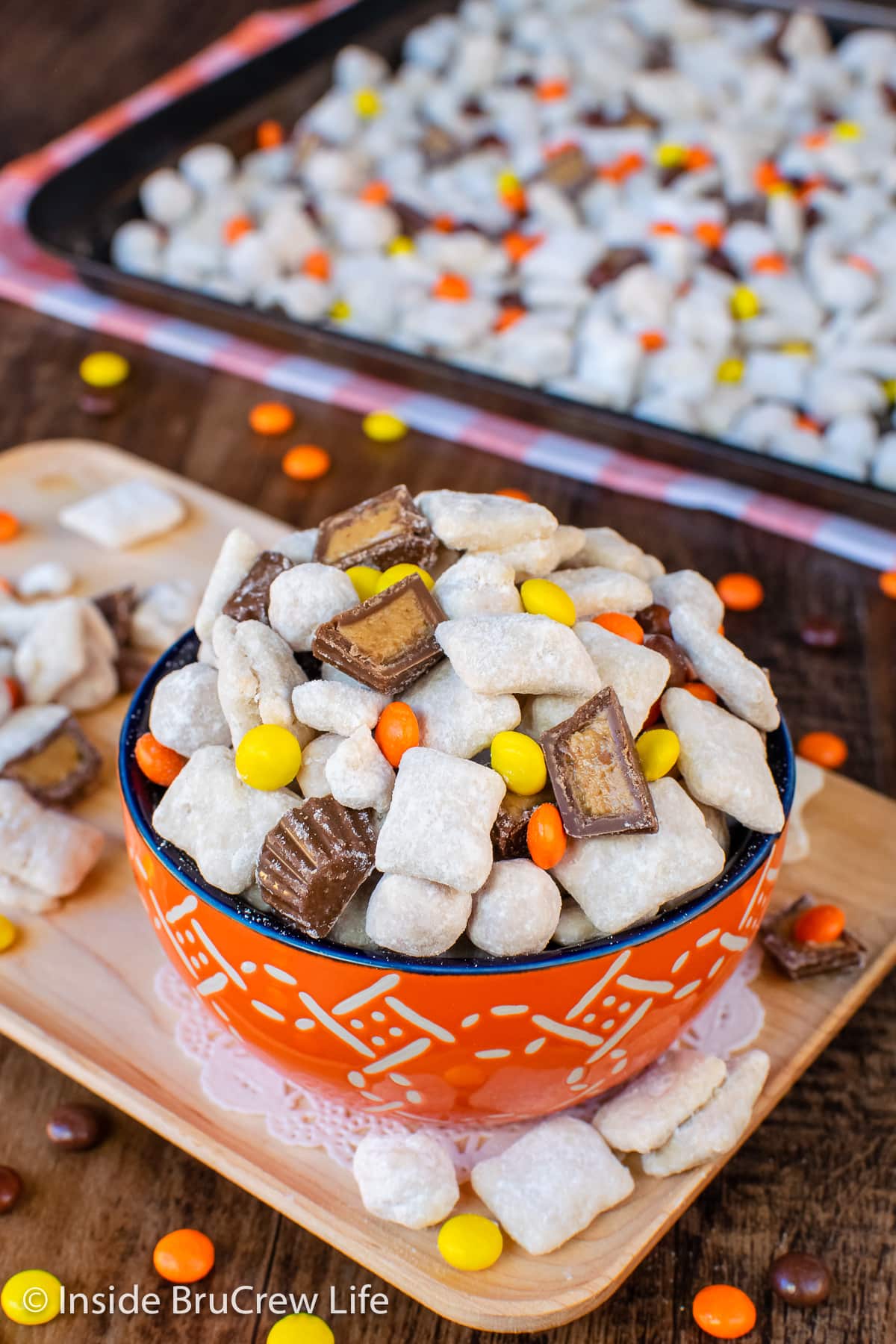 More Easy Snack Mixes
Do you love a recipe you tried from Inside BruCrew Life?
Please leave a 5-star ⭐️ rating and a review in the comments section below.
*This post was first written January 2013. The photos were updated January 2018 and it was republished July 2023.