This easy Peanut Butter Cup Puppy Chow is loaded with four kinds of Reese's goodness. It's the perfect no bake snack mix to share at game day parties or to munch on during movie night.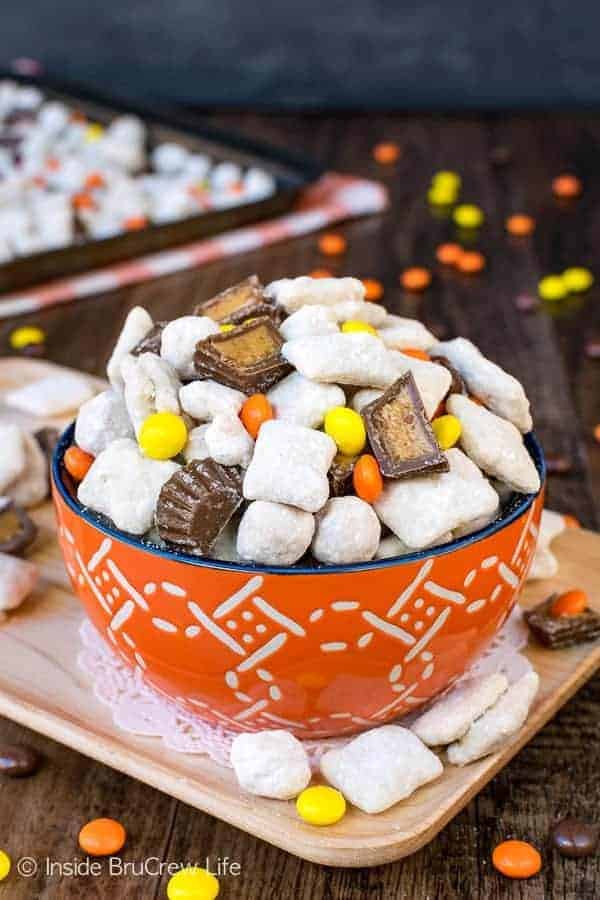 (photos and post updated January 2018)
It's official. Puppy chow is my new snack love! I made a batch of this sweet snack mix for the Super Bowl party we are headed to this afternoon, and it is amazing!!!
Let's talk puppy chow for a minute. No, it isn't really for puppies, even though that is what the name suggests. There have been so many comments all over Pinterest about how chocolate isn't good for dogs!
Hello!!! People read the ingredient list. Do you feed that stuff to your dogs? Because I don't. Well, unless she steals the bag of chow from the counter which could happen if we aren't careful. But I don't GIVE it to her. I have also seen it called Muddy Buddies, and to me that name isn't much better, because who eats mud. Right?
Whatever you call it, just call it good!!! I mean it's cereal coated in melty chocolate goodness and doused in a whole lot of powdered sugar. How could you not love the stuff?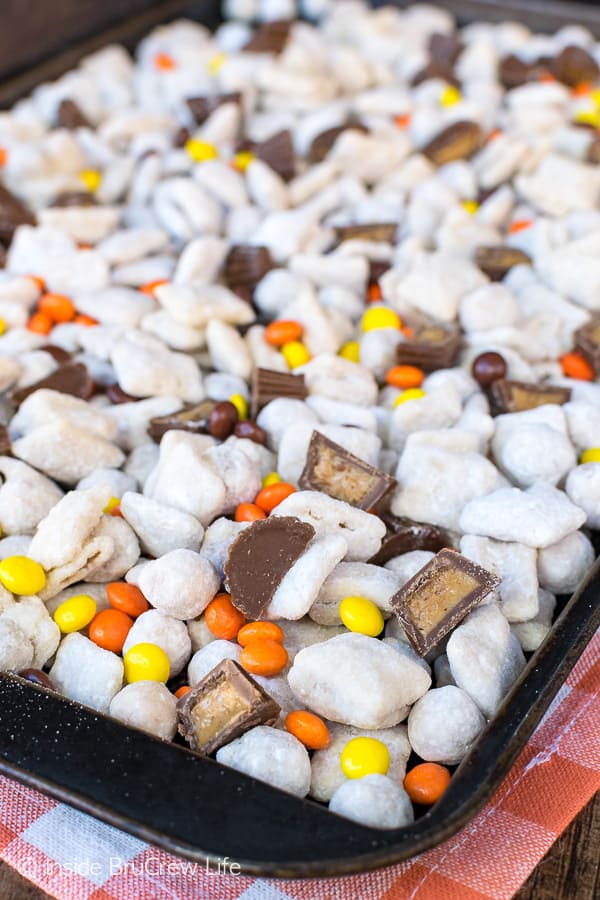 Now I know that I just posted the Mocha Cappuccino Puppy Chow recipe on Thursday, and here I am with another puppy chow for you today. But in my defense, this Peanut Butter Cup Puppy Chow was way too good to wait any longer.
I just had to share it with you right away because I knew you would love it. I mean it has 4 different kinds of Reese's candy loving going on in it. You can see why I couldn't wait another day!
We are definitely a Reese's loving family. I mean have you seen these Reese's Peanut Butter Pudding Cookies or these Peanut Butter Cup Lava Cakes? Both of those desserts disappear within the first day after we make them.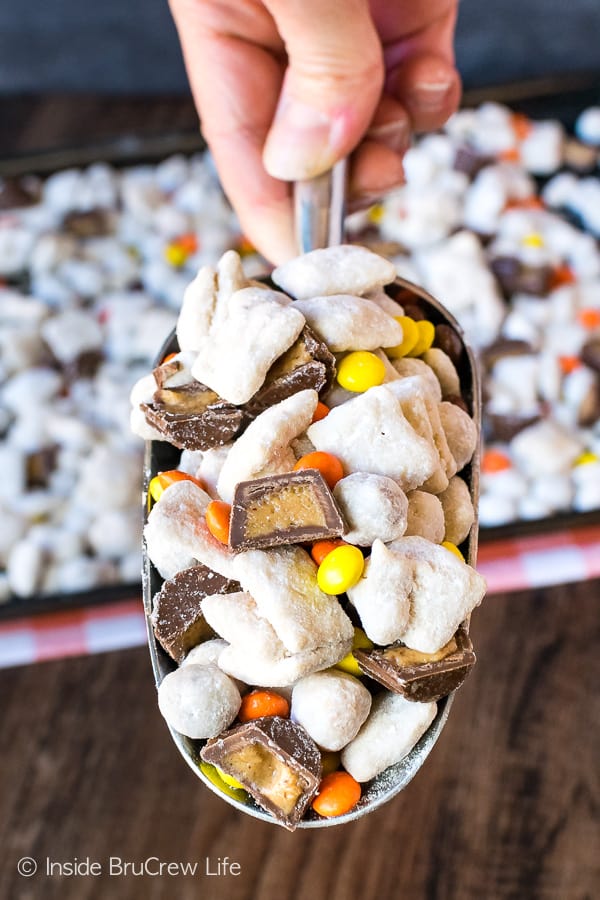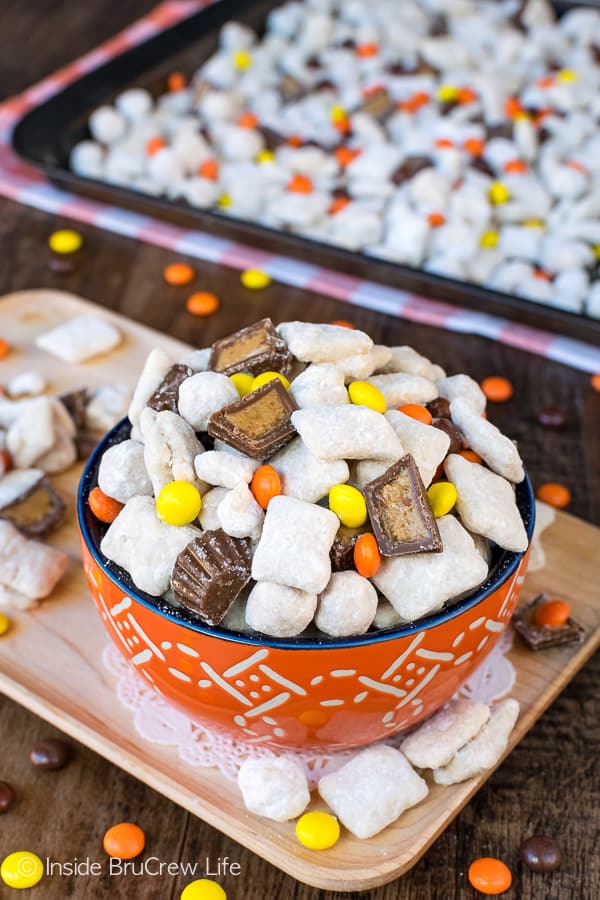 This Peanut Butter Cup Puppy Chow can be ready to snack on in less than 10 minutes!
A quick and easy no bake dessert that is actually ready to eat in minutes is perfect for those last minute parties or snack attacks.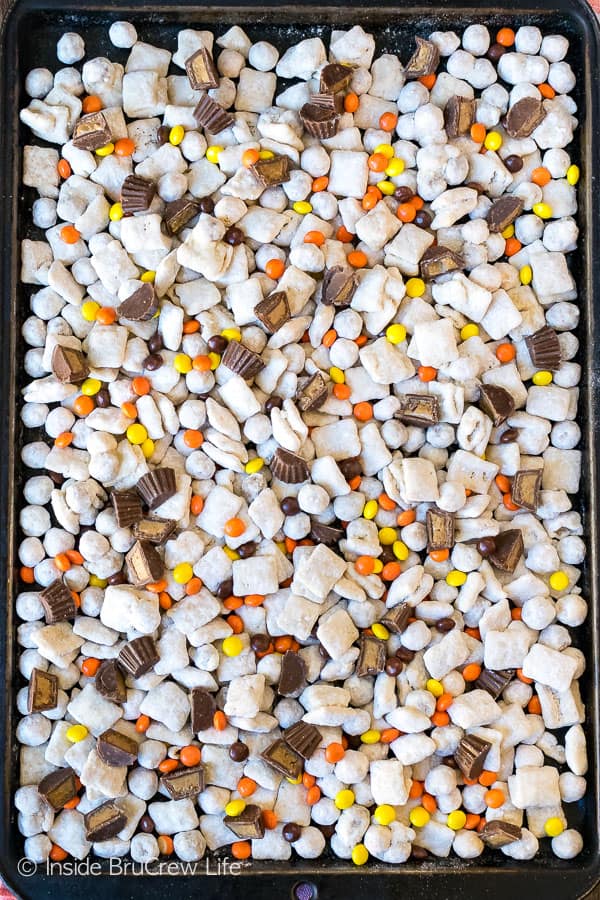 Here are some easy tips to remember when making this Peanut Butter Cup Puppy Chow:
Stir together both cereals in a bowl that has a lid.
Melt the white chocolate and stir in peanut butter until it is creamy. You can also use white chocolate chips if that's what you have on hand. You will need to add some shortening or coconut oil to help it melt better though.
Pour the melted chocolate into the cereals. Make sure to gently stir it until every piece is covered.
Sprinkle half of the powdered sugar on top of the mixture. Put the lid on the bowl and shake gently. You can also use a large ziplock bag to do this if you don't have a bowl with a lid.
Open the bowl and add the rest of the sugar and shake again.
Pour the mixture onto a large baking sheet and sprinkle with the candies. Let chill for a few minutes.
Set out the bowl of snack mix and watch it disappear.
Did I say I was taking this to a party today??? I think I feel a cold coming on. Cough, cough. I better stay home and make it feel better with some Reese's peanut butter cup puppy chow!!!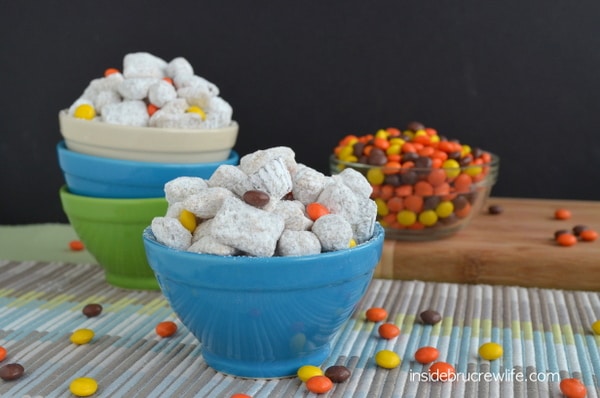 (original photo from February 2013)
More easy snack mixes that are perfect for munching on:

SaveSave
SaveSave
SaveSave
SaveSave
SaveSave