Chex cereal coated with white chocolate, chocolate chip cookie crumbs, and mini chocolate chips...yeah, I don't think you will be able to resist these Chocolate Chip Cookie Muddy Buddies. Unless you are an alien or something!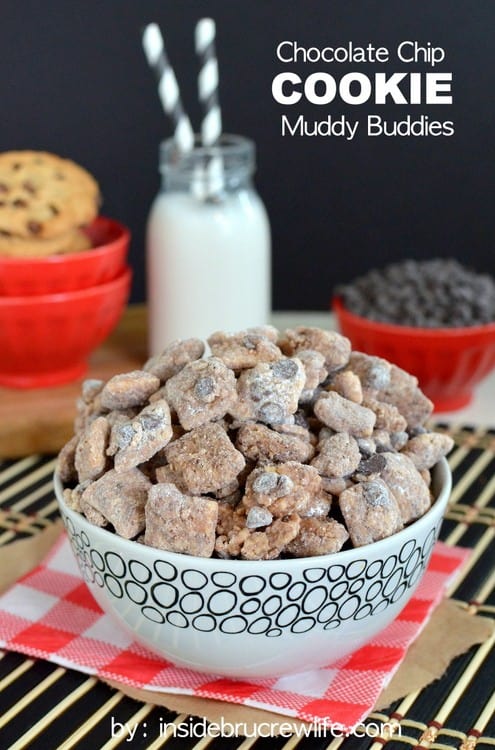 Do you ever go to the grocery store for specific things and then get home and they are not in your bag? Now there are times that I just totally space out and forget to even grab the very item that I went into the store for. I'm not talking about those times. I mean the times you remember to put them in your cart, they are on your receipt, but missing from your bag.
I have a very bad habit of getting mad at my cashier...in my head of course. If you are a Walmart cashier, I'm sorry but I have had not so nice thoughts about cashiers lately. Please forgive me.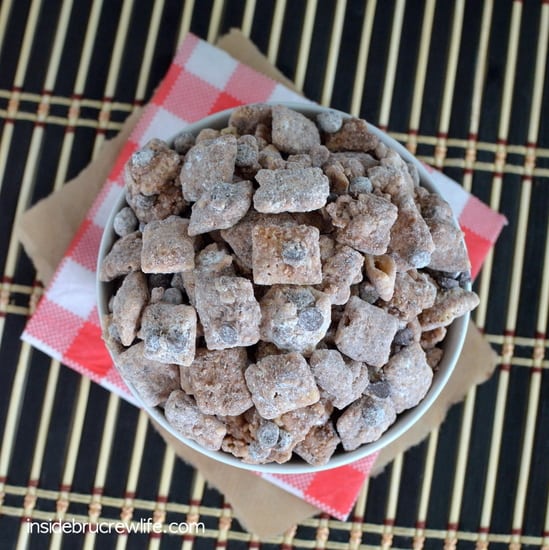 The other day I was at the store buying stuff for dinner. Surprise, surprise! It does happen occasionally around here. That particular day I wanted soup. It was chilly, and a hot bowl of steaming soup sounded great.
I picked up the kids from school and made them come into the store with me. I quickly grabbed the items that I needed and checked out. My dinner inspiration had hit later in the day, so I need to get home and get this soup going.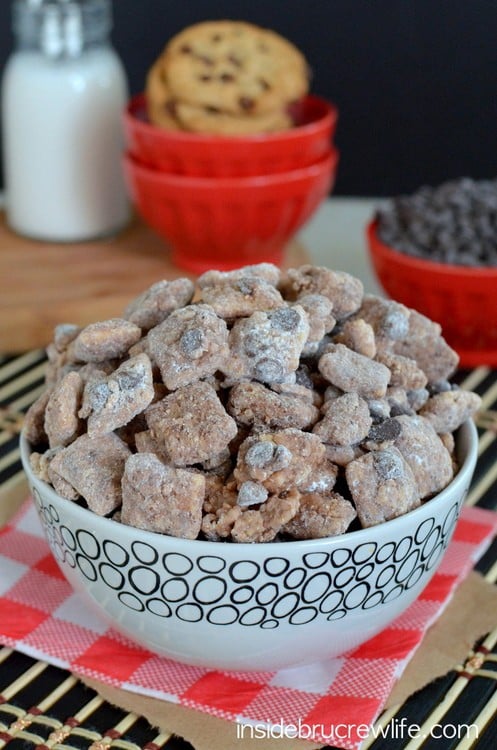 As I was prepping my ingredients, I realized that the jar of minced garlic was no where to be seen. I check every bag and then checked the receipt. Sure enough I had paid for it. I immediately blamed the cashier for not putting it in my head. At this point there was nothing to do but use the little bit of garlic clove I had.
Later I was telling my husband how I got shorted a jar of garlic. Yes, I was still steaming over the loss of the $2 jar. Pathetic, I know!
His response was to ask if I checked the van. He thought it probably rolled out of the bag on the way home. Turns out...he was right. It was under my seat the entire time. So, again I'm sorry for having those mean ill willed thoughts towards my cashier.
I should probably make some more of this Chocolate Chip Muddy Buddies to pass out every time I get annoyed with people. Of course, then I would have to admit to being annoyed. I think I will just stick to working out my irritations in my head...it's probably better that way.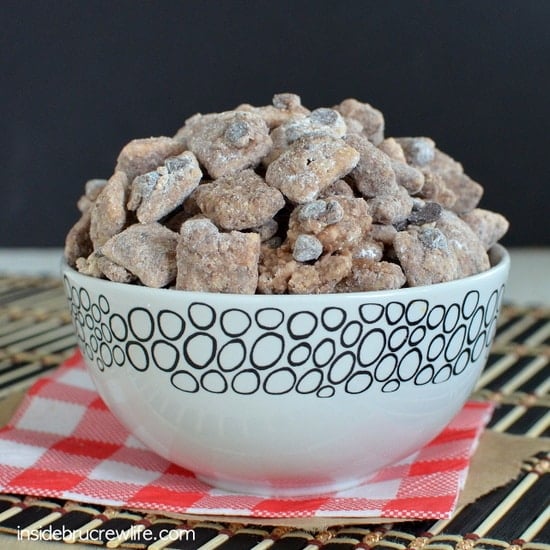 Actually I should just keep a batch of this muddy buddies in my kitchen for times when I need to chill out.
Do you call it muddy buddies or puppy chow?
I actually always heard it called puppy chow, but I have seen some not so nice comments about using that particular phase to describe this snack mix. Turns out there are quite a few people who get irritated that you would feed this to your dog. Can I just say something? THIS IS FOR PEOPLE!!!! I don't know about you, but I do not give my little pup cereal and chocolate. Not only is not good for her, but seriously that good stuff is for me!!!!
I think these people need a bag of this stuff to help them get over their pet peeve on the title of this mix. Whatever! Today I called it Muddy Buddies just to keep the peace.
Whatever you call it, just make yourself a batch of this today! You are going to use some crunchy store bought cookies that you will pulverize into crumbs. If you have a homemade version, go for it. I like to make this snack mix in as little time as possible, so I went with crunchy chocolate chip cookies from the store. At least those made it home with me 🙂 After you stir the cereal into the melted chocolate, you will shake the crumbs and mini chocolate chips all over the mixture. Then after it is completely covered, you add a little bit of powdered sugar to finish coating the cereal.
Good luck staying out of this! It is seriously so irresistible!
Perfect for munching on when you are irritated but know that saying something isn't best! Just keep your mouth occupied with this treat instead!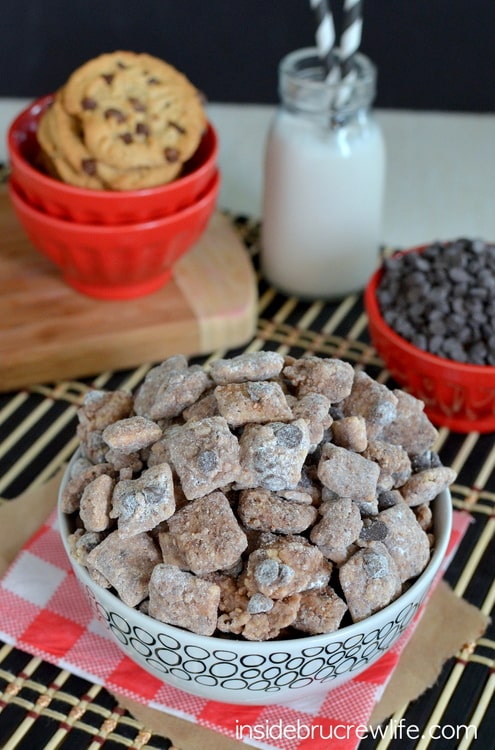 Stay up to date on all the BruCrew baking here:
FACEBOOK | PINTEREST | GOOGLE+ | TWITTER | INSTAGRAM | BLOGLOVIN
Other snack mixes that you will not be able to stay out of: