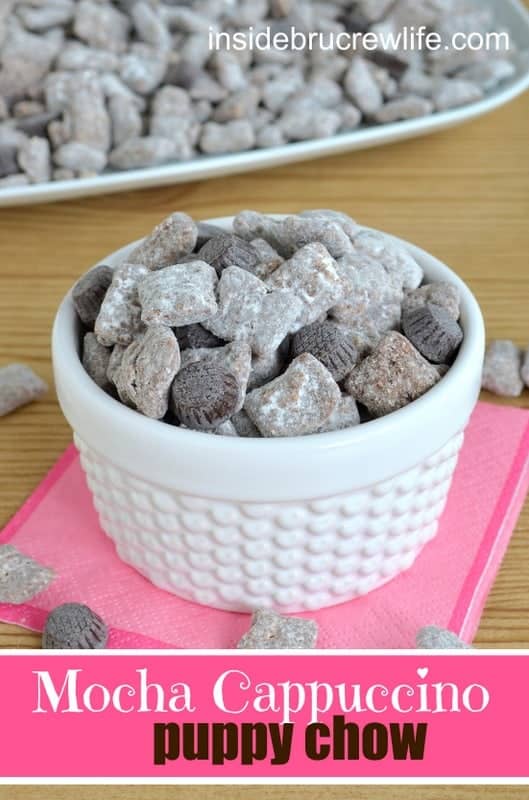 I blame this post entirely on my blog friends. Puppy Chow has been popping up on Aimee's, Sally's, and Nikki's blogs...so what's a girl to do. Obviously crave puppy chow like no other!
Want to know a little secret?
I have never made puppy chow. Oh, I have eaten the good stuff, just never tried to do it myself. After seeing so many yummy kinds on the web, I got inspired to make some right away. And of course in true BruCrew fashion, it couldn't be regular...I had to make it my own. My kids were so excited when I told them I bought the ingredients to make this Mocha Cappuccino puppy chow. Turns out they love this stuff too!!!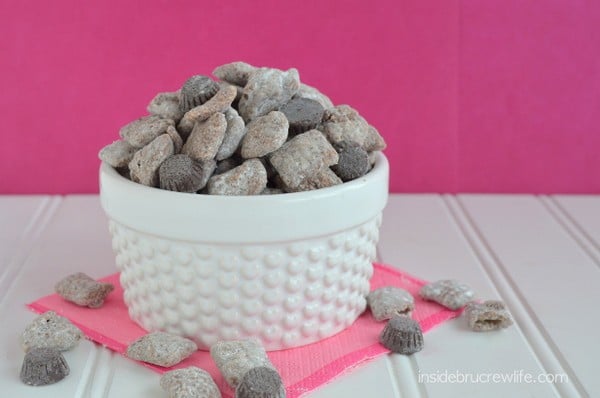 I am kind of in love with the Jif Mocha Cappuccino spread...like "eat it out of the jar with a spoon" kind of love! But today I melted it down with some chocolate chips and poured it over the cereal, then gave it a generous shake with some powdered sugar. I found those little espresso cups at the Dollar Tree. They have some fun little candies there, and you can't beat the price.
Puppy chow is seriously so easy to make. I'm not sure why I never made some before. This won't be the last time though. You just can't beat a no bake snack that takes less than 15 minutes to prepare.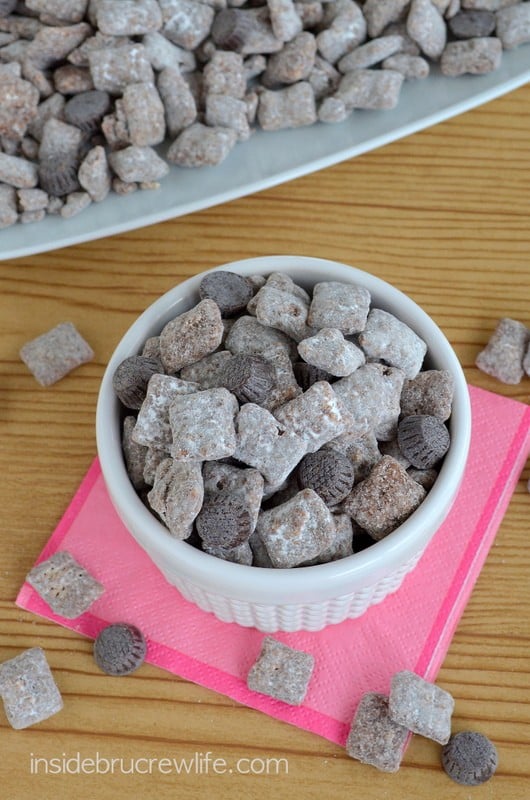 Go ahead and make up a big batch of this Mocha Cappuccino Puppy Chow for all your friends this weekend. It is the perfect sit and watch football and commercials kind of snack. Although once you taste it, I'm not sure you will want to take it with you though. You might want to hide in your closet just for you to munch on later!!! I can't seem to get enough of this good stuff!
Just be careful...this stuff packs quite a sugar rush if you consume a big bowl late at night. Self control? I have none...because I also ate some of this for breakfast today!!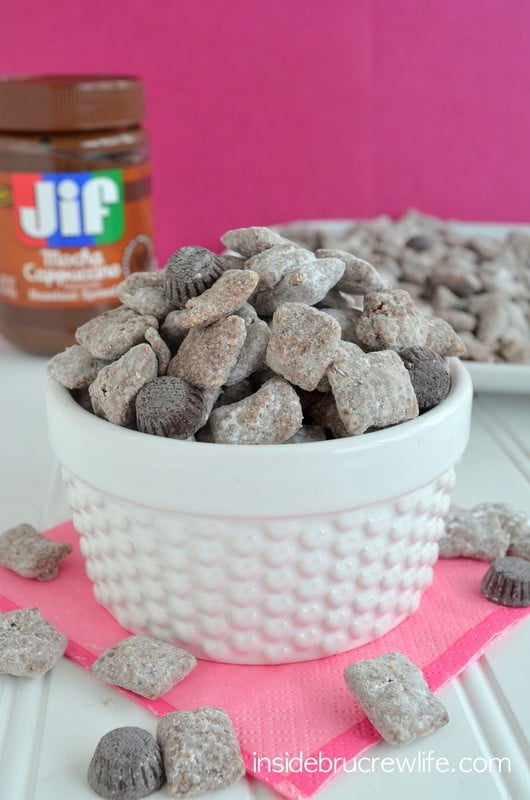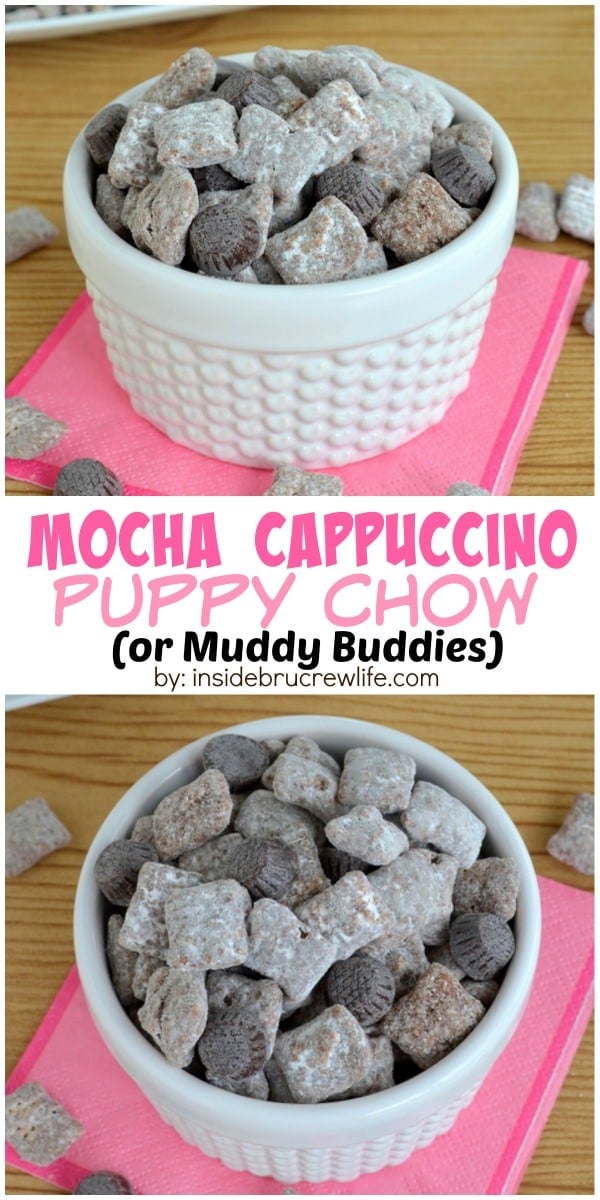 Here are a few more of our favorite snack mixes
that would be great for any parties.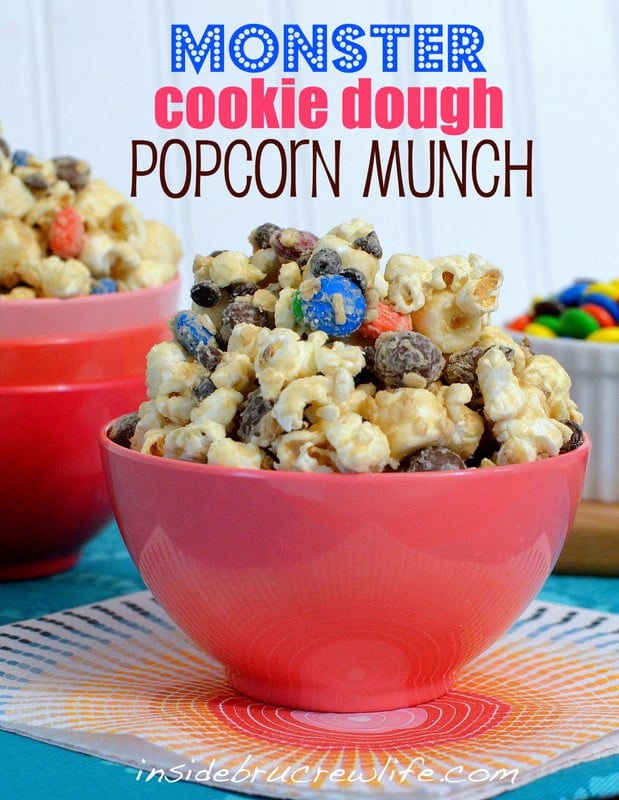 Monster Cookie Dough Popcorn Munch