Sprinkles and Oreo cookie chunks make this Funfetti Cookies and Cream Fudge a blast to make and eat. No one will be able to resist grabbing a few squares when you show up with this cute fudge.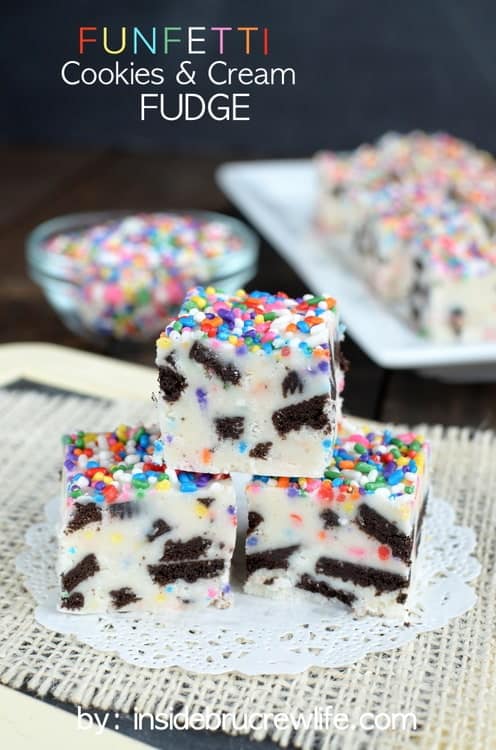 Hi, my name is Jocelyn, and I am a hoarder of baking supplies.
At any given time I could make at least 10 different desserts using the baking supplies that are in my cupboards. Actually 10 might be kind of low...but I don't think I really want to count what is in those cupboards and get an accurate number.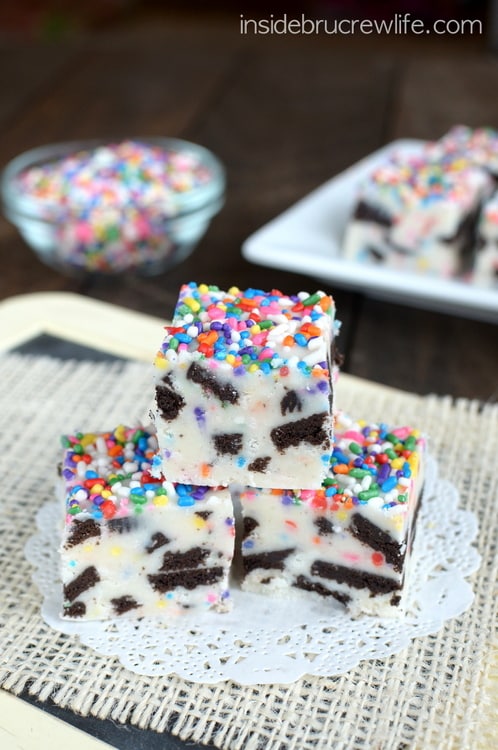 Just like a moth is drawn to a light or flame, I can't resist the urge to walk down the baking and candy aisle every single time I go to the store. It doesn't matter that I just bought 5 bags of candy the last time, another one or two will still make it into the cart along with some cookies, cake mixes, pudding, and sprinkles.
My husband tells me I have a problem. Yeah...he is probably right. But I'm ok with that, and I think you guys are ok with my "problem" too. I mean look at this fudge staring back at you.
Sprinkles and Oreos are a wonderful thing to hoard in your cupboards until inspiration hits. You should try it some time. The fudge and the hoarding that is. Although I suggest finding hiding spots that your kids do not know about. My kids have found out where I hide the baking Oreos. My oldest is crazy about Oreos, so he gets into the baking stash all the time. I think it is time for a new hiding spot.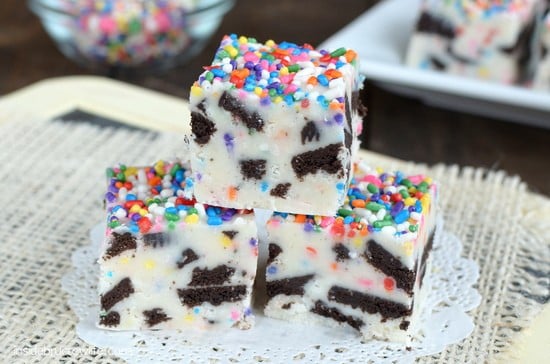 This fudge only takes about 10 minutes to make. If you are hoarder like me, you will have the 5 ingredients you need to make a batch today.
This fudge starts with a bag of white chocolate chips that you melt over low heat with a 2 Tablespoons of butter. Then take the foil lid off a can of frosting and heat it in the microwave for 1 minute. The frosting will melt and become creamy. Pour this over the melted chips and stir it in quickly. You will need to work quickly because this fudge does set up very fast.
If it does set up before you can get it in the pan, don't worry. Put the mixture in a microwave safe bowl, and heat it for 30 seconds. The microwave is a life saver sometimes.
Remember to have your chopped cookies and sprinkles ready BEFORE you start the fudge. Add those cookies and sprinkles to the hot mixture and stir gently. Do not over mix the fudge. The sprinkles will start to melt if you stir too much. Pour it into a foil lined pan and let it be for a few hours.
Now cut into it and smile for joy at all the fun cookie chunks and sprinkles that are all over this fudge. See, it's a good thing to hoard baking supplies when you can make yummy and cute things like this, right?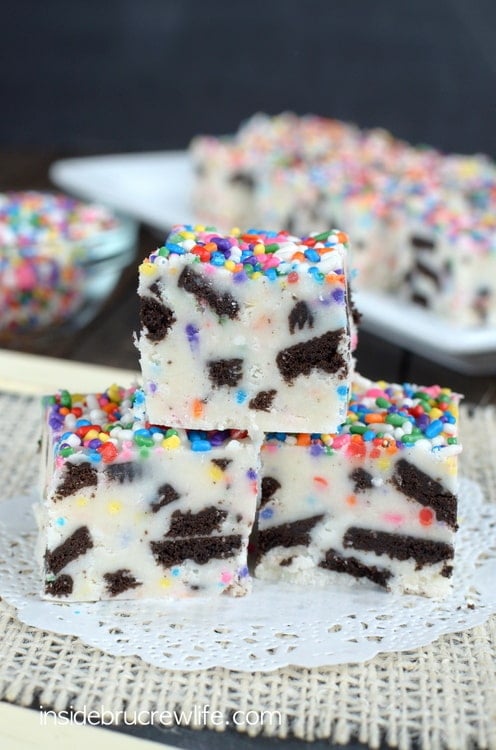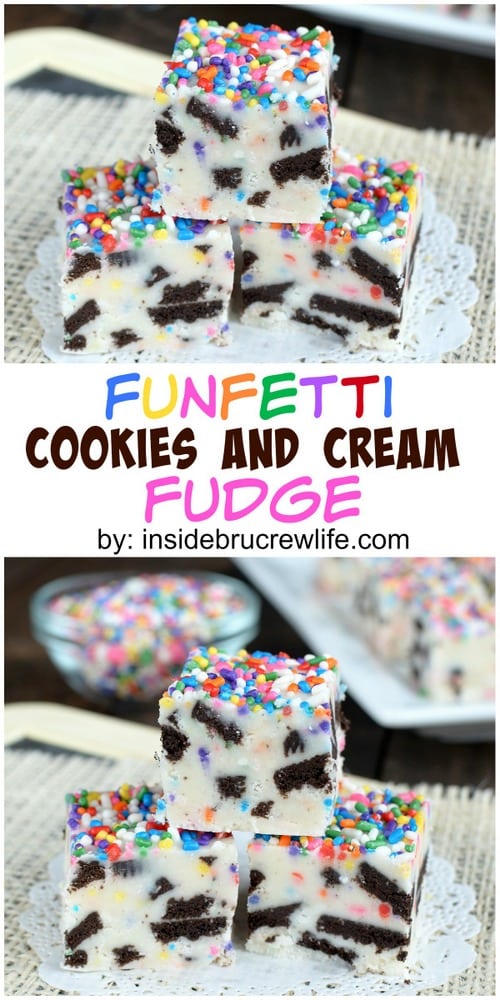 More fun ways to add Funfetti treats into your life: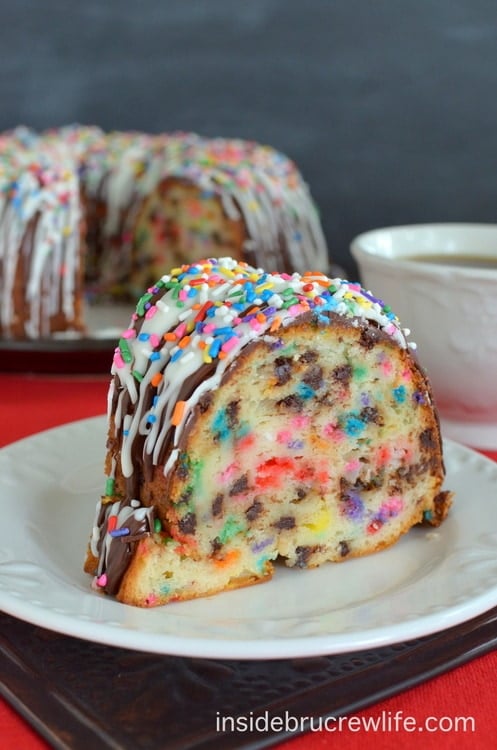 White Chocolate Funfetti Chip Cake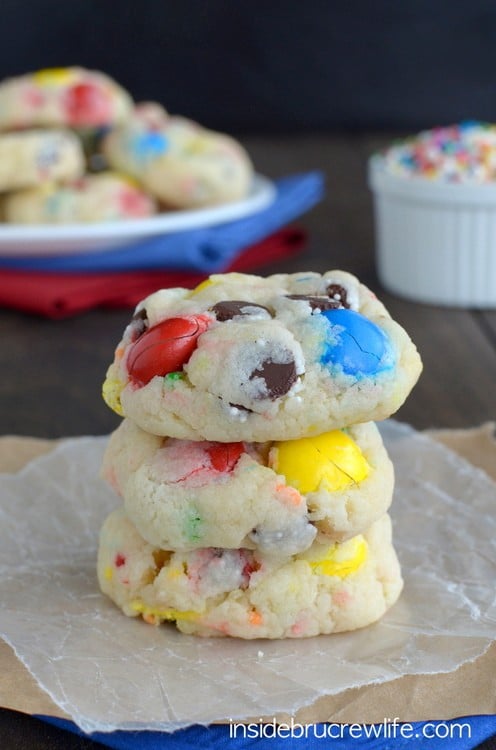 Funfetti Birthday Cake M&M Cookies