This White Chocolate Funfetti Chip Cake is an impressive dessert for any picnic or party. Cake with sprinkles and chocolate on top and inside is sure to have you coming back for more.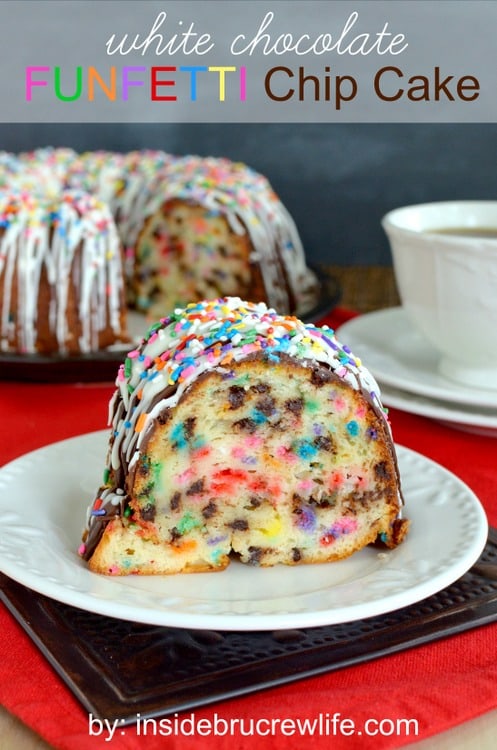 I have a confession to make. It's nothing big and crazy. Just something about me that if we are going to be friends, you might want to know.
I am late to everything.
Time is just not my friend. I try to do things quickly, but I get distracted…squirrel!!! Or things take me way longer than I anticipated. Want to know what makes this bad habit of mine even worse? Being late is probably my husband's worst pet peeve. I know this, and I honestly try so hard to be on time for things that he attends. But 9 times out of 10, I'm going to show up late.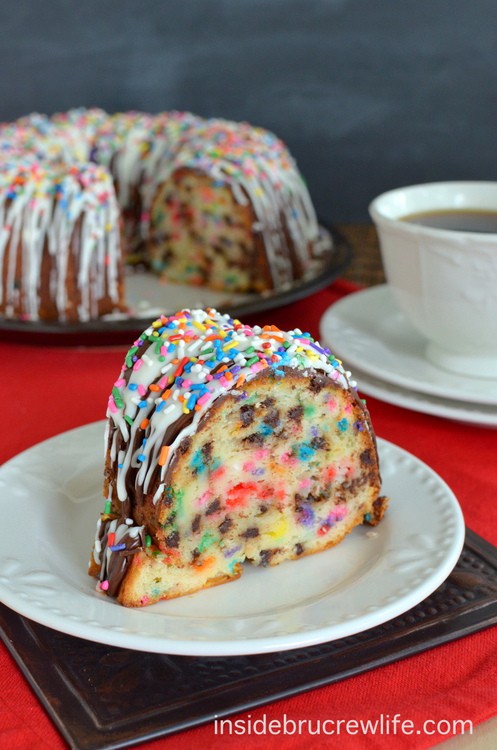 Honestly, I think this bad habit originated when I was younger. Oh, I don't think it, I know it. My mom was late to everything too. So I guess growing up being late to everything has carried over with me. And don't get me wrong…I'm not blaming my mom. I believe that everyone is responsible to make their own decisions in life. I've just gotten used to arriving late to the things I do, so it doesn't bother me anymore. I don't do it on purpose…and usually it is just morning things that I am not on time for. Most of the time 🙂
If everything started after noon, I think I would do better. I'm as slow as a turtle when it comes to getting ready or having stuff done in the early morning hours. Coffee doesn't even help me be faster.
Want to know my secret to getting my kids to school on time? I jump out of bed and put a hat on. Yup, that's right. My pj's and I make it to school almost every morning before the bells ring. There have been a few times we have run late, but not usually because of me. Thank goodness for yoga pants and tshirts.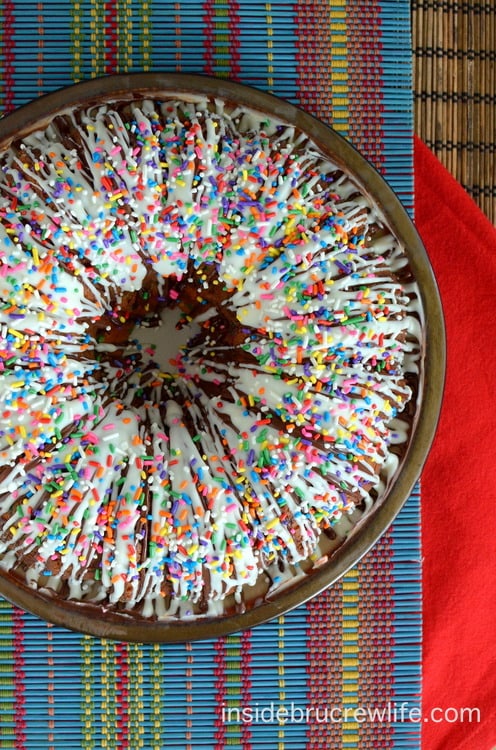 Does anyone else suffer from lateness-itis? If you have or did, any tips on improvement are more than welcome.
I have found that bearing baked goods as gifts sometimes works as a peace offering when running late. Unfortunately that doesn't work on my hubby since he doesn't have a sweet tooth, but it kind of works in other instances. (I really don't believe it, but I like to think it helps.)
Especially a cake covered in sprinkles and chocolate. This is sure to make someone smile when you walk in late carrying this.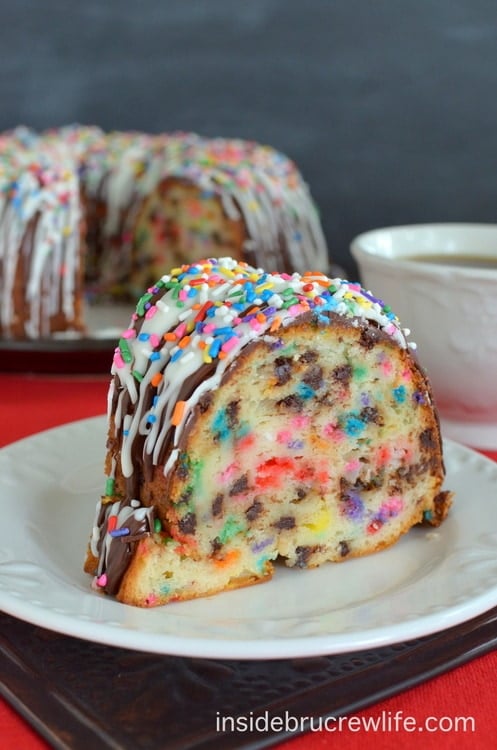 The best part of this cake is that when you cut into it, there are tons more sprinkles and chocolate chips on the inside. You just can't help but smile when you see this fun cake coming at you. It will make you forget about anything late related.
We went to dinner at some friend's house earlier this week. And no we weren't late…well…does 2 minutes count as being late? Don't answer that 🙂 I brought this fun cake for dessert. The little girl there was so excited when she saw all the sprinkles. Her eyes got really big when she saw all the sprinkles inside it too.
This cake is so down right delicious, it isn't even funny. You are going to add a box of white chocolate pudding to the cake batter to give it the flavor. And then lots of sprinkles and chocolate chips are stirred in for a huge WOW! factor. I like to make this cake in a bundt pan, but you could also bake it in a 9×13 baking dish. Just make sure to adjust the baking time. A bundt pan takes much longer because of how deep the pan is.
After it cools, drizzle it with 2 kinds of chocolate and give it a healthy covering of sprinkles.
What do you mean I was late? Ain't nobody got time for blame when there is sprinkle cake to eat!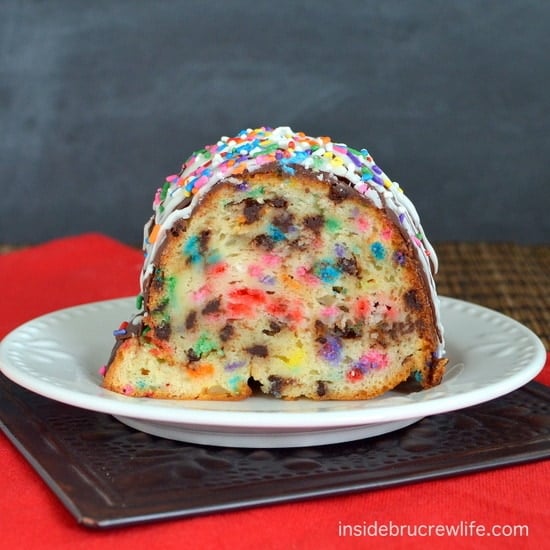 Stay up to date on all the BruCrew baking here:
FACEBOOK | PINTEREST | GOOGLE+ | TWITTER | INSTAGRAM | BLOGLOVIN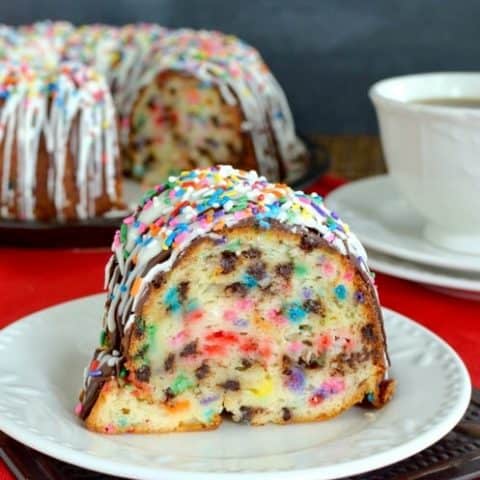 White Chocolate Funfetti Chip Cake
Total Time:
1 hour
10 minutes
This white chocolate pudding cake with funfetti sprinkles and mini chocolate chips makes an impressive dessert at any picnic or party.
Ingredients
1 white cake mix
1 - 3.4 ounce box instant white chocolate pudding mix
1 cup plain greek yogurt
4 eggs
1/2 cup oil
1 cup milk
1 cup mini chocolate chips
1/4 cup rainbow sprinkles + more for topping
1/2 cup white chocolate chips
1/2 cup chocolate chips
1 teaspoon shortening divided
Instructions
Preheat oven to 350 degrees. Spray a bundt pan with nonstick baking spray.
In a mixing bowl, combine the cake mix, pudding mix, yogurt, eggs, oil, and milk. Beat on low for 1 minute, then beat on medium for 2 minutes.
Stir in the sprinkles and mini chocolate chips by hand. Pour batter into prepared pan. Bake for 55 minutes.
Let cool in the pan for 15 minutes before turning out onto a plate to cool completely.
Place the chocolate chips in a microwave safe bowl with 1/2 teaspoon shortening. Heat for 30 seconds. Stir until melted and creamy.
Spoon into a plastic baggie with one tip cut off and drizzle over the top of the cake.
Repeat with the white chocolate chips. Top with the extra sprinkles.
Let set before serving. Keep covered on the counter for 4-5 days.
Recommended Products
As an Amazon Associate and member of other affiliate programs, I earn from qualifying purchases.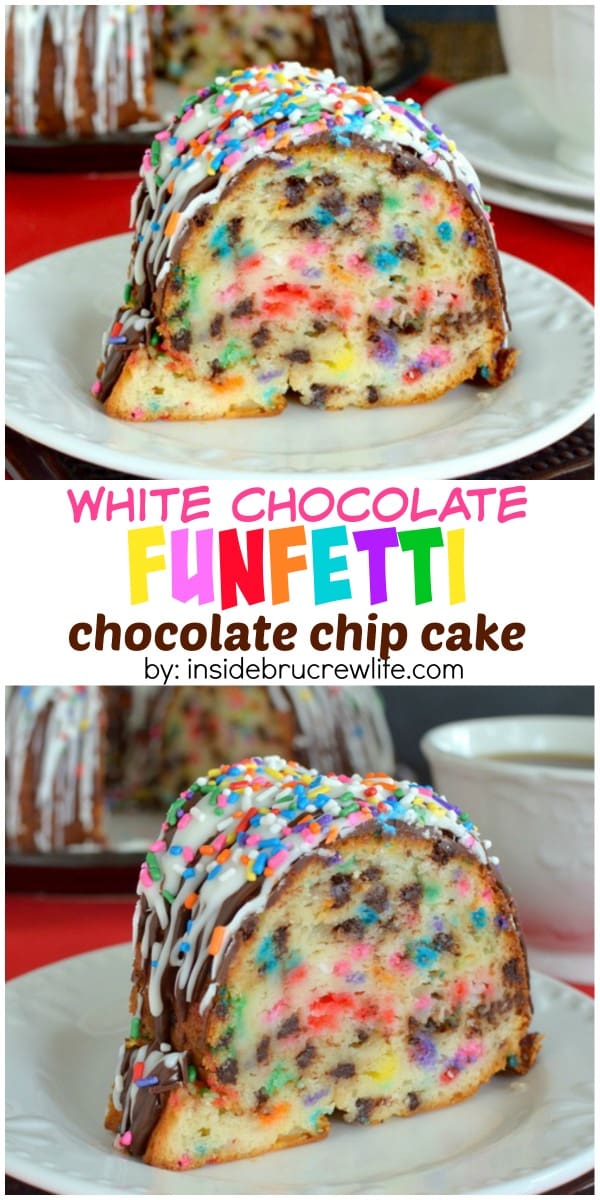 Other fun ways to enjoy sprinkles: