Homemade Strawberry Shortcake topped with fresh strawberries and whipped cream is a classic dessert that is delicious any time of year.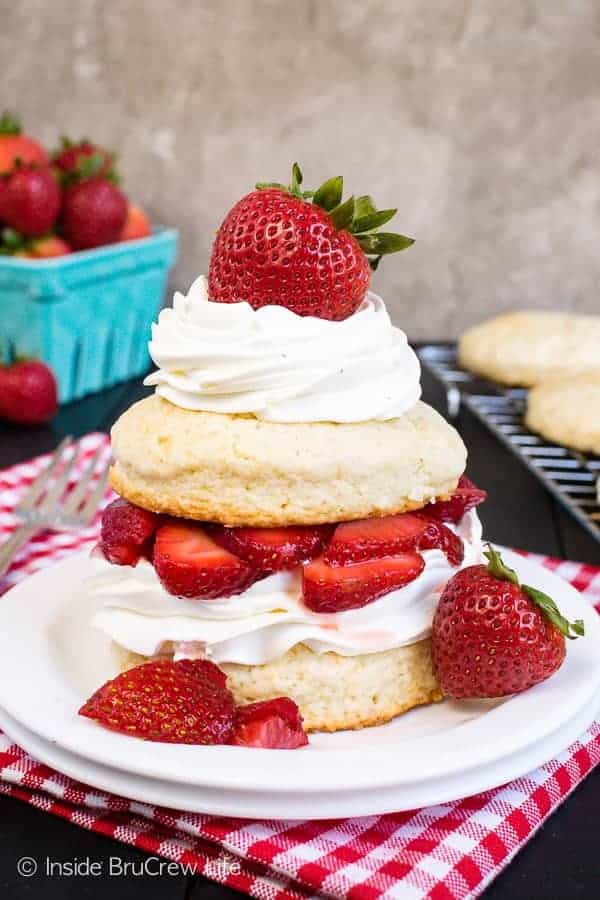 Right now I really really want to start baking all things fall related. When the middle of August hits, all I can think about is all things pumpkin and apple. BUT here in Florida it is still over 90 degrees. Not very fall like at all.
It's kind of hard to get into the fall baking mood when it's so hot and humid outside. So instead of pulling out the fall ingredients, I bought some more fresh strawberries.
At first I was going to make another batch of these No Bake Strawberry Daiquiri Cheesecake Parfaits for our fridge because chilly treats are best when it's so hot.
But then I got this crazy craving for strawberry shortcake, so I made that instead. And I couldn't let summer end without sharing these easy strawberry shortcake biscuits with you.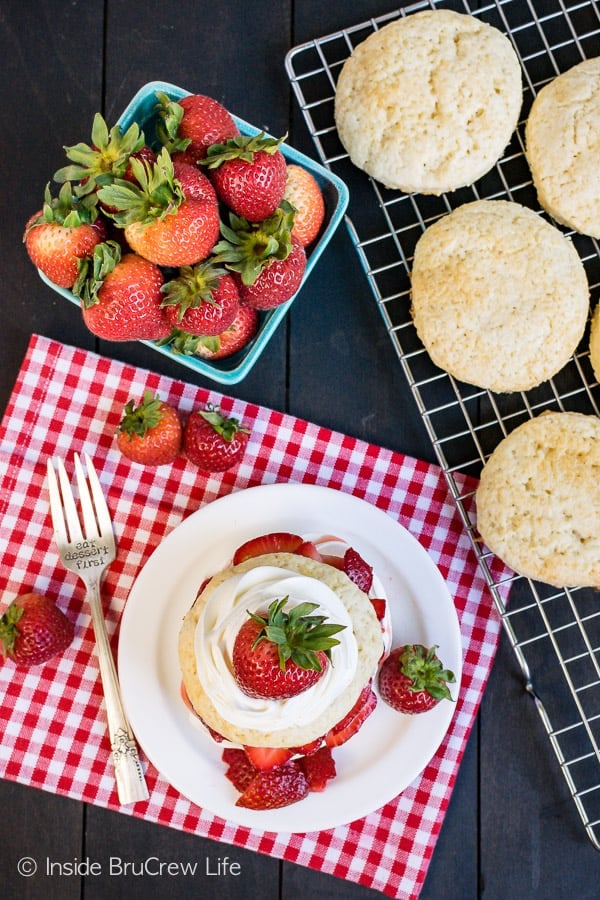 The last time I made these Salted Caramel White Chocolate Mocha Scones I wondered if the recipe could be tweaked to make a sweet strawberry shortcake dough.
I know that strawberry shortcake is usually served as some sort of cake, but I have always been a fan of a flakey biscuit topped with juicy berries.
When I was growing up we always made the strawberry shortcake recipe from the back of the Bisquick box. And there is nothing wrong with that. I still enjoy that recipe from time to time.
But after making this Homemade Strawberry Shortcake from scratch, I have decided that homemade is the best way to go.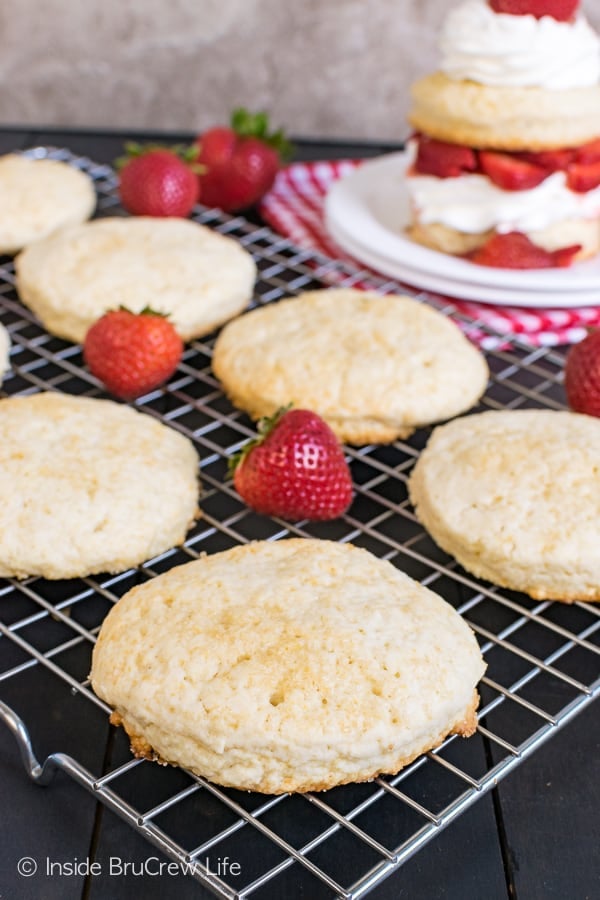 How to make Homemade Strawberry Shortcake:
Mix together the dry ingredients in a bowl. Add the cold butter and cut it in with a pastry blender or fork until it resembles crumbs. Go ahead and refrigerate the mixture again. We want the butter to stay as cold as possible.
Whisk tougher the cream, egg, and vanilla and pour it into the center of the butter mixture. Work quickly to pull it together into a soft dough. Be gentle with the dough. If you work it too much, the biscuits will be flat and tough.
Place the dough on a floured surface and pat and press it into an even 6x12 inch rectangle. Use a round cookie cutter or glass cup to cut out 8-12 circles.
Place the dough on a cookie sheet and refrigerate the circles for another 20-30 minutes to get the dough cold again. It's very important to keep the dough cold so they bake properly.
Brush heavy cream on each biscuit with a pastry brush and sprinkle some coarse sugar on top before baking.
Let the strawberry shortcake biscuits cool before serving with strawberries and whipped cream.
How to Macerate Fresh Strawberries:
If you have never heard this word, don't get scared off. It's actually quite easy.
Cut the stem off the strawberries and cut each berry into slices. Place the sliced strawberries in a bowl and sprinkle with sugar. Give it a quick stir to mix it all together.
Cover the bowl and let the berries stand at room temperature for about an hour. This allows the fresh berries to macerate or to release their juices. These juices mix with the sugar to create a sweet syrup.
Feel free to use any fresh fruit that you like in place of the strawberries. We like to use a mixture of strawberries, blueberries, and blackberries for a fun red, white, and blue dessert that is perfect for Memorial Day, Fourth of July, or Labor Day.
Can I make this Homemade Strawberry Shortcake ahead of time?
Yes, the biscuits can be made 3-4 days early. Go ahead and pop the biscuits in the microwave for a few seconds right before serving. This just gives them that fresh from the oven warmth.
The strawberries can be sliced a day ahead of time. If you make them any earlier, the berries will get very soggy and mushy.
You can serve these shortcakes with homemade whipped cream or Cool Whip. Either one is delicious.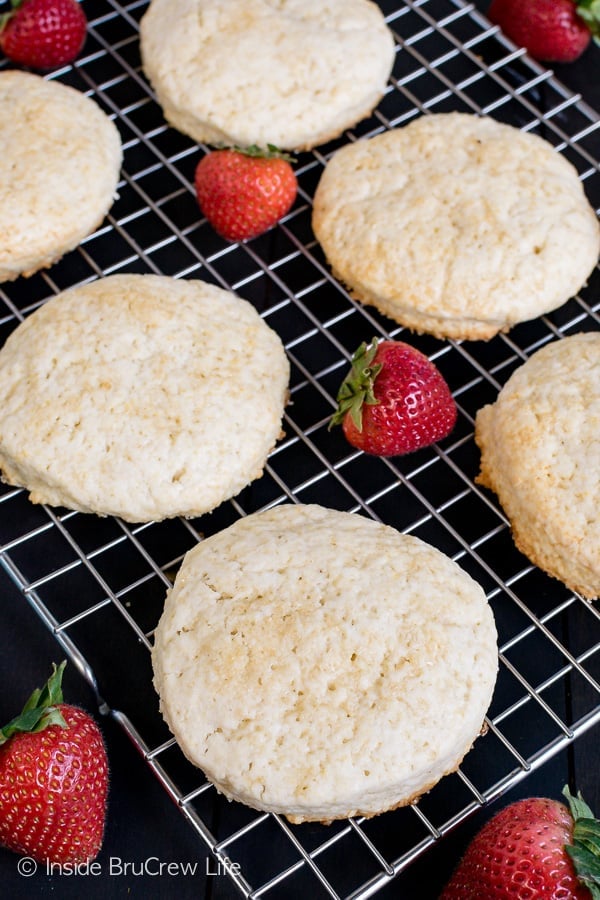 If you liked this Homemade Strawberry Shortcake recipe, try these: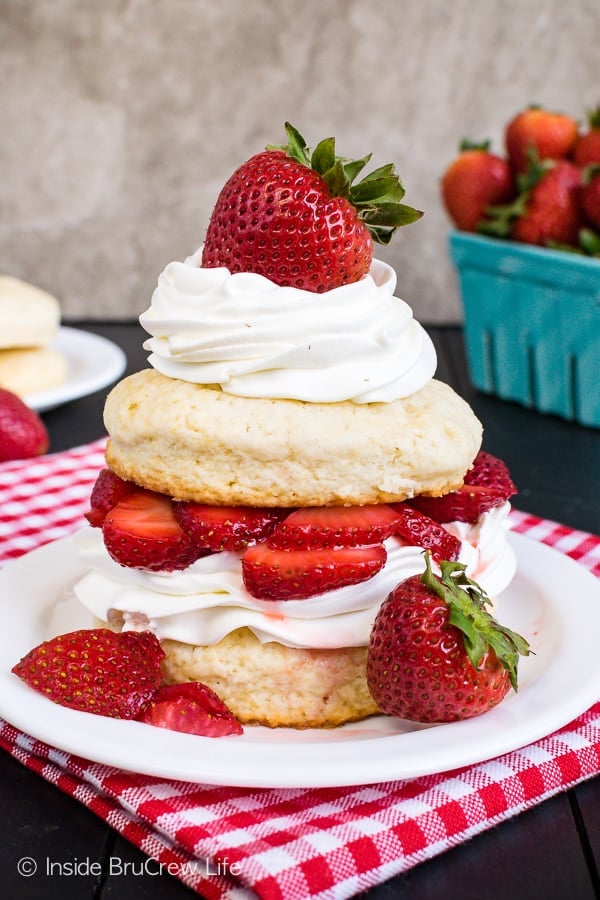 Homemade Strawberry Shortcake recipe: