These pretty pink No Bake Strawberry Daiquiri Cheesecake Parfaits are the perfect easy dessert for spring and summer parties or picnics. The creamy strawberry filling on a hot day is delicious and refreshing.
No bake desserts with layers of no bake cheesecake and cookies make a delicious treat that everyone will love. Add a batch of these No Bake Peanut Butter Fudge Cheesecake Parfaits and watch everyone go crazy for these mini cheesecake parfaits.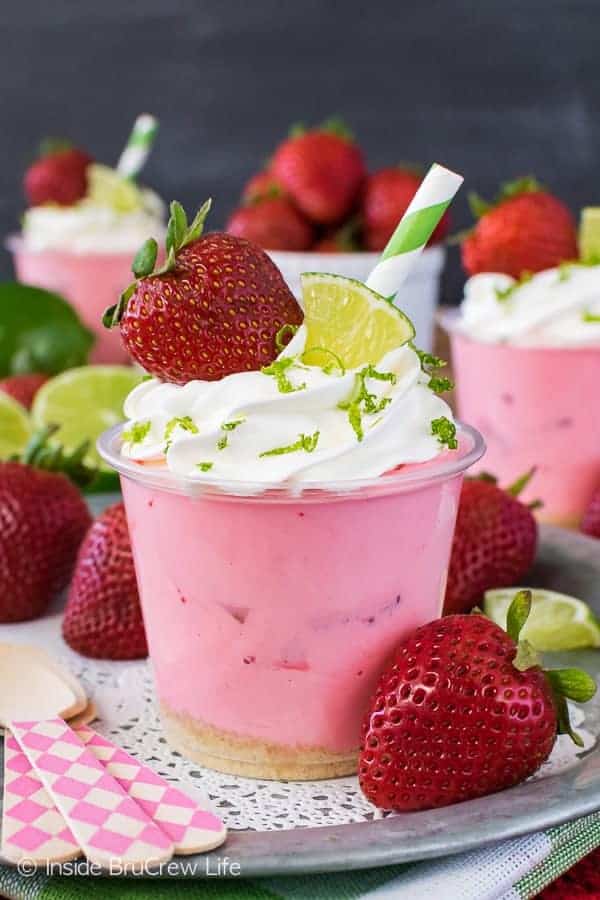 I realized this weekend that I missed strawberry season here in Florida. This past weekend I saw an ad pop up on Facebook for a u-pick blueberry farm. So my husband and I headed out Saturday morning to pick berries.
After we got home, I remembered that blueberries usually ripen later than strawberries. I guess I'll have to rely on the grocery store or farmer's market if I want to make more strawberry cheesecake parfaits this month. At least now I know for next year, right?
I'm not used to thinking about berry picking until late May or June because we lived in the midwest for over 16 years. It was always one of my favorite things to do with our kids when they were little. This year, they were not about to get up early to pick berries though.
Thank goodness for a loving husband who went and picked berries, even though he thought it would be easier to just go buy them at the store.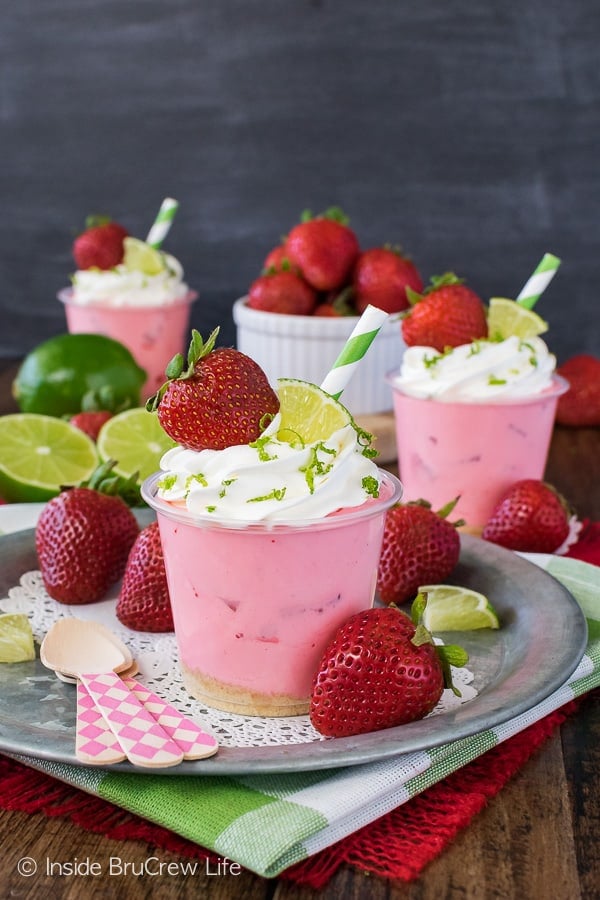 Last spring we made over 60 no bake cheesecake parfaits for a teacher's luncheon that our church was providing food for. I can't believe it has been a year already, and that it took me this long to finally share the last recipe with you. Yes, I'm a slacker. You can say it.
I love how easy and cute mini parfaits are to put together. The flavor combos are endless, and the toppings are fun to customize. Plus, no bake desserts are the best kind of dessert to make when it is hot outside or you are short on time.
We made a few batches of each of these No Bake Mocha Mint Cheesecake Parfaits, No Bake Piña Colada Cheesecake Parfaits, No Bake Triple Chocolate Cheesecake Parfaits, and these No Bake Strawberry Daiquiri Cheesecake Parfaits all in one night.
It was a very LONG night of crushing cookies, making cheesecake fillings, and adding the fun decorations to the top. But the end results were worth it, and the teachers loved the pretty desserts the next day.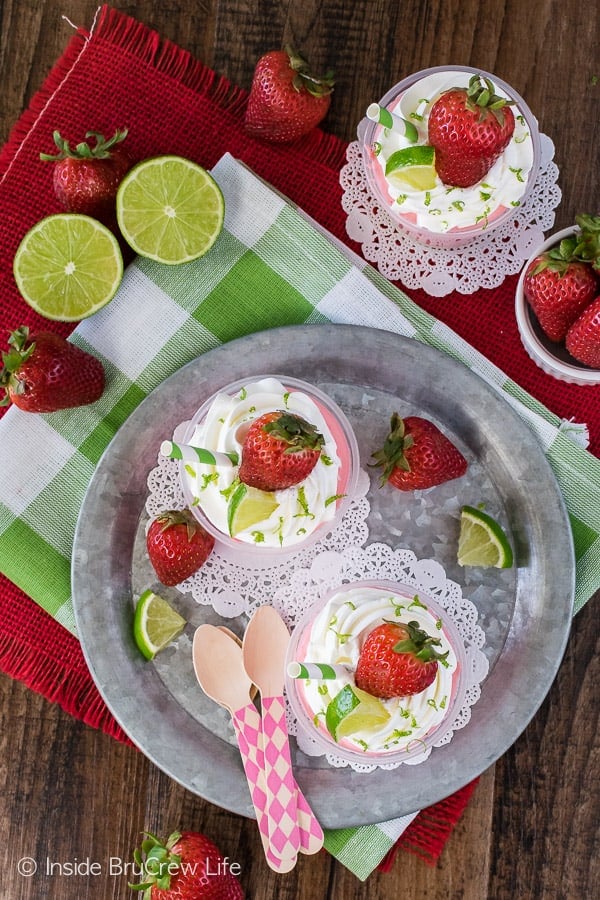 Ingredients needed for cheesecake parfaits
Cookies - You can use any type of cookie for the crust in parfaits. If you use cream-filled cookies, crush the cookies and filling together and press them in the bottom of the cups. Other cookies and graham cracker crumbs may need a little bit of butter added to the crumbs before you press it in the cups. You can also add a layer of cookie crumbs to the middle of the parfaits, if you like.
Filling - This layer can be a no bake cheesecake made from cream cheese, sugar, and Cool Whip or layers of instant pudding. Or a mixture of both if you want.
Fruit - Fresh fruit or pie filling makes a pretty layer in these easy desserts. Layer them alone or mixed into the filling layer.
Topping - Swirls of Cool Whip or whipped cream on top and decorations like zest, fresh fruit, straws, chocolate curls, or sprinkles make the finished parfaits look so pretty.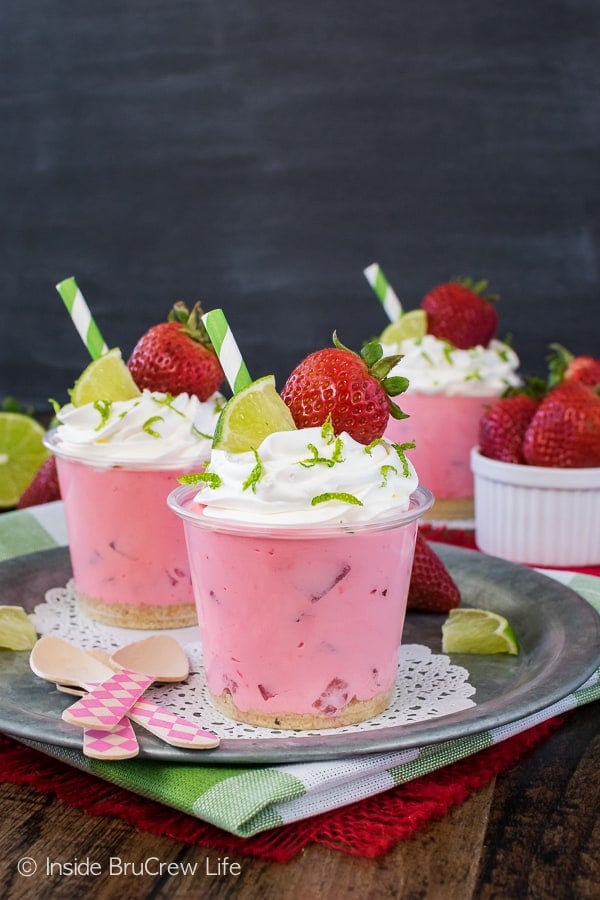 Easy Tips for Making No Bake Strawberry Daiquiri Cheesecake Parfaits
Use mini mason jars or little plastic cups to make these parfaits in. I found these 5 ounce plastic cups at Walmart in the paper products line. They also come with a lid, so you can make and take these cheesecake cups to parties and picnics. Just bring the toppings with you, and add them right before putting them on the dessert table.
Crush the cookies in a food processor and spoon the crumbs into the cups. I usually do one cookie per cup. You can use a tart shaper to press the cookies down, or use the bottom of another cup.
Make sure to set your cream cheese out ahead of time. If you forget, you can soften the cream cheese by unwrapping it and microwaving it for 15-20 seconds.
To add the strawberry flavor, mix in some strawberry daiquiri concentrate. You are not adding any other liquids, so these little treats are kid-friendly. Save the leftover concentrate to make this full-sized No Bake Strawberry Daiquiri Cheesecake later. It's another pretty pink dessert you are going to love.
Add some fresh diced strawberries to the mixture before you spoon it into the cups. Refrigerate the cups until it is time to serve them.
Swirl Cool Whip on top of the no bake cheesecake cups. You can use a plastic baggie with one corner cut off, or you can use a decorating bag and icing tip 1M for a pretty bakery style swirl.
Get ready for rave reviews when you show up at the next party with a tray full of cute no bake cheesecake parfaits. You are welcome!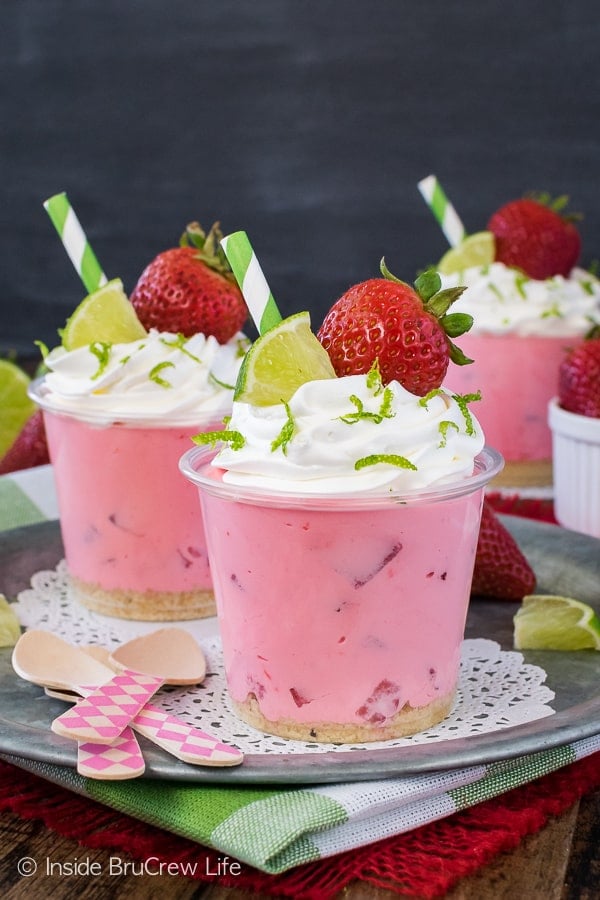 More Easy No Bake Dessert Recipes
These Mini Chocolate Strawberry No Bake Desserts from She Wears Many Hats are so cute and pretty. Such an easy dessert that looks fancy.
This Easy Tiramisu from Inside BruCrew Life is a fancy looking layered dessert that comes together in minutes. Perfect dessert for dinner parties!
Keep a few of these No Bake Cherry Cheesecakes in a Jar from Country Cleaver in your fridge for a quick and delicious snack.
I am loving the coffee and cookie layers in this Mocha Chocolate Chip Cookie Icebox Cake from That Skinny Chick can Bake! It's a must make!
No Bake Strawberry Daiquiri Cheesecake Parfaits Recipe