These soft and flaky Salted Caramel White Chocolate Mocha Scones are loaded with sweet and salty goodness. Perfect breakfast or afternoon treat with a cup of coffee.
Pair these breakfast scones with this easy Salted Caramel Mocha Latte, and you will be in heaven.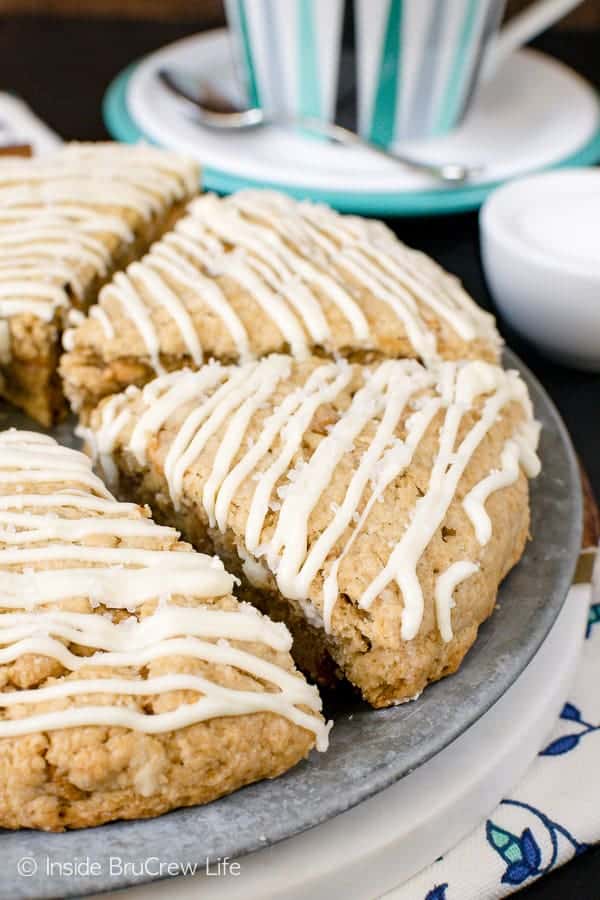 (photos and post updated May 2018)
It has been a while since I used caramel and sea salt together. Last weekend I made lots of cupcakes and made these Salted Caramel Mocha Brownie Cups. I could eat the whole bowl of Salted Caramel Frosting by myself with a spoon. Yup, it's that good! But then my shorts and jeans give me grief.
So, ever since last weekend I have been wanting to make something else with caramel and sea salt. I just can't resist that sweet and salty combo.
Fast forward to earlier today when my husband asked for a batch of scones. I love how closely related scones are to biscuits. Soft flakey biscuits coated in butter and jelly are so good. So I couldn't get in the kitchen fast enough to make something fun.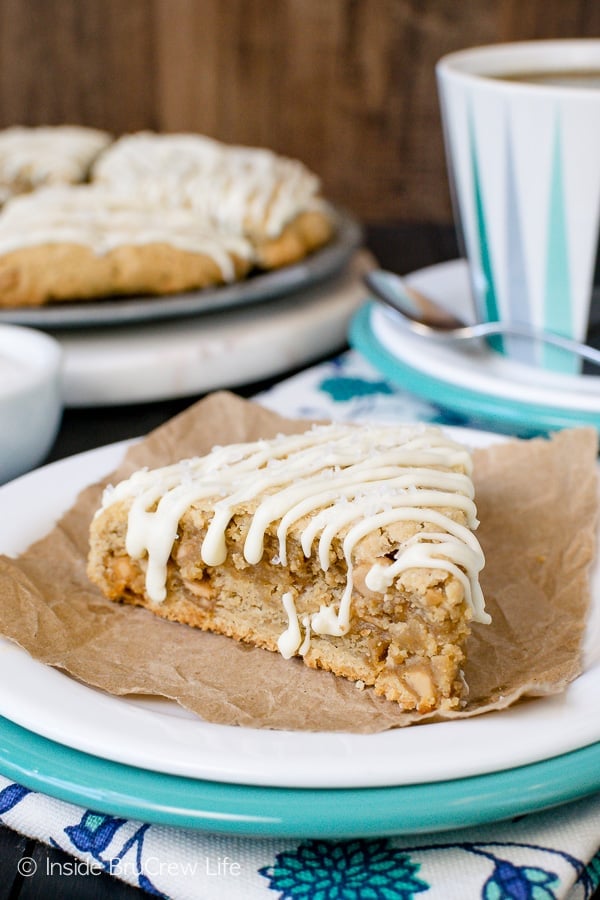 Now my husband is usually a very picky baked good eater. That actually translates into boring eater. HA! I love to add all sorts of things and make something different each time, and he likes to have plain stuff.
So, I started giving him some options of ones that I have on my many to bake lists. It was a NO to everything I suggested, and I was starting to get discouraged.
All of a sudden he surprised me by suggesting a salted caramel and mocha flavor combo. Really??? I wanted to say, "Who are you? And what did you do with my boring treat husband?"
But instead I zipped my lips and quickly made this scone recipe before he changed his mind and requested vanilla.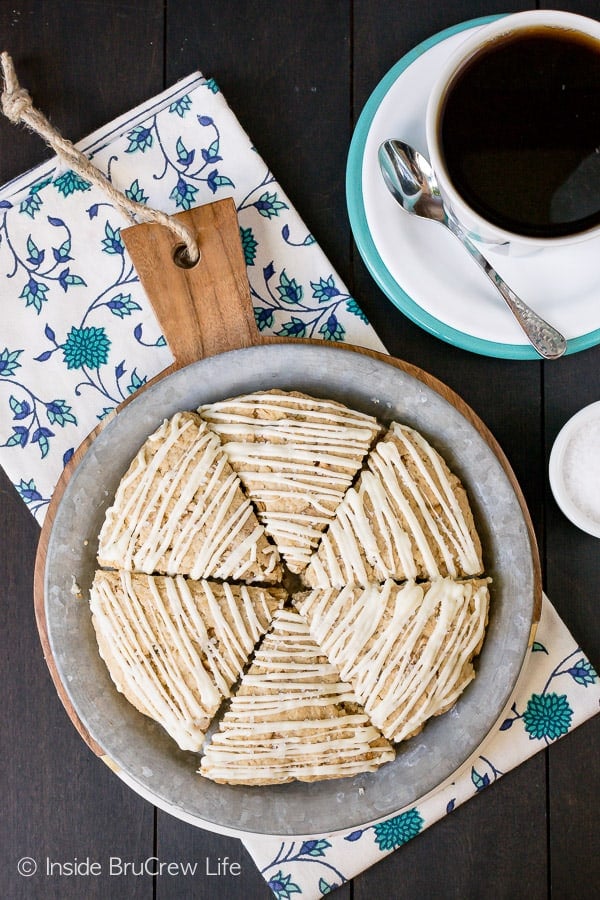 How to make Salted Caramel White Chocolate Mocha Scones:
Whisk together all of the dry ingredients in a bowl. Add the cold butter and cut it in with a pastry blender. It is very important that you use cold ingredients for the flakiest and tender scones. Using cold ingredients prevents the butter from melting before the scones are baked.
After the butter is cut into the dry ingredients, stir in the salted caramel chips. Go ahead and refrigerate the mixture for a few minutes at this point. Again, this is just to keep your butter from melting or softening ahead of time.
While the flour mixture is chilling, measure out the cream and whisk in the instant espresso. Whisk the egg and vanilla together too.
Pull out the chilled bowl and create a hole in the center of the ingredients. Pour in the cold cream and egg mixture. Use a fork to pull the ingredients together into a dough. Do not over mix the dough because your scones will end up tough and chewy.
Divide the dough into 2 even balls. Pat each ball into a 6 inch round circle. Again try not to overwork the dough because your hands will melt the butter. Place the pan in the refrigerator while your oven is heating up.
These caramel chip scones are amazing fresh out of the oven, but I suggest letting them cool and add the white chocolate and sea salt.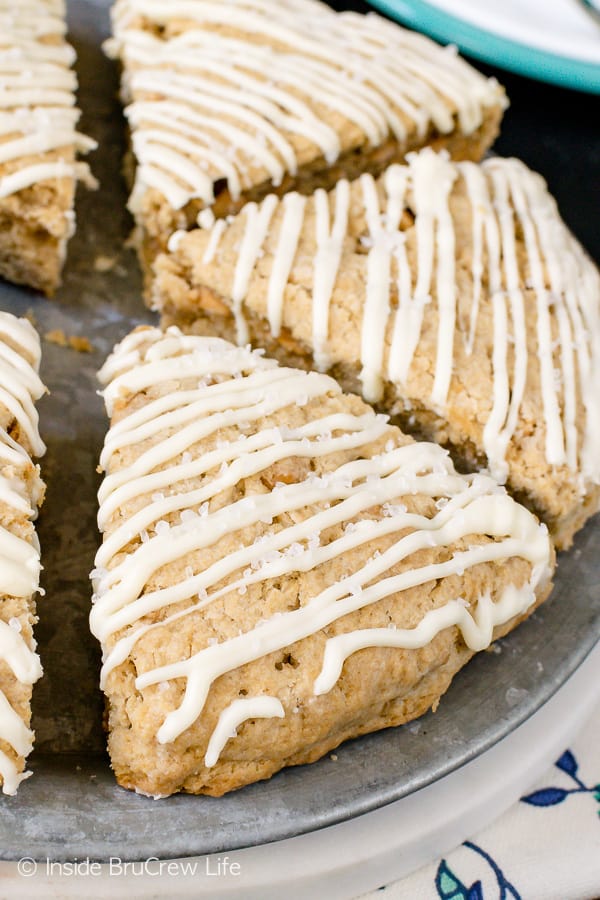 These tender buttery scones from scratch were the perfect thing to quench my caramel and sea salt cravings.
If you do not care for coffee in your baked goods, just leave it out and enjoy the caramel and sea salt flavor.
The white chocolate drizzles and coarse sea salt gives these Salted Caramel White Chocolate Mocha Scones the perfect sweet and salty mix.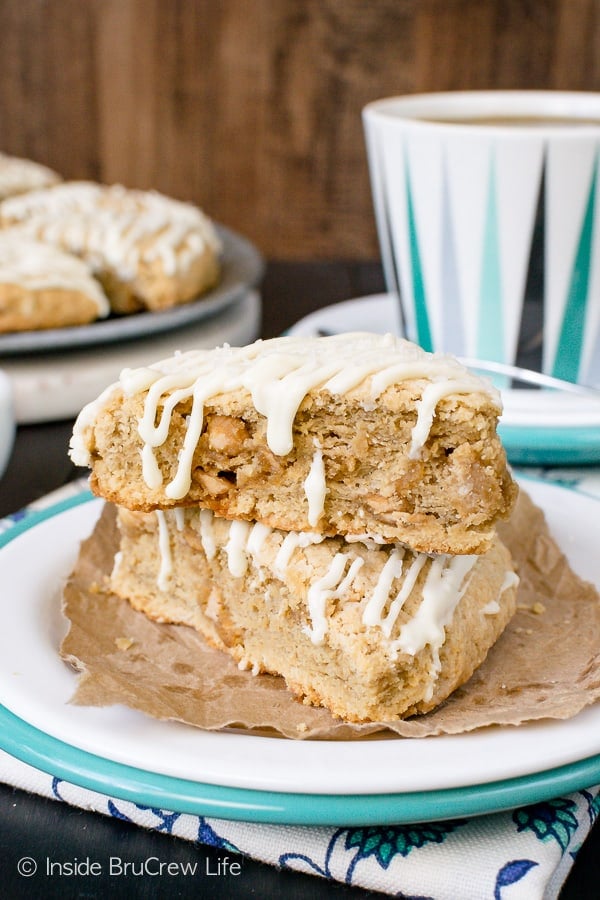 More delicious breakfast recipes to try: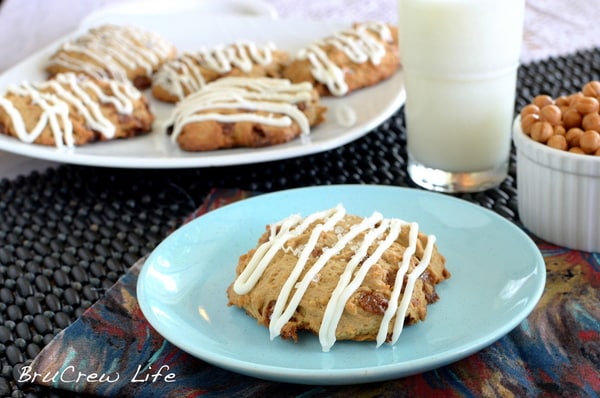 (original photos from May 2012)
Salted Caramel White Chocolate Mocha Scones recipe: