These soft and flaky Salted Caramel White Chocolate Mocha Scones are loaded with sweet and salty goodness. Perfect breakfast or afternoon treat with a cup of coffee.
Pair these breakfast scones with this easy Salted Caramel Mocha Latte, and you will be in heaven.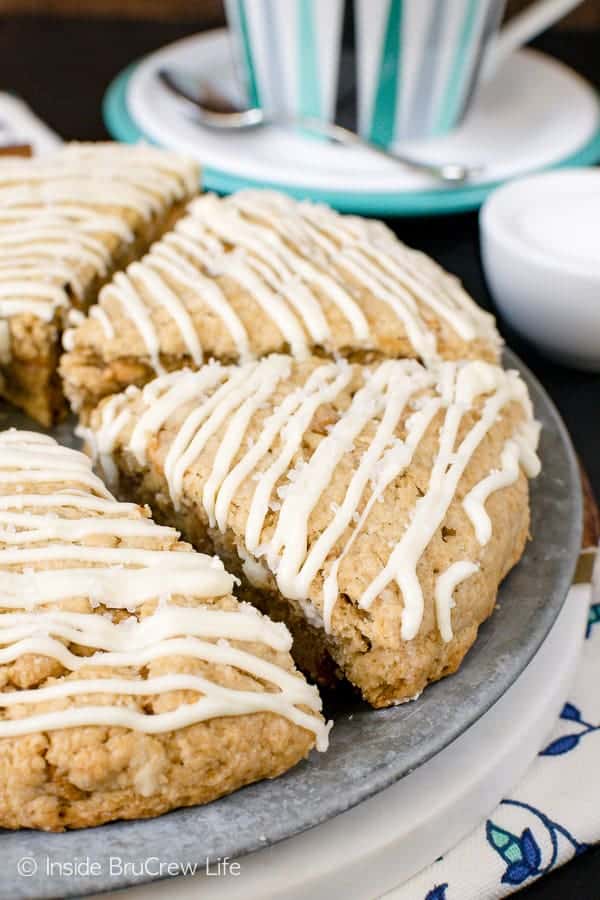 (photos and post updated May 2018)
CLICK HERE TO PIN THIS RECIPE FOR LATER!
It has been a while since I used caramel and sea salt together. Last weekend I made lots of cupcakes and made these Salted Caramel Mocha Brownie Cups. I could eat the whole bowl of Salted Caramel Frosting by myself with a spoon. Yup, it's that good! But then my shorts and jeans give me grief.
So, ever since last weekend I have been wanting to make something else with caramel and sea salt. I just can't resist that sweet and salty combo.
Fast forward to earlier today when my husband asked for a batch of scones. I love how closely related scones are to biscuits. Soft flakey biscuits coated in butter and jelly are so good. So I couldn't get in the kitchen fast enough to make something fun.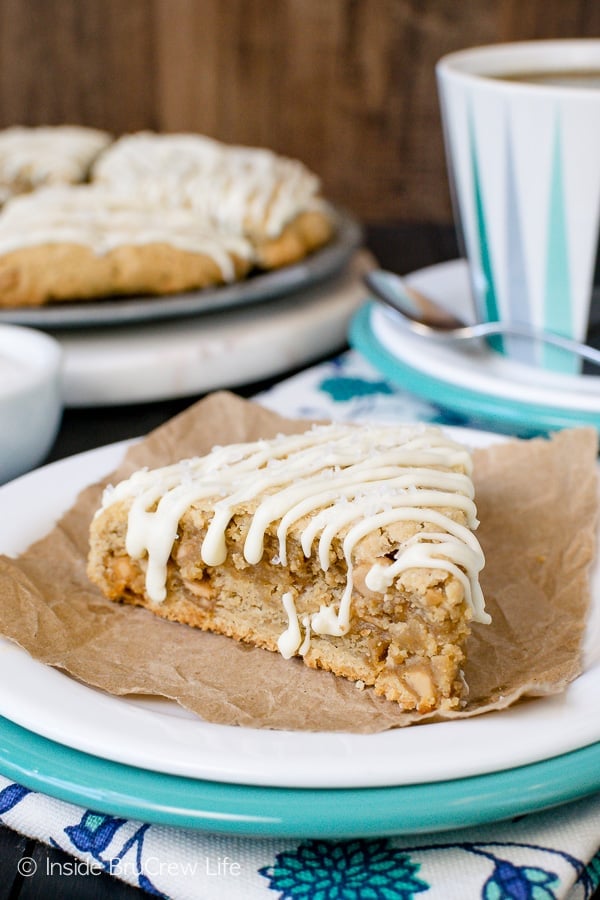 Now my husband is usually a very picky baked good eater. That actually translates into boring eater. HA! I love to add all sorts of things and make something different each time, and he likes to have plain stuff.
So, I started giving him some options of ones that I have on my many to bake lists. It was a NO to everything I suggested, and I was starting to get discouraged.
All of a sudden he surprised me by suggesting a salted caramel and mocha flavor combo. Really??? I wanted to say, "Who are you? And what did you do with my boring treat husband?"
But instead I zipped my lips and quickly made this scone recipe before he changed his mind and requested vanilla.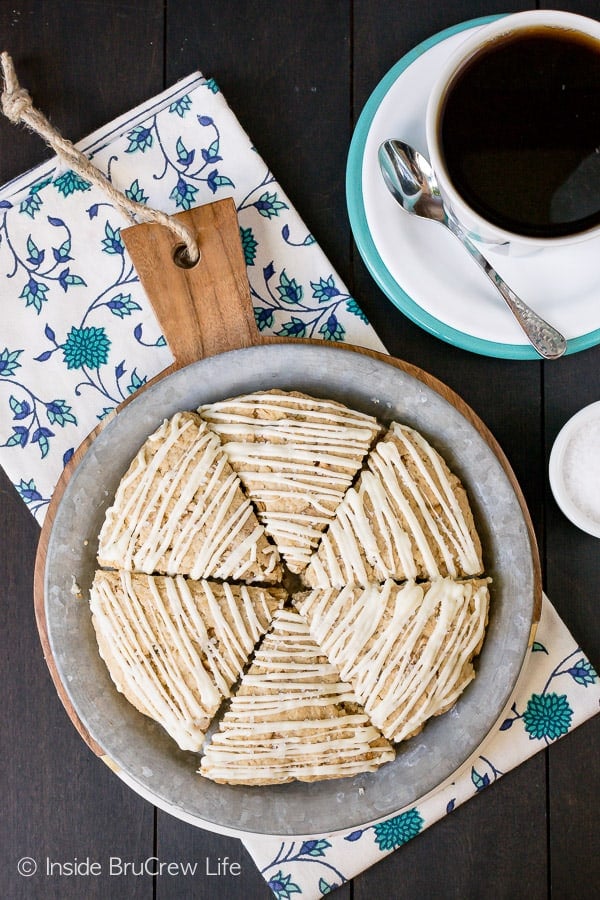 How to make Salted Caramel White Chocolate Mocha Scones:
Whisk together all of the dry ingredients in a bowl. Add the cold butter and cut it in with a pastry blender. It is very important that you use cold ingredients for the flakiest and tender scones. Using cold ingredients prevents the butter from melting before the scones are baked.
After the butter is cut into the dry ingredients, stir in the salted caramel chips. Go ahead and refrigerate the mixture for a few minutes at this point. Again, this is just to keep your butter from melting or softening ahead of time.
While the flour mixture is chilling, measure out the cream and whisk in the instant espresso. Whisk the egg and vanilla together too.
Pull out the chilled bowl and create a hole in the center of the ingredients. Pour in the cold cream and egg mixture. Use a fork to pull the ingredients together into a dough. Do not over mix the dough because your scones will end up tough and chewy.
Divide the dough into 2 even balls. Pat each ball into a 6 inch round circle. Again try not to overwork the dough because your hands will melt the butter. Place the pan in the refrigerator while your oven is heating up.
These caramel chip scones are amazing fresh out of the oven, but I suggest letting them cool and add the white chocolate and sea salt.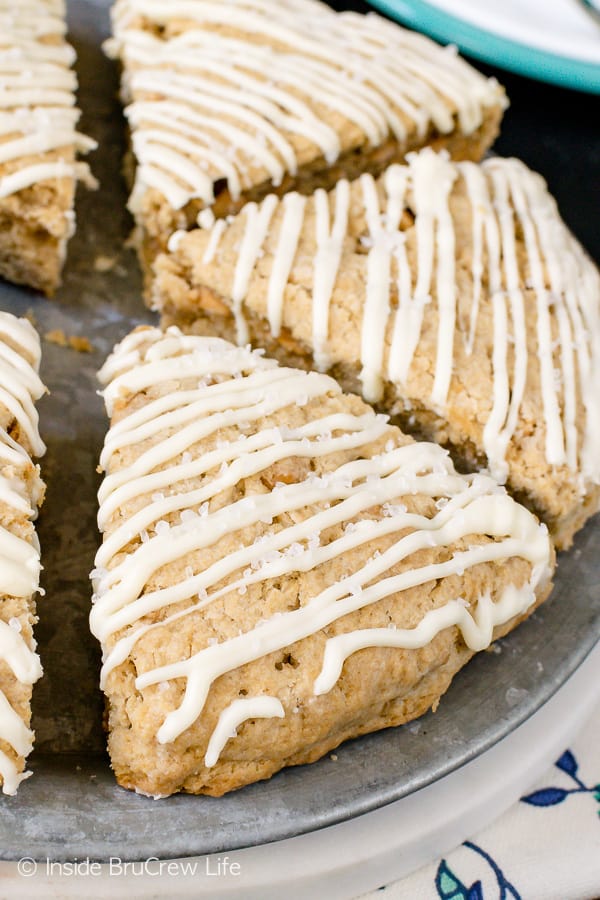 These tender buttery scones from scratch were the perfect thing to quench my caramel and sea salt cravings.
If you do not care for coffee in your baked goods, just leave it out and enjoy the caramel and sea salt flavor.
The white chocolate drizzles and coarse sea salt gives these Salted Caramel White Chocolate Mocha Scones the perfect sweet and salty mix.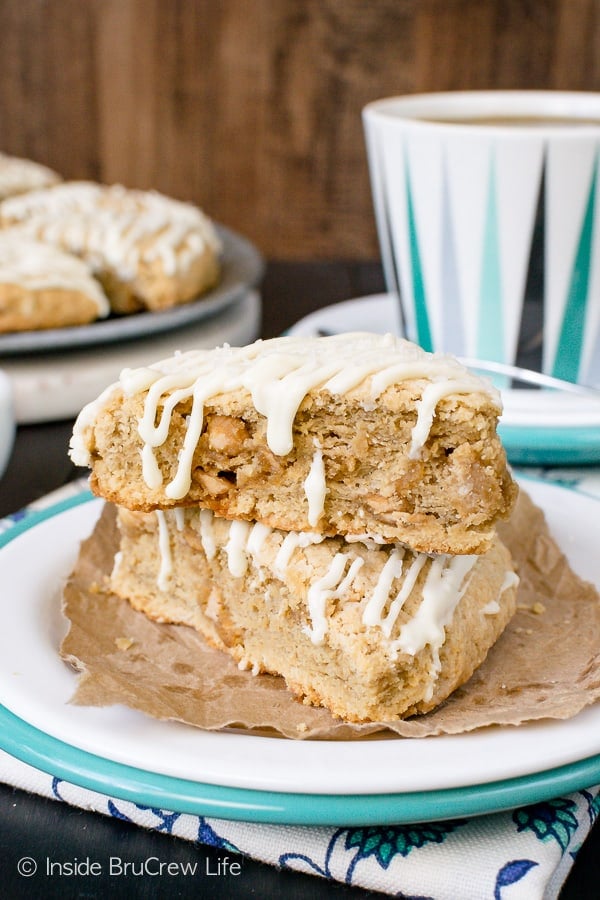 More delicious breakfast recipes to try: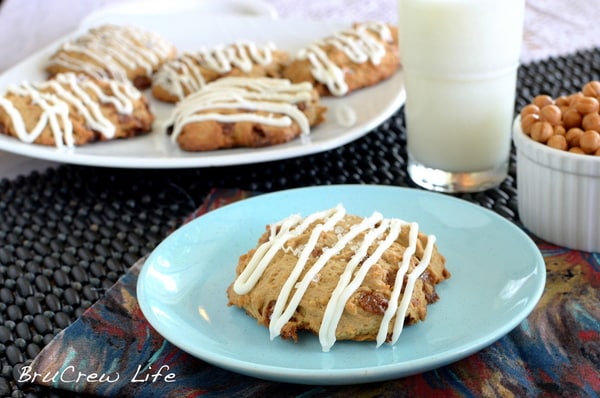 (original photos from May 2012)
Connect with Inside BruCrew Life! Follow us on social media, so you never miss a post.
Email Subscription | Facebook | Pinterest | Twitter | Instagram | Bloglovin
I also created a fun new Facebook group, and I would love for you to join. It's a group where you can share your favorite recipes, ask questions, share photos, and see what's new with the BruCrew. If you would like to check it out, you can request to join HERE.
Salted Caramel White Chocolate Mocha Scones recipe: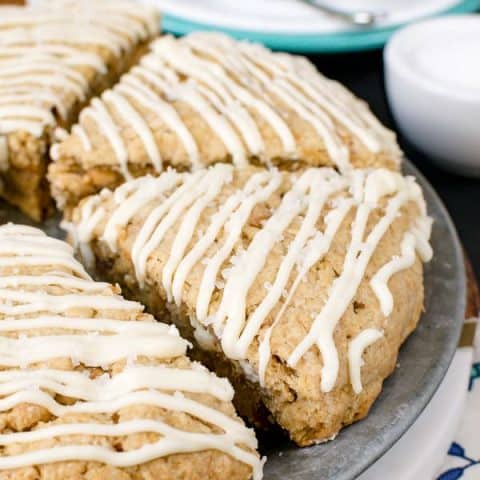 Salted Caramel White Chocolate Mocha Scones
These soft and flaky Salted Caramel White Chocolate Mocha Scones are loaded with sweet and salty goodness. Perfect breakfast or afternoon treat with a cup of coffee.
Ingredients
2 ½ cups flour
⅓ cup sugar
1 ½ teaspoons baking powder
¼ teaspoon salt
8 Tablespoons cold butter
1 cup salted caramel chips
¾ cup heavy cream
1 Tablespoon instant espresso
1 egg
1 teaspoon vanilla
½ white chocolate chips
1-2 teaspoons coconut oil
coarse ground sea salt
Instructions
Preheat the oven to 400 degrees. Line a large baking sheet with a Silpat or parchment paper.
Stir together the flour, sugar, baking powder, and salt. Cut in the cold butter with a pastry blender until it creates small pea like pieces. Stir in the caramel chips. Place the bowl in the refrigerator to keep the butter cold.
Whisk the espresso powder into the cold cream. Whisk the egg and vanilla together.
Make a hole in the center of the flour and pour in the cream, egg, and vanilla. Use a fork to pull together the mixture into a soft dough. Divide the dough into two even balls.
Press each dough ball into 6 inch circles on the prepared baking sheet. Place the pan in the refrigerator until the oven is completely heated up.
Bake for 23-24 minutes. Remove and let the scones cool on the pan for a few minutes before cutting each circle into 6 wedges.
Let the scones cool completely if you are adding the white chocolate.
Place the white chocolate chips in a microwave safe bowl and heat for 30 seconds. Stir and heat for a few seconds more if needed. Stir in the coconut oil until the mixture is creamy.
Spoon into a plastic bag and cut one tip off. Drizzle over the tops of the cooled scones and sprinkle with sea salt. Make sure to add the sea salt after you drizzle each scone.
Store in a tightly sealed container. Reheat each scone in the microwave for 10 seconds to get that warm fresh from the oven taste, if you like.
Nutrition Information:
Yield:

12
Serving Size:

1
Amount Per Serving:
Calories:

278
Total Fat:

16g
Saturated Fat:

10g
Trans Fat:

1g
Unsaturated Fat:

5g
Cholesterol:

53mg
Sodium:

251mg
Carbohydrates:

30g
Fiber:

1g
Sugar:

9g
Protein:

4g